Hey Girlfriend!: Seren Davies
I am so grateful for everyone's support in announcing the Hey Girlfriend! series last week. This is the first interview of the series!
Today I am interviewing Seren Davies. Seren is a software engineering student in Oxford, England. I first found out about Seren when her talk, "Death to Icon Fonts", circulated in numerous web development newsletters (you can check out some of the events she has previously spoken at). She spoke about a topic that is widely debated in the field of front-end development: although fonts with icons are easy to implement and use, they have accessibility problems and can be difficult for dyslexics to interpret.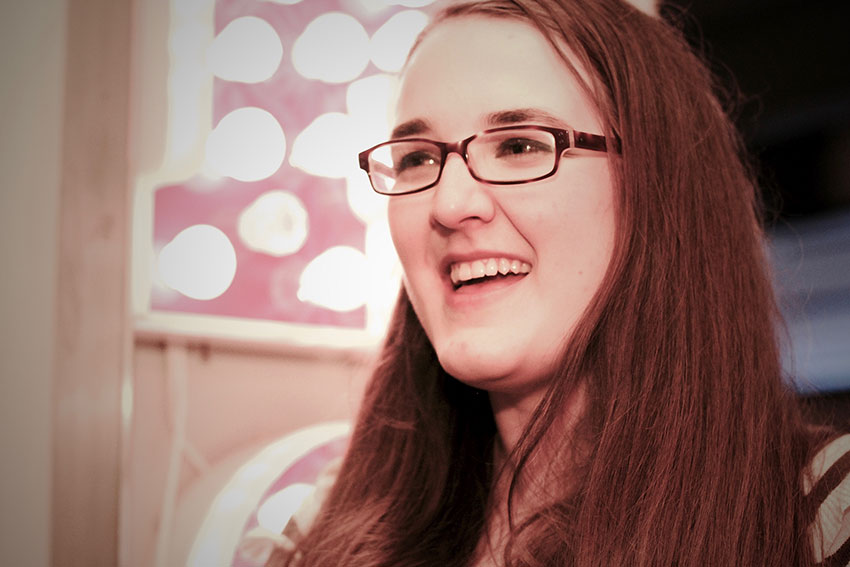 Seren is dyslexic, meaning that she often has difficulty reading on the web when a website is poorly designed. Too many advertisements and images, small body copy, words in uppercase, small line-height and highly decorative typefaces/fonts are all examples of what make a website more challenging for a dyslexic to read. She uses her experiences as inspiration for her talks, and would love for the web to be a more accessible place for people with disabilities.
I also want to thank Seren for helping me out a little in deciding on the title of this series. I previously wanted to go for GRL PWR but got her input on whether this would cause a problem for dyslexics. It wouldn't have been a problem because the words are short but I really appreciate her feedback even though I didn't go with that name in the end.
Hi Seren! You got a lot of attention thanks to your "Death to Icon Fonts" talk. What made you decide to do a talk rather than a blog post or an article? Were you comfortable with speaking or was it a bit of a challenge?
So it all started when I went to a conference and met Dave Letorey, he convinced me to speak at London Web Standards. After that I realised I needed to create a talk and Death to Icon Fonts was born. The idea of speaking didn't really bother me too much as I had to do it in school. It was more the fear of the unknown, speaking at a meet up. It was my first ever technical talk. I was so worried I was going to get something wrong and the crowd would call me out on it.
Did you expect to get a lot of people watching the video of your talk or was it a bit of a surprise?
It was a huge surprise! I never expected that many people to be interested in what I had to say. Icon fonts are a big topic on the internet and lots of people had already spoken about them before. I was never expecting to get the feedback I did! It was amazing and I feel so proud that I was able to bring a new perspective. Something that made people think about how they implement their icons and hopefully change it for the better.
I personally say age is just a number, but it's impressive that you are still studying and already getting involved with the community and giving your career a head start. What made you decide to stick to studying software engineering?
I chose to study Software Engineering as it was marketed as the more hands-on version of Computer Science. I wanted to learn to program not so much the theory behind programming. I stuck at my degree instead of leaving uni going into the industry as going to university was such a big deal for me. Not many of my teachers at primary school thought I make it this far so getting my degree is a way of proving everyone wrong and showing the world that I may be Dyslexic but I can get a degree. However I did do a placement year as part of my degree which meant I went and worked in industry for a year. I loved my year out and am excited to get working again once my degree is over.
As you probably know, there is a shortage of women in tech. As you move on from being a student to being a full-time worker, are there any challenges you foresee in looking for a job? Do you have any personal expectations from potential employers? Is there anything that might turn you off working for a company?
One challenge I can foresee is finding a company where I am not the only female developer.
As a graduate I expect an employer to acknowledge that and be willing to train me on the job.
There are a few things that would put me off working for a company.
A lack of flexi time could potentially be an issue, during my placement I was lucky enough to have this option and I learnt just how valuable this is. I'd also be put off by companies that don't value female staff, or who treat junior staff badly. Another thing would be if the code I was writing wasn't used for good. I have always wanted to help people and if I learnt I was doing the opposite I would find that heartbreaking.
What is one of your aspirations for your career?
To help people. Technology plays such a huge role in my life and I want to do the same for others. Its why I speak about accessibility, I want everyone using the web to have a good experience.
Is there anything exciting you have planned for 2017?
This year is my final semester at uni. So it means I am finally graduating! I am so excited to graduate and go find a job I love.
I am also in the process of writing a new talk which I am planning on giving at a conference this coming year.
If you could travel to another country right now for leisure, where would you go? What about for work (even if you can work remotely)?
I think it would be either Australia or Asia. They are both very different to the UK and look amazing places to explore.
I don't really know if I'd like to permanently relocate overseas, but speaking at a conference in America would be pretty awesome.
Do you think you would like Australia if you visited?
I am visiting Australia for a month this summer and I am very excited about it, minus the spiders! Me and my family are planning to visit Sydney, then fly up to northern Queensland, and drive down the Queensland coast to Brisbane.
Do you prefer tea or coffee?
Tea, I am a huge tea drinker. Nothing quite beats an English breakfast tea.
If you were a speaker at a conference and could request any meal you wanted, what would you request?
Umm this is really hard for me as I am a big foodie! I think I would have to go with something simple like a good fish and chips.
So I have to ask you about your nail-painting hobby. I love painting my nails as well, I probably do it about once a week on average. But every time I finish painting them I just feel like taking it all off and painting my nails again. Do you ever get that? :P How often do you paint yours?
I get that all the time! I often finish a design and hate it and want to take it off straight away! I paint mine about once a week depending on my schedule. Around my exams I had no polish on my finger nails and hated the way my hands looked.
What is your favourite nail art design that you've done?
Umm this is a hard one I have done a LOT of designs. I think I'd have to pick purple roses. They were so simple but effective. So many people asked how I did them and thought I must have spent hours on them but in reality it was just swirling two colours together.
Who is your favourite Star Wars character?
Princes Leia – She's a badass princess who saves herself. She shows girls you can be a general and a princess. The two are not mutually exclusive.
What five emoji sum you up most?
🦄😂🤓⭐💅
Unicorn, crying with laughter, nerd, star, and nails being painted
---
Seren tweets @ninjanails and also has a nail art blog. You can watch her "Death to Icon Fonts" talk on YouTube. Seren is definitely someone to watch out for in the coming year – I'm definitely looking forward to hearing what she speaks about next.