Achievement Unlocked: January 2017

I am in Perth (the other side of Australia) right now, working remotely and giving a presentation at a meetup. I find that working remotely can feel like some distance away from my team, even though we have regular stand-up meetings, but at the same time I feel more productive when I work remotely. I think there are less distractions. It can be challenging getting into the groove, but because I am working from my apartment and don't have to commute like I do back at home, it means my days seem longer and I am able to fit more in.
My mum is back at work, still seeing a physiotherapist for her injured foot. She has a new physiotherapist because her original one sadly, tragically, passed away whilst on holiday with his girlfriend in Bali. He was found lifeless at the bottom of a pool in a resort. The cause of death was thought to be a health or medical issue of some sort. It's really sad. :(
Just before writing this, I was:
Eating prawn gnocchi at a restaurant called Beaufort Local. It was pretty overpriced, but still tasted good.
This past month, I achieved:
I bought my wedding dress, and ordered my bridesmaids dresses! I also passed my second driving knowledge computer test after failing it late last year.
This past month, I was grateful for:
The ladies who helped me when I tried on wedding dresses and eventually bought one!
I am also grateful to Patima, Corey, Mandy, and the supportive people in the Perth web community who welcomed me and invited me to do my presentation!
I am also grateful to Nick for joining me in Perth for a few days. ❤️
This past month, I learned:
That wedding dresses often look terrible on the hanger but will look entirely different on you.
This past month, I got bored of:
High heels. Oh shit, you never thought I'd say that, would you. 😏
But that's OK, because I enjoyed:
Wearing a new pair of sandals and a new pair of Vans shoes from work! I have not owned a pair of sandals for a while and I am glad I have a pair to wear now. Thanks Monica for nabbing a pair from me for work!
Today, something that made me happy was:
Meeting up with Meagan, one of the organisers of Mixin Conf. I didn't get to talk to her much in person last year so it was good to have a chat over lunch. She will miss my presentation, unfortunately, since she will be flying to Melbourne, but my presentation will be recorded. 👍
I also got my nails done today! Both my toenails and my fingernails. I got plain aqua on my toenails but a peach gradient on my fingernails. I also got a bit of nail art done. I would like to write a review on the nail salon so I will be posting about that later on.
Today, something I could have done better was:
Plan my day. Back at home, I feel so busy that I write my plan for the next day, the night before. But Perth makes me feel more spontaneous, which can be both good and bad. I think I could have planned today a little better.
Tomorrow, I'm going to:
Do my presentation at the meetup! :D
Next month, I'm looking forward to:
Going on my first cruise with Nick.
Next month, I'm going to make the positive change of:
Saving more money. This trip to Perth has burned a bit of a hole in my wallet. 😆
One thing on my to-do list is:
Write a few reviews for websites or services I have used recently. I want to spread the good word, and write reviews of my own accord. I won't be paid to do it but I especially want to write about what I like.
One happy photo from this month is:
We went to Rottnest Island on Saturday and I took a photo with a quokka, an animal native to the island.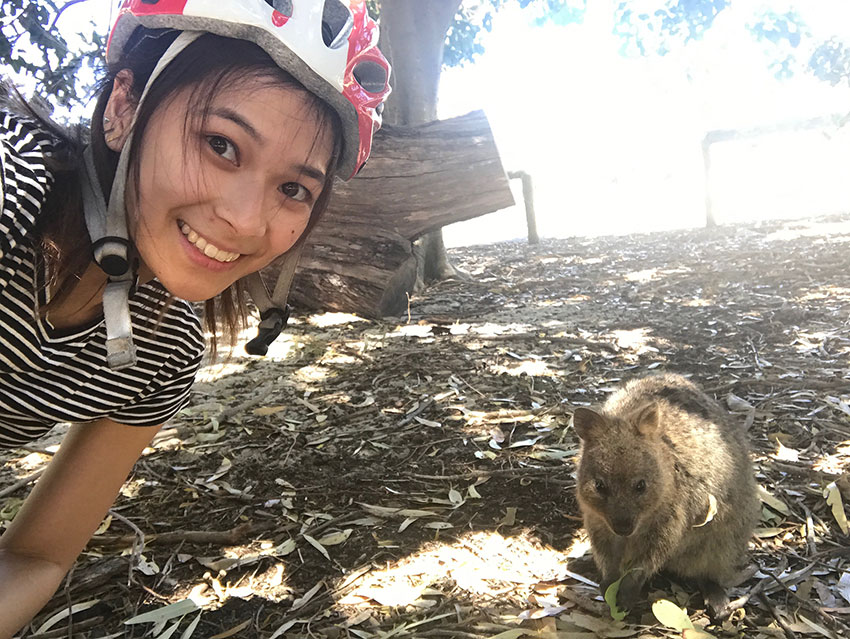 If I had to write a book or record a film about this past month, I would call it:
Georgie Does Perth (Again)
After I post this, I'm going to:
Keep working on the slides for my presentation… I keep going through multiple iterations because they just don't look right. D: