🚲 Riding around Rottnest
I first learned how to ride a bike when I was 14. Usually that is considered a rather mature age. I was pretty scared, the embarrassment of using training wheels made me so anxious and scared of riding a bike at all. One day I decided to try and ride a bike normally. I swear it was so much easier and the anxiety just fell off my shoulders immediately.
I don't know what I was so afraid of. I got overzealous and rode around the park terrifyingly fast and I really liked it. A couple of falls left me feeling pretty dejected, though, because I hated being a teenager who couldn't ride a bike. One fall was when I ran into a tree, I was wearing my dance gear because I had a presentation in the park, and I don't know what this big family near the barbecue was thinking when they looked at me – were they confused by my clothes, or just thinking about what an idiot I was crashing into a tree?
Another time, an older boy refused to move out of my way, and instead of stopping I crashed into a barbed wire fence. I tried not to let these incidents get to me, but for all I knew, I was still afraid of riding a bike.
---
On Saturday, Nick and I visited Rottnest Island, just off the coast of Perth. We caught a train and then a ferry, which was quite a bit of travel time, but it was worth it for the fun day we had.
I've never ridden a bike on a road, on a pathway, or even on a bicycle track. I've only ever ridden a bike in enclosed parks. I feel like I was made to think that riding in a more open space was not safe. So naturally, I was terrified.
Truth be told, I had the time of my life! It was very fun riding around the island. It was a hot day, and I put sunscreen on my face, arms and legs, because they would be exposed, but I still got sunburned. Right on my nose (always happens on the nose…), but also on the tops of my hands and my thighs. A little awkward, but it makes sense because those parts of my body were right in the sun. Nick got sunburned pretty bad. He was awfully red for the next few days. 🦀
I think we definitely rode close to, or over, twenty kilometres in total. It was tiring but very rewarding. We hadn't gone to the gym on Thursday because of our flight, and normally we go on Saturdays but all that riding was a good cardio workout! When it came to riding up hills, it was a bit hard, but sometimes I just pressed on. It was much easier to press on and feel my thighs burn than to stop and have to get off and walk my bike up the hill. Heheh. I think I actually really enjoy bike riding.
We stopped at quite a few beaches along the way. My coworker Phil, who lives in Perth, suggested checking out Salmon Bay for snorkelling. We didn't end up going snorkelling but had a look. It was pretty busy there.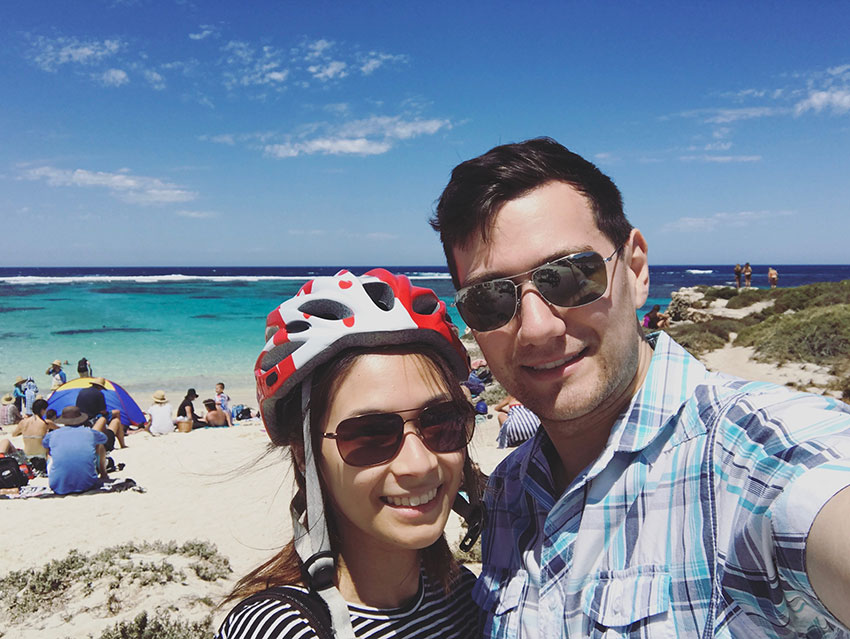 We went around a large portion of the island and passed some pretty busy beaches before we found one that only had one family going for a swim. We decided to have a break there. The water was actually really, really cold, despite it being very hot. We wanted to cool down… but not that much!
We got amused digging holes into the sand and trying to dig one deep enough that we hit water. It had certainly been a while since I played with sand. :D
As I mentioned in my previous post, we saw little quokkas, an animal native to the island. They don't eat anything besides plants. We saw a couple walking around while we ate our lunch. When we went riding some more, we spotted even more, and got pretty close to some of them. They look a bit evil close-up when you see their eyes. But sometimes it looks like they are smiling!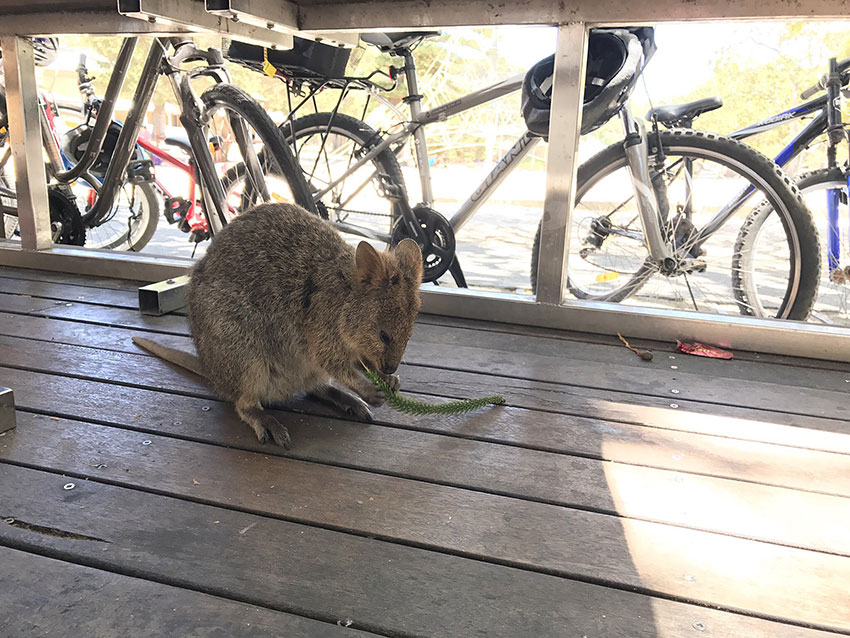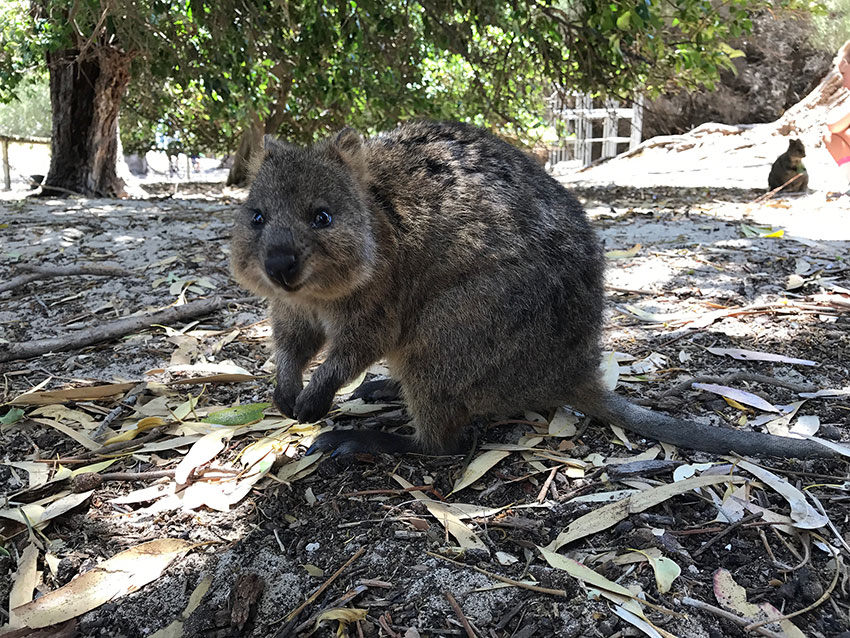 Here is the selfie I took that I shared in my last post. Taking a selfie is apparently a very touristy thing to do.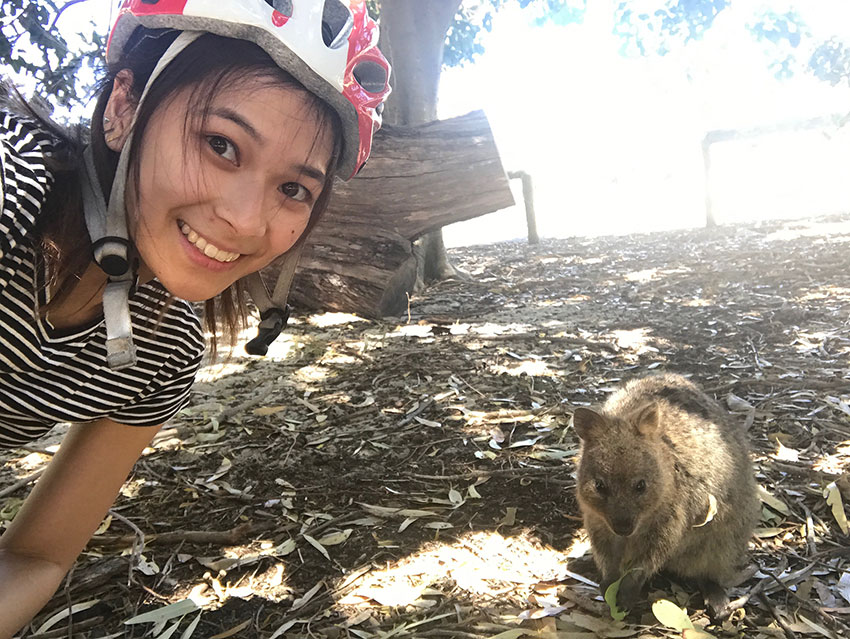 Nick went back home on Sunday night, because his job requires him to be physically present most of the time. I'm lucky as a developer in that I can do a lot of work without being physically near my team. I do love their company though – I don't think I could work remotely for an extended period of time. I may be introverted, but I get lonely… :)
I did my presentation at the Localhost meetup last night, and it went really well. ☺️ I will write more about it in a future post, but I have updated my speaking page if you are interested in seeing the slides or the code examples.
If you want to see more of my time in Perth just follow the #georgiedoesperthagain hashtag on Twitter or on Instagram.
Do you like bike riding? Do you think the quokkas are cute or creepy?