🛳 My first cruise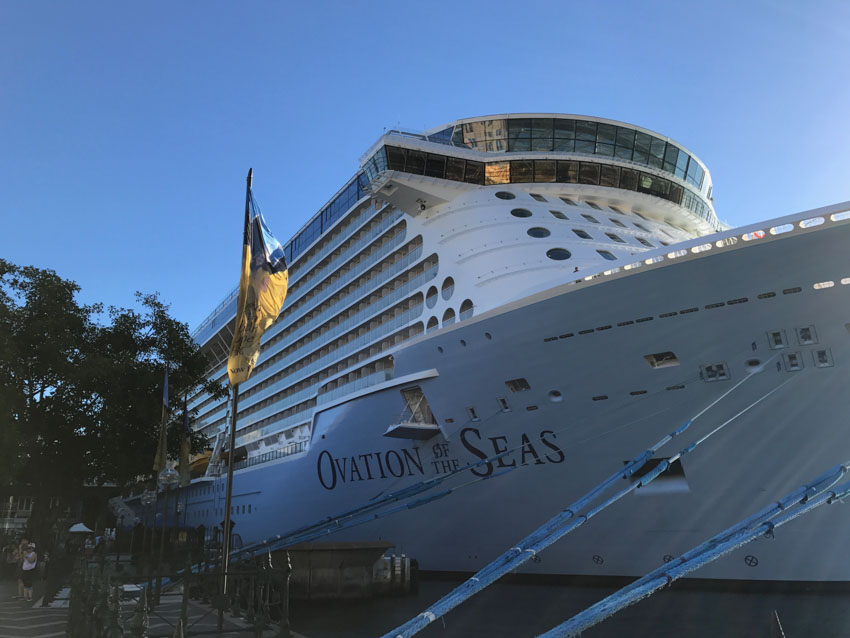 I went on my first cruise over the weekend. Nick is no stranger to cruising, and certainly not a stranger to cruise ships, so he told me what to expect. Overall, I had a good time! Perhaps my expectations were a little high, but there was nothing to complain about in terms of the cruise itself.
I'd never been on a cruise because I was never interested. I had my own opinions about cruising despite never going on one: I didn't think it was a great way to travel because I like rolling out my own itinerary, and I was very unaware of the entertainment and food options on cruise ships. I thought it would be boring and not really my thing. I was quite wrong about all of this.
The cruise ship we went on was Royal Caribbean's Ovation of the Seas, and it was a sampler cruise that went for three nights, leaving Friday evening and arriving back in Sydney on Monday morning. It didn't stop anywhere since it was a short cruise, so it just went up the coast, around in a few circles, and came back. Nick would probably be glad to guest post some information about Royal Caribbean's other ships but feel free to ask him more about that. I'm just focussing on my experience for the purpose of this post.
Initial thoughts
There are many appeals to cruising as opposed to other methods of travel. One of them is boarding the ship and being able to do activities or eat straight away. There is no need to worry about travel time like when you're on a train or an airplane. I enjoyed just being able to walk on the ship and get settled in straight away, being able to explore straight away.
I've always thought it was interesting that a cruise ship is like a city on water. It was huge! After seeing all the elevators and all the floors, I felt like I was in a regular building overlooking the harbour. And when we started moving, it felt like a moving building. The views, of course, given Sydney harbour, were lovely, and sailing away and watching the sun set was pretty cool. It was a rainy day and Brandon even sent me a video of hailstones in the backyard at home, but by the time we were sailing away it had cleared a little bit.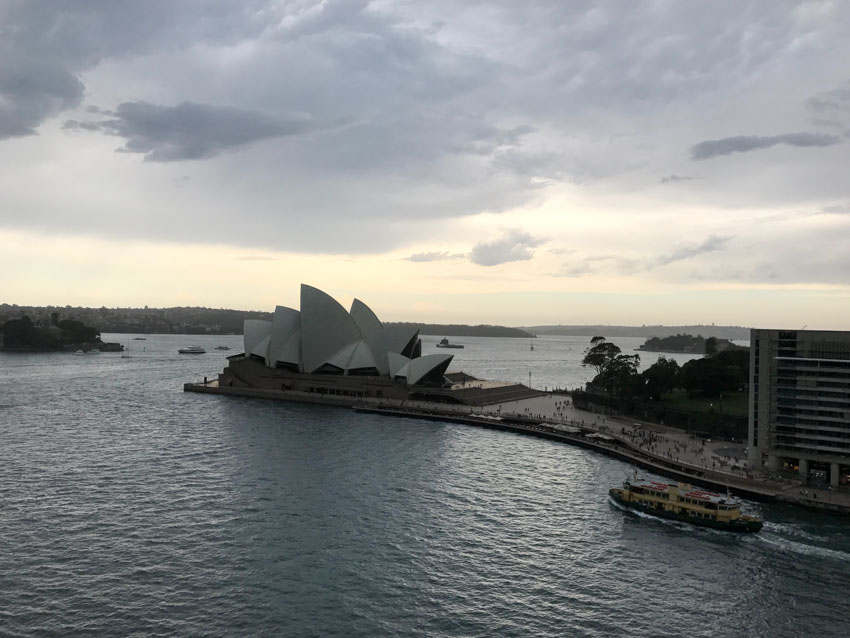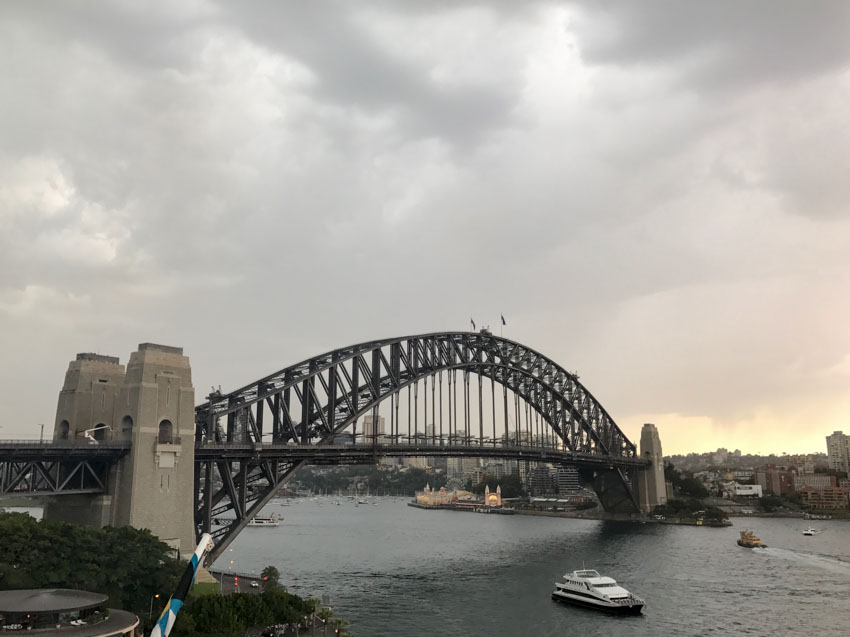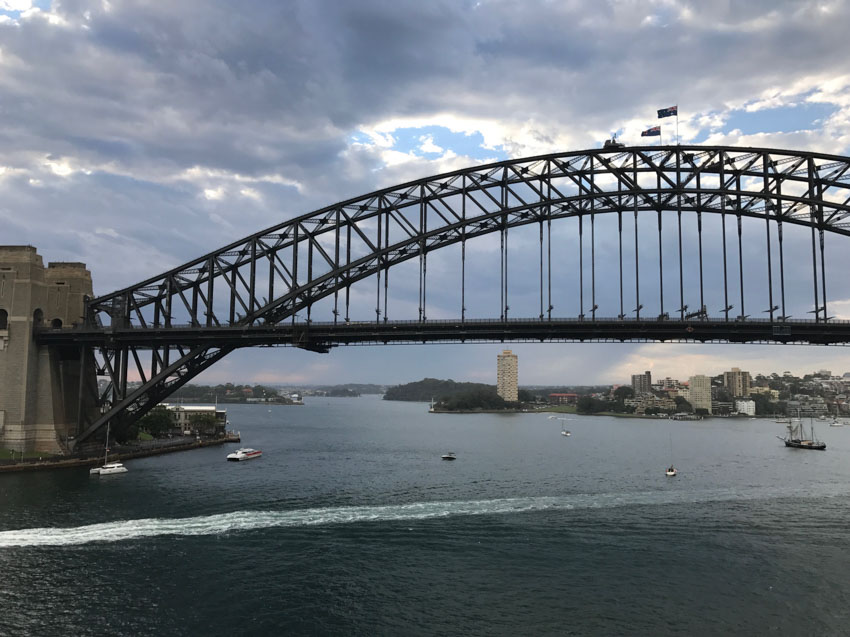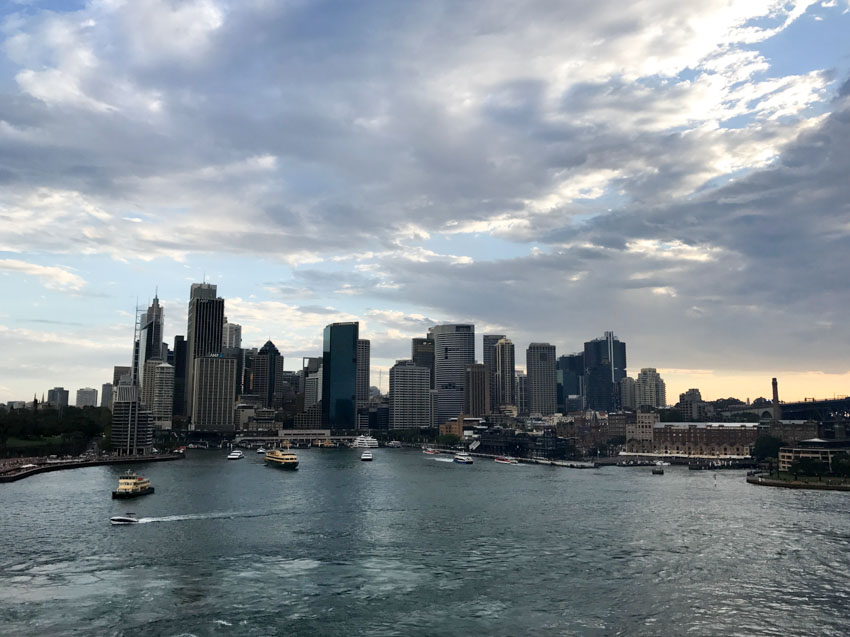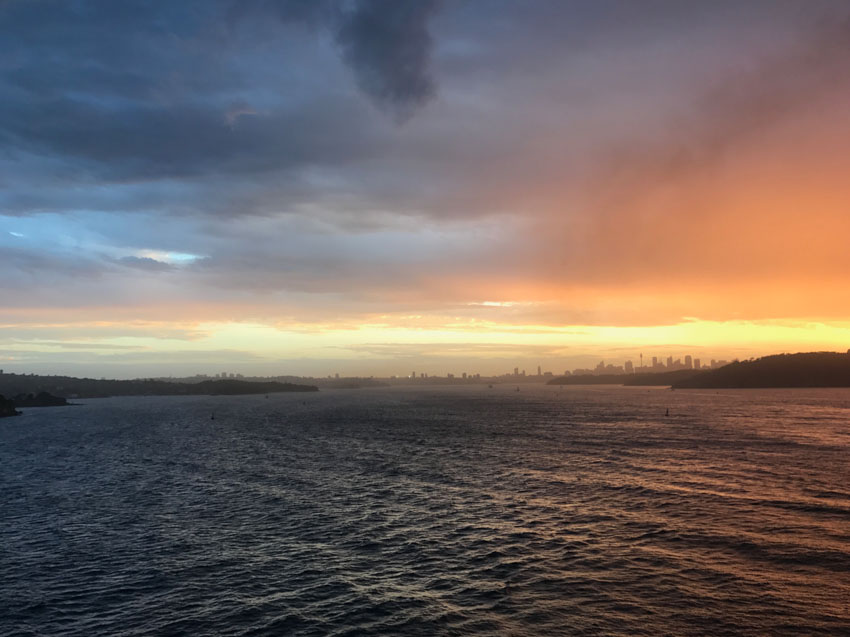 It's probably worth mentioning that the ship didn't feel "squashy" at all. I don't know if anyone has those kinds of concerns, but considering how many people are on board the one ship, it doesn't have a crowded feel. There might be long lines for some activities, but you can also pre-book. Areas like the pool might be busy, and lines for drinks at the bar may be long, but it's pretty standard if you've ever been to a public pool or ordered a drink at a bar during your life (you probably have).
The staterooms (the accommodation) were all very quiet and well away from busy areas. My first impression was that ours was smaller than I'd imagined, but it's not a big deal when you spend most of your time outside your room. And it's big enough for what you need. As I mentioned earlier, I don't actually have anything to complain about, rooms included.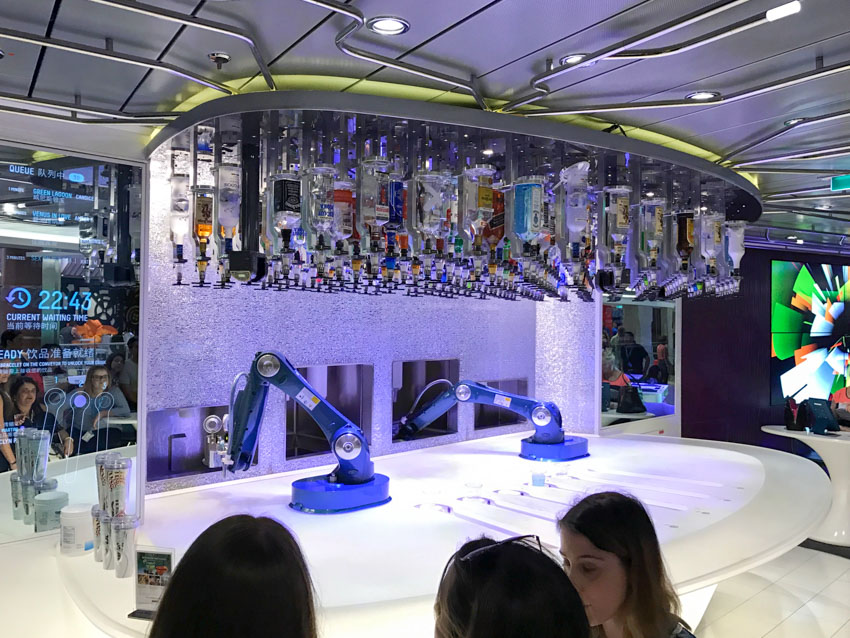 No internet!
OK, I had no internet for the duration of the trip. You get used to it after a while, especially when you have company, and it's relieving to be away from the "noise". At the same time, you feel like you're missing out, but I always find that when you don't have internet is when you usually get far fewer emails and notifications, haha!
The cost of internet was very expensive, and it wasn't worth it, especially since we could be occupied with so many other things.
First evening
I had worked late hours during the week and through lunchtimes so I could leave a little earlier on Friday, so I left at 2pm and Nick and I caught a train to the harbour. It's only a short train ride from where we work. Boarding the ship was an interesting new experience. It was pretty speedy because we had sorted out some of the checkin stuff beforehand, and we just had to leave our bags and they would be delivered to our room. Getting up close to the ship I started to get excited, haha!
While the ship was still in the harbour we had a late lunch in the buffet area. I hadn't had anything to eat for lunch yet so I just grabbed as much food as I felt like eating. Turns out I was hungry as fuck, haha, so I had two helpings of tacos with a crap ton of cheese. 🌮😄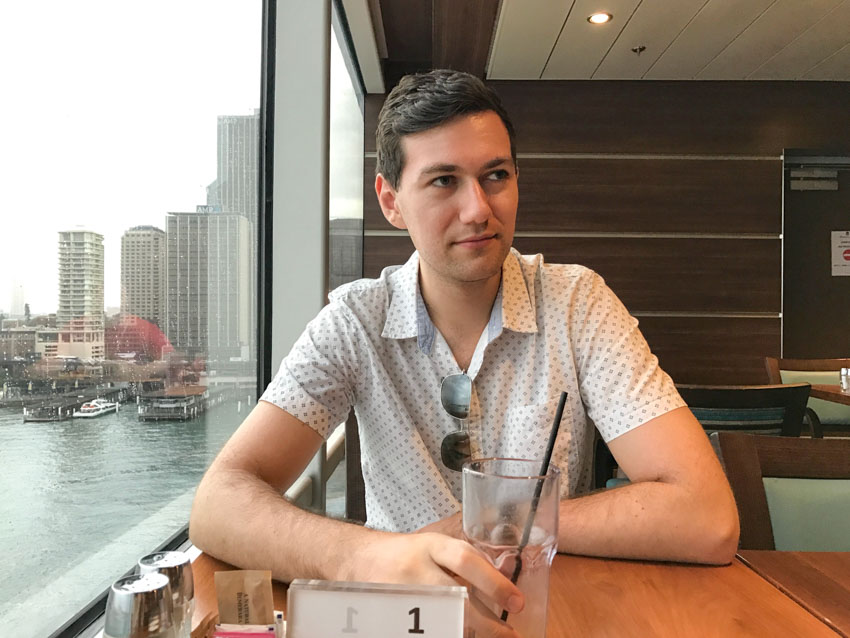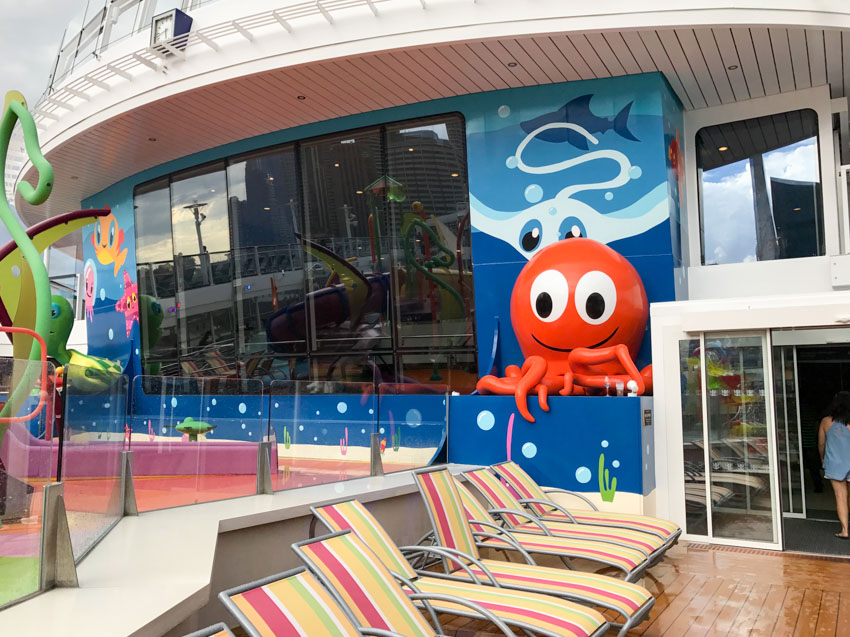 Second day
We started the morning by doing a behind-the-scenes tour. That was actually a lot of fun and I learned a lot of stuff about how the ship works and what the crew's duties are. I'm glad we did it. That came at an extra cost though, it was not included.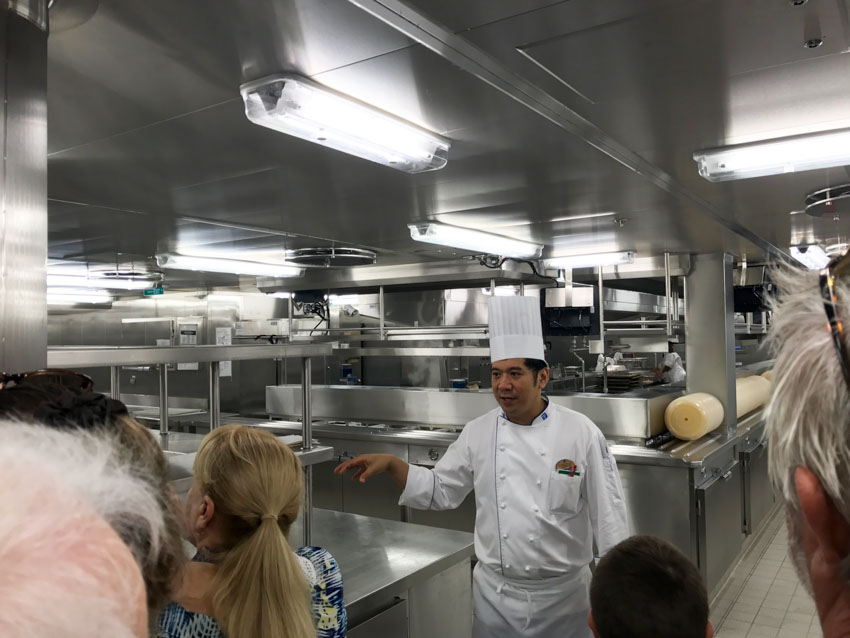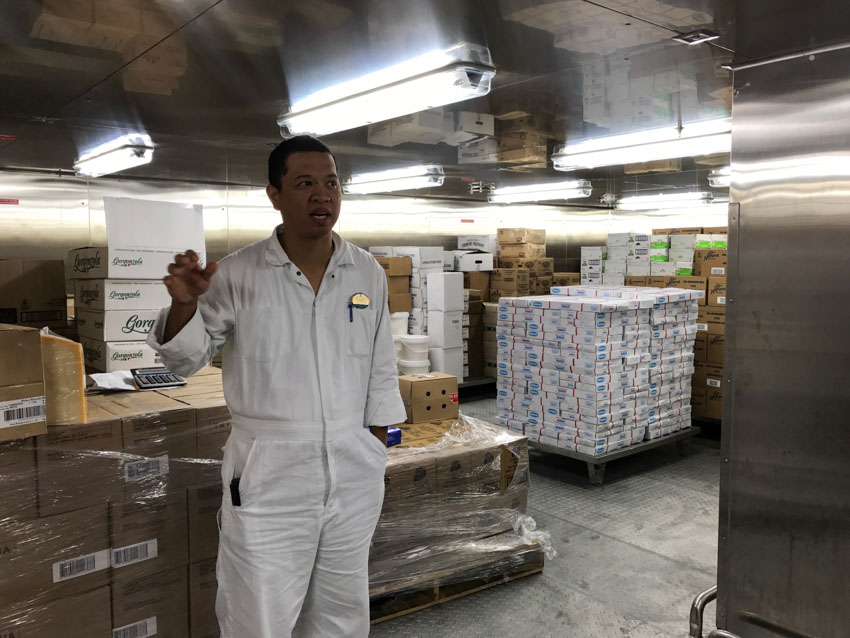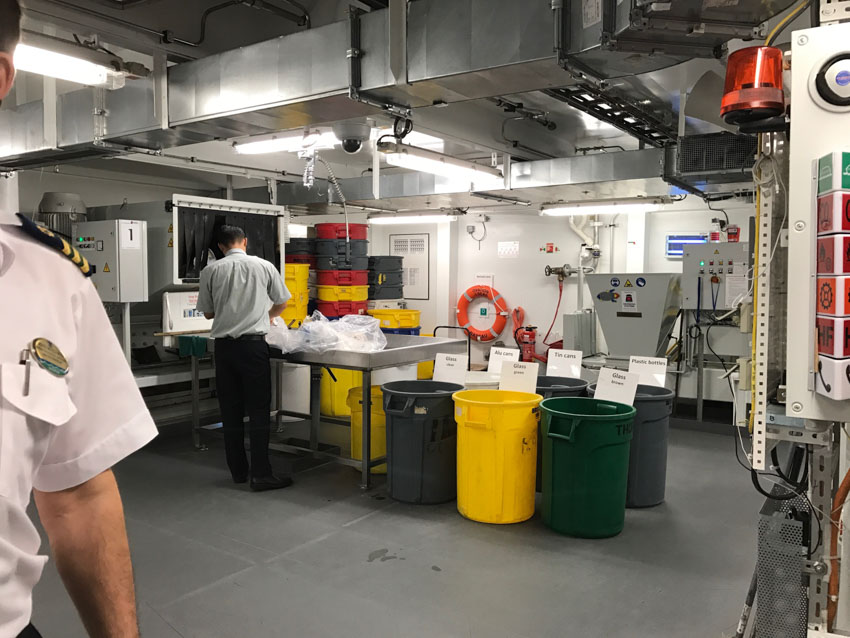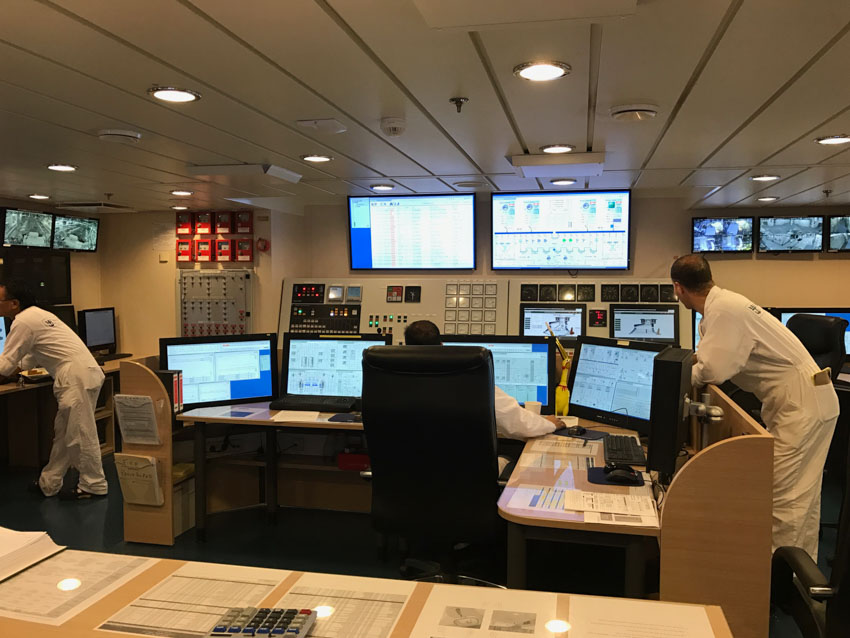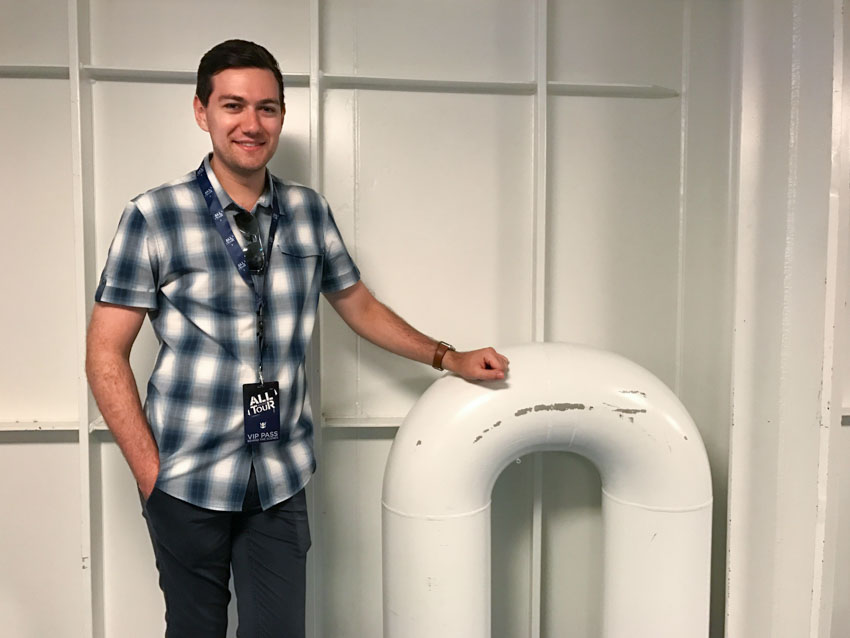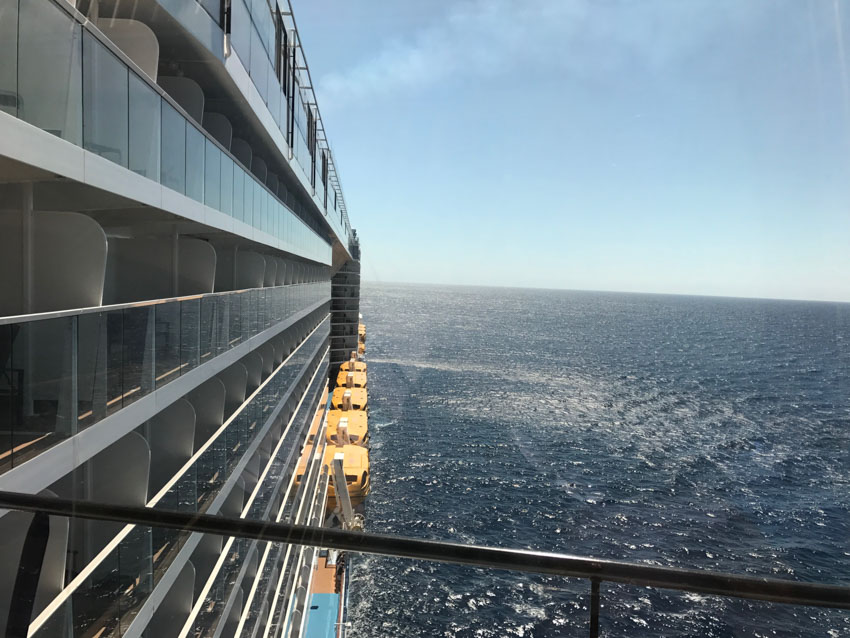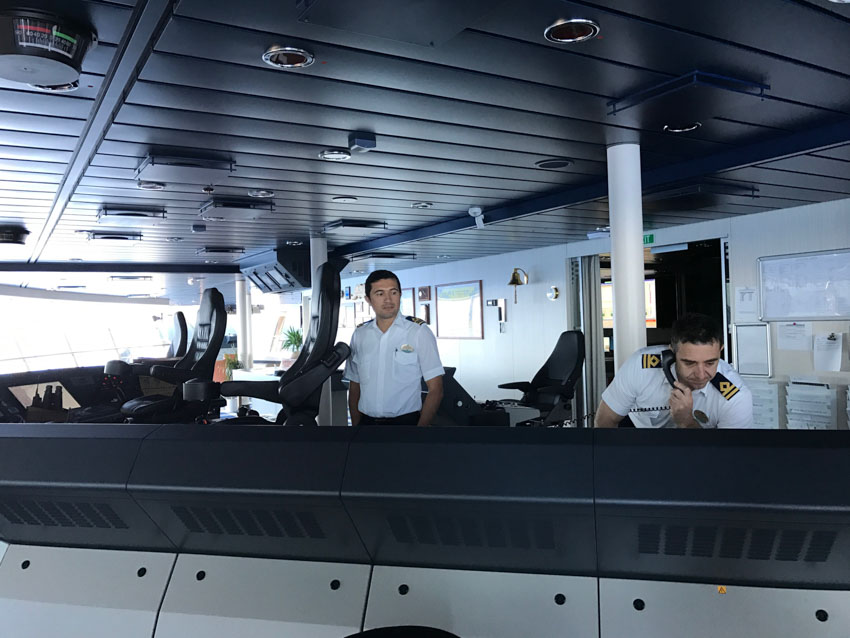 It was actually such nice weather when we came up above sea level again. Most of the tour didn't have any windows to look out of. Funny because the weather actually took a turn for the worse later on.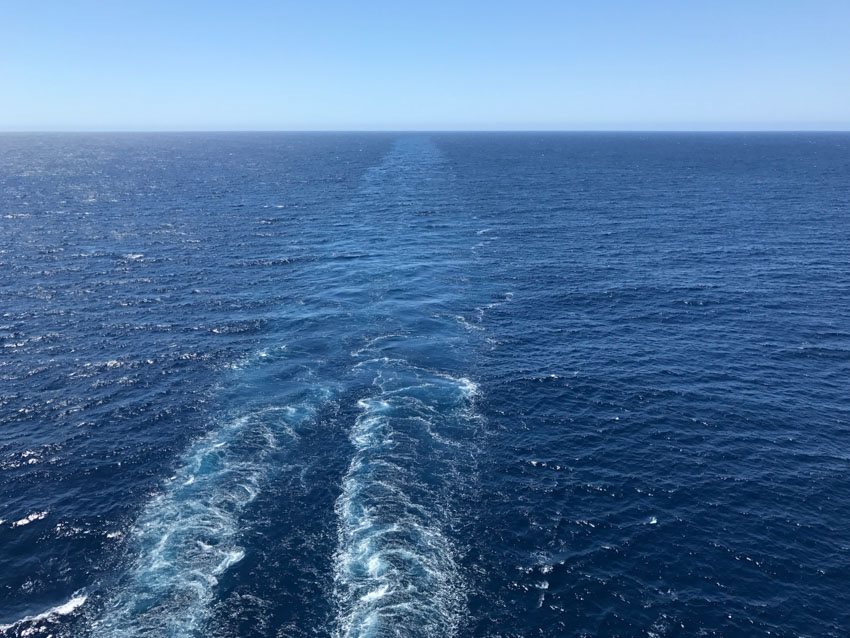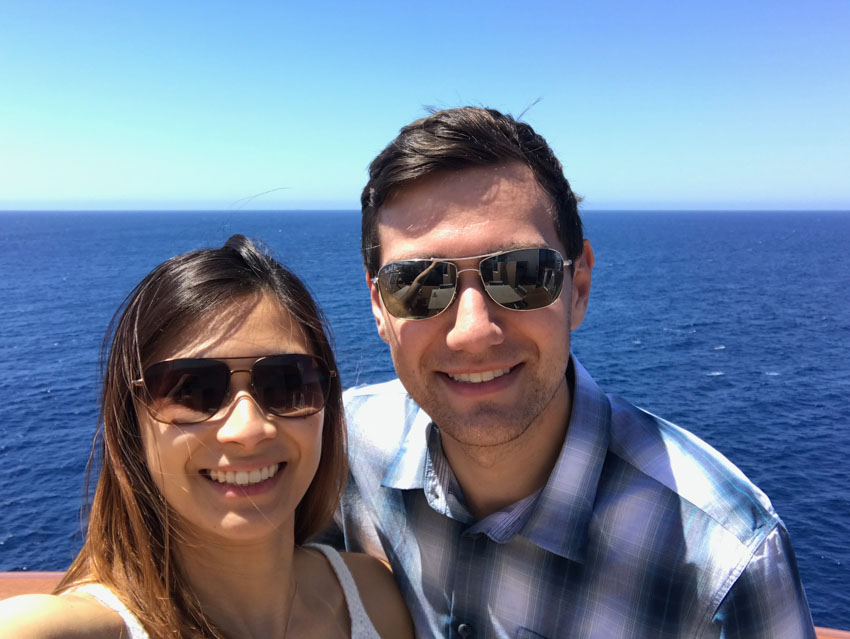 We had a nap in the afternoon. After getting up we went to the gym. I was really looking forward to this, haha. At first I really could not be bothered getting up, but I was very keen so off we went. OK, I gotta admit, I love the fact that there is a gym on board. ;) Nick really wanted to go to a "Fab Abs" class at 6:00pm so we arrived at the gym a little bit after 5:00pm, did our usual workout and then met the instructor in an open area where we set up mats and began our exercise. I enjoyed doing my usual workout and went super hard on the cross-trainer for fifteen minutes. I also used the shoulder press machine, which felt good – usually I hate it. 😆
The abs class was great, it burned our core to all hell, though. It felt very good, and there were some exercises we could pick up and do at home for sure. I actually don't work out my abs very much. Since my dancing days, they have remained strong, but I was reminded that they do need a challenge every now and then, haha!
We chilled out near the pool area on a comfy summery couch. It was one of those made of straw or bamboo but with fitted cushions and pillows. It was raining outside and the lightning was pretty intense, but we could still see the sun just up ahead.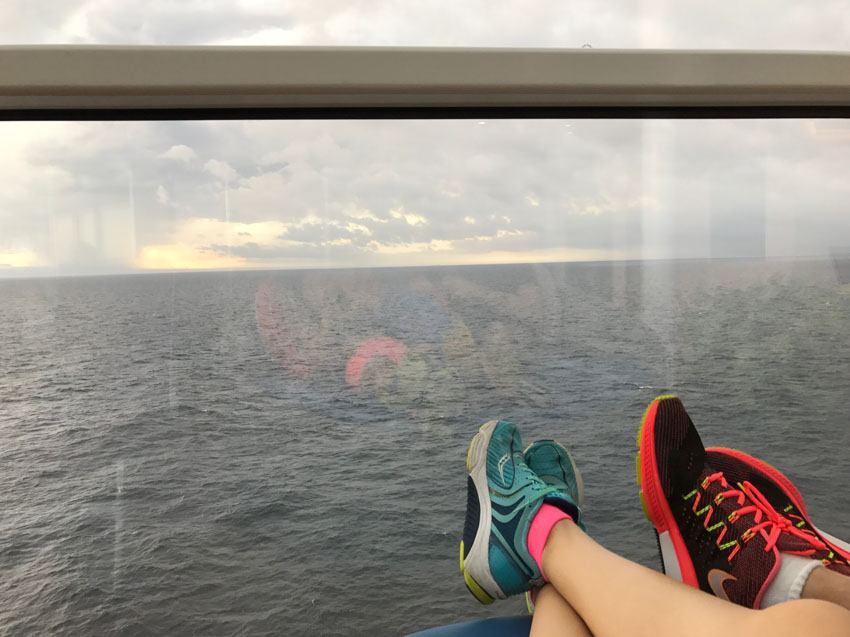 That night we had a nice restaurant dinner and then saw a Beatles tribute band playing for a short time. I wanted to stay longer but we had booked a viewing of the Live. Love. Legs. show that was on later that night. It was really enjoyable and fun to watch, though. The costumes were very extravagant and there was a lot of singing and dancing from both men and women. It was an awesome combination and I admired their voices and their moves! 🕺🏻💃🏻
Third day
The third day was pretty relaxing, at the same time lazy. We had a massage at 12:45. We went and relaxed in the spa for a bit before going for our massage.
The massage itself very relaxing. We had a ginger and lime scrub down our bodies and then got a half-body massage, which was basically just the back and neck. This was actually one of Nick's Christmas presents for me. Thank you baby 😍
Afterwards we actually just lounged around watching television. There were some free channels on the television in our room, and there was a Dreamworks channel. Nick had his laptop and was playing games for a bit. I ended up watching Bee Movie and Madagascar 3 since they were on. I've seen the former, but not the latter. It was a good way to chill out, haha.
We went for another lovely dinner before walking around the ship again and retiring for the night.
Morning of departure
Wow. I wish I was fully awake to have seen it, but Nick opened the curtains just before sunrise and I could see the pretty lights of the buildings in the city as everything slowly began to wake up. I fell asleep again but that was really lovely to see. At least, what my half-asleep self saw. ☺️
Eventually we got up and had breakfast in the buffet area before packing our bags. I have to admit, it was great not having the usual 80-minute commute I'm so used to having every morning. We just had to catch a quick train!
Conclusion
I really enjoyed the cruise even though I am not totally hyper about it. I'd go on another cruise, though I'm not in a big rush to do so. I also think that cruises are a really big thing in the Western world – they have obviously been around for at least a century, given stories like that of Titanic, and boats being the only means of travelling long distances at the time. That said, it was a completely new experience for me and vacationing on a boat just wasn't in my bones. I told Nick that I felt the novelty would wear off for me, personally, the novelty of being on a floating city. That is why I think I would like to try a longer cruise that stops at a few places. It would change things up a bit for me.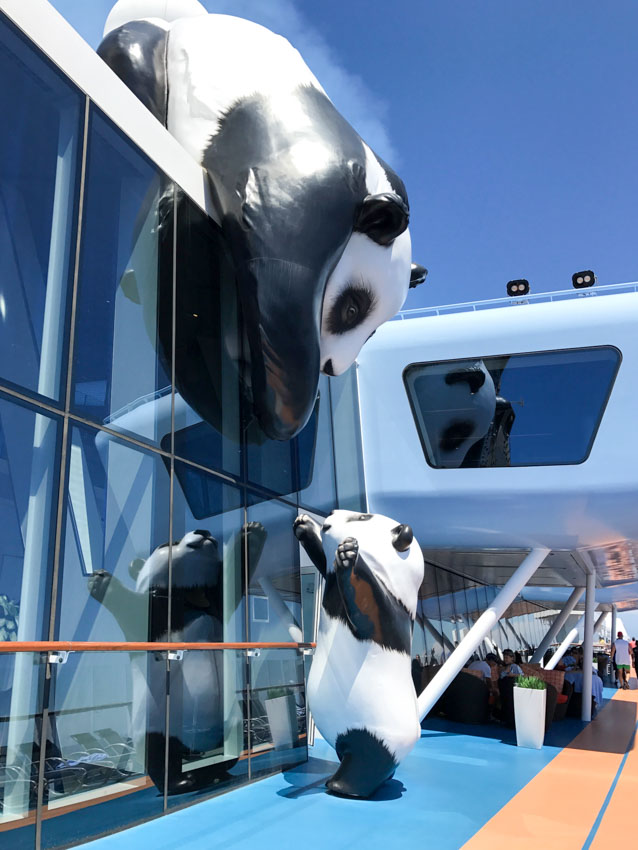 I particularly enjoyed the view even though I didn't immerse myself in it. I also enjoyed the food. Some of it was average, some of it was very good. The quality of the restaurant food was something I couldn't fault either. The thing I really liked was the fact that everything was so chilled out and relaxed. You could go back to your room at any time, and food was pretty much available at any reasonable time (and you could take it back to your room too).
There were activities available that I didn't take part in or check out – comedy shows, rock climbing (even though I did want to go, but I couldn't be bothered), and bumper cars. I can't judge those, but I think many people would find them fun, and I hope I have an opportunity to try those kinds of activities next time.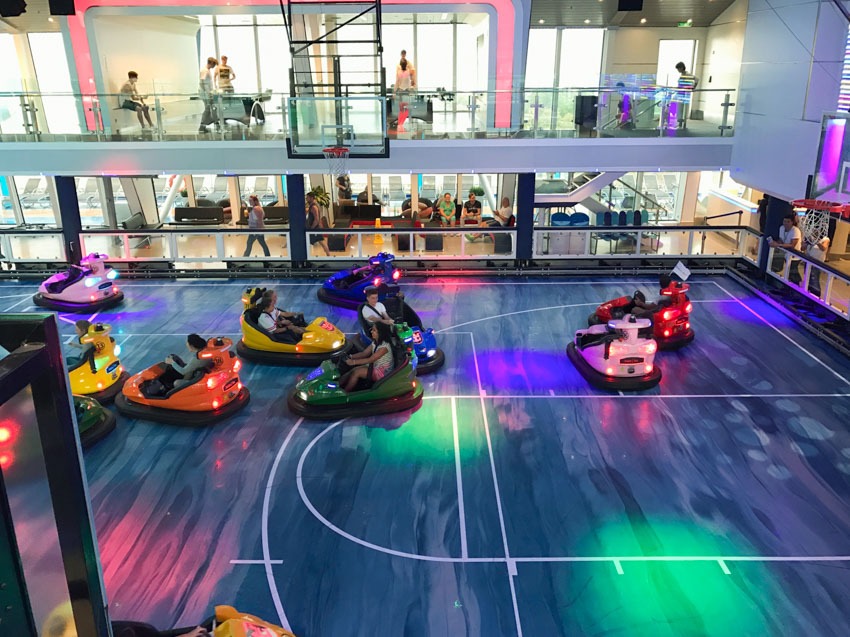 Also, although cruising is great in summer, I'm just not a big fan of the sun and I still get sunburned even if I put sunscreen on. Just something I have to deal with, I guess, haha.