BridgeClimb Sydney
I'm not really sure if there are other bridges around the world that you can actually climb, but when I told Daniel that I climbed the Sydney Harbour Bridge, he said he didn't even know you were able to literally climb the bridge. I didn't know that either, at least until I was in high school. On every exchange student visit, the students would be taken to climb the Sydney Harbour Bridge.
To be honest I thought it was just another tourist attraction, and something I wouldn't really be interested in. I'm not sure why, maybe I never learned to appreciate my hometown until recently. Or maybe I just didn't value picturesque views from the top of a bridge that actually holds world records (that I didn't even know about). Or maybe I was just a boring, unexciting person.
The cool thing is that if I ever did think that way, I changed my mind about it all.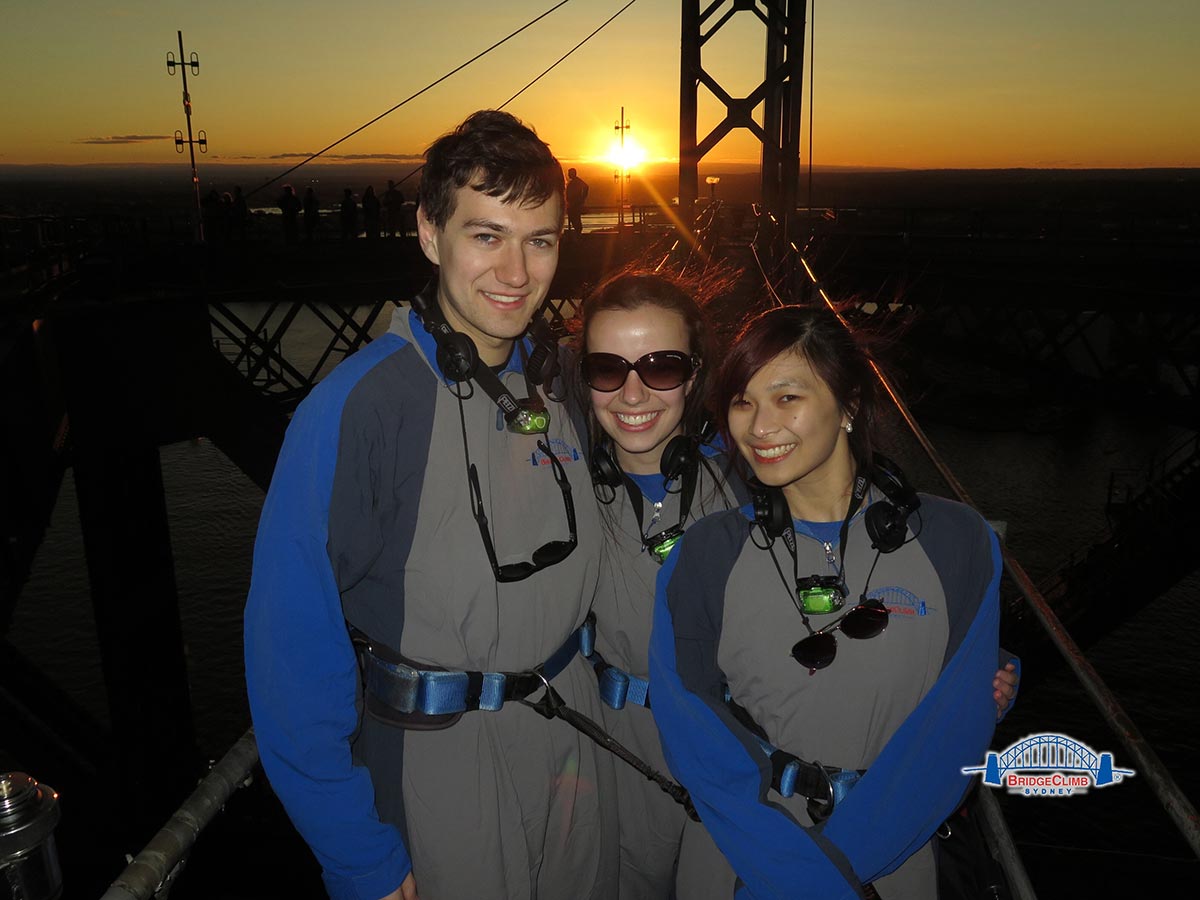 I went with Nick and his sister Beck on Saturday to climb the bridge. We had booked a twilight session so we walked up the bridge during the afternoon and sunset occurred while we were up the top. When we were walking down it was dark and practically night time.
It wasn't as daunting as I made it out to be in my head. I think I was just exaggerating when I thought I was scared. I think I assume I am scared of heights, but judging by a lot of courses and situations I have been in, I don't think I actually am. When you climb the bridge you're securely harnessed to the the bridge as you walk, and there are solid steel steps and walkways, so there's very little chance of you taking a fall. You're also not allowed to bring anything up there at all. That includes anything that might drop and cause damage to a car or building below – so no phones, watches, or earrings that aren't studs.
One of the people in our group proposed to his girlfriend when we reached the top! He had bent down to pretend to tie his shoelace and she was looking away at the time. When she turned around he had gotten the ring out (the box was strapped to his wrist) and she was so surprised, she had no idea. She said yes. :) Our guide was a very funny guy, and he told us that he put the couple at the back just in case there was a drama… apparently they have had six proposals where the response was a no!
Sydney Harbour Bridge is the tallest steel arch bridge. It also has 8 road lanes, 2 railway tracks, 1 pedestrian way and 1 cycle way. I am now beginning to sound like Wikipedia, but if you want to learn more you can climb the bridge yourself. I pleasantly surprised myself, I had nothing to complain about on the day. The winds were very strong while we were up there but it was still a really good afternoon.