Fashion Friday: Sun angel • Soft lines and patterns
Hi everyone! I'm back for another outfit. I must say, this whole outfit is a bit of an experiment in femininity. It's got a ruffle in the top, and a floral skirt – things I only dared to experiment with. I prefer a bit of a boyish edge to my outfits, and I generally feel out of place or a bit awkward in anything that's too feminine.
Asymmetrical top with a ruffle feature
I would say that the asymmetry of the black top is something I'd normally try, but the ruffle is not completely my thing. I prefer cleaner lines and I think I look better in cleaner, more angular lines. But I do think the dark colour of the top makes the ruffle less obvious, thus toning down the femininity a little.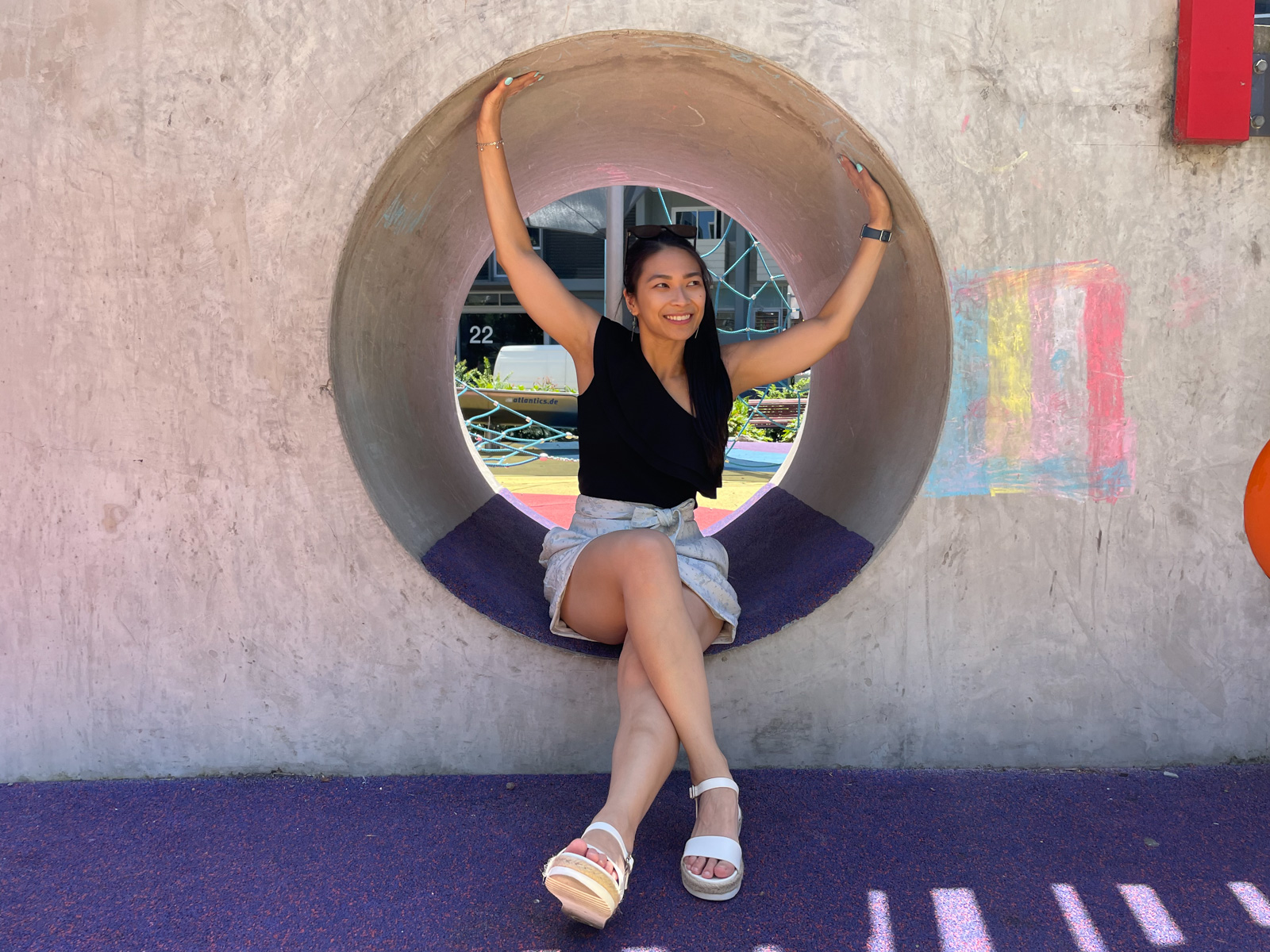 I spotted this top online and I actually tried it on in my usual size. However, I ended up returning it because I wasn't sure about it, and it didn't fit right. I later found a seller on eBay selling the top in a smaller size, brand new and for a much cheaper price than the retail price. I haggled the price down and got a bargain, and the smaller size turned out to be a success! I love this top and it's actually really quite comfortable. The single shoulder actually doesn't bother me and it sits fine without needing much adjustment.
A skirt out of my comfort zone
I didn't really think about the pairing of the top with the skirt. I simply thought it would be contrasting in colour. Something about the pale, not-quite-white colour of the skirt makes me always want to pair it with a solid bright or dark colour. I've tried wearing the skirt with a striped shirt, a fitted turquoise top, and a loose chambray shirt, and they all give very different and interesting looks without really clashing much with the skirt. I found it a bit surprising.
I think the skirt is actually supposed to be a lavender colour but I don't really see it! It looks like it's almost white overall, and the floral accents have a tinge of light blue and green to them. If there is any hint of purple, it's definitely a shade that's closer to white. Because of all the combinations I've tried with this skirt, I'm inclined to think it actually leans neutral, which is pretty interesting.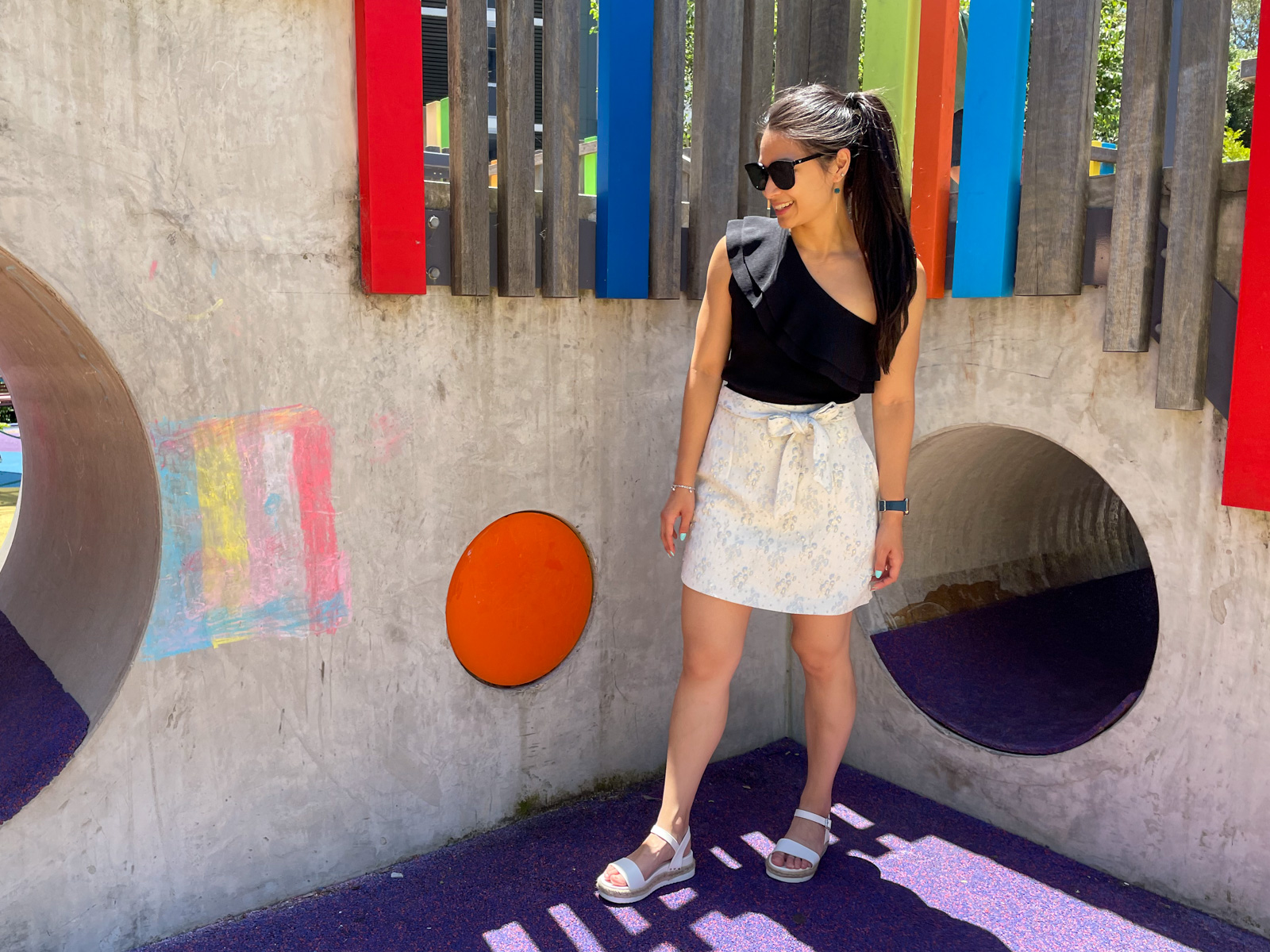 I like the fit of the skirt. It hugs my curves in the right places and fits my waist perfectly without requiring alteration. It also fits my body shape and doesn't restrict movement, which is hard for me to find in a skirt. The pockets are certainly a plus! On the other hand, the bow is not something I love, and it makes it a bit tricky to wear this skirt without the top tucked in. The floral print is definitely not something I'd go for either. All that said, I still decided to keep the skirt when I bought it, because the fit was perfect and I managed to get a few combinations with some of my tops. It's an unusual piece in my wardrobe, but it's a bit of a winner if you ask me. 😊
Summer platform shoes
I didn't have a flat pair of sandals for summer; I only had a heeled pair. So when it came to grabbing some new sneakers, I picked up this white pair of platform sandals as well. I was a bit unsure about the white, but I love white shoes, so I decided to give them a go. I wouldn't call them the most amazing or well-made pair of shoes (they are made from synthetic material) but they are mostly comfortable and stylish. I struggle with very flat shoes so it was nice to find something with a bit of a platform that I could walk in without a lot of trouble. I did try to drive in these shoes though, and I find the soles a bit slippy because they lack grip. But that's not a big deal either.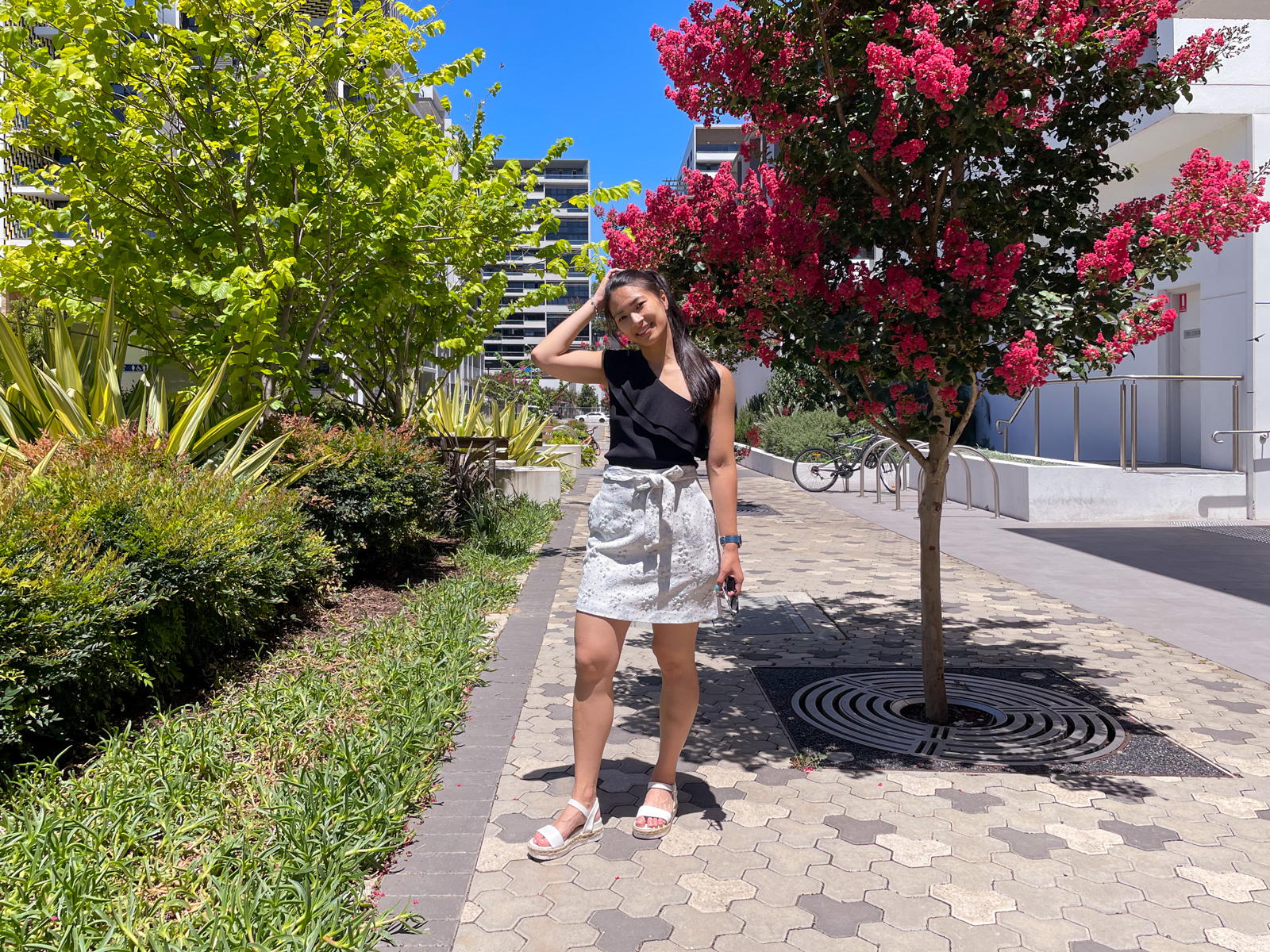 In summer-y… 🏖️
To top off the outfit, I wore my black sunglasses, mostly to match the top. I put on earrings that had a bit of colour to them so that they would stand out against the black. I do think my hair looks better tied up when I wear certain clothes, but it does depend on what I'm wearing. Since I wanted to show off more of the top – and I suppose my shoulder as well – I tied my hair back. I think having my hair loose might not have been too bad either.
Since the outfit is a stark contrast of black and almost-white, and is quite feminine, I think it would actually make for a lovely photo if I had a bouquet of show-stopping flowers. (And admittedly, a bit typical of Instagram highlights, haha.) The previous photo makes me think of the beautiful contrast that peonies and sunflowers would create with this outfit. 🌻 It's not often that I take a trip to a Florist, but it's an idea to think about for the future if there aren't pretty flowers around in the parks and gardens where we take photos.
Looking back over this outfit, I'm honestly not sure that it's one of my favourites! 🤔 It's nice, but I don't think it nails my overall style. It's a bit of a branch out – but I do like to have pieces that are a bit different so I can experiment with them.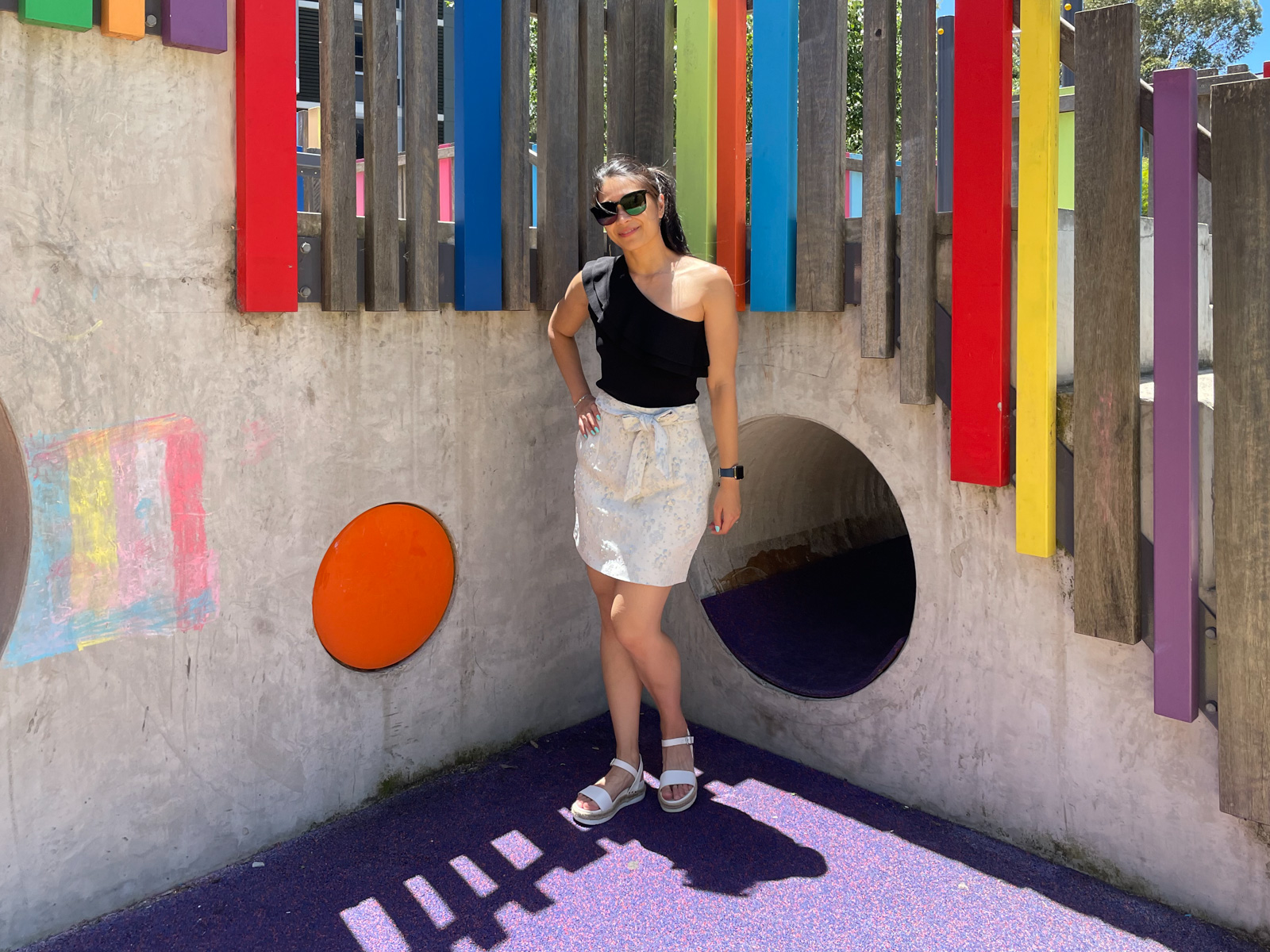 Outfit details
Colophon
📸 All photography by Nicholas Cooke. (on my iPhone 12 mini)
These photos were taken near where we live, where there's a children's playground and some open grass area. Not a lot of trees, as you can see! I don't always love the urban environments and perhaps the time of day we took these photos led to some harsh lighting. 😅 It was fun anyway!
I named this outfit Sun angel because of the rather feminine qualities of the outfit, and the fact that it's summer in Sydney and the outfit is rather reflective of that.