Fashion Friday: Spicks & Specks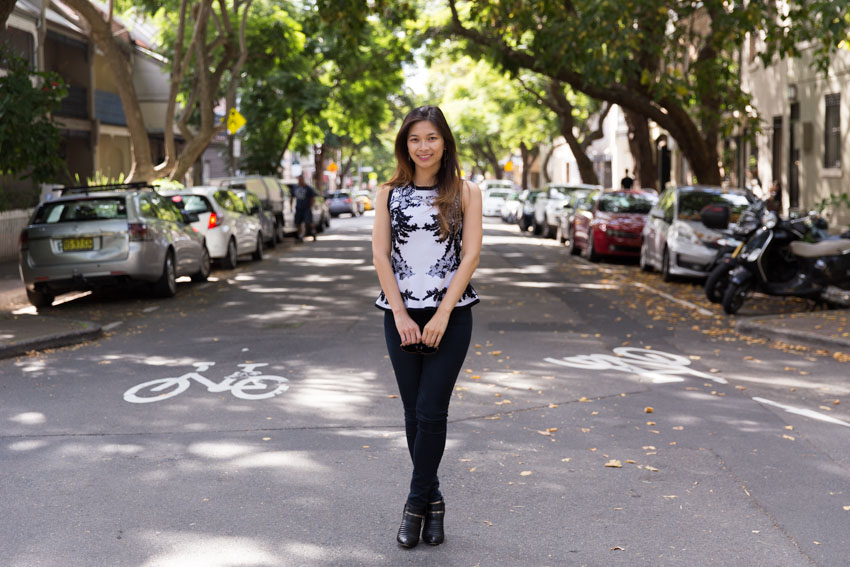 Nick helped me take some photos again for Fashion Friday. Last time we took some photos just off the main road where Sydney's Hyde Park is. This time we decided to head into some more nearby side streets.
I bought a new pair of jeans with the intention of replacing my charcoal-blue jeans that have stretched quite a bit. I wanted to get some kind of dark blue since I misplaced my standard dark blue jeans a few years ago, and this pair by Cheap Monday caught my eye. The inner leg measurement is 72cm, and I believe it is meant to hit the ankle on the average sized person. But for me, at 158cm (5 foot 2), it is just enough so that I don't have to deal with cuffing the ankles (which I am sure every petite woman despises).
I went a size down in these jeans because my size 26 Topshop jeans ended up being really loose around the waist. And I was a size 25 in my old Guess jeans, so I went for 25 because I am definitely smaller than I was back then.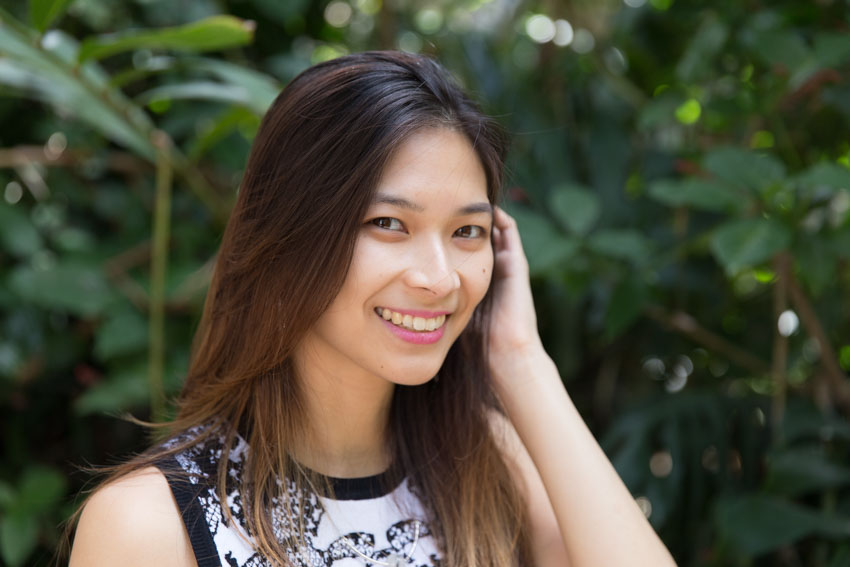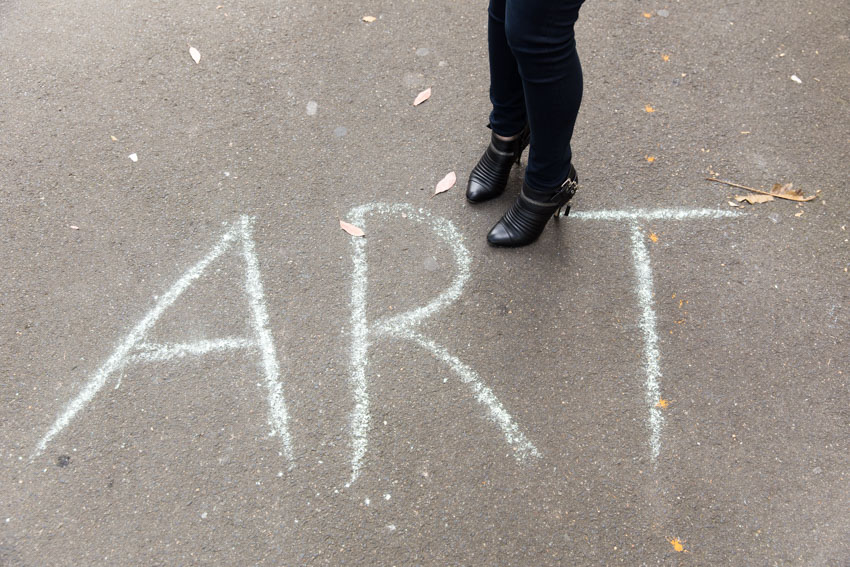 These jeans are high-waisted, which most people know I used to hate but now appreciate the way high-waisted clothing accentuates my small waist. But as I was talking to Pauline recently, we both have meaty legs and shapely butts that make finding jeans very hard to fit both those and our tiny waists at the same time (and we both hate belts). But I digress… I would rather have butt-hugging jeans than a really loose waistband. 😂
The measurement of the inner leg is something I look out for these days, because it's a good way of determining whether a pair of jeans is too long for me. Some brands sell petite sizes but there aren't many. I really want to buy another pair from Topshop but that requires forking out $100, so I have been holding off for quite a while.
But yes! These Cheap Monday jeans are doing well for me so far. I am sure in time they will stretch just a little bit, which is not a problem. I am glad I have a second pair of high-waisted jeans to mix and match stuff with. And it doesn't have rips in the knees like my other blue Topshop pair. Ripped jeans are cool, but it is nice to have a plain pair too.
These shoes aren't new, although my coworker thought they were because I hardly wear them. ☺️ They zip up on the inside side of the foot, even though they look like they are a pain. They are very high, so I can't walk in them for long periods of time. I also cannot drive in them, and I drive to the train station several times a week, which is why I avoid wearing them. But they have made an appearance in Fashion Friday before, and of course, they're cute as hell. They are also badass. Can a pair of shoes be both cute and badass? Yes.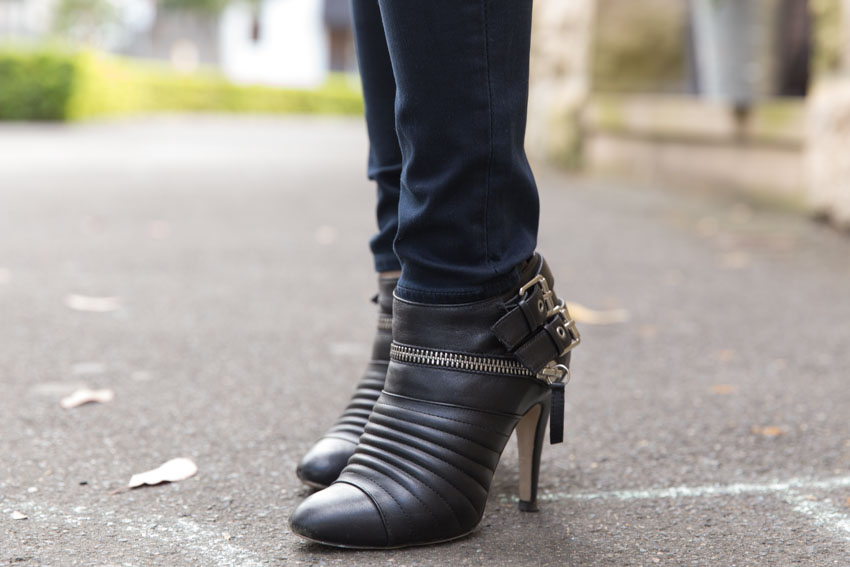 I wore the top some time ago with a skirt but I think it looks far better with skinny or slim jeans. It elongates the body as well, because the peplum waist kind of brings attention to the legs. Normally I avoid pairing dark blue with black, but it's kinda hard to tell that these jeans are not actually black but dark blue.
My nails were done last week but are already starting to chip. They are not gel or shellac nails; they are actually normal nail polish, the trendy "shatter polish". The shatter polish works by putting a layer of white nail polish, then a layer of black, which "shatters" as it begins to dry.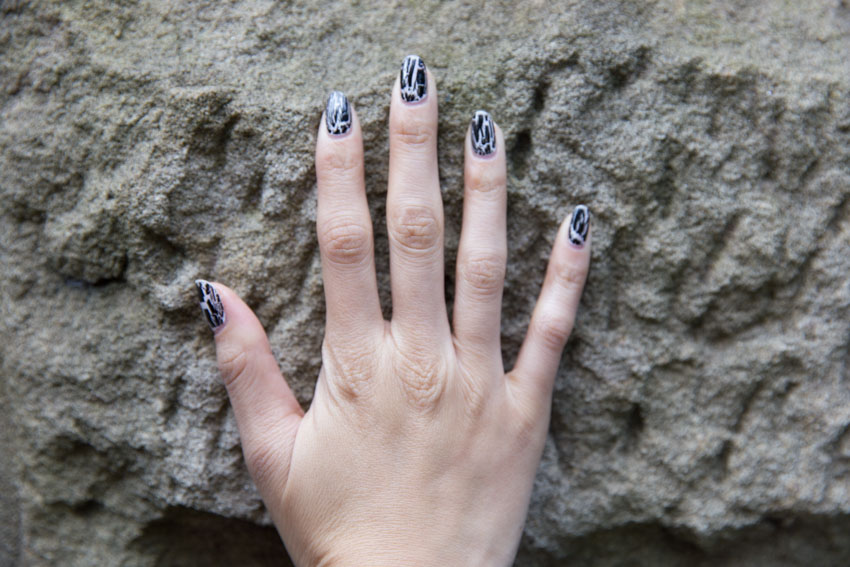 I had them done for only $15 before we went on our Easter break, because my nails needed some freshening up. The nail artist didn't wait for each layer to dry though, so even sixteen hours later after I had gone home and slept, they had sheet marks from my bed and had not been completely dry at the time I had gone to bed. Cheap manicure, but it's a rookie error to not wait for each layer of polish to dry before putting the next one on!
The earrings are a stainless steel and onyx version of the gold and amethyst ones I featured in my Reverie outfit. I don't have a lot of dangly silver earrings, just a lot of studs, so I really wanted to get this when it was released at By Invite Only. It's simple but not too simple, and it still stands out. I love the monochrome look and the geometric lines. These earrings actually got lost in the post and took several months to get to me (which was unusual). It seemed to have arrived in Australia but never delivered. I contacted the company and after a bit of correspondence, they issued me with a store credit for the same amount and said that if the package turned up I didn't have to return it to them. I had really wanted these earrings so much and when my package got lost, I was upset that they sold out and that I may not ever get my hands on them. So when they turned out I was so pleased!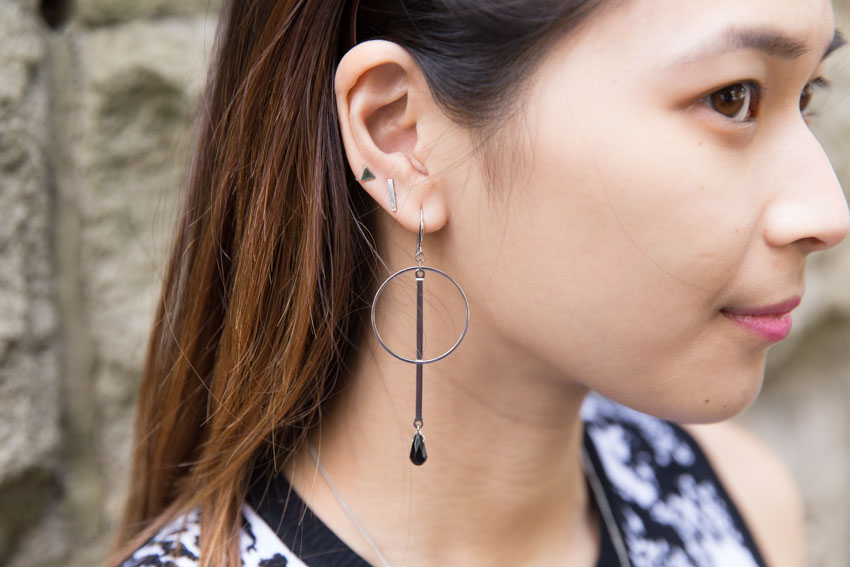 I prefer silver to gold jewellery and to be able to wear these earrings made me really happy.
With the store credit I had actually decided to purchase this tourmalinated quartz necklace. I have a few necklaces from By Invite Only, most of which are gold. They have a huge gold range and only a very small silver range. I have one silver hermiker diamond necklace from them and I tend to favour that over the others. I decided to go for this silver necklace so I had another option. I preferred the short length to the long length, and liked the monochrome colours. I was able to request one that had a quartz head with less inclusions (so there are less black imperfections on it).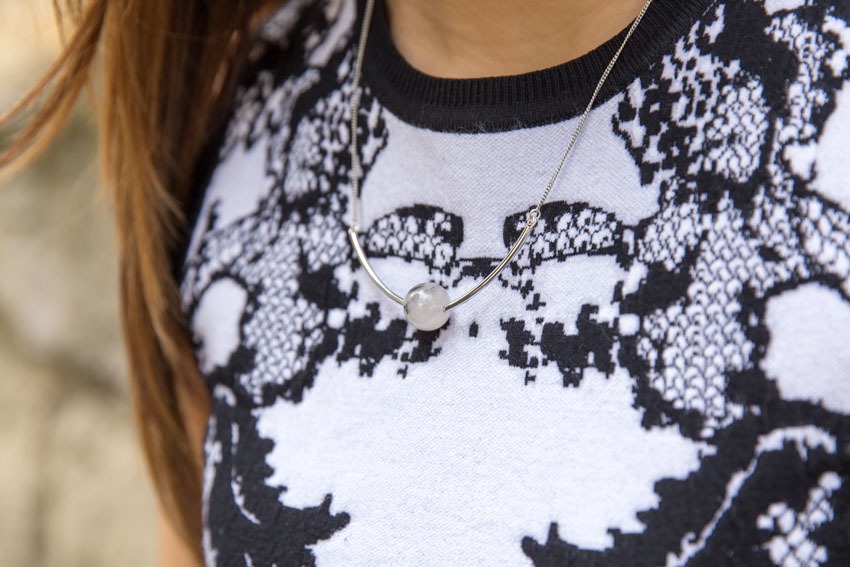 For me, silver definitely works better with more outfits. I really like this necklace, especially the curved sides. I noticed it's easily bendable though, so I have to be careful.
I like this outfit mostly because everything comes together very well. I think the necklace gets a little lost in the pattern of the top because there isn't a lot of contrast. That's really the only thing I'd fault.
This outfit is named after the Bee Gees song Spicks and Specks, mainly for the inclusions (I'd call them "flecks") in the necklace.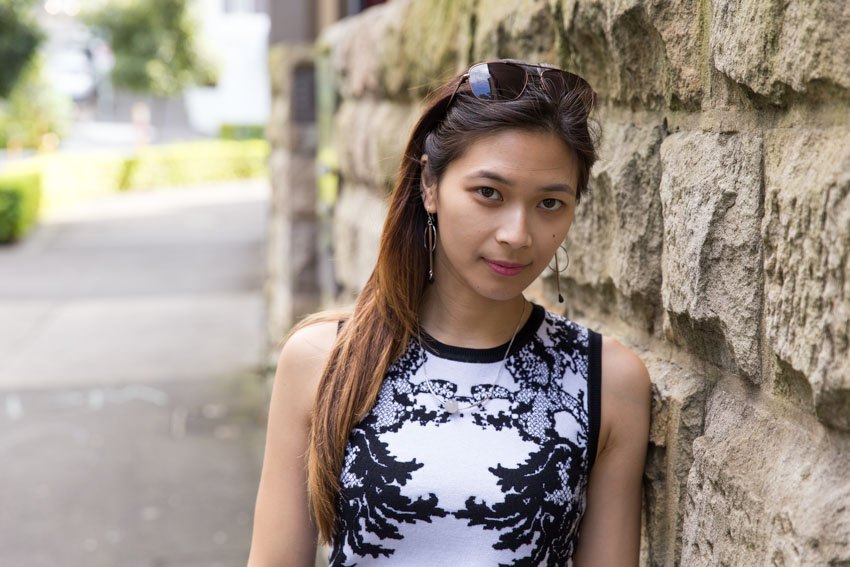 Nick did such a great job with some of the full-body shots; I just wanted to put so many in but they were too similar. 😅
📷 All photography (except shot of my shoes) by Nicholas Cooke. ❤️
Outfit details
Top: Cue
Jeans: Cheap Monday "High Snap" in Od Blue (available at The Iconic)
Shoes: Wayne by Wayne Cooper (available at Myer)
Necklace: By Invite Only (Stainless Steel Gwyneth Tourmalinated Quartz Necklace)
Earrings: By Invite Only (Silver Onyx Hoop Earrings)
Sunglasses: Fossil
Nails: done at Beauty Story salon in Sydney
What do you think of the dark tones in this outfit?