Fashion Friday: Reverie
It was a very hot day (37ºC/~99ºF) when Nick helped me take these photos – and the rain was starting to come down. I wish we had chosen a better time and I wish I could have worn this outfit on a less hot day because I was starting to sweat. The photos could have been better but I'm sure they will be next time. ✌️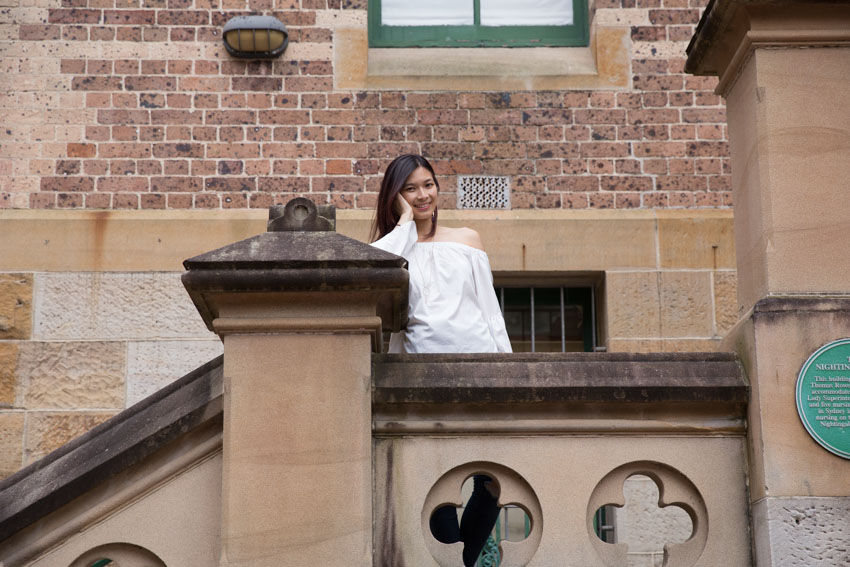 We took these photos at Sydney Hospital in the afternoon. It was very quiet there, not many people around. The buildings have an interesting historical feel to them. I wouldn't mind doing a shoot here again.
The fountain was really lovely as well. Ignore the funny angle – it's art. ;) And I did say we did this a little rushed, haha. But here's the obligatory full body shot that also shows my peep-toe shoes. They've made quite a few appearances in my posts. I need to get the heels and soles fixed up, though, as they're getting worn out from being worn so much. 😅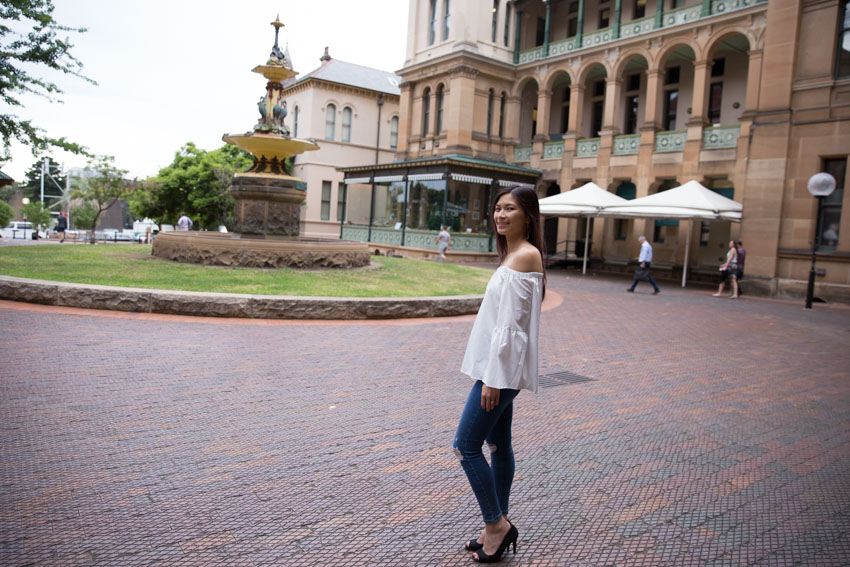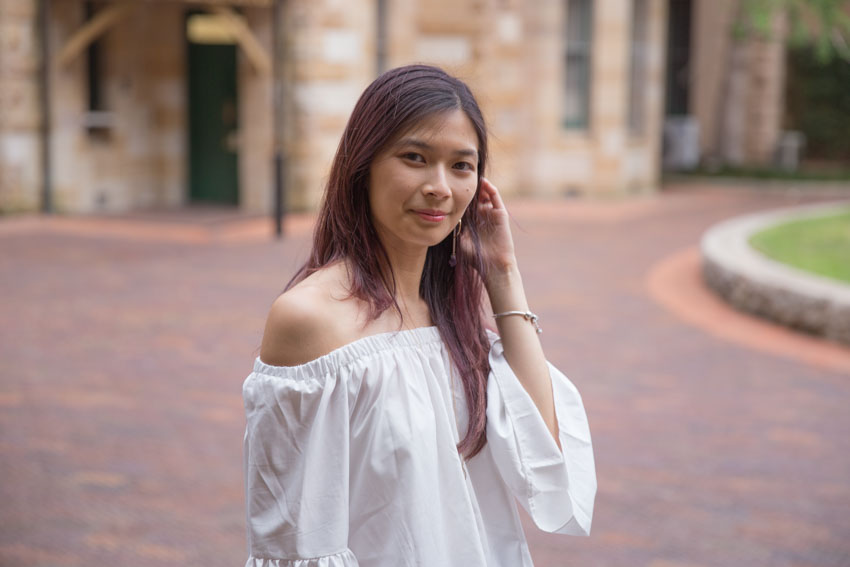 I was a bit wary of the off-shoulder top when I bought it online but I thought I'd give it a go. I wasn't sure if it would look good on me but there's no harm experimenting with different styles. I always tell Nick when I am unsure if a certain type of clothing will look good on me but he encouraged me to give more styles a try. I do feel like the top swamps me a little bit, but I've seen it look good on other slim girls, haha. I like the bell sleeve as it gives quite a relaxed look.
One thing I can criticise about the style of top is when you reach up or stretch, the top goes up to your neck and you have to, well, place it back at the sides of your shoulders. 😆 I wore it in Perth, and got sunburned, and I was a little glad I had burned/tanned over my whole shoulder and not where you could see visible strap lines or anything! 😂
I think that the top goes best with these jeans, though I only tried it with one skirt and it was a bit too baggy. I'd wear it with a tight-fitting skirt to balance it out.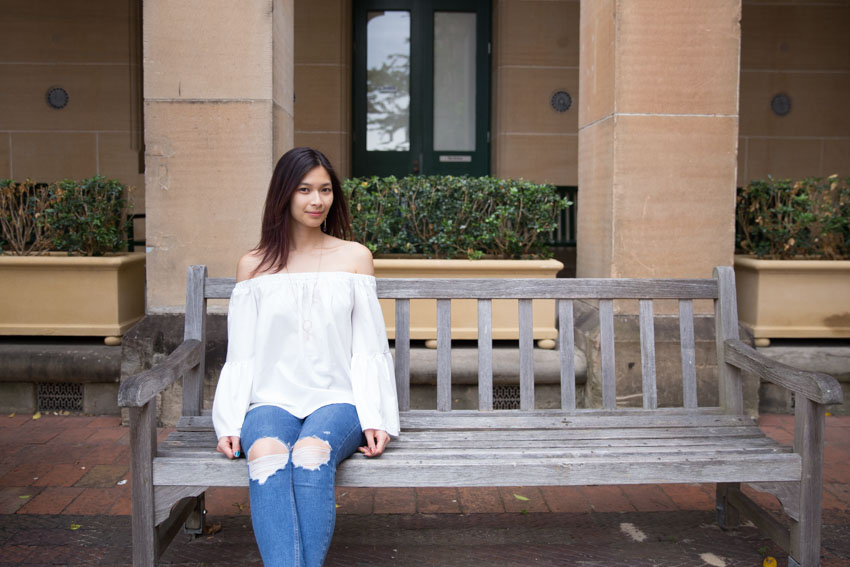 Ah, and also my hair! It's sadly not very purple anymore. :( Purple fades really fast, I've learned… and I think that next time I choose to do purple I might go for my tried-and-true purple dye that I did many years ago. It all looks more pinkish-mahogany, and only the parts that were pre-lightened remain purple, but you can't quite see it unless you look up close.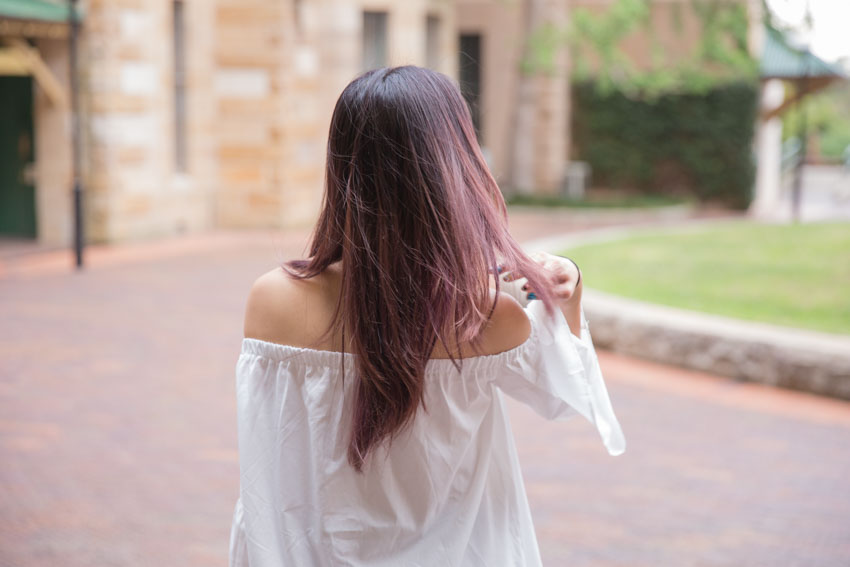 The earrings are super pretty! I was looking for more longer earrings because I don't have a lot of long ones. I'm going through an earring cleanout because I have almost 40 different pairs. I definitely don't need that many, but I did want another long pair to add to my collection. I shopped on By Invite Only for a pair during the Black Friday sales (this was literally the only thing I bought during that time period!), and my friend Daniel helped me choose between a few. I'm glad this was his favourite because I just went with it. I didn't really want to buy more than one pair.
I really love the colour of amethyst stone in general. And it goes beautifully with the gold on these earrings. The bar and the hoop add interest. The earrings make a little clinky noise when I walk, but it's good to know they're still there! ;)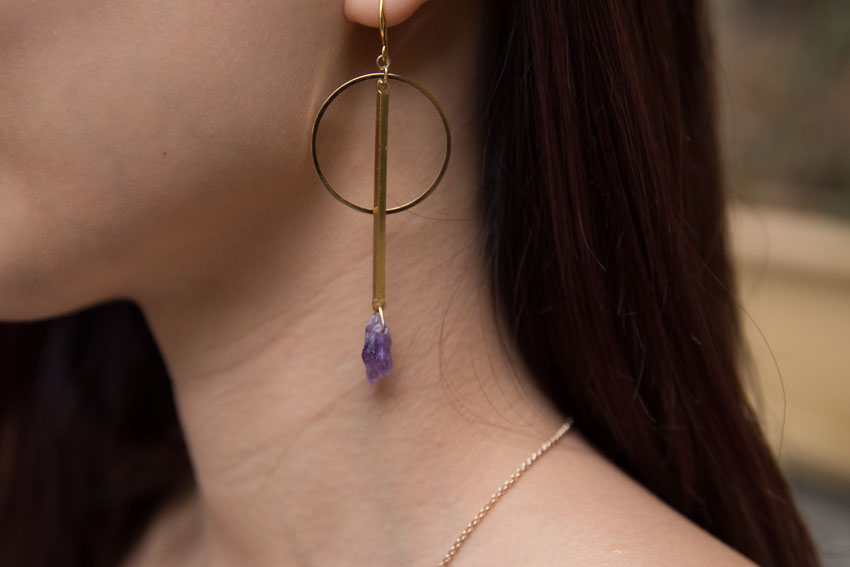 I wore the necklace to add more of the earthy stones to my outfit. They actually sent me the wrong length chain and I was expecting it to be much shorter, but it works. They're sending me one with the correct length though, and it's on its way. I'll have two, but maybe that's not such a bad thing? ☺️
(Fun fact: I brightened this photo with CSS, so the original photo is much darker. I wrote this post on-the-go after I already uploaded the images, so I couldn't upload a new version. Yay for using CSS like Photoshop! 👊)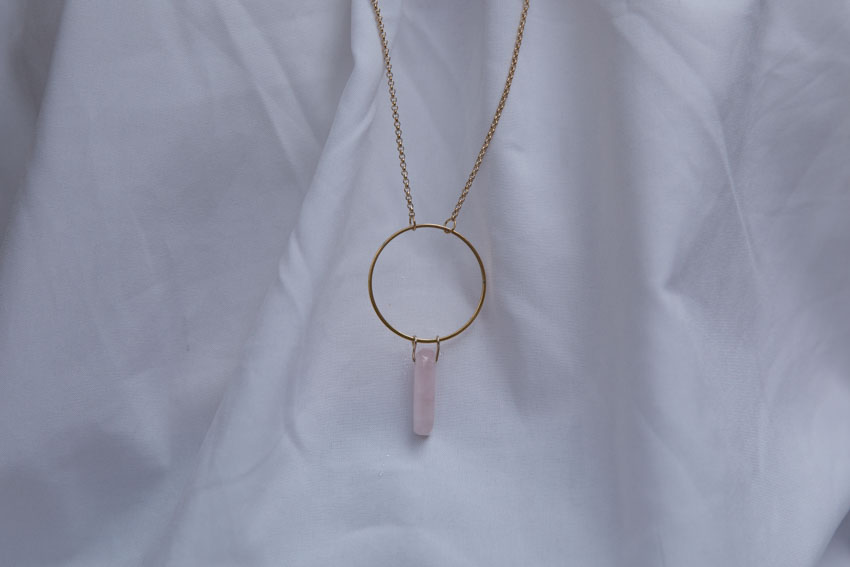 I think that I've found a real love in this kind of jewellery – I had been a stone/rock collector when I was young, but it never really occurred to me that I would like that kind of jewellery as much. But I think it suits me perfectly, what with me having quite an obsession with rocks for collecting, decorating, or just staring at in general. 💎✨
The nails are the Gemini style nail wraps from Scratch. They cost a bit more than the other nail wraps but they are so pretty! They are supposed to look like a butterfly print. The contrast is amazing and they look very cool. I always get compliments when I use Scratch's wraps. I didn't really think this style went with the outfit but it was nice contrast anyway.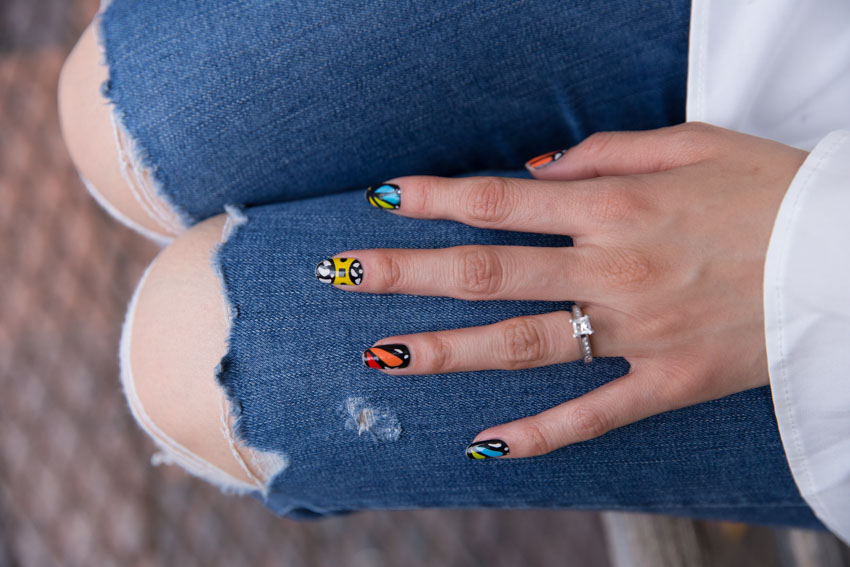 The title of this post isn't anything intelligent, just something I thought went with the idea of being serene and thoughtful, like the white colour and earthly crystals in this outfit.
📷 All photography by Nicholas Cooke. ❤️
Outfit details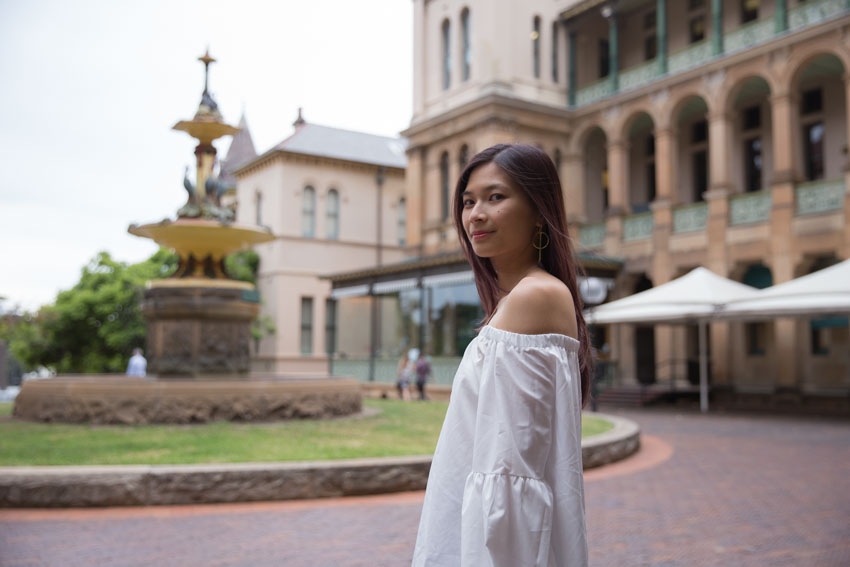 Do you like off-shoulder tops? What do you typically wear them with? And would it be cool if we photographed here again? 🙃