Fashion Friday: Divergence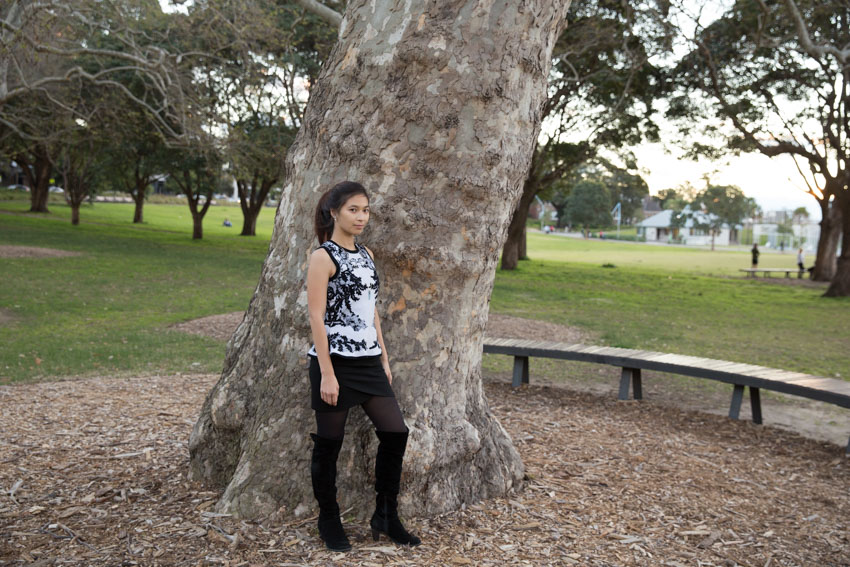 Nick helped me out with this Fashion Friday earlier this week. We were going to do a cool sunset in the park, and the sun had not set by the time we left the park, but the clouds came into play and unfortunately concealed the sun just as we started. So only the first photo below turned out lovely with the sun! Oh well, another time.
My hair had been playing up all day so I decided to tie it up in a pony. It's what I do to hide flat hair, or if it's gone greasy from lack of washing. I only wash my hair every two or three days, and it never gets greasy or dirty, but if I leave it for any longer, it doesn't look too crash-hot.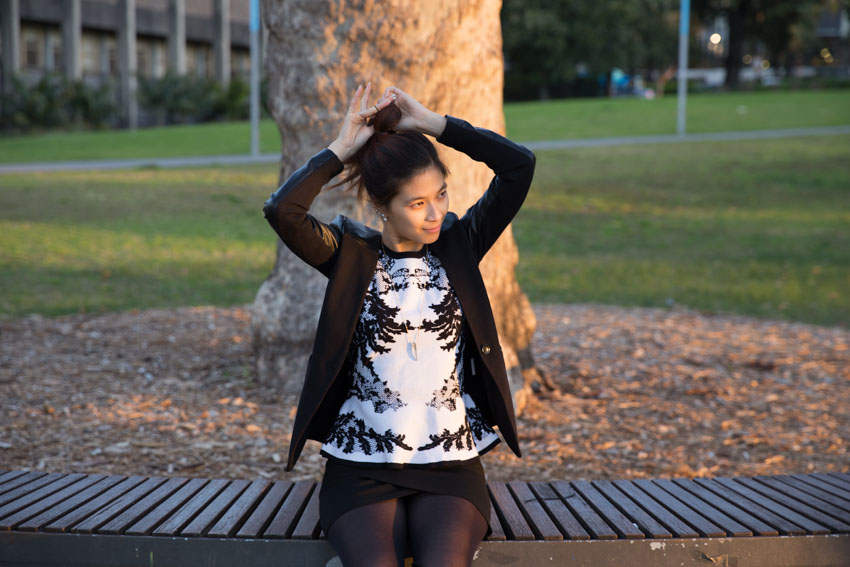 The jacket is the same one from Lapis Lazuli, a Fashion Friday from two years ago! I love the jacket and don't wear it enough. It is made from corduroy-like material and faux leather-like material.
You can probably see I'm wearing earrings from an old yet familiar Fashion Friday post that we did at the harbour… called Peach & Pearl. ;) These earrings have held up a long time, considering they are hypoallergenic but not sterling silver or any particular sturdy precious metal. But, I did tie my hair up really effortlessly on purpose. I generally like the look of a messy bun or ponytail, but other days I prefer to have my hair loose.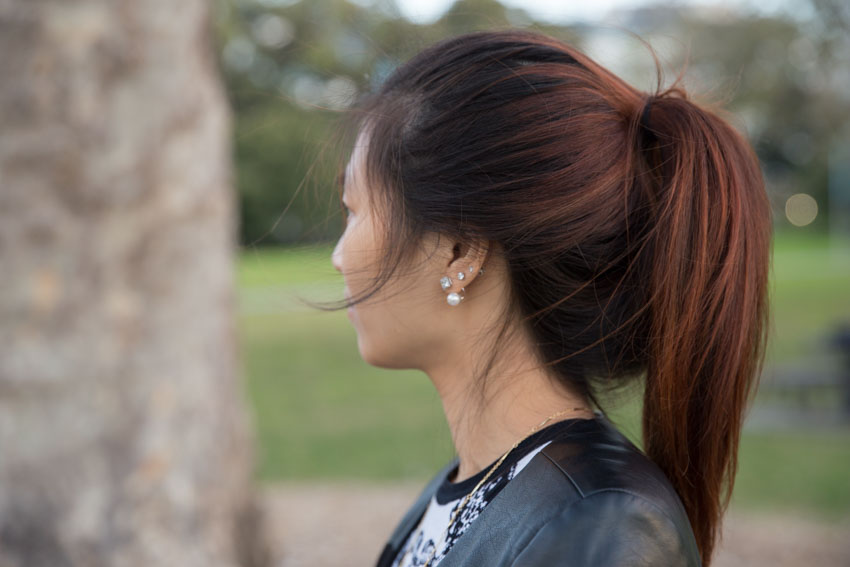 One of my favourite parts about this outfit, and the new one we haven't talked about, is the top. I've had it for a while, actually, but I didn't wear it because I hadn't thrown it in the wash yet. I usually like to wash my clothes before wearing them, but with this one, I decided to wear it once first.
The top is from Cue – many of you know that I buy a lot of my dresses from Cue. I really like their style. At first I was not sure of the peplum style of this top… but I've shaped up since my mum first got this top for me, so I feel a little more confident wearing it. The material is sort of stretchy, and a bit fleecy and soft, like thin-woven wool. I'm not a hundred percent sure of the material, but you can imagine that long-sleeved warm knits would be made of a similar material. This makes it really warm for winter or cooler months and less appropriate for summer time, despite the sleeveless cut.
I though it only appropriate to wear a more tight-fitting skirt with this top, though it also works with jeans. It doesn't fare so well with A-line skirts or skater skirts because of the way the peplum draws attention to the waist and hips. I am also aware that this is not a style that works for everyone, but I would recommend wearing something on the bottom half that hugs the body. The skirt is the wrap skirt I got from Topshop that featured in Presso il lago, only this time I am wearing it with pantyhose.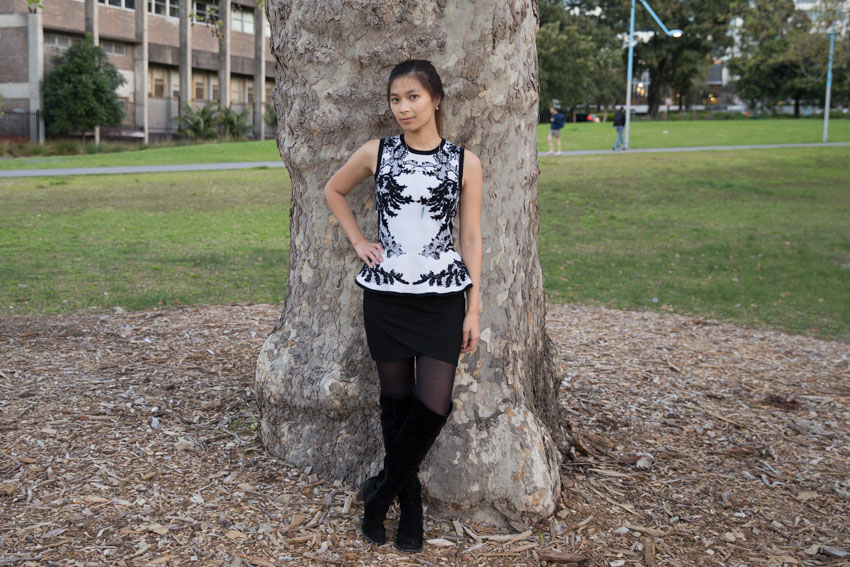 I got the boots in Japan a few years ago. They actually look suspiciously similar to some over-the-knee boots I wore a while back, but I think these don't go over the knee as much, and are designed to be folded over. I pulled them over the knee just for fun. These are also more comfortable than the other boots I have because the heels are not as high. Sometimes I am just not a big fan of high blocky heels…
I got this beautiful necklace from By Invite Only, a Singaporean independent jewellery store that sells jewellery made from crystals and earthy stones. This particular piece was on sale at the time, and I liked the idea of a long necklace with a gold chain. Since I have a lot of blue in my wardrobe, this was a great buy! I chose to wear it with this outfit because its delicate nature contrasted with the busy pattern on the top.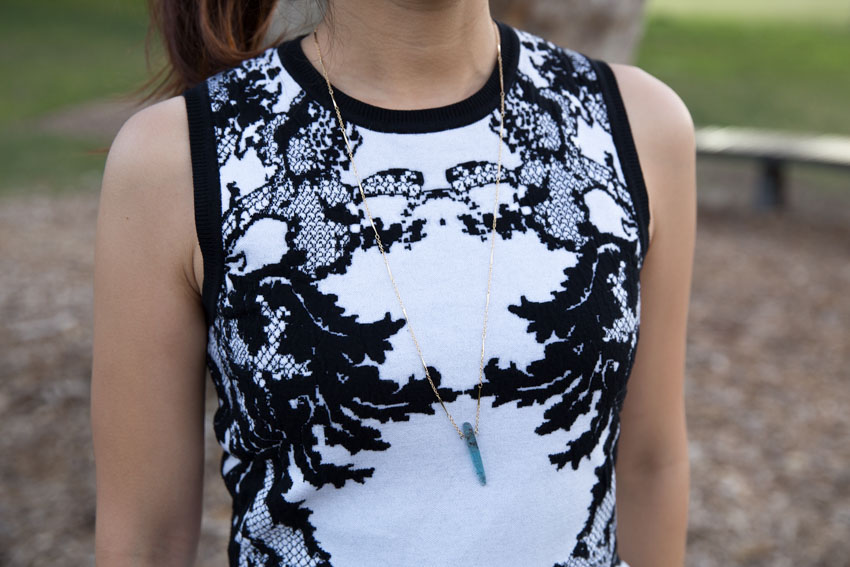 You may notice I am deliberately not smiling in some of these photos, except for the one below. I went to the orthodontist earlier this week to get a replacement plate for my bottom teeth, as my previous one broke. My orthodontist did a lovely thing and straightened the teeth on the impression/model they made of my teeth, so that my plate can effectively straighten my bottom teeth over time. My bottom teeth are stubborn and do move easily, so I will try to wear my plate as much as possible – I have learned my lesson!
Unfortunately that means I have to wear it all the time (except for when I am eating), and I didn't want to grin and show them in the photos. 😆 I'm sure it's understandable – when I had braces I would often attempt to smile without showing my teeth. I know for some people, that's just their preferred way of smiling.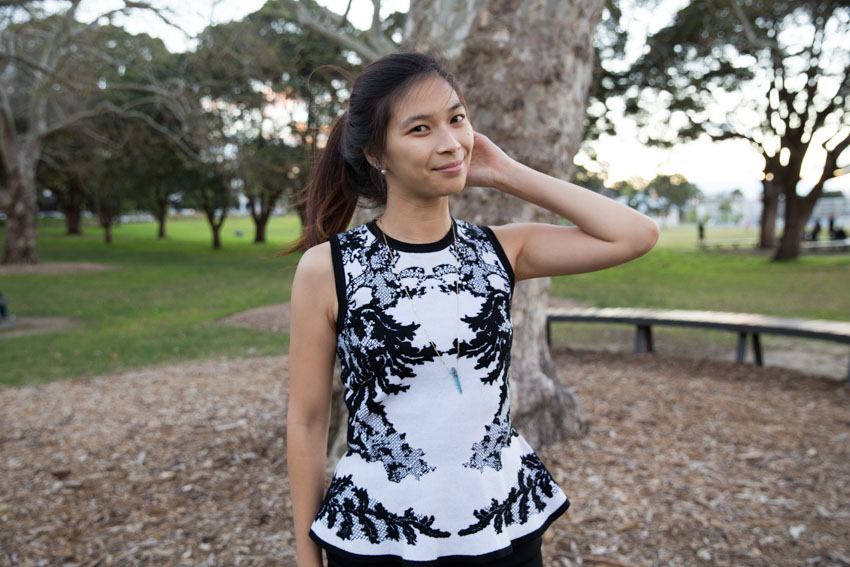 The title of this Fashion Friday doesn't have anything to do with the book Divergent. I was looking for something related to the 'oriental' look, a word that meant angles, changing direction, being different. :)
Photography by Nick. ❤️
Outfit details
Do you prefer to wear your hair up or down? Are there any styles of clothing you prefer to avoid? Let me know in the comments!