Fashion Friday: Melbourne Cup
Last week we had a little event at work for the Melbourne Cup. The Melbourne Cup is a horse race held in Melbourne, Australia. The prize money is generally pretty huge, which is why it is a pretty big deal. People dress up quite nicely for the Melbourne Cup, and I'm personally not a hundred percent aware of the reason. The fashion aspect sort of came about in 1962, according to Wikipedia.
Large elaborate hats, and more recently, fascinators, are practically a requirement for the ladies, with men dressed in suits and ties. My mum had a handful of fascinators lying around from last time she had attended a Melbourne Cup event so I borrowed one. I was debating between a small suede hat with net, and a small straw hat with feathers. I went for the former, since the suede seemed to better match the shoes I wanted to wear.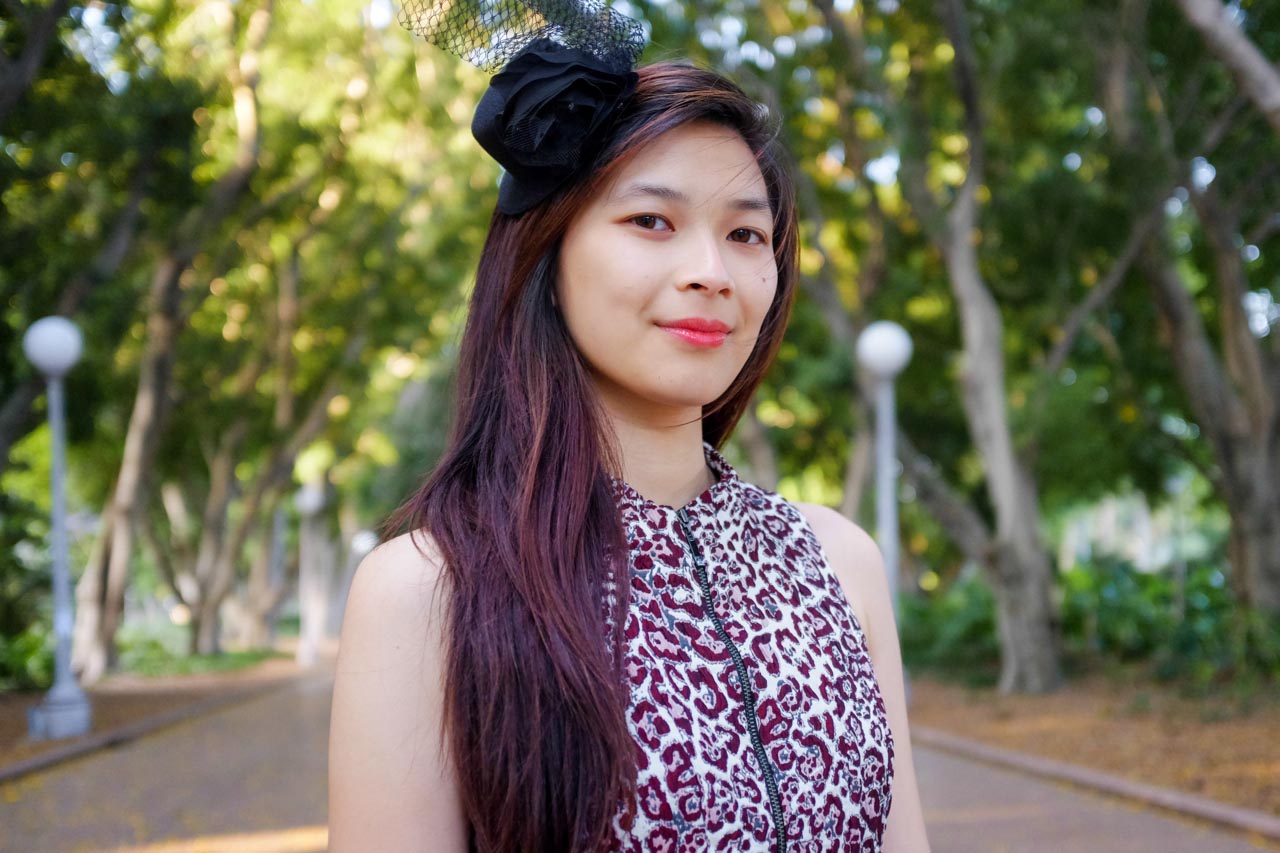 The dress in this post is from Cue. It zips up at the front and has a tulle underlay which gives it some volume on the bottom. I initially wasn't a fan of the print (I usually dislike leopard print) but I quite like it now. The material is some kind of jacquard and has bits of dark red, white, pink and grey. It all goes quite nicely together.
The shoes are the Minnie style shoes I wore in my previous Fashion Friday post. They hurt after some wear, just from the height, but they are comfortable to wear.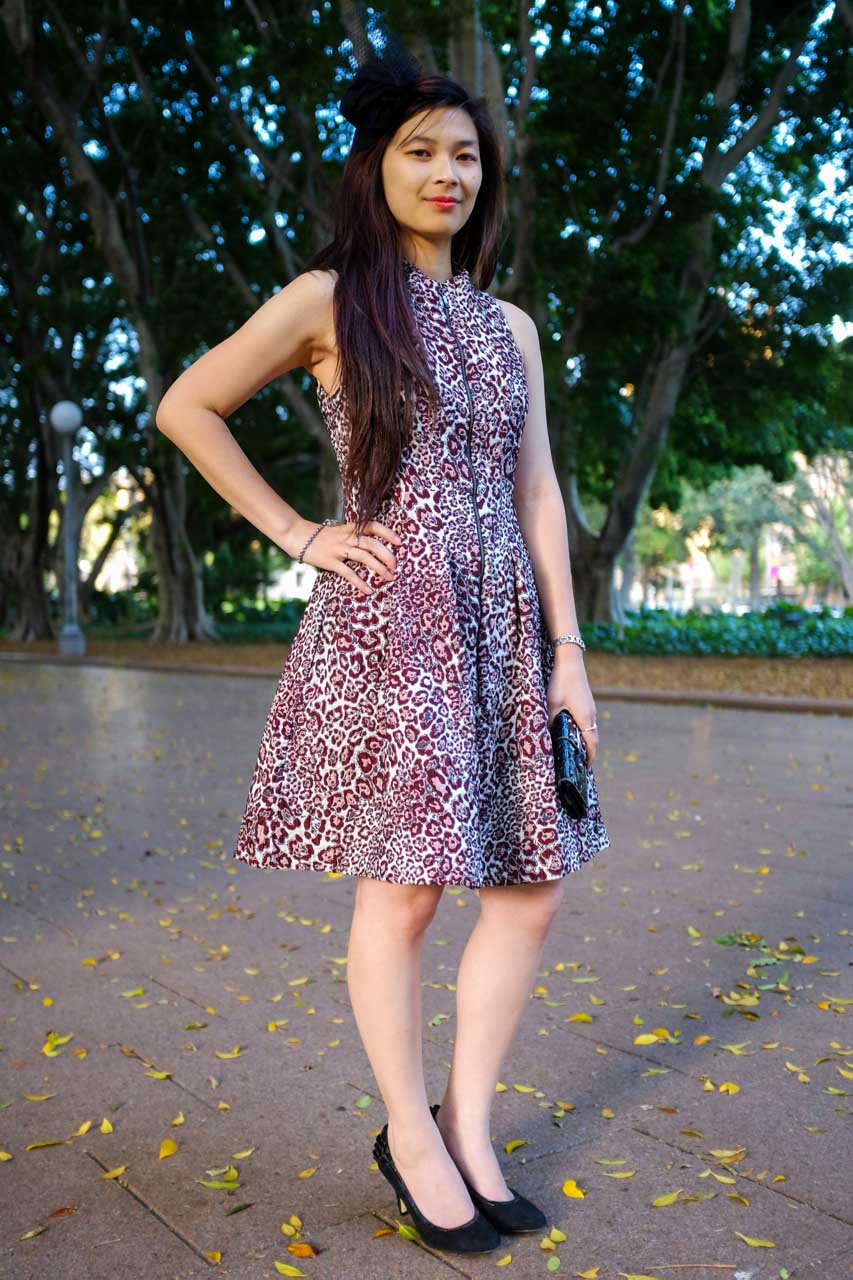 The long black wallet isn't much, either. It's an old wallet I used in high school but decided to pull out for want of a nicer purse/wallet (for this outfit anyway). I have since bought a new wallet instead of my usual brown one, but I just used this long one for the day. I was able to fit my phone in the dress of my pocket. I really love how some of Cue's dresses, particularly the ones in a similar style, have sizeable pockets.
I chose silver jewellery for the outfit. This includes a heart-shaped Guess bracelet, some silver and cubic zirconia teardrop shaped earrings and a round silver and cubic zirconia ring.
Seb got me to pick a flower and admire it while he took a photo. Of course he told me to choose my favourite, which was definitely one of the orange/yellow ones. I love brightly coloured flowers. If I had to pick a favourite colour for a flower it would probably be yellow.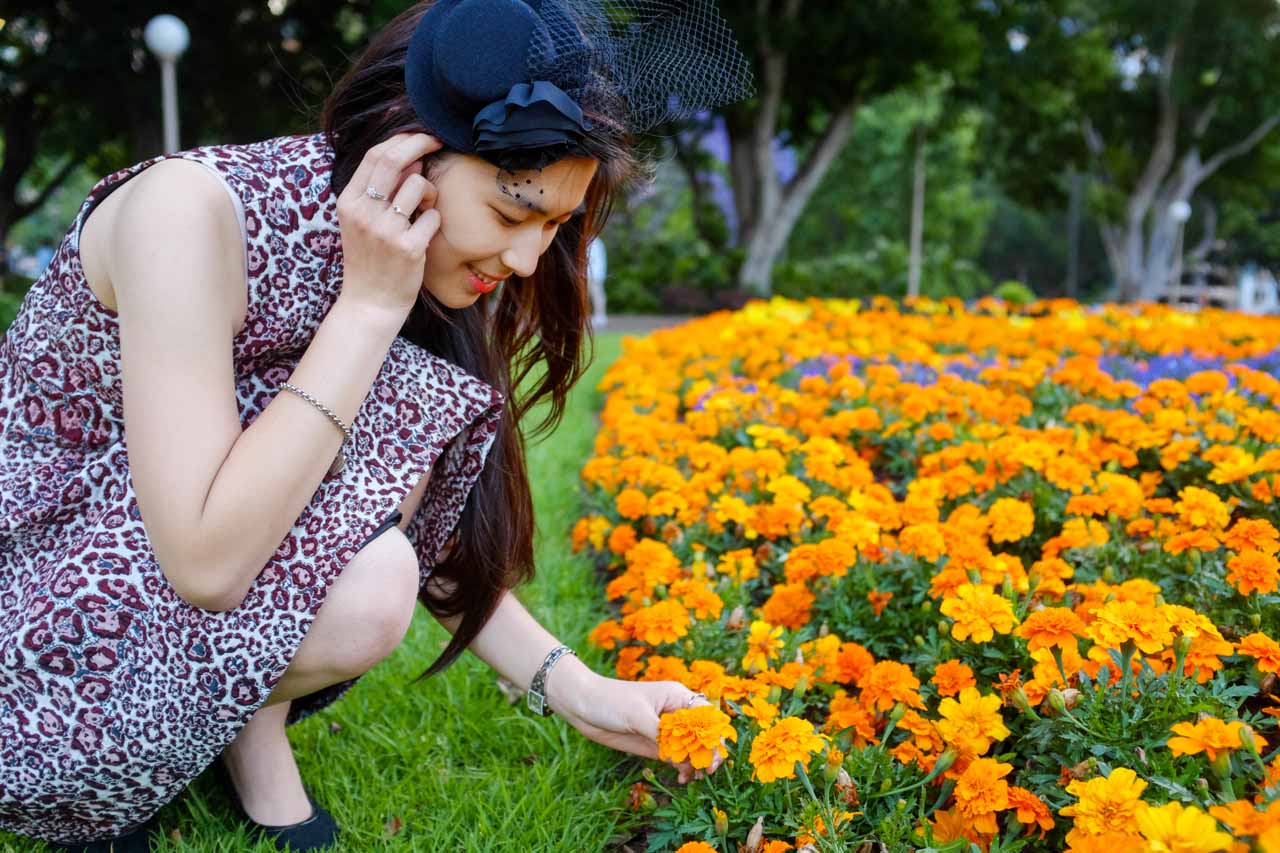 Seb took some photos with the cathedral in the background as well. The photos turned out lovely considering it was late evening.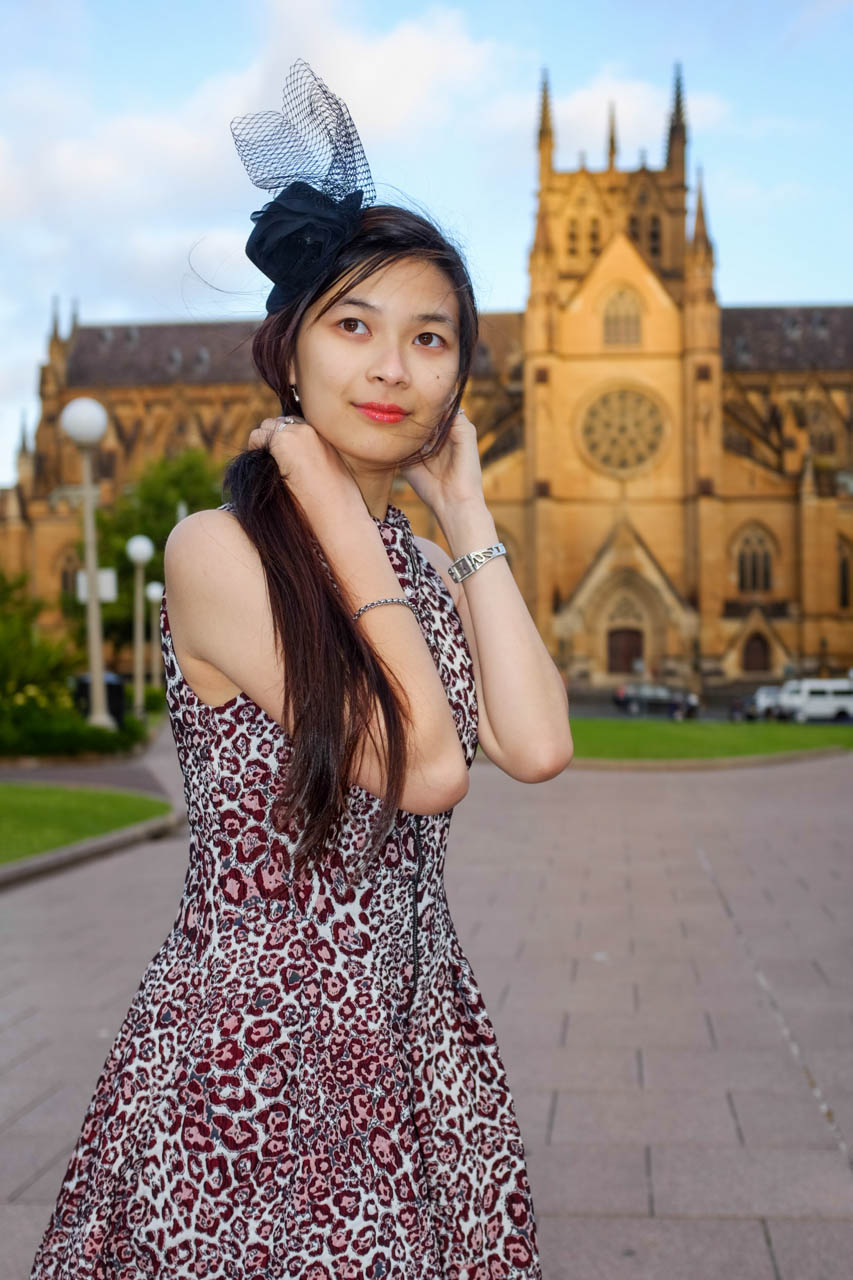 It was a fairly windy evening so it felt like I was spending a lot of the time trying to stop hair from getting blown into my face. The teardrop earrings are a bit interesting, they just hang from these silver loops, but aren't actually attached to them. Sometimes I worry that the clasp will come loose and they'll fall off.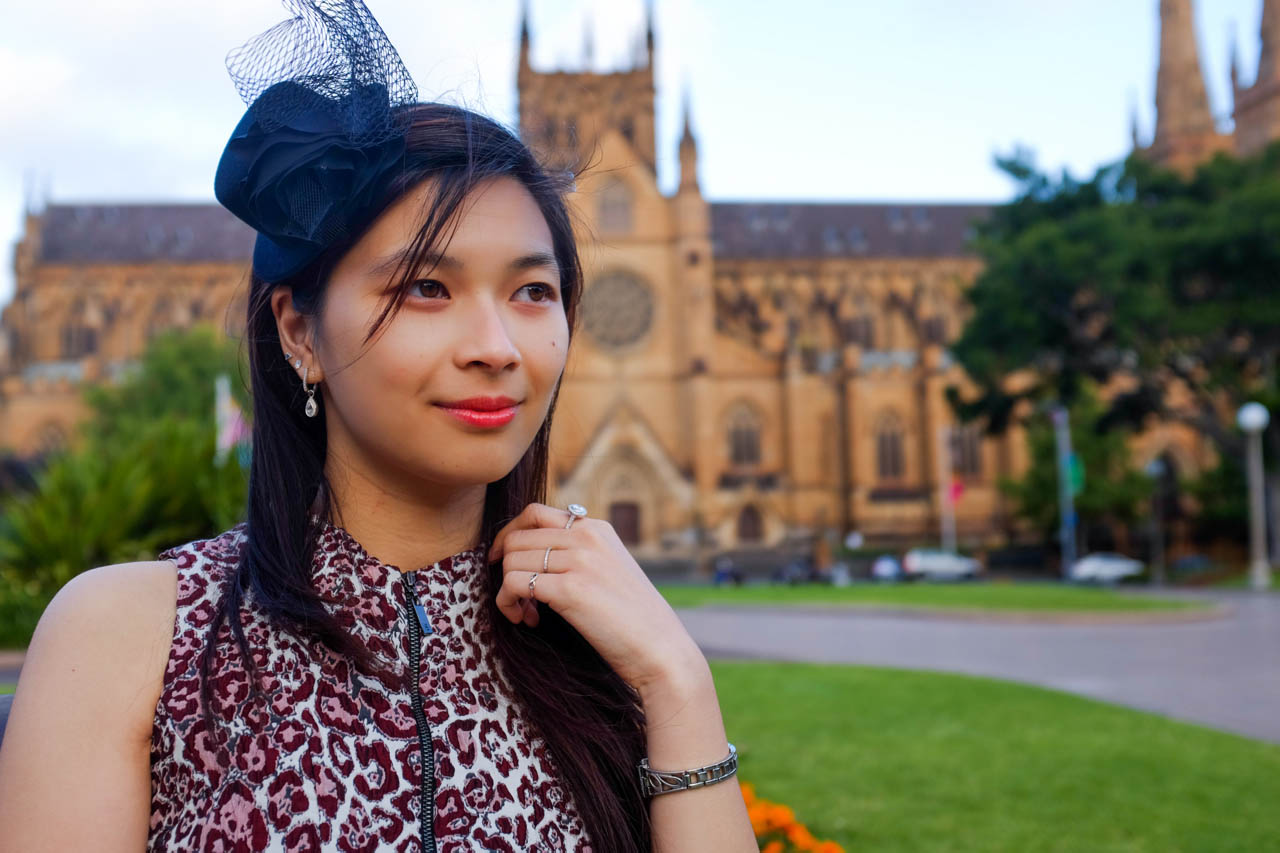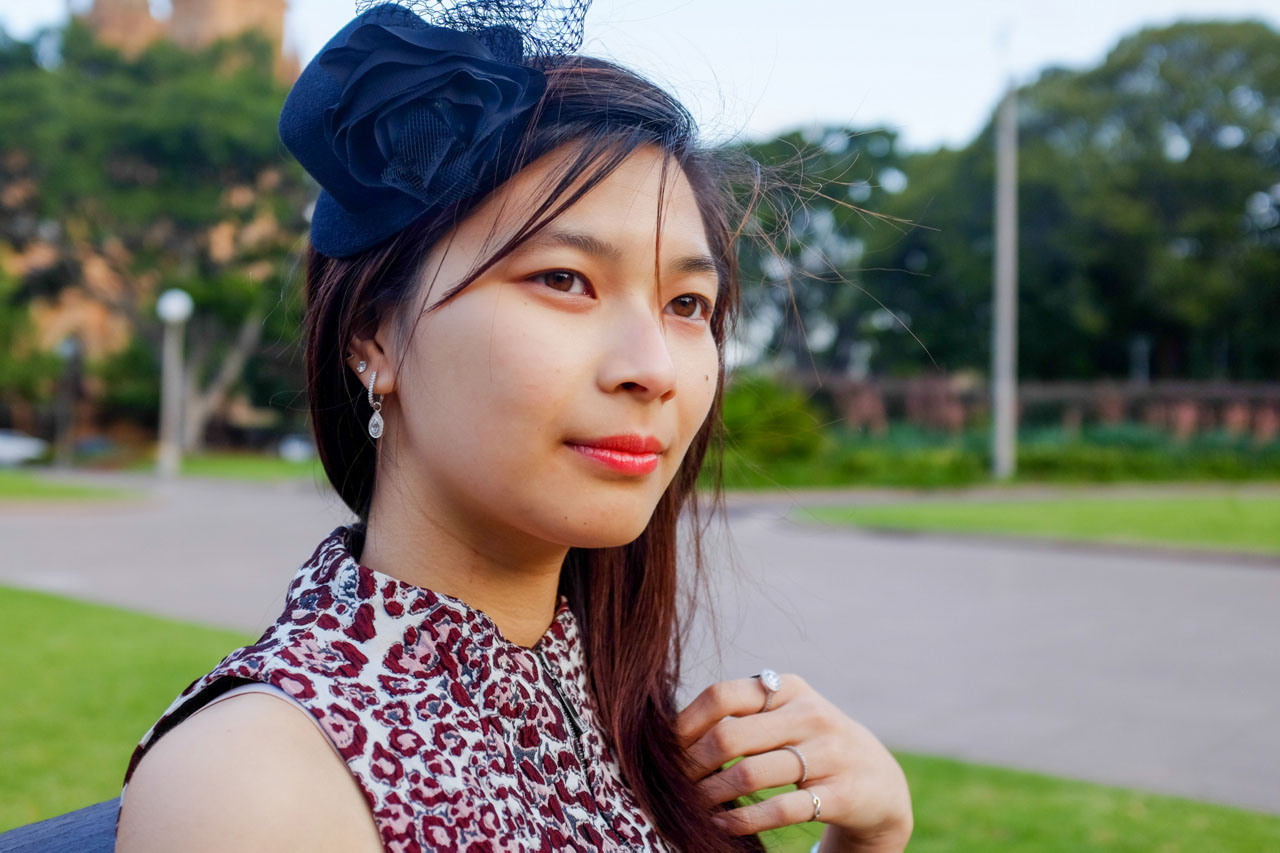 I don't usually watch horse racing, or any sport for that matter, but I enjoyed dressing up for Melbourne Cup as I hadn't done it before! This was also Seb's favourite Fashion Friday to date. I'm pretty sure it's not just because he thought the hat was undeniably cute. :D