Fashion Friday: Lapis Lazuli
Blue used to be my favourite colour when I was younger, and I would buy a lot of clothes and accessories that were blue. I loved every shade. I wear a lot less blue clothing now, and I think I prefer deeper, darker blues as opposed to light colours.
I'm wearing a new top for this outfit that is a dark blue, and almost has a tinge of purple in it. Thus I named it Lapis Lazuli.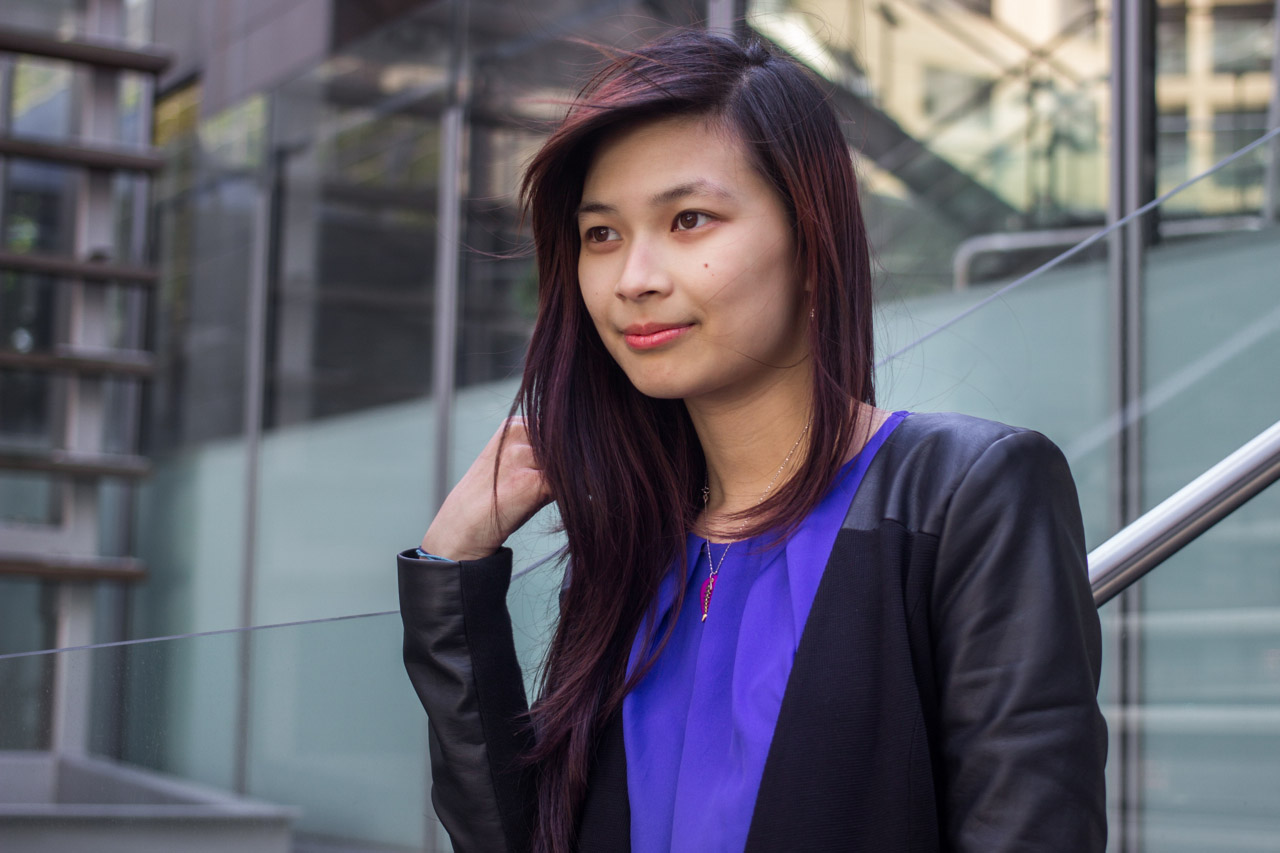 My mum still picks out a lot of my clothes – I don't often get a chance to shop, and I don't really like shopping for clothes (yep, I sound spoilt) – this top is one of them. It's a simple, sleeveless number, but it's really nice. I really love the skirt as well, which stretches just enough to fit, and it feels rather snug. I like the cut as well, which dips a little at the back. It's slightly asymmetrical but looks quite cool.
One new part of my outfit is the black heels. I am exceptionally happy with them. I was in a shoe store and found the exact same simple black heels I bought a year ago and damaged (while dancing, nonetheless). I wanted to buy the same pair again but I shopped around and then found these heels. The style is Minnie, which I immediately assumed was inspired by Minnie Mouse because of the frills on the back of the heels.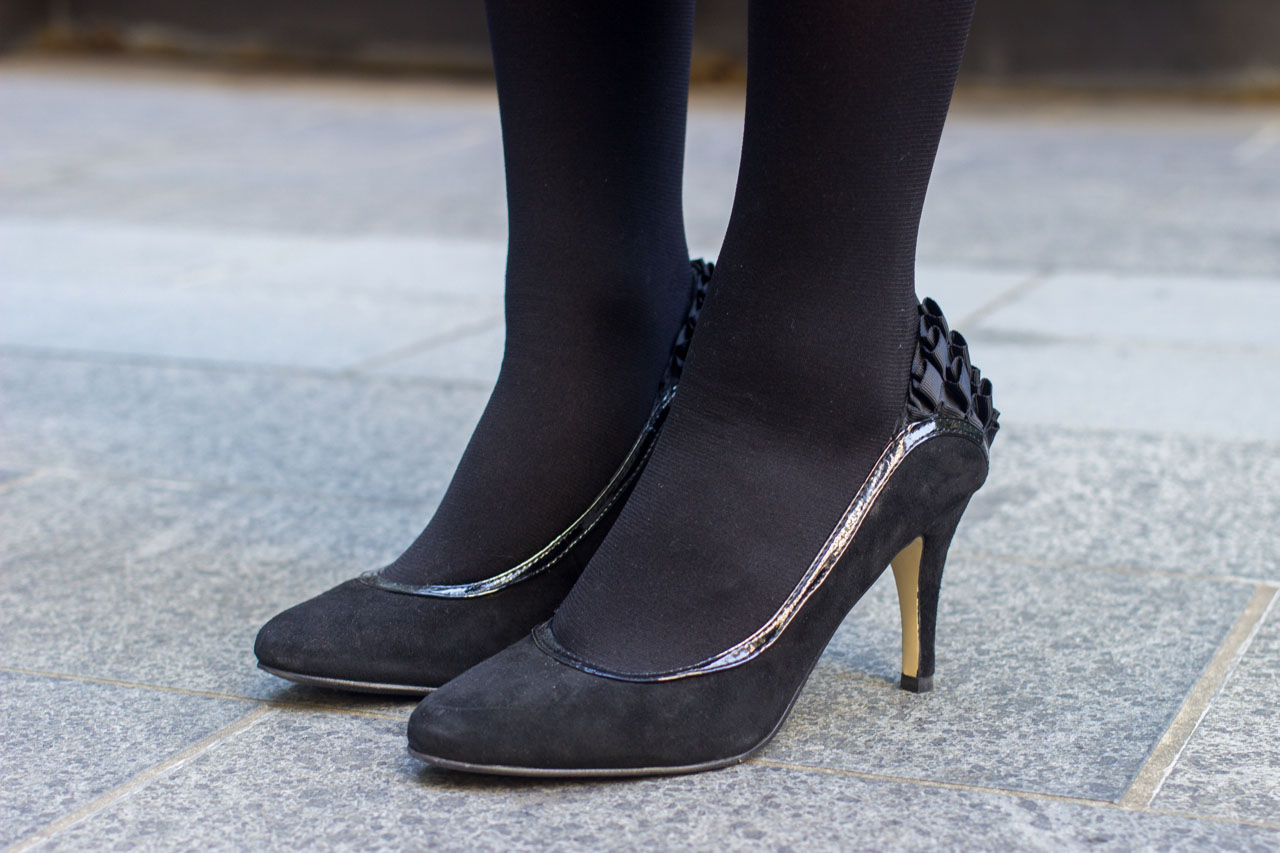 The shoes were on sale and did have my size available, so I bought them! They are really comfortable and oh-so-cute. I feel like that is the most girly thing I have said all year. :P I am in love with the shoes though – I think they are marvellous, they are very comfortable considering they are a pair of heels.
Rings, rings, shiny things! Now, while I have bought lots of ring sets at once, this set of purple is my favourite. I like the gold tone, and the purple and lavender acrylic stones. All the rings in the set go nicely together.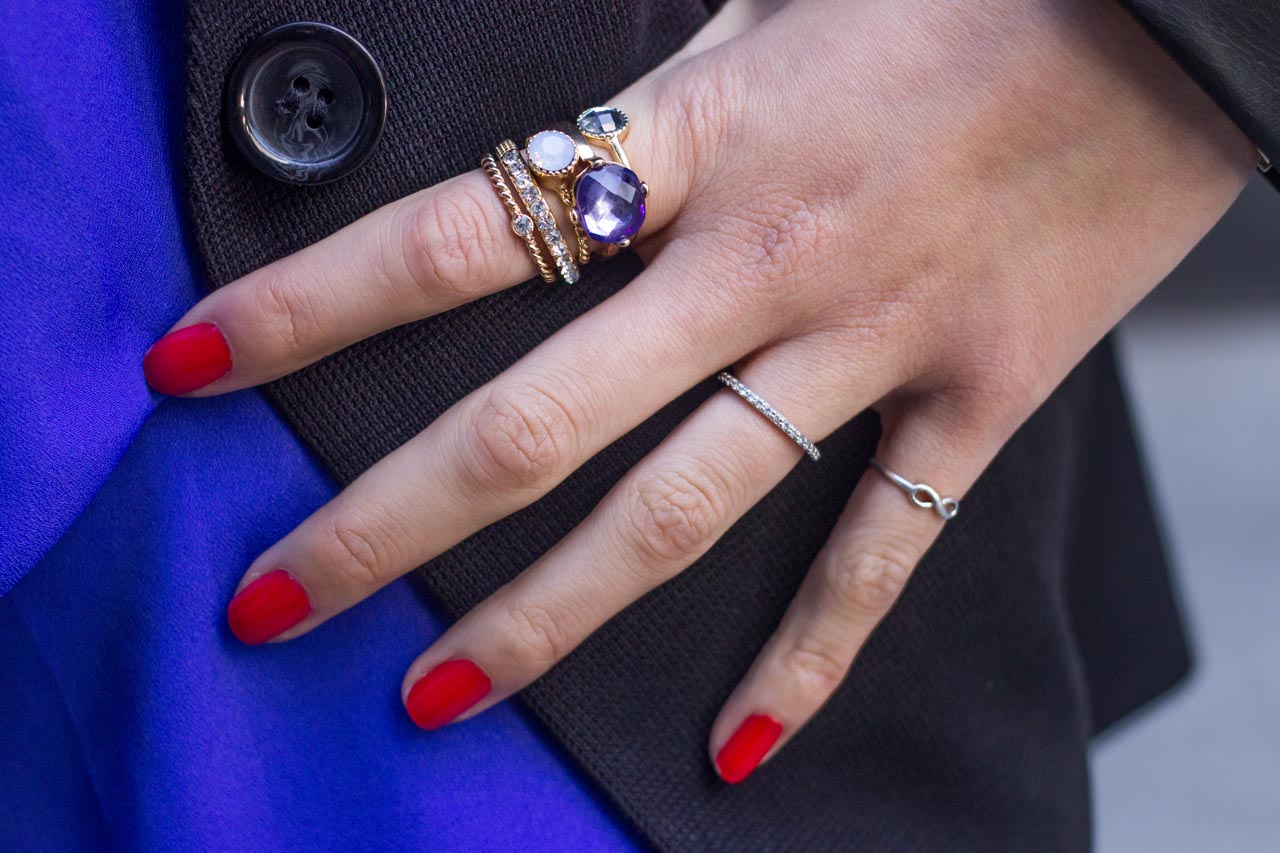 I painted my nails red, which is my favourite colour now, and has been for a few years. I used a polish from YSL, which dried quicker than I last remembered. It also stayed on for quite a while and didn't chip easily. Or maybe I just applied the non-chip top coat better.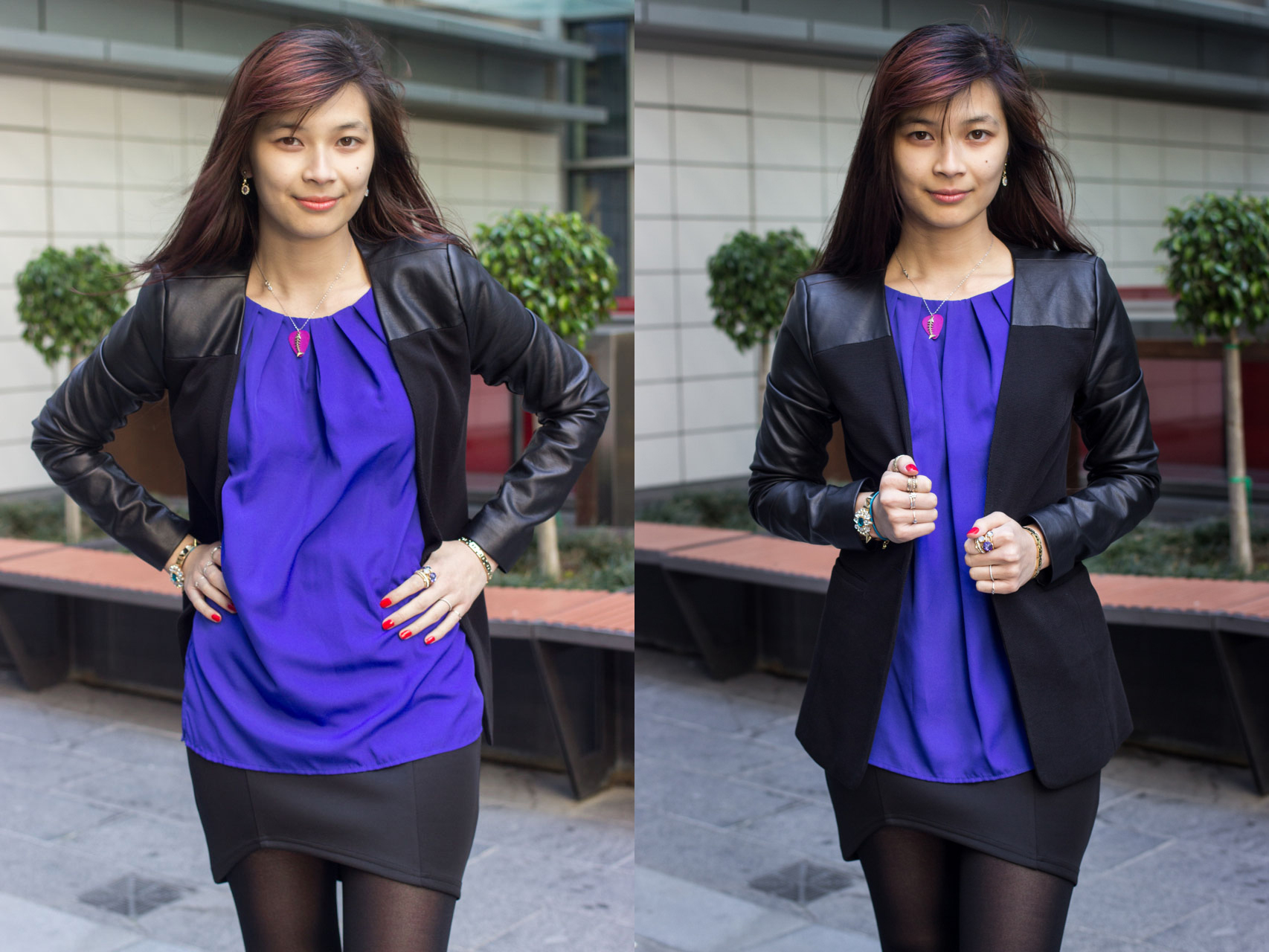 The black jacket is my new favourite piece to wear. Other than the fact that it has pockets, I love the fit and the mix of corduroy-style and leather-like fabric. The pockets fit my iPhone 5c (but not an iPhone 6, I tried) and my access card for work.
I bought the spiky cuff from eBay. The stone is more of a green-blue aqua colour. I am not sure what drew me to the cuff, but I liked that it had a bit of a girly edge. I've seen spiky cuffs made of plastic or acrylic stones, attached to fake leather bands, but I liked this one because it was made of some kind of metal.
I usually wear a silver Guess watch, but I discovered that I had a gold one of the same brand that I had never worn. I like skinny watches because they fit and feel better on my skinny wrists. The gold one does look a bit more classy than the silver one.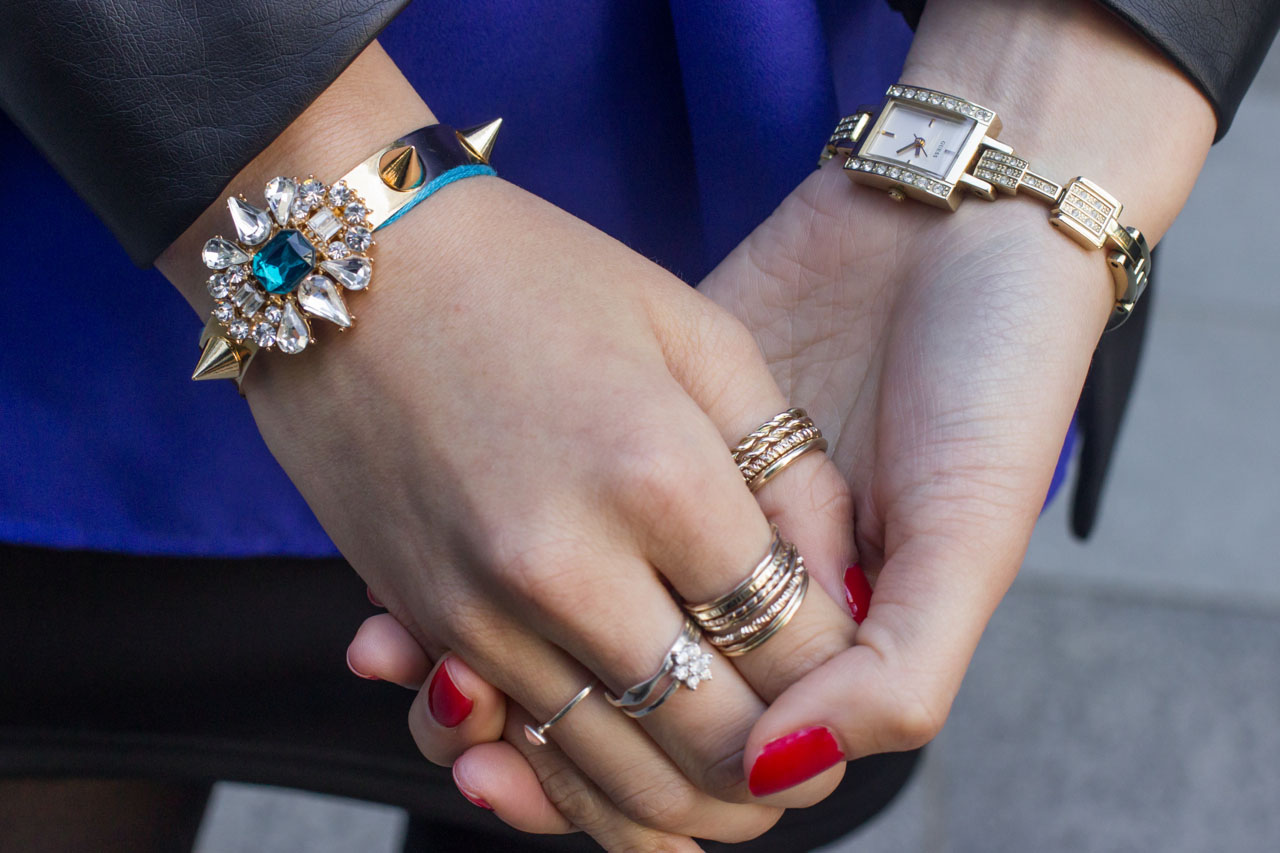 Let me know what you think of today's outfit; I know it's back to more professional work clothes again after last edition, but I just wanted to share my new pieces. Thank you again to Seb for doing a marvellous job with the photos!
What is your favourite colour? Do you have any new items of clothing you've loved to wear lately?