Fashion Friday: Jungle bird • Animal print midi skirt
Happy Friday! In today's Fashion Friday I'm wearing an outfit that I consider to be an easy-to-wear, go-to ensemble for when I want to prioritise being comfortable. This is one of only a couple of long, flowy skirts I own. Long skirts are an item of clothing I've only warmed up to recently.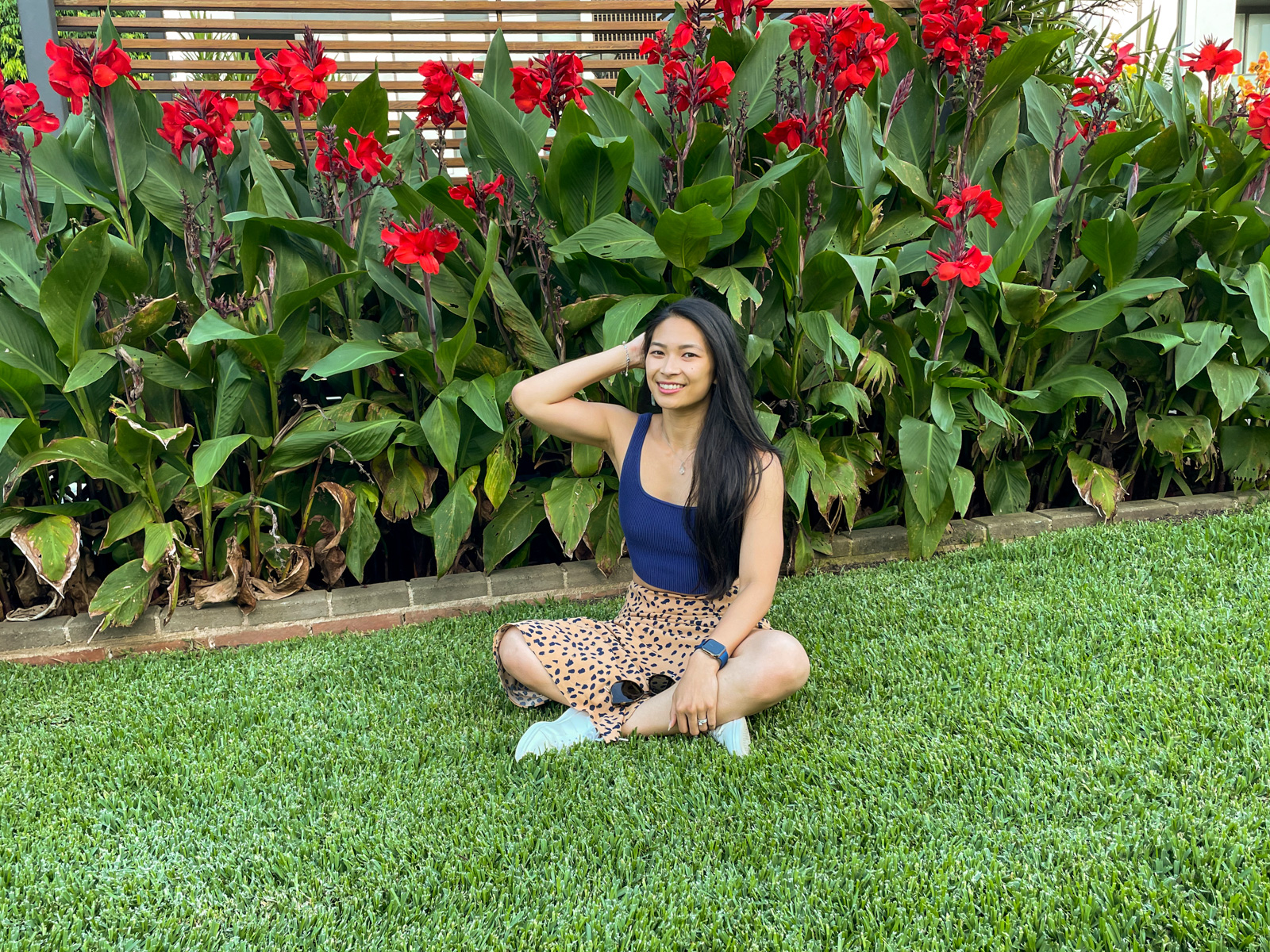 Being particular about prints
When I bought this skirt, I was on the lookout for a midi skirt with a slit up the leg. It was difficult for me to find a skirt that fit with my proportions because I'm only 1.58m (5'2) tall. I own a blue midi skirt in a slip style, but it's rather fancy because of its metallic sheen, and I wanted something more casual in a versatile colour or print. I have to admit, this kind of brown/tan colour is usually a hit and miss for me. It doesn't often go well with my skin tone, but I really couldn't get past the animal print and the fact that the print is actually navy and not black. Something about it felt more approachable. I prefer animal prints that look less "realistic", more crisp, and that aren't small-scaled or extremely symmetrical. It also seemed like a print that would work well with a variety of other solid colours.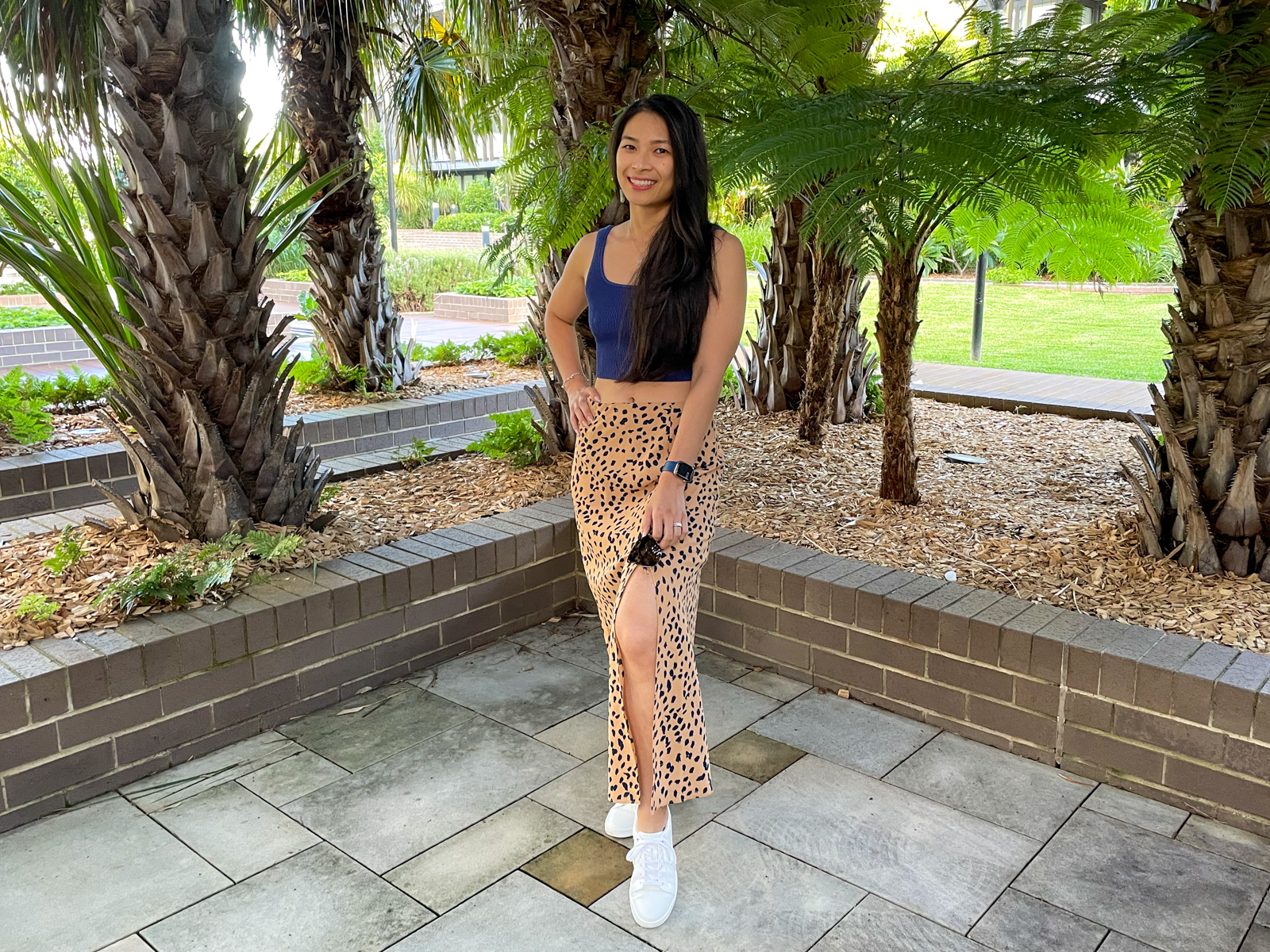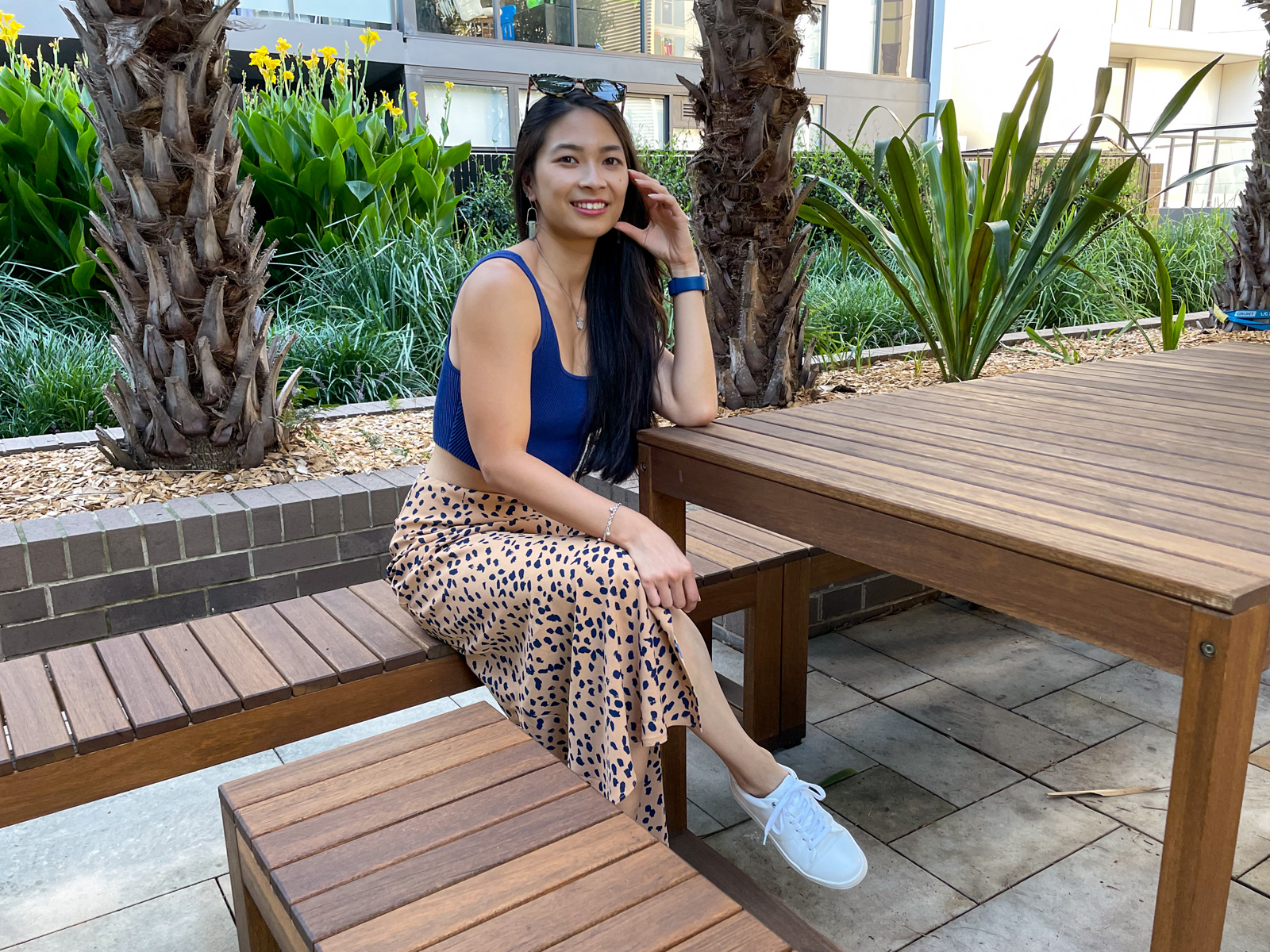 I've found the skirt to be really comfortable, but sometimes it does spin around while I'm walking, probably due to the fact that it's a little loose at the waist. It's still easy to move around in, and I like that I can sit down on the floor in it and still have my legs covered.
A wardrobe staple in blue
The blue top is a piece I've owned since 2018 that I've just never shown in any of my Fashion Friday posts yet. My friend Monica got it for me in New York from Aritzia – a store that we don't have in Australia and would be expensive to purchase online due to the shipping cost. Navy or dark blue is one of my go-to colours when it comes to basic pieces, and I was sure I couldn't go wrong with this. I own quite a few fitted, square neck tops like this, and they're definitely a staple in my wardrobe. I find myself reaching for this one when I want to put together an outfit quickly. The fabric has generous stretch and it's easy to put on.
I really like the combination of blue with this skirt. I find that wearing something that contrasts with the natural colour of the skirt is best, but I've found that a white top works equally as well. It's what works best for me, though some people would prefer to match with the tan colour of the skirt because they look good in monochrome looks (I don't look that good in monochrome).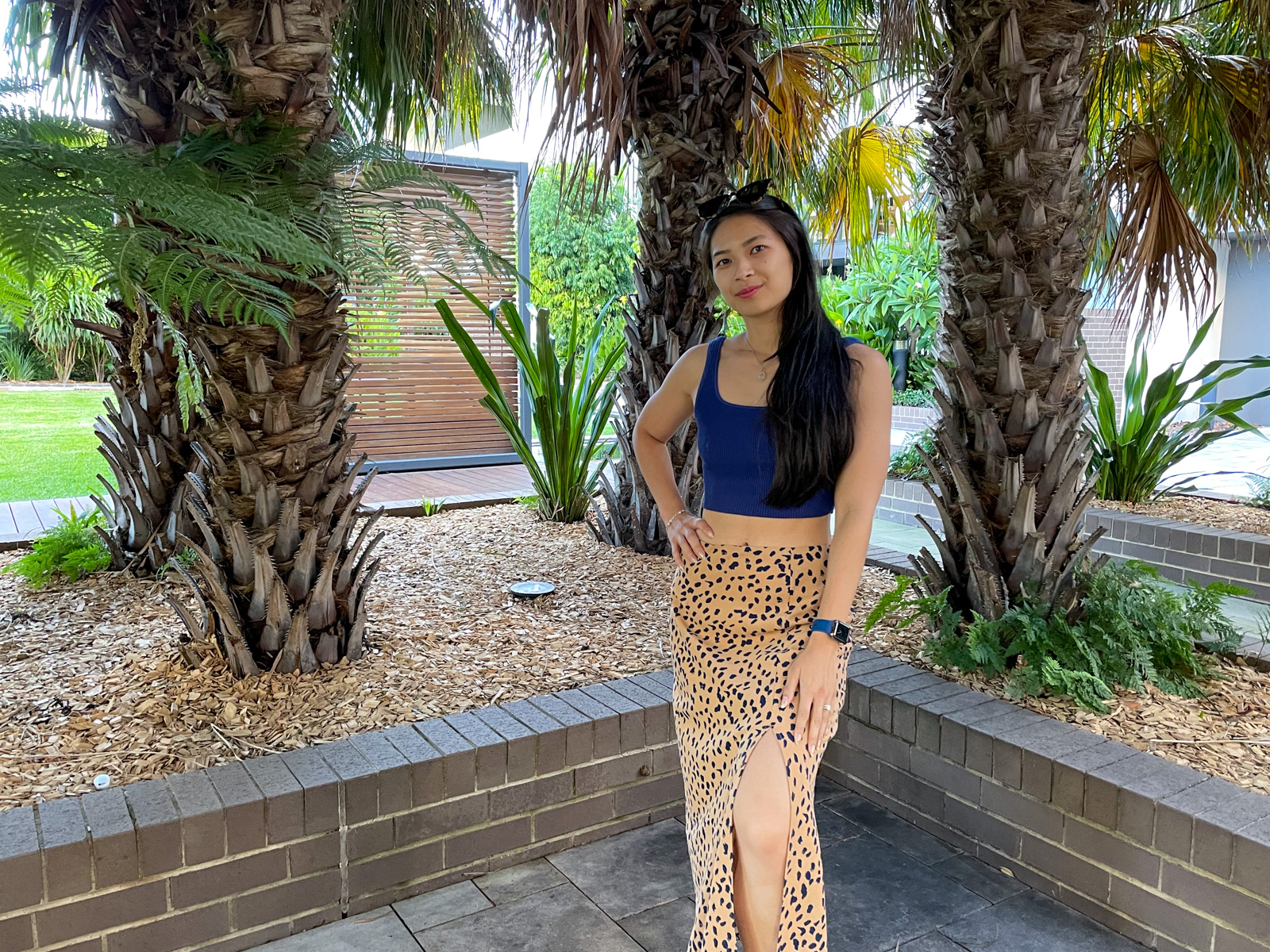 Repeating the rest
You know I've been a big fan of repeating pieces of my outfit over the past few months! One element of this outfit is the white sneakers. Ever since I've been able to break them in properly, I've been wearing them a lot. 👟😊 I still don't know if they will be comfortable enough for a full day of walking, but I did walk three kilometres in them, which is kind of a lot! I suppose it depends what I really mean by full day of walking, though – I think these days, especially after the global pandemic hit us, I've been walking at least three times the amount I used to walk a year ago. So I suppose that's what I mean by a full day of walking – up to 15,000 steps, or at least 10 kilometres (6.2 miles).
The simple herkimer diamond necklace is one that I've been wearing a lot with almost all my outfits that have an open neckline. It's simple but very much in my style. I've thought about buying another raw stone necklace in a different colour, but I haven't really spent a lot of time looking for one. I know I'll find things I like on Etsy!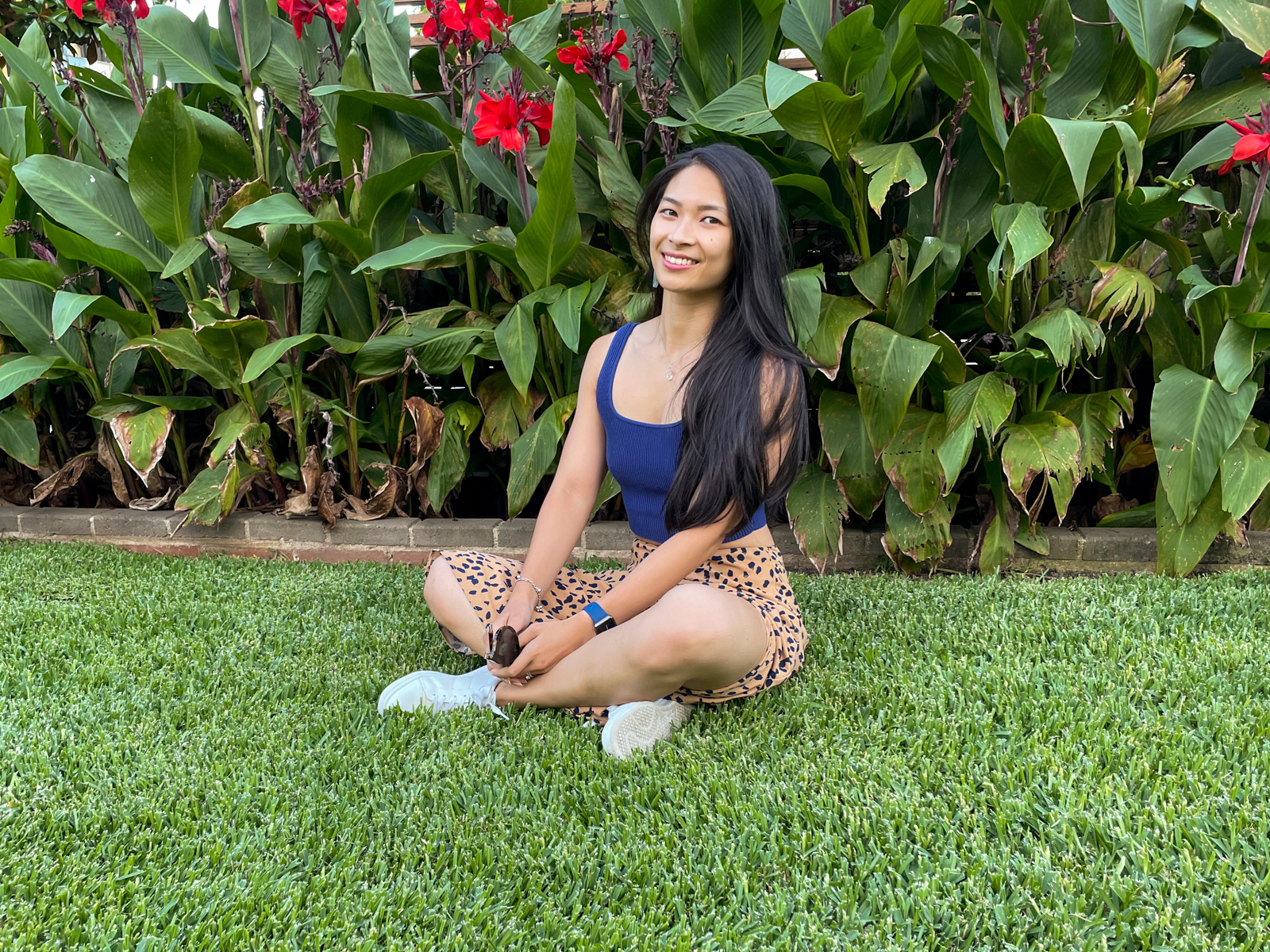 Similarly, the earrings are the same pair I featured in Wildflower. Looking back, I actually didn't like that outfit as much as I initially did – but we can save that discussion for another day. 😉
I decided to leave my hair loose for this outfit simply because I have been wearing it in a ponytail so much these days, and wanted something different! I got a haircut about six weeks ago and I honestly haven't worn my hair out loose for a while. I prefer to have it tied up when I'm working from home since it doesn't get in the way of my headphones during Zoom calls either. 😆
What do you think of this outfit? Are you a fan of midi skirts or this style of skirt?
Outfit details
Colophon
📸 All photography by Nicholas Cooke. (on my iPhone 12 mini)
We took these photos in our apartment sky park, but in a part of the park that we hadn't really taken photos in before. Previous photos we took tended to have a really urban feel because of the apartments in the background, but I chose this spot simply because it had more trees and less view of the actual apartment buildings.
I named this edition Jungle bird, after a cocktail that Nick likes to have (it's not too bad! 🍹), but mainly because of the animal print and the green setting. I'm not actually sure what the drink is named after, but I also think of "bird" being a word to describe a woman. 😆