Fashion Friday: Stop and smell the roses • Red and sky blue
After a few days of gloomy rain, we found ourselves with good weather yet again. In the high 20s (Celsius, that is – that'd be the mid 80s–90s for you American folks). I dare say it might not have been the wisest option to wear pants in this heat, but I might have braved it purely because it was one of the only things that worked well with my red top, and I really liked the way it looked… but read on for more on that story!
I wore this outfit on a day that Nick and I decided to go out for dinner and drinks (well, actually, in reverse order). We haven't had any locally transmitted COVID-19 cases in our state for almost two months, but I am still wary of crowds and being too close to other people. To be honest, I haven't kept up to date with the news, but the ease on restrictions and the news I get from people around me makes it pretty clear that things are looking up.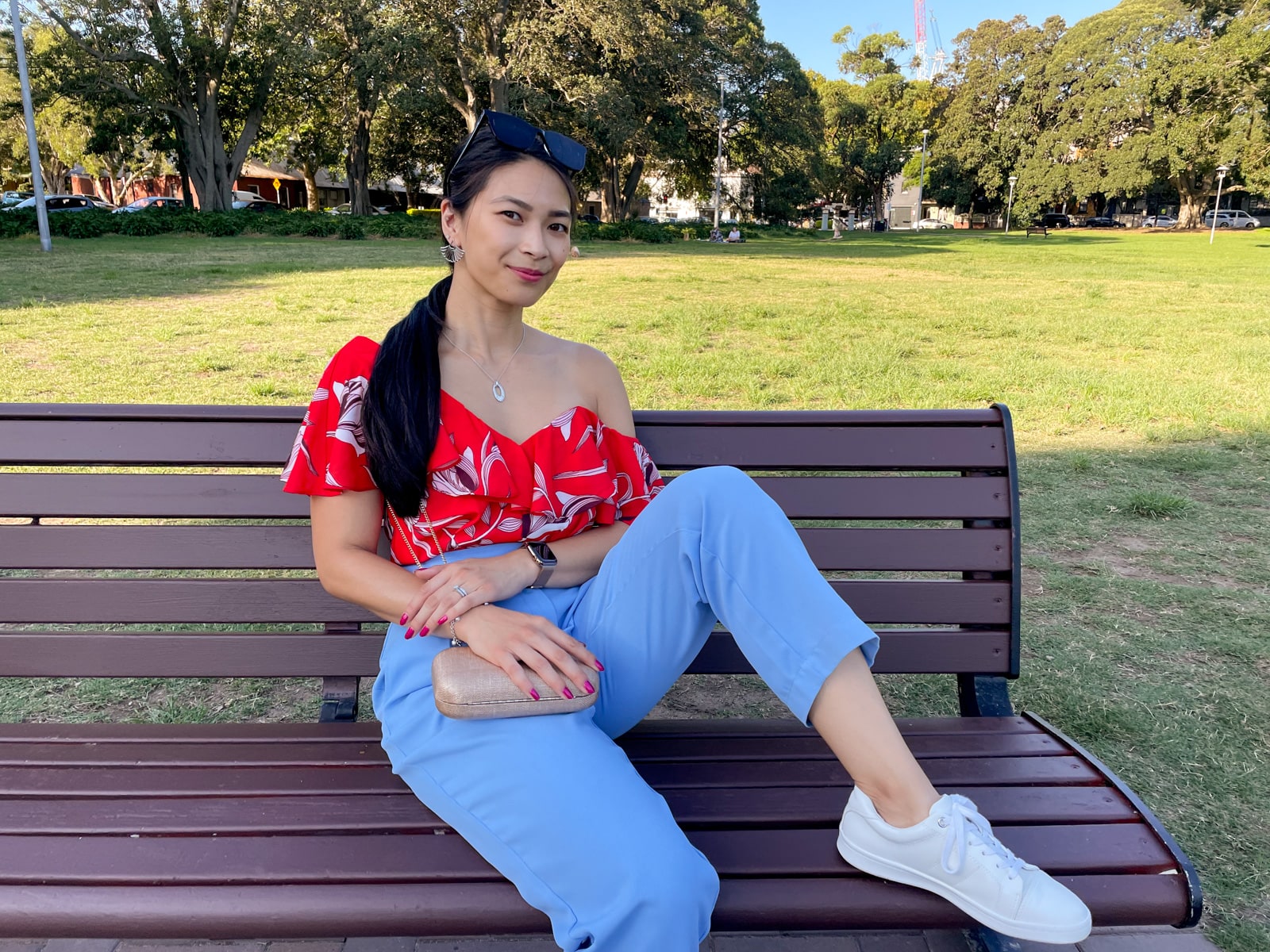 Since we were going out, I wanted to dress up a bit! I have to admit over the course of the past year, I have felt zero need for fancy dresses in my wardrobe at all. Regardless of lockdown, quarantine, or pandemic. I just don't really go out often. I have very little need to dress up. And if I do, it'll probably end up being something like this outfit: using what I already have in my wardrobe to create something fun and "dressy".
🌹 I see red, I see red
I do have a few mixed feelings about the top. Even though I love it with this outfit as a whole, it does have a few small issues. It was a second-hand purchase, and even though the seller listed its condition as "new without tags", it was obviously worn, the hanger straps were cut off, part of the sleeve was tearing at the seams, and the button at the back was coming loose. I definitely don't think "new without tags" was an accurate description of the condition at all. I was a little disappointed when the top arrived. It's a little bit of a hassle to do the back of it up, since it's got a zipper with a hook and eye closure, as well as a button. I sort of have to put it on backwards then move it around to be the right way. And I obviously had to mend the issues with the stitching coming undone.
I've always felt unsure about the colour red on me. I think it definitely depends on the saturation and darkness of the red hue. Maroon, burgundy, plum and other deep reds tend to look good on me, but the more the red colour veers towards orange or pink, the more uncertain I am. I think I can only wear red colours that are cool, cold, or deep in hue. The floral print on this top was also something I wasn't sure about initially. I find florals to look awful on me, but this print had some contrast in colour and sharp lines in the print, which are elements of a print that look a bit better on me compared to watercolour florals or traditional floral patterns.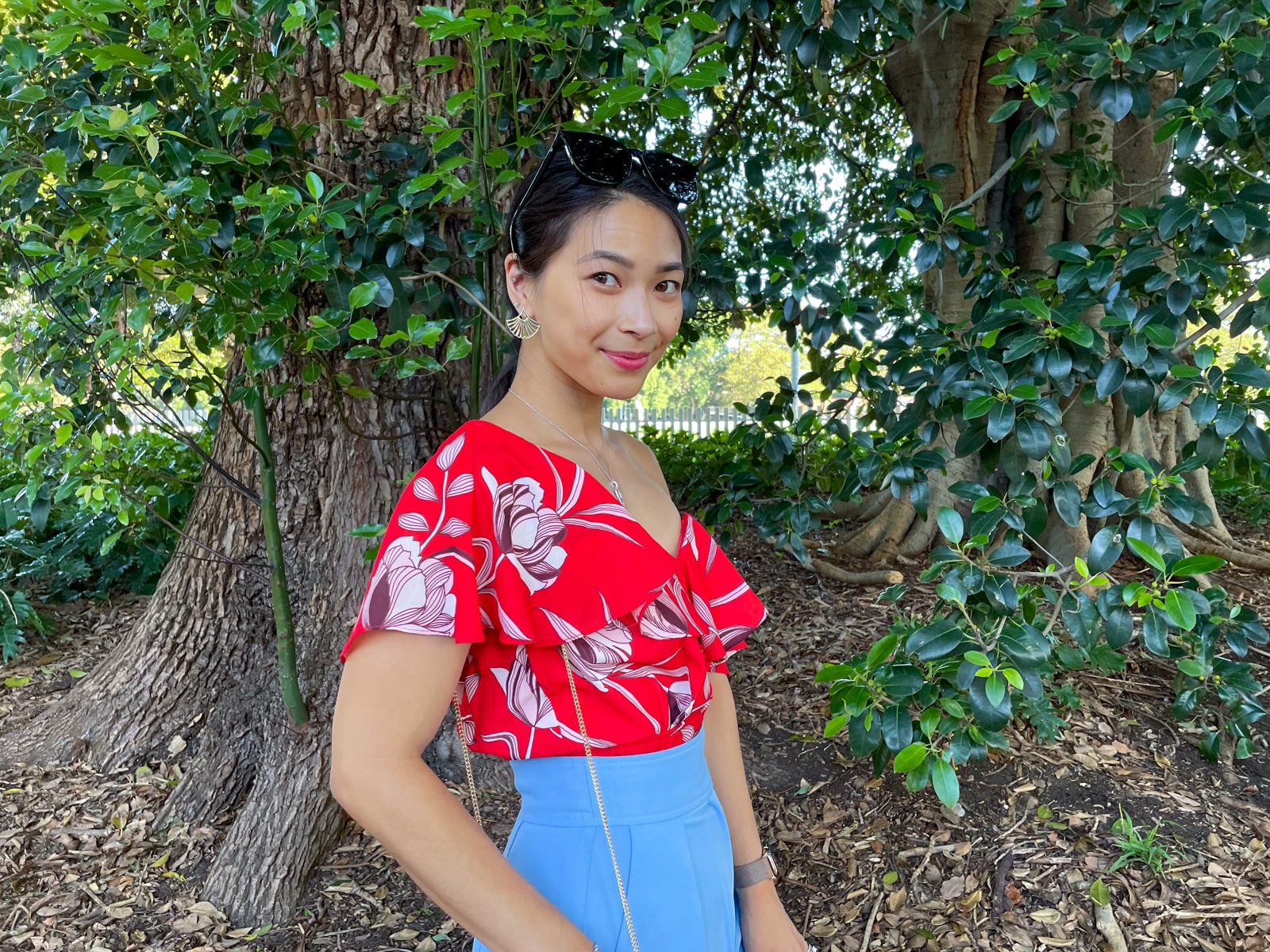 The slight peplum style of the bottom of the half of the top does bother me a little. I don't love the way it sits when I wear shorts or pants under it. It doesn't go well with one of my skirts that has a waist tie, because the tie makes the top bulge. It was only after a few times wearing it that I realised I could wear it tucked in, and that I just had to find the right garment to wear with it.
🦋 Skies are blue
I don't own a lot of red items of clothing (in fact, this might be the only one), so it was a little tricky trying to match this with my other clothes. Wonderfully enough, even though the style of this top is a bit tricky, red does go well with white, black, and navy. I was, however, most enthralled by this pairing with sky blue! I hadn't thought about it before, but after thinking about tucking the top into whatever bottoms I was wearing, I looked for my most high waisted item which happened to be these lovely blue pants.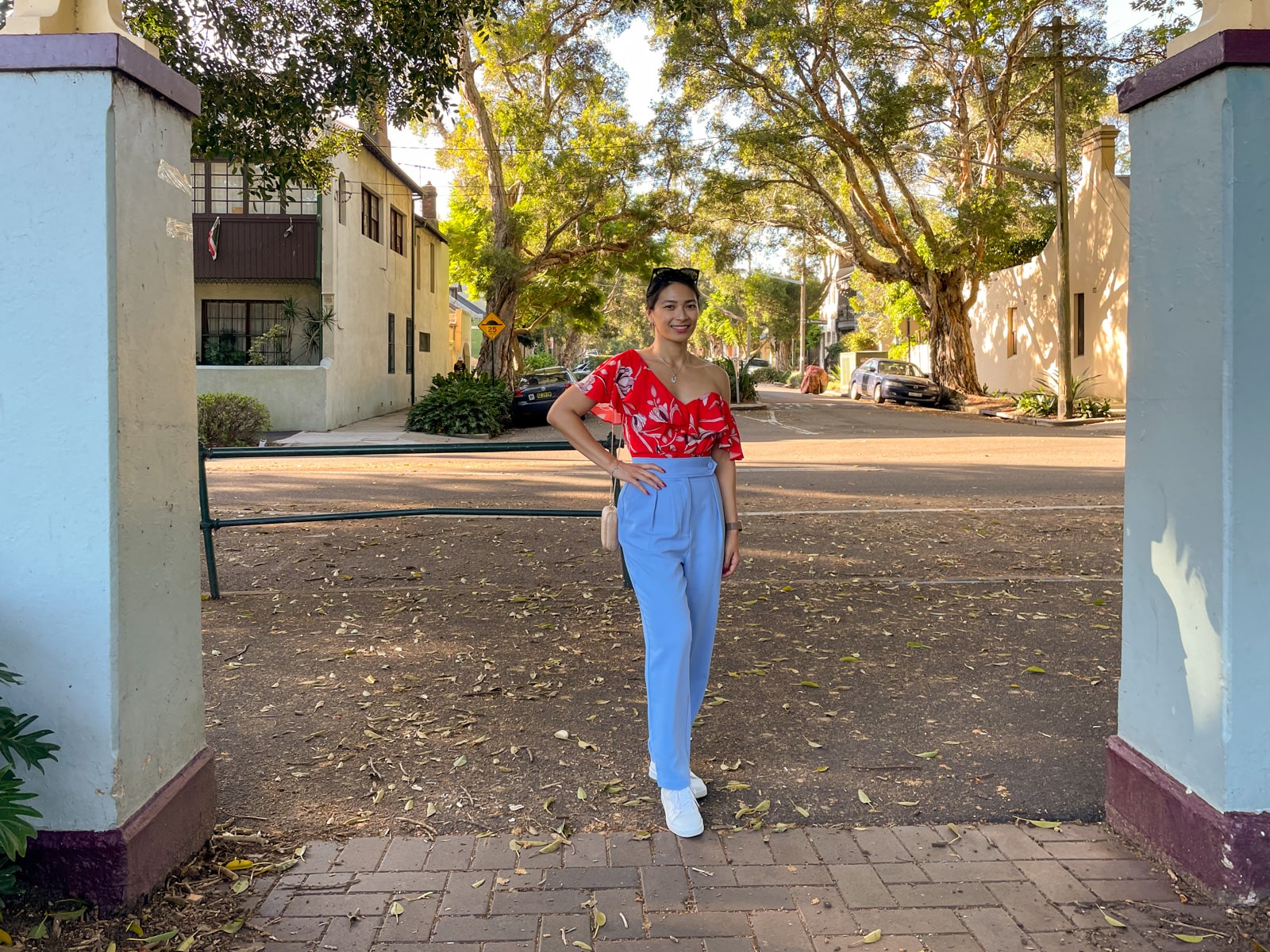 I got the blue pants with my blue blazer – which I've already worn a few times in recent Fashion Friday outfits. I honestly thought I'd wear the blazer with the pants – like a pantsuit – more often, but after trying that a couple of times, I actually really hated how it looked on me. I've learned that the monochrome look doesn't do much for me and I need some amount of contrast, so I've enjoyed wearing the blazer and pants separately. I was damn near sick of the pants because I had basically worn them almost all winter – basically for almost the entire time I was working from home during 2020. Pandemic pants, if you will. 😂 Just kidding – I love these pants a lot, but I remember them feeling exceptionally tight when I gained weight. You can bet I'm glad they fit again.
🌟 Light, bright, accessorise
Going for a light and bright look, I chose white sneakers. I think a lot of shoes could have matched well with these pants and with the outfit, but since I was planning to walk quite a bit, having a pair of comfortable walking shoes was more important than anything else. 😅 Having walked so much during the pandemic both to get outside and to avoid using public transport, I've realised the importance of stylish but comfortable shoes. I'm now your resident sneaker gal. 😂👟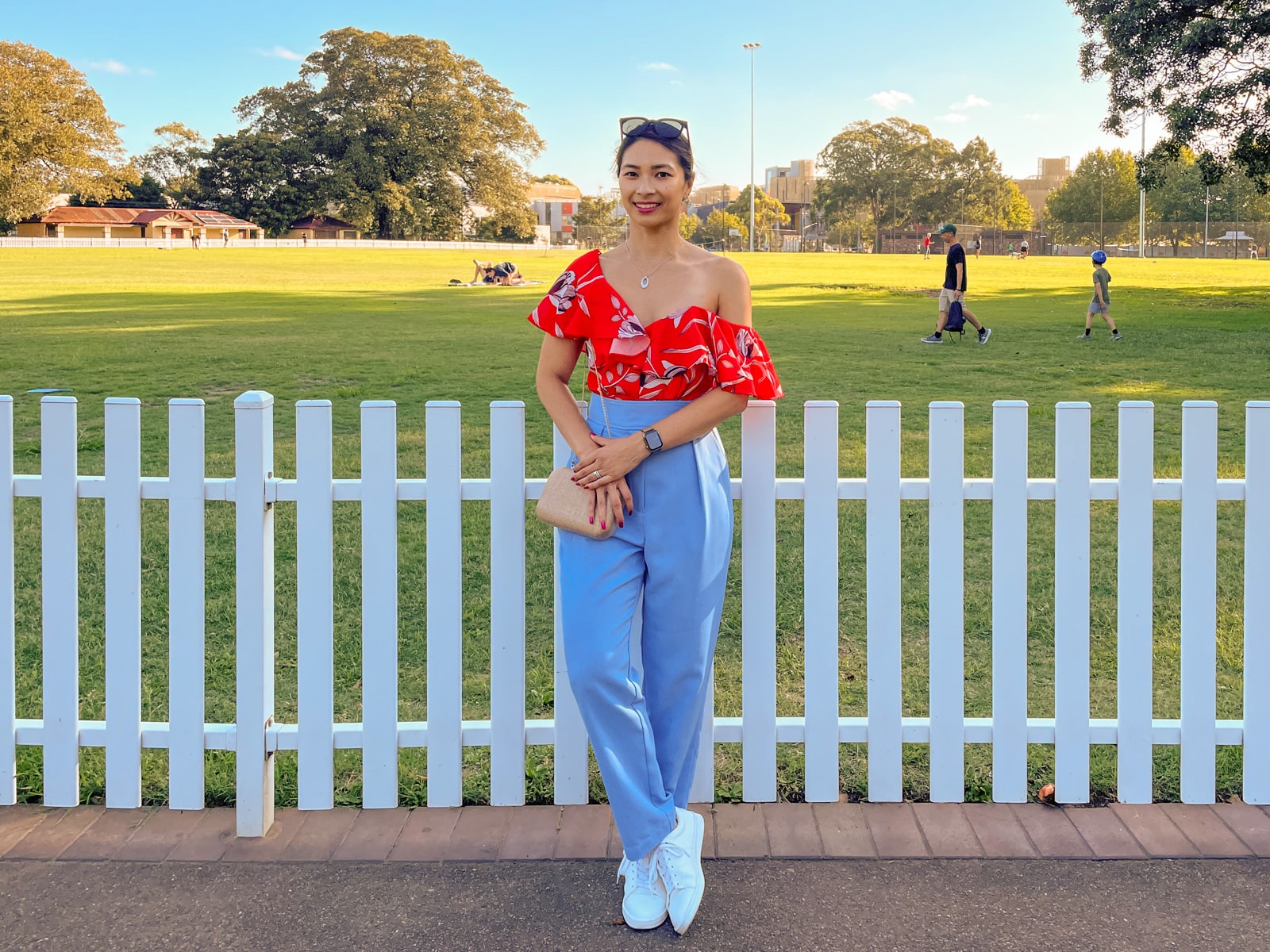 I wanted my hair to be tied back, neat, but simple. When I expect to spend some time outdoors or moving around (not seated in the one place), I don't like to have my hair loose – I like to have it out of the way. These days, I often wear my hair in a side ponytail or a messy bun, but I went for a low ponytail this time. I generally find low ponytails to be quite boring but I've tried to make mine look more polished! I get the feeling this outfit might have looked better with my hair tied higher up on my head, but that's always something I can try another time. There was definitely an element of wanting to show off the cut of the top and the way it exposes my shoulder.
Since I wanted to dress up a little, I carried my clutch bag. My regular handbag is navy in colour with a boxy shape. I think it might have thrown off the outfit a little and given it a more casual vibe. The softness of the round shape of the clutch sort of matches with the feminine lines of the top, and the round shape of my necklace and earrings. We always talk about matching metals – like gold with gold and silver with silver – but despite my bag having a gold chain, I just ignore that and wear silver jewellery since that comprises most of what I own.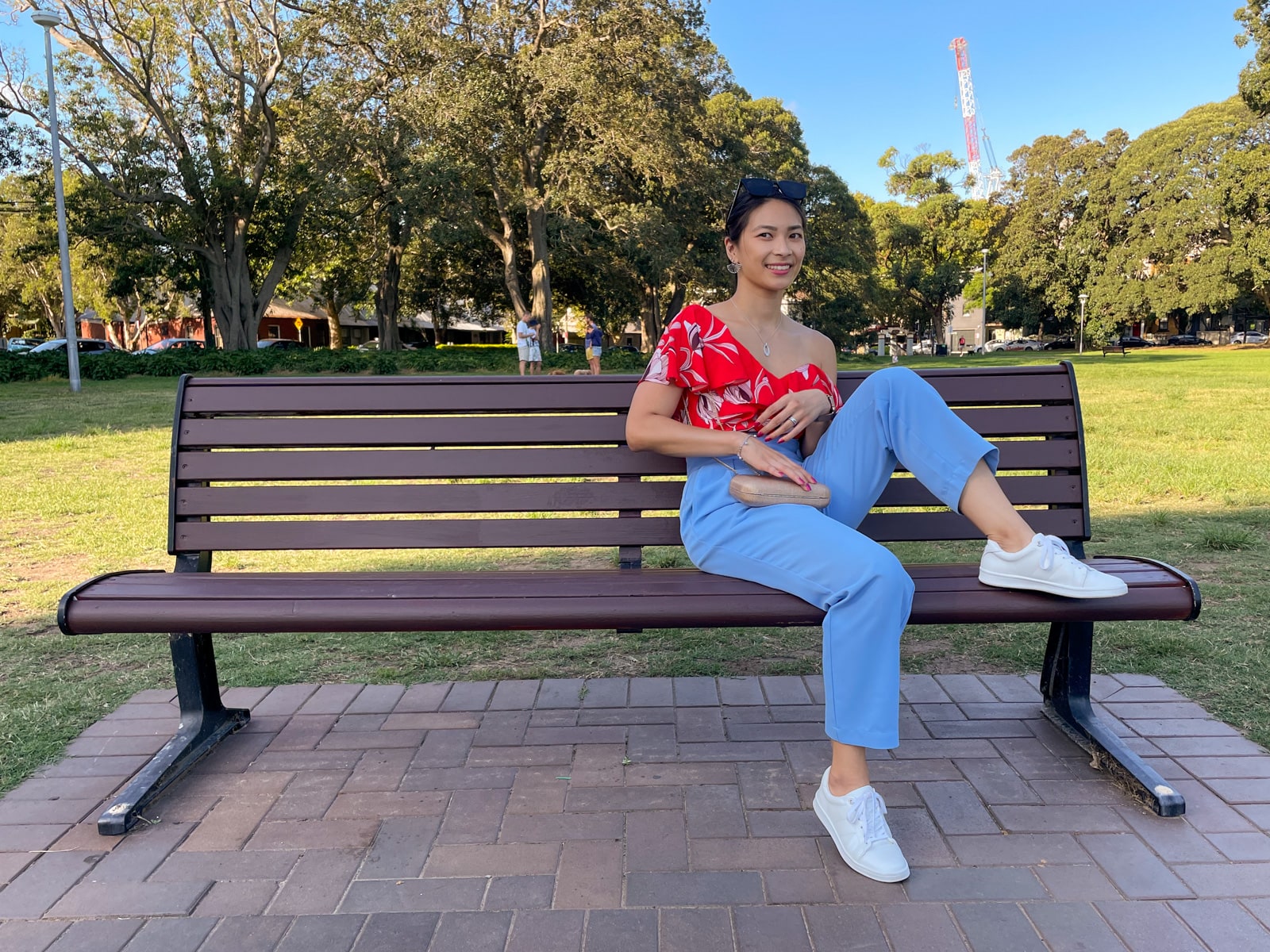 The pink glittery nails weren't really a choice for my outfit, but when my nails are done, I generally have nails that stand out instead of getting them to match with everything. Although I don't love pink, these pink glittery nail wraps add a different colour to all my outfits since I don't wear anything pink. 😊
Having a bit of an experiment with my wardrobe and spending time trying to make this top work was worth the effort. I am really happy with the result. 💃🏻 I feel a little more motivated to try harder the next time I put an outfit together – or even when I purchase clothes – to make sure my pieces are versatile and that I can get creative with them. I am really loving this red and sky blue combination!
What colours would you pair with red?
Outfit details
Top: Sheike (style unknown – purchased second hand)
Pants: Sheike (Charlize Pant in corn blue – no longer available)
Shoes: Jane Debster (Casper Sneaker in white)
Handbag: Olga Berg (Hailey Subtle Metallic Woven Clutch – shop similar)
Earrings: By Invite Only [referral link for 15% off] (Palmier Ear Studs – no longer available)
Necklace: gifted to me decades ago
Sunglasses: Gentle Monster (Papas – currently sold out)
Nails: Personail [referral link for 20% off] nail wraps (Mrs Clause)
Colophon
📸 All photography by Nicholas Cooke. (on my iPhone 12 mini)
We took these photos in a dog park about 20 minutes walk from where we live. You can see a sports oval in the background as well. I hadn't actually been to this park before so it was our first time checking it out. It was en route to where we were going for dinner and drinks.
I named this edition Stop and smell the roses as I was inspired by the colour and the print of the top. Even though it isn't roses! And because of the current global climate, it's a bit of a nod to take it easy and take your time. Even in a world where we might be limited, we can forget to take pause.