Fashion Friday: Purple Rock
Kya just moved my account to a new server, so if you are reading this in a feed, in your email or somewhere not on my website, and cannot actually see the post on my website, try clearing your cache. :)
Seb was lovely enough to help me out with Fashion Friday for this edition. I was hoping to do Fashion Friday more than once a month but this will have to do for now, haha. I don't want to stick to a strict posting schedule for it or anything, so for now, Fashion Friday will be a pretty erratic segment.
Last week Seb and I went to see Greta Mob, and I took some press shots of the band (as well as some live ones). Since we were pretty early and the outside area was not too busy, I asked Seb to take a few pictures of me just sitting at the bar tables. I was well prepared for a loud rock show.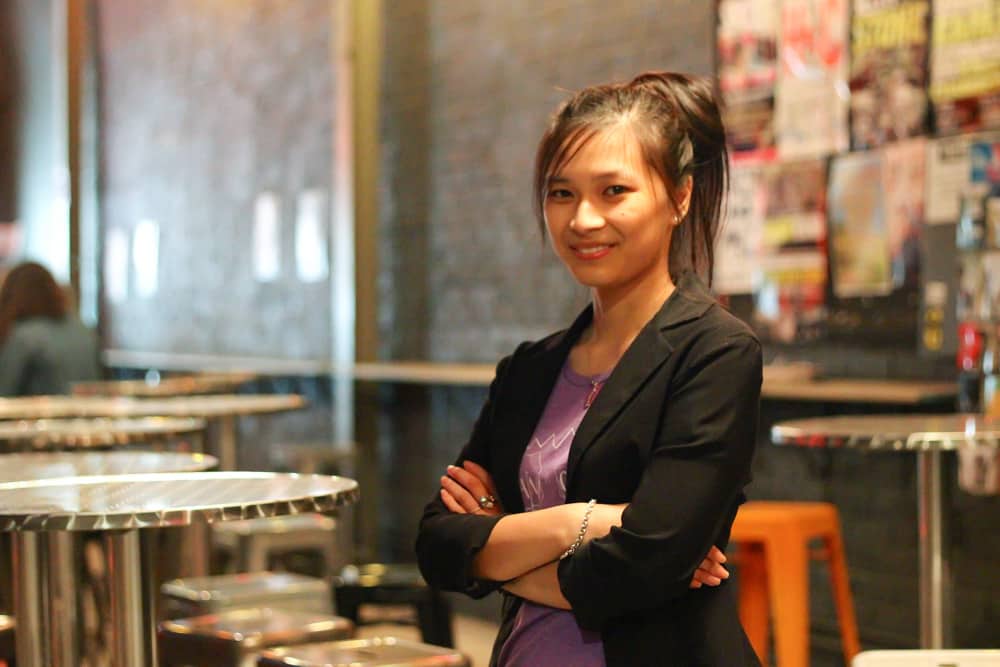 This is one of my more casual looks. My hair is probably the only "different" thing to my usual style. I usually like to keep my hair out. However, it has been growing longer and getting in my eyes even when I tuck it behind my ears. I chose to tie it up this time, and not just in a ponytail, but in a bit of a loopy, incomplete one.
I've been generally treating Fridays at work as a more casual day, so I wear a less dressy shirt and skirt. I forgot that I owned a pair of grey tights so I wore those instead of black ones. I am also wearing my signature denim skirt, which I have had for six years.
Featured are my favourite boots as well, which I featured in an old post. James called them the Gujo boots, because I had walked with them in the snow in Japan and they had soaked through. I had left them outside to air for almost three weeks and they didn't smell after that. Nice and clean, haha. So they have gone through quite a lot and I love them because they are so comfortable.
I am wearing my San Cisco shirt, which I love because it is purple. It is a really nice shade of purple as well. I actually won the shirt from a competition about a year ago. I don't listen to San Cisco's music that much anymore but I do still like them. My black blazer is the one I wear to work most days.
I actually removed my pink nail polish last week because it had already started to chip. I forgot how much I like having unpainted nails, even though it is a lot of fun to have some colours on them. When my nails are long, sometimes it is hard to pick a colour that looks good on long nails.
That's it for this week. Again I want to thank Seb for taking the photos in this post, and hopefully he will be helping out in future posts as well!