Fashion Friday: Boots and scarves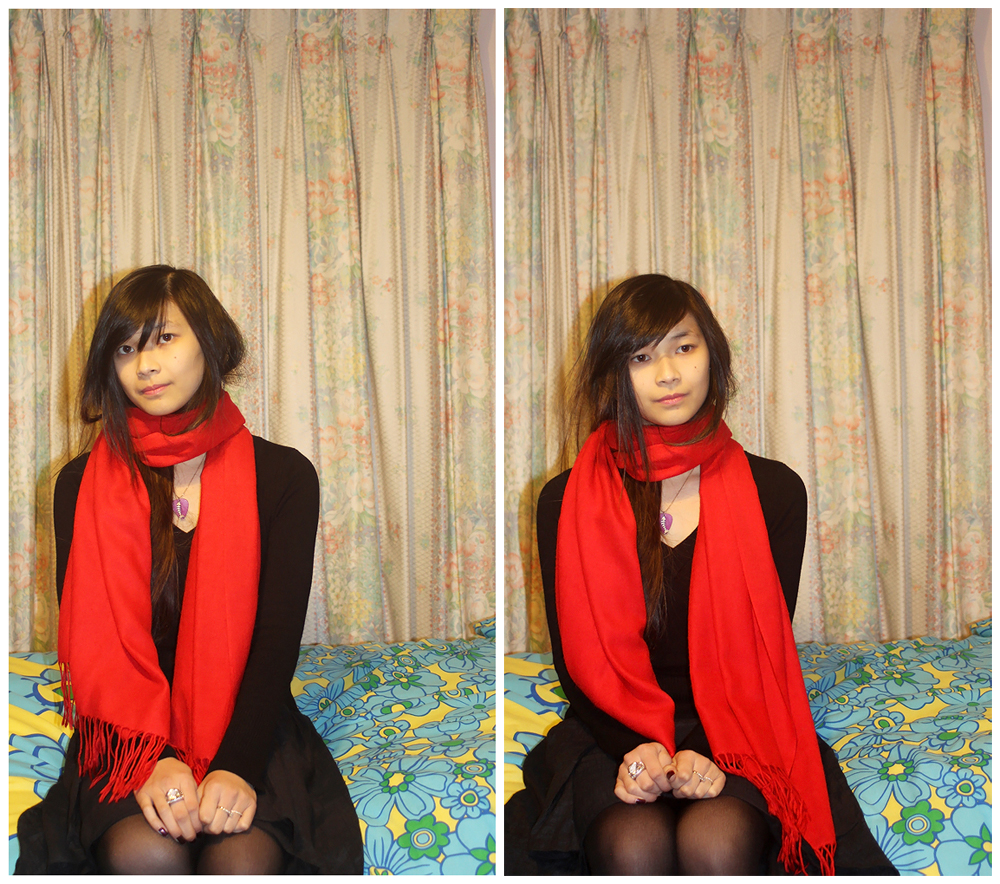 Before I write about my favourite red scarf…
A few weeks ago I bought some new boots. I love boots. Most of the pairs I own are high-heeled, and get a bit uncomfortable or painful to wear on a daily basis. I also grew out of most of my flat boots, or wore them out, so it was time for some new ones. I always have trouble buying shoes because my feet are very small (apparently they're the same size as a sample size, heh). Heels, boots, sneakers, you name it. Most shoes don't come in my size or have limited stock. Because of this, whenever I find a pair of shoes I like, I pounce on them straight away, not wanting to go through the pain again of trying on shoe after shoe.
One of the pairs of shoes I bought was this Corinne boot by Soft Soul. I haven't ever bought Soft Soul shoes before, but I initially tried on this pair because they were simple, and had a wedge heel. I am usually not fond of wedge heels either, but I felt that they would support me better and I would be able to walk in them more easily without tripping over.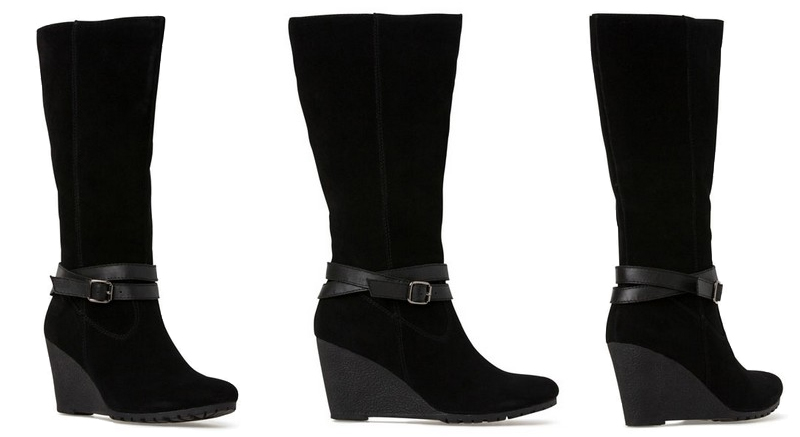 I tried on the boots, and they did have them in my size, which was a surprise. I was amazed when I walked around in the boots after trying them on. The soles were so soft under my feet and I could walk with no hassle. It didn't feel like I was wearing heels at all. The top of the boot reaches halfway up my shin, which is new — most of my boots reach my knee or ankle. I like having a variety of boots.
The other pair of boots I bought is the Sycamore model by Earth. I bought these a week after the Corinne boots. I hadn't heard of the Earth brand either, but they seem to make very comfortable looking footwear. My first impression of their section at the department store was that they made typical, plain shoes built for comfort.
When I spotted this Sycamore boot, I was with my mum and we were looking at the shoes together (my mum works in another section of the department store). I spotted the Corinne boot and wanted to buy another pair because I had already worn mine that week, and they were amazingly comfortable. I loved them that much. I explained to my mum that it was going to be impossible to find more boots that I liked and that fit me. She suggested looking for another boot because I could probably find a better-looking, less plain style than the Corinne. She pointed out the Sycamore boot and when I tried them on I realised they looked pretty cool.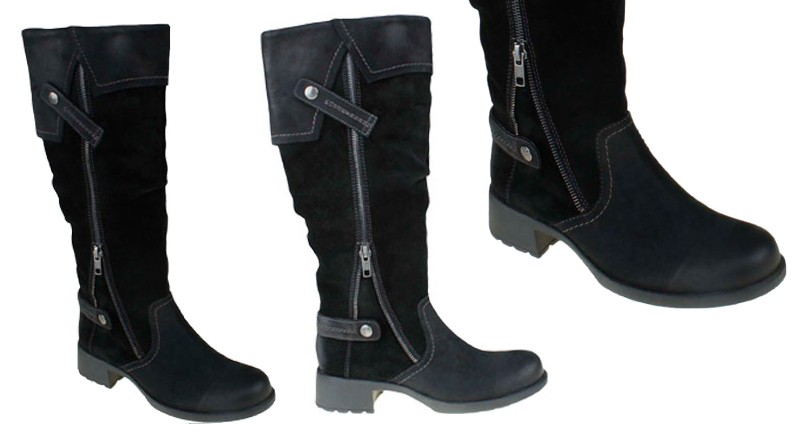 They're a flat boot and also very comfortable. They feel a bit like they were meant for hiking — they're sturdy, strong, and look like they last a while. I have worn them quite a lot already and they also have very soft, comfortable soles. :D
Last week I saw some scarves on sale at Cotton On, and I was tempted to buy some, but I do have enough scarves already. Red is my favourite colour and this is my favourite scarf — of course, because it's red. I bought it a couple of years ago when I was on a mission to buy one red item every month for three years. That didn't happen because I realised it was a ludicrous goal, and it was part of my "101 in 1001" list, which I purged once I decided I would be done with glamourised lists and goals. Anyway, the scarf only cost me $10, and I chose it among several other woolly ones. If I remember correctly it is actually a pashmina shawl, which makes it really wide and long, allowing me to actually use it as a wrap, or even as a small thin blanket for my legs. Haha.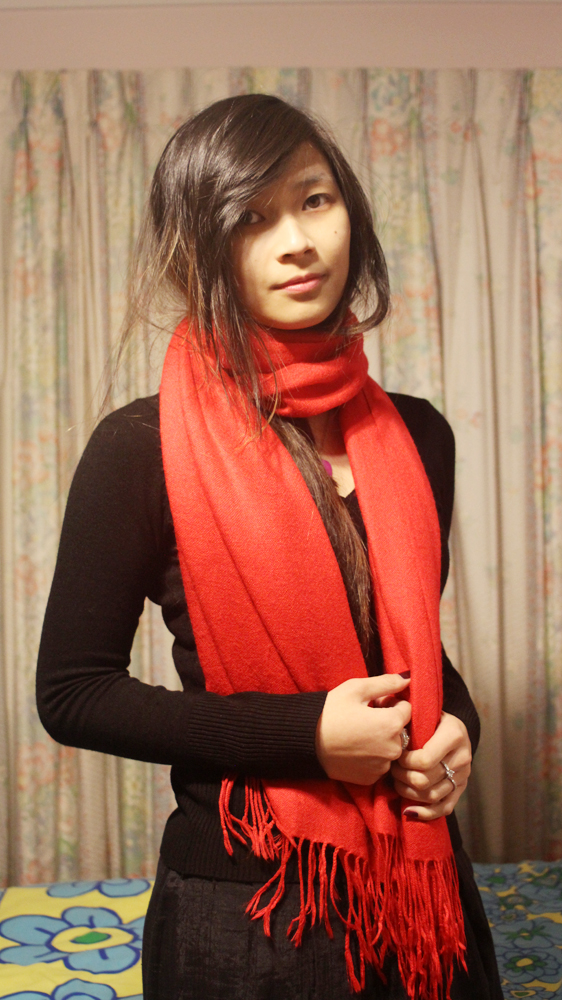 Also featured in this outfit is a long-sleeved black v-neck, just among a couple of other coloured ones I have (brown and grey). I ought to have worn a jacket with this outfit but I think I'm actually getting used to the cold, and a long-sleeved top is just enough.
I'm also wearing thick tights. I chose 120 denier for the tights, as I can't stand tights ripping to bits after just a little snag… so thick tights are definitely a winner for me. I bought them with the help of Kim when she came here a couple of months ago — she said that when it comes to simple black tights, the cheapest and best option is a department store. I only spent $8 on this lovely pair!
I'm also wearing a mullet skirt. It's a bit more "summery", as my mum describes, because of the crumply-like material (I forget what it's called). At first I wasn't a fan of mullet skirts or dresses because I was under the impression you had to be tall to really look good in them. But hey… I just threw on my Corinne boots and the skirt doesn't look too bad. At the very least, they don't make me look shorter. It was a bit hard to photograph as I didn't have a good light source on me.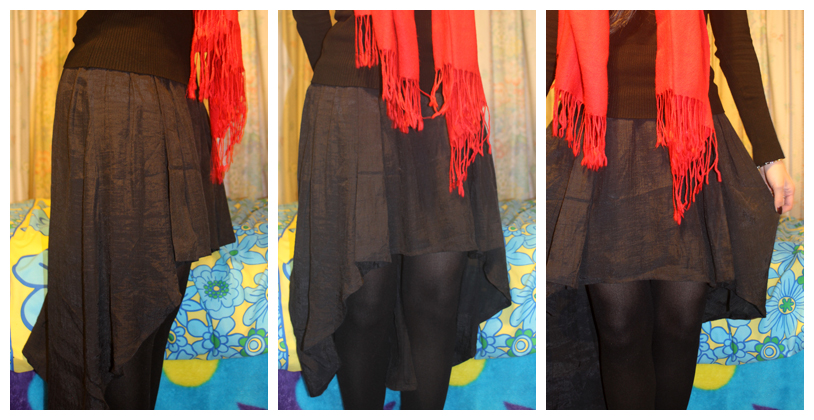 Here's a photo of my next favourite scarf, a blue one knitted by my best friend Lilian! She gave it to me for my birthday a couple of years back. At first it was very rough and stiff because it was newly knitted and hadn't been "worn in". I threw it in the wash a few times and it's the greatest. I love that she made it so wide and long, because I was after a very long one. It definitely keeps me warm.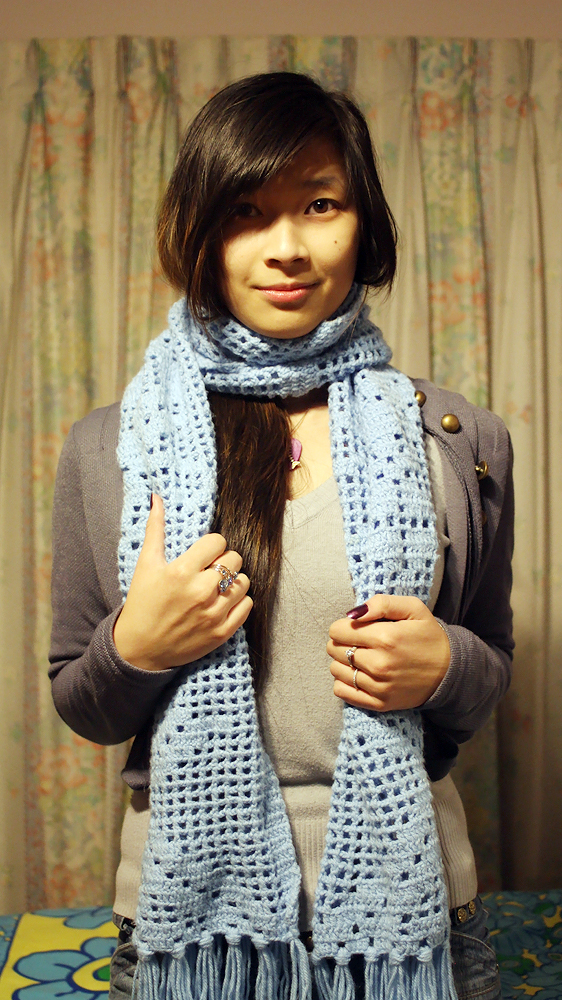 We're seeing a repeat appearance of the grey top I wore in a previous post. The grey cardigan comes up to the waist and has gold buttons down the front opening and on the shoulders. It doesn't button up. Apparently shorter jackets are more flattering on short people, or at least, give the illusion of height. I still find it weird to wear short jackets unless I'm wearing a dress, because I feel like the division at the bottom of the jacket and where your top meets your bottoms will look odd. Ahhh, I don't really like being short!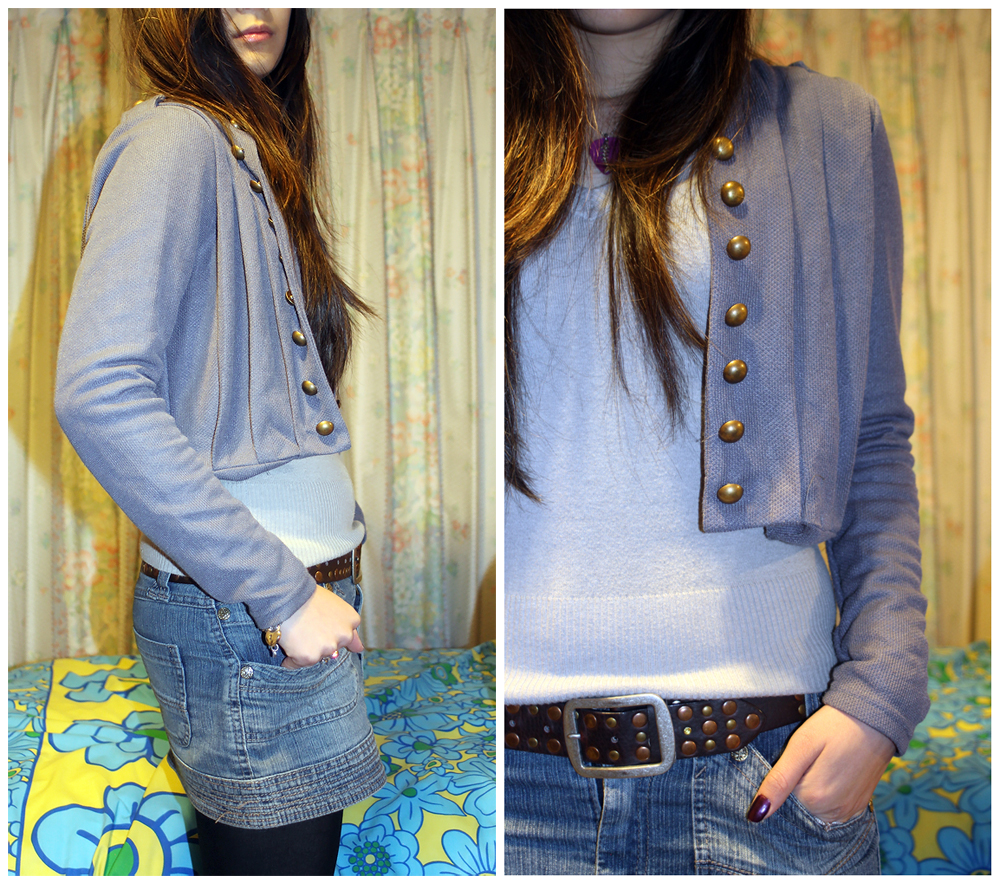 I have actually had this skirt since 2004; I bought it in Indonesia. I actually remember it fitting normally when I bought it. I had to get the medium size because the small size was just too tight. I think this skirt just has a lot of wear and the denim stretches, so it's a plus.
Brown belt — an old one belonging to my mum. I usually hate belts because I don't like having bulk around the waist. I only wear belts when I wear skirts or jeans that sit on my hips.
I got my blue ring from Singapore, 3 for $10 with other similar swirly rings.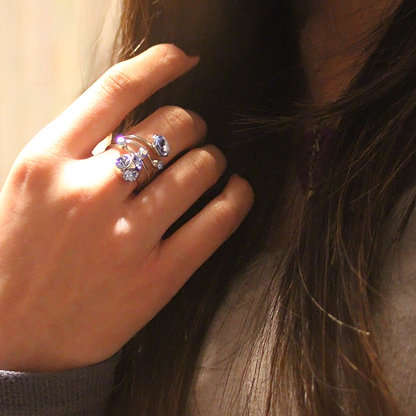 Also my purple nails are courtesy of the Ulta3 nail polish, in Waterlily. :)