Fashion Friday: Silicon-post earrings (and a hat)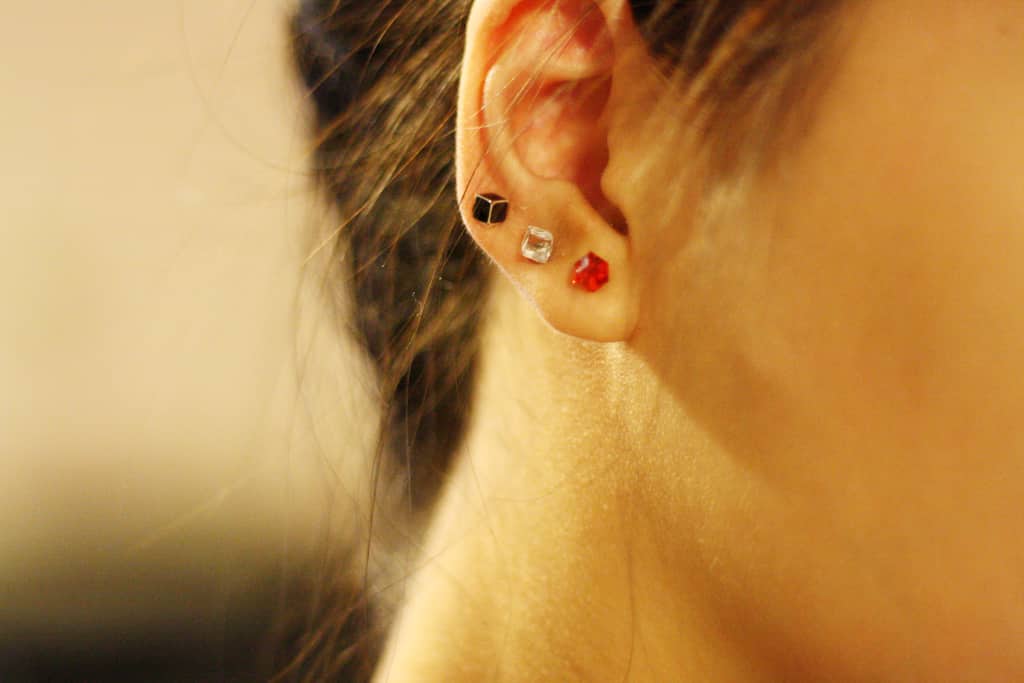 I'm long overdue for a Fashion Friday post! I've worn a lot of outfits over the past couple of weeks, and somewhere in between I went to the market during a weekend off (I still wonder why I say weekend off — It's not like I actually work on weekends, but that's what it looks like) and spent less than $80 on so many new clothes. I enjoy going to the market because there are a lot of clothes that are still brand new, and usually they're just of very large or very small sizes, or just excess stock. It's perfect for me because I don't usually get an opportunity to shop, and I miss out on regular sales, so it's the closest I can get to finding something I like and that fits me.
For the record, I actually really hate shopping. The other night, I visited my mum at work and she said I could look at some shoes and clothes while I was there. I didn't enjoy it. None of the shoes fit me properly. I'm after some black pumps, or just some simple black Mary Jane heels that are good for both work and play. It's tough. :(
Anyway, I got a bunch of skirts, a bunch of new tops, a jacket and a dress from my little market trip. The skirt in featured later in this post is one of the ones I bought, and it was only $4. :D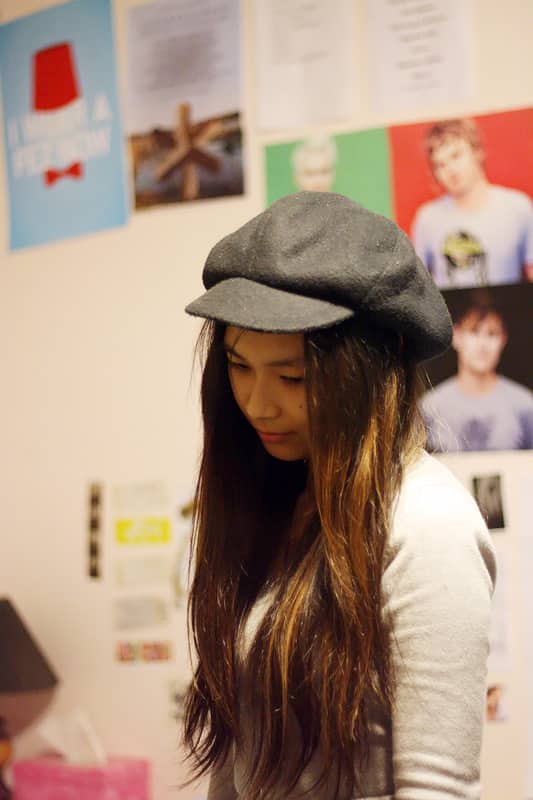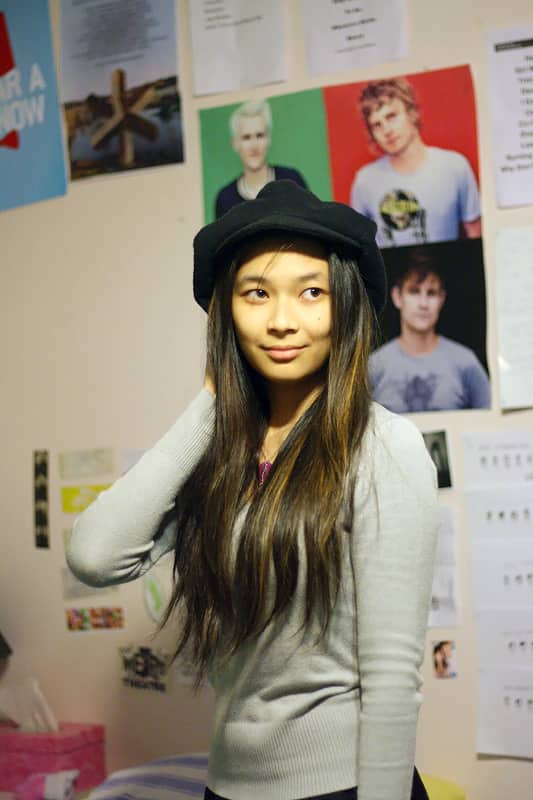 The top is grey, long sleeved, and a nice piece for autumn. It's warm enough to wear on its own, but it's also alright for when the weather's warmer because you can pull the sleeves up. It's pretty tight fitting.
I can't remember where I got the hat from, but I'm pretty sure my mum gave it to me. It's a typical newsboy cap of sorts. I really love accessorising and because it's been cooler lately, I find it nice to wear a hat. My hair has also grown out very long, and it doesn't look so nice in front whether I pin it back or not, so I've sort of been hiding my hair behind this hat.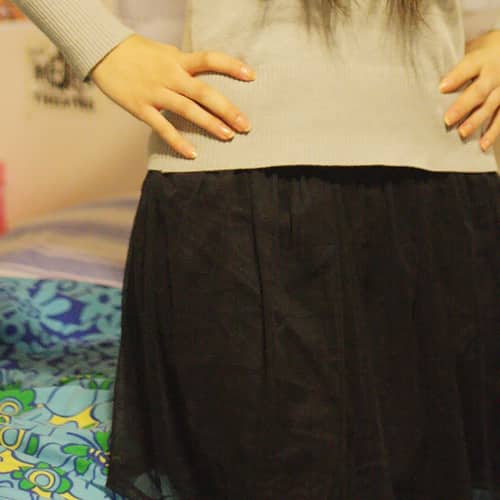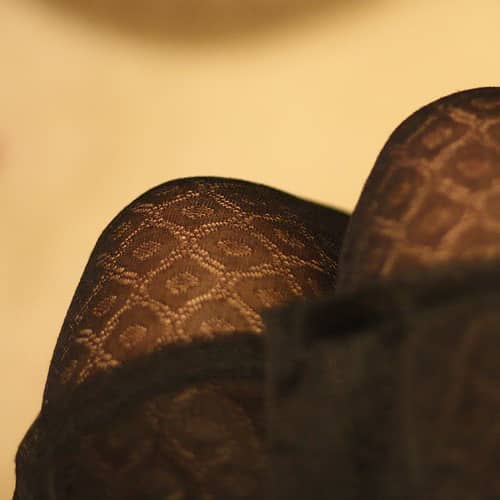 The skirt is made from chiffon and is pretty casual, but also kind of dressy. I don't remember where I got the stockings/tights but my mum gave them to me and they have a lovely pattern.
Another accessory I love is earrings. I have three piercings in each of my ears, so I cannot get enough of earrings. I've had two piercings since I was very young (shortly after I was born) and the other four for about a decade. They get infected from time to time due to allergic reactions to the earrings I wear. I used to wear real gold earrings until my mid-teens, when I wanted to buy more fashion jewellery and wear fancy earrings. Unfortunately those earrings aren't really designed for sensitive ears, and by wearing them, I was pretty much inviting the itching and skin reactions that would come from those pieces of jewellery. I attempted to buy silver, at times, but I couldn't stop going back to those fashion earrings.
My reason for buying fashion earrings at the time was because I wanted to wear more than just my boring, dull gold studs. It was hard to find really nice earrings that wouldn't irritate my ears. Still, I was stubborn and kept buying dangly earrings and colourful studs. Day in, day out, I'd change my earrings. And week in, week out, I'd have to go back to my gold earrings so my ears would heal. It was redundant because I'd go right back to wearing the fashion earrings as soon as they healed.
I tried sterling silver earrings, but they still seemed to irritate my ears. About three years ago I got really sick of wearing gold earrings and made every effort to find stainless steel or something that just wasn't gold. I also wanted something affordable. So for the past couple of years I've been wearing boring gold again, and wearing some silver and fashion earrings on special occasions.
Then I discovered silicon-post earrings.
I first discovered them on Etsy. I bought from a seller from Singapore who made her own jewellery. She had a "UFO" series — a set of three mismatching earrings — and though they didn't look like UFOs, I was rather interested in the fact that the earring posts were made from silicon. When the earrings came, the posts had snapped in the mail, and I was pretty disappointed because there was no way I could fix them. I was half expecting them to be broken because they seemed so fragile. Thankfully I received a refund. The seller offered to send out another set, but I didn't want to risk them breaking again.
My next encounter with silicon-post earrings was when my best friend Lilian bought me a pair from her trip overseas. I didn't wear them a lot but I also found them to be really fragile. The good thing was that they didn't irritate my ears at all. Sadly, those earrings broken several months later.
This year when I was shopping with Lilian at the markets, I thought I'd ask a jewellery stall owner if they had any earrings that wouldn't cause allergic reactions. It was then that she showed me they had a range with silicon posts. It was hard finding many that I liked, and the range was limited, but there were some very nice, simple, clear diamond/cube shaped ones. I found a bunch more that had silicon posts and I bought eight pairs.
Over the next few weeks I stopped changing earrings and wore these silicon-post ones instead. Lilian mentioned to me that they were only $2.50 each and though they were fragile, you could expect that for the price. However, I've found that they are actually very strong. It's hard to get the backs of the earrings off the posts, initially, but once you take them off, they loosen up a bit. I do admit they're still fragile to some extent, and I've lost a couple of earring backs because they have been too slippery and just slid off the post, but other than that, they have been terrific. I haven't had any irritation whatsoever, and the earrings are really comfortable.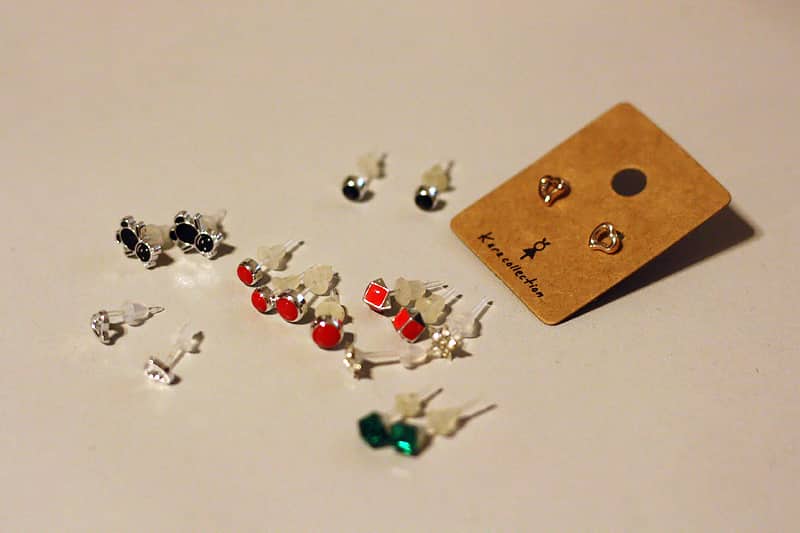 Of course, I'm not so happy with the limited range, but the earrings are simple enough to be worn daily and with a range of outfits. I haven't yet found an online retailer for silicon-post earrings, but I'd imagine they would be really cheap if I found them in Asia or something.