Sydney Mardi Gras Parade 2014
Yesterday James and I made some pasta at home, and watched some random television before going to the Mardi Gras parade on Oxford Street. It was our first time seeing the parade, which is held annually. I had heard people talk about it in school many years ago, but it didn't really interest me because I didn't attend very many events and wasn't a fan of travelling all the way to the city. I had also not really liked the idea of the crowds.
What really motivated me to want to go and check out the parade was the fact that Hey Geronimo were playing at a bar not far away, and the way the venue promoted the event was with the tagline "your time to shine". I thought that it would be great if James and I could watch the parade and see what the city was like on the night, before seeing Hey Geronimo play. Not to mention I wanted to be there to be a part of supporting LGBT rights.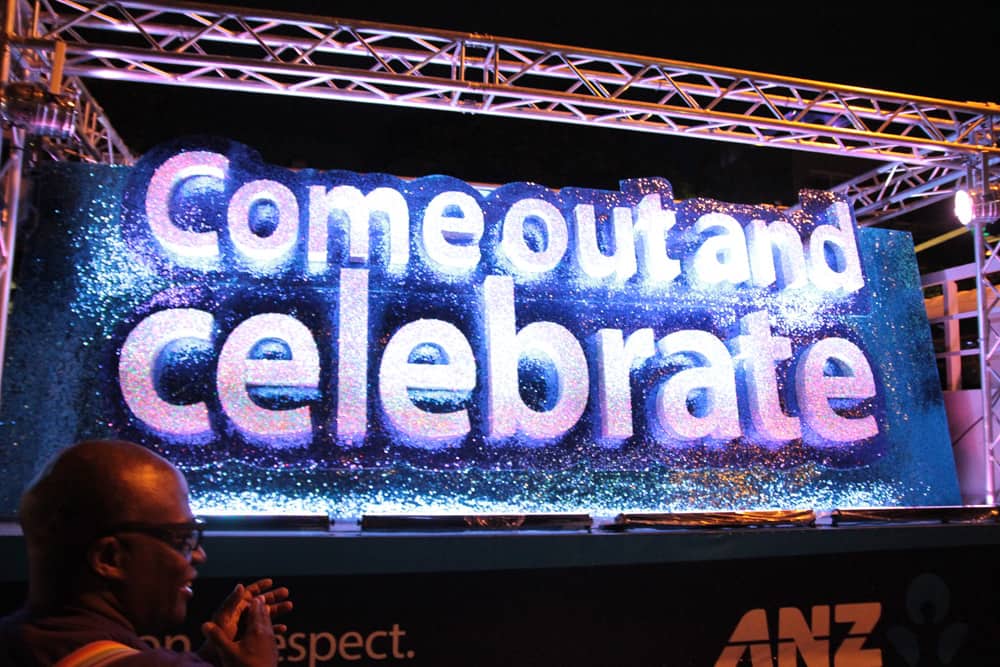 I am glad we went. It was a terrific night. We left at about 5:30, which was a little late, so we didn't get to reach the front of the barrier. Some people came an hour or two earlier to get the best views. By the time we got to the city and walked to Oxford Street, we realised that part of it was fenced off and we had to enter through the side streets because it was so crowded. It was a bit of a walk uphill. I was wearing heels, so that made it hurt a little, but they were the only heels that matched with my bright yellow dress. Yup, dressing up was necessary. Extravagance is bliss.
It was great seeing so many LGBT people being comfortable around each other, dressed up, and being so comfortable with who they are. James and I felt that there would surely be some straight people in the crowd, like us, and it felt wonderful to see everyone showing their love for each other.
We managed to walk up to Flinders Street, which was a fair way from Oxford, but the parade was running through there as well. There were viewpoints but you had to pay to get to bar balconies, and you had to pay $10 if you wanted to be given a milk crate or a stool to stand on. As we kept walking further up, the crowd thinned out and we got a place pretty close to the barrier at the side of the road, with quite a good view. Once the parade started I was truly amazed at all the vehicles and groups of people coming past, and it was really warming to see the support from all the people at the sides of the road.
I think at some point I was getting a tiny bit teary seeing so much support from so many people. People cheered, sang, and reached out for hugs and high-fives.
I took some photos with my camera, but I wish I hadn't tried to take so many, because a huge handful of them turned out blurry and uninteresting. Maybe I am just being too critical, but photographers tend to be very self-critical.
My favourite moments were when a guy dressed in drag gave me a hug and a kiss on the cheek; a group of children walked past and reached out and touched our hands; seeing the Doctor Who float; seeing the one with the "stop" sign and the slogan "our own rainbow crossing" – that one was by far my favourite. I thought it was amazing because all the people had large rectangular boards with coloured lights, colours of the rainbow, and were dancing to Michael Jackson's Don't Stop Til You Get Enough. I also loved seeing the sign "You have a right to be fabulous". Gosh I loved that, so much.
At about 9:30 we went to see Hey Geronimo play, and they all had dressed up a little bit, hats and wigs and masquerade masks. I have photos as well, but I will post them another time. The lights were fabulous, and of course I had fun dancing a little crazy.