A Day in the Life: November 2015
A Day in the Life is a monthly linkup where bloggers document their daily life on a designated day each month to show what a typical day is like. To find out more, click here.
It's already November, I can't believe we are getting this close to the end of the year. I started my new job three weeks ago but it feels like it has been a lot longer. :)
This morning I woke up to my alarm – well, to both mine and Nick's alarm, since we had our alarms set for the same time. I have some default alarm tone while he still has Uptown Funk as his… I still don't like the song, but it doesn't bother me. We don't get up straight away but we get up with enough time to get ready. I put on a button-up shirt, I'm not a huge fan of my outfit but I just throw on some jeans and I'm OK.
Nick said he didn't understand why I wore a shirt I didn't really feel like wearing because I had said, 'I couldn't be bothered wearing a t-shirt.'
'You mean you couldn't be bothered wearing a t-shirt, but you could be bothered wearing a shirt where you have to do all the buttons? I'd just wear this if I couldn't be bothered!' He pointed at one of his own t-shirts.
I guess part of me is still reluctant to wear a t-shirt to work – we have a very casual dress code, as with all the places I've worked in the past four years. I consider myself lucky that I don't have to suit up every day, but I do like to make an effort and look presentable anyway.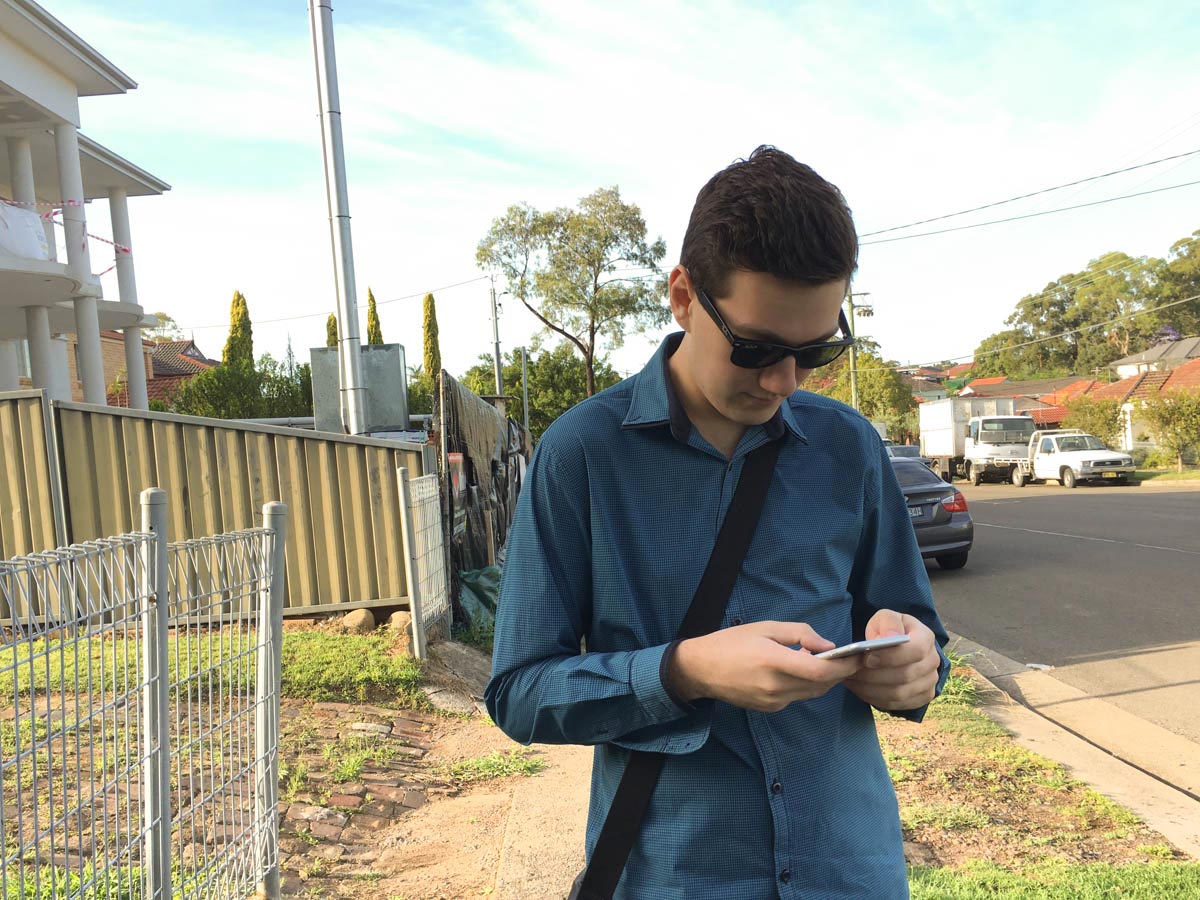 We make our way to the bus stop, which takes us to the train station. Then we catch the train into the city. Nick walks me to work then catches a bus down a couple of blocks to his workplace. We both didn't realise that it would cost him extra to catch the bus, so he got quite annoyed. I can tell you, our Opal transport system is very confusing and annoying.
At work I take the elevator to my level. Our office has two levels, the lower one being where most of the desks are. I leave my belongings at my desk but use my computer to order a soy chai latte from the kitchen, before I walk upstairs to the kitchen to grab breakfast.
No tomatoes today, so I'm a bit disappointed because I love tomatoes, but there is asparagus, which makes me happy. I grab some sourdough with that, and a bit of scrambled eggs. Scrambled eggs are not my favourite but I cannot complain about being served breakfast so I walk to the fruit platter and add a handful of strawberries to my plate.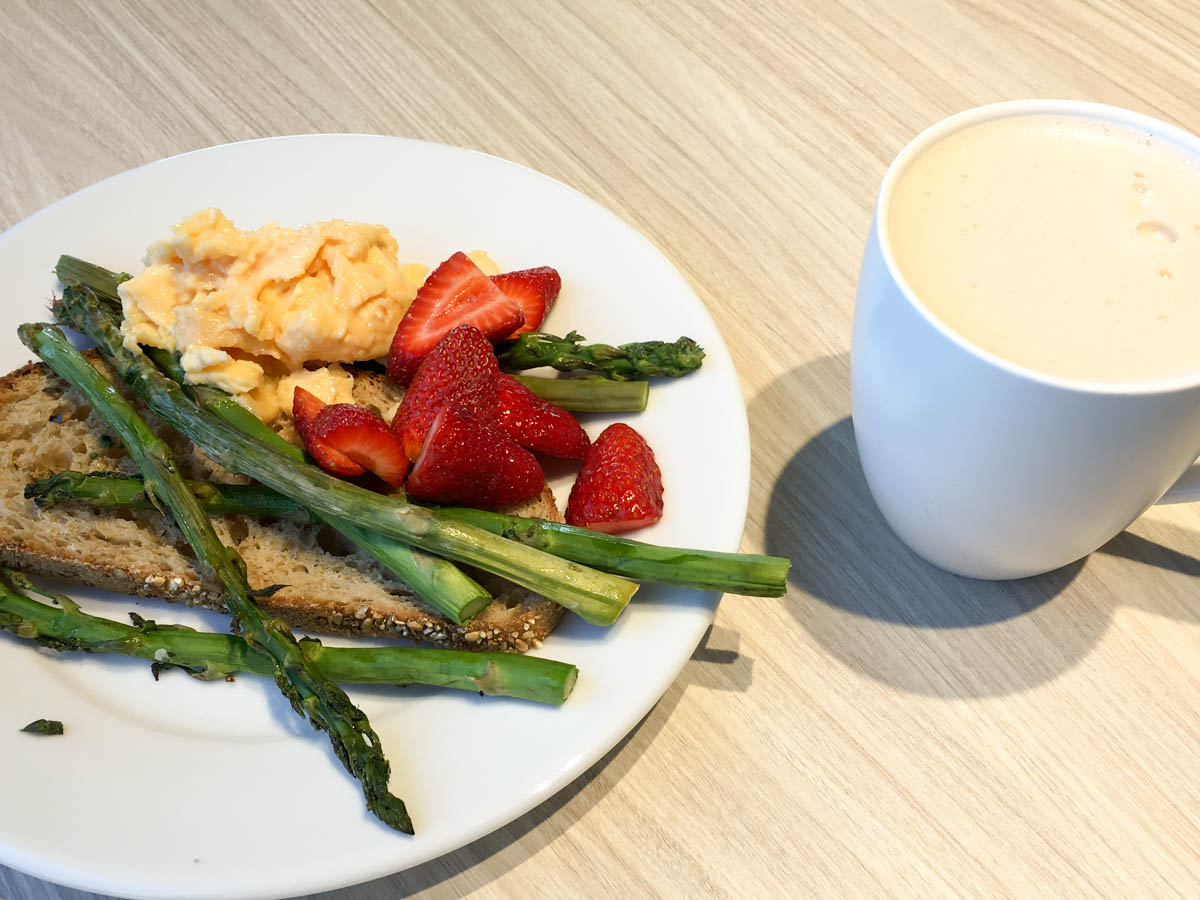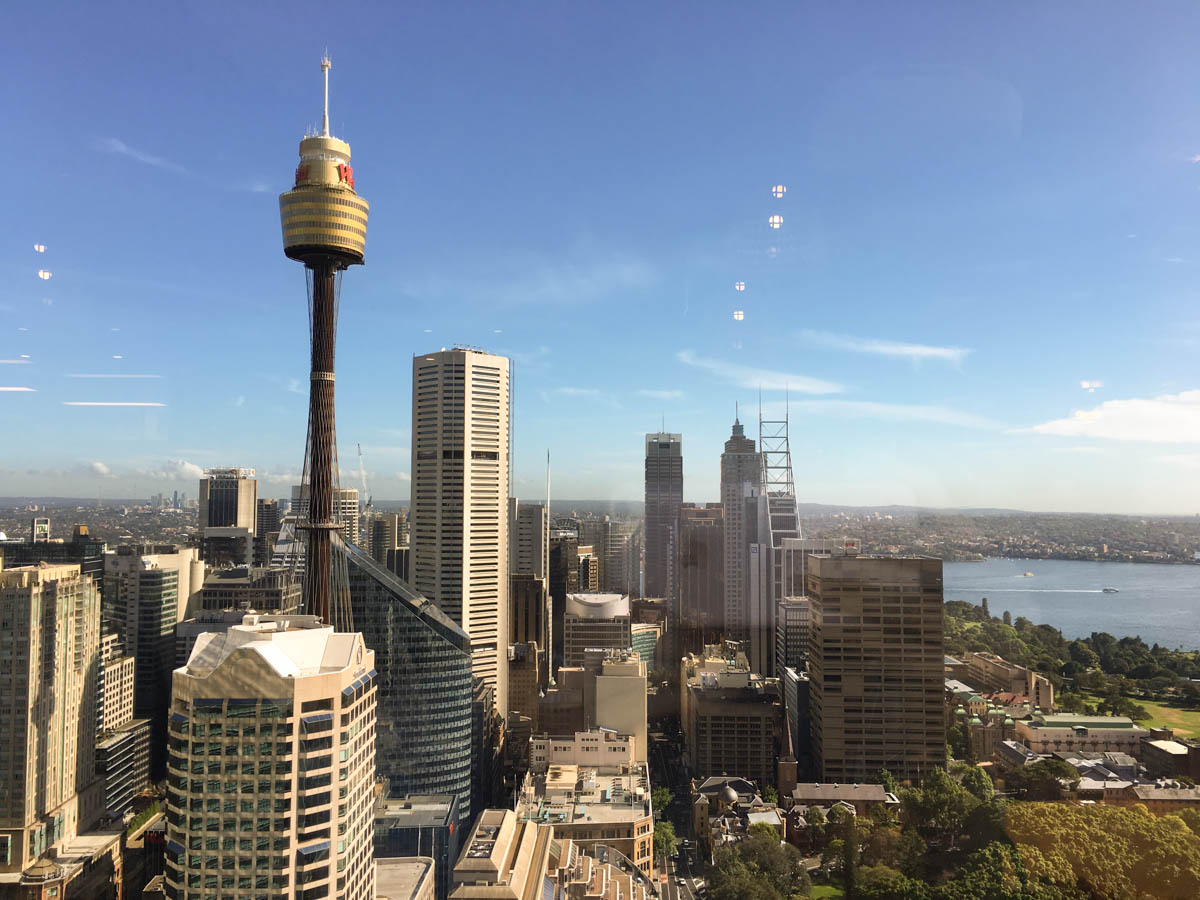 I sit by the window today, after having picked up my chai latte. Yum. I take my time eating breakfast, and then grab a mug from the cupboard to take downstairs with me so I can make tea.
We have a standup meeting at 9:10, which is just a daily team meeting. We stand around a wall that has many cards stuck to it, indicating what tasks need to be done, and discuss what needs doing.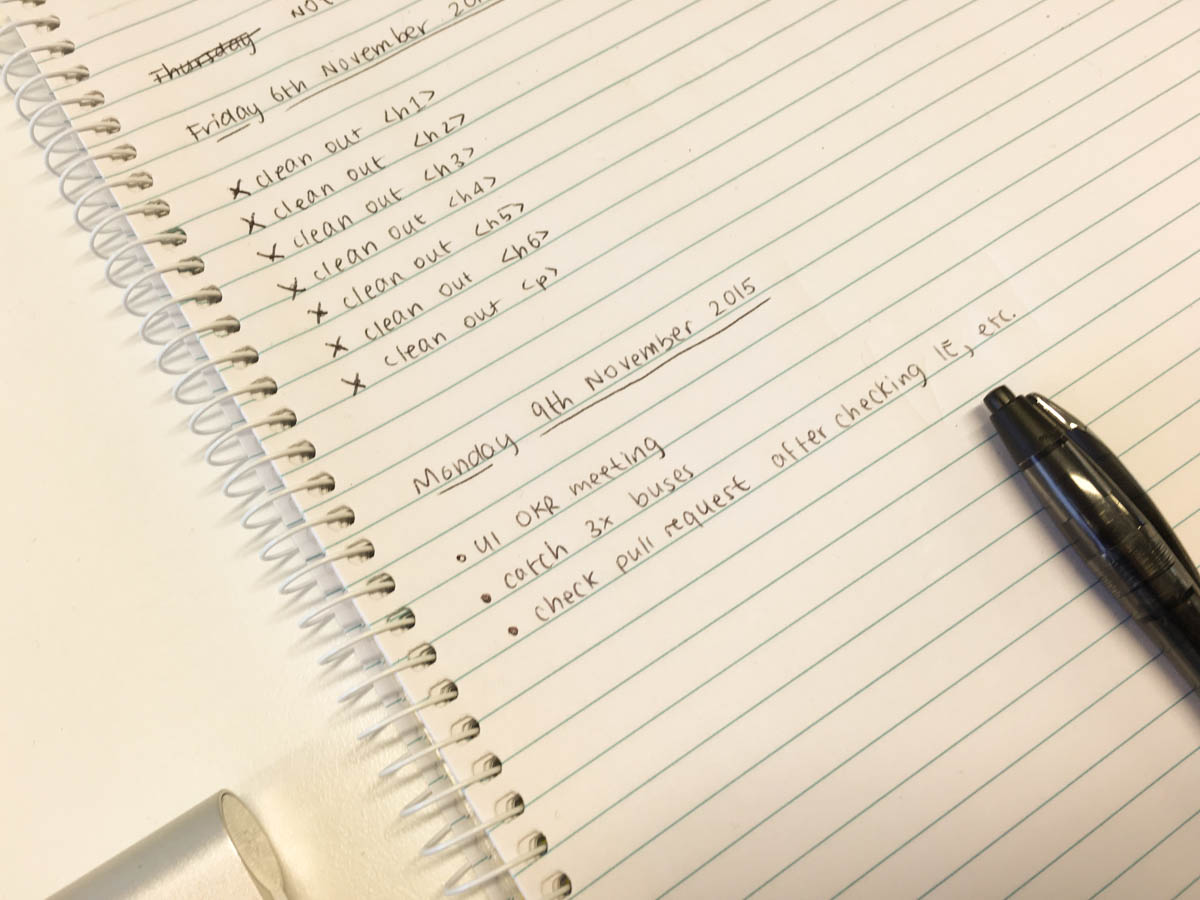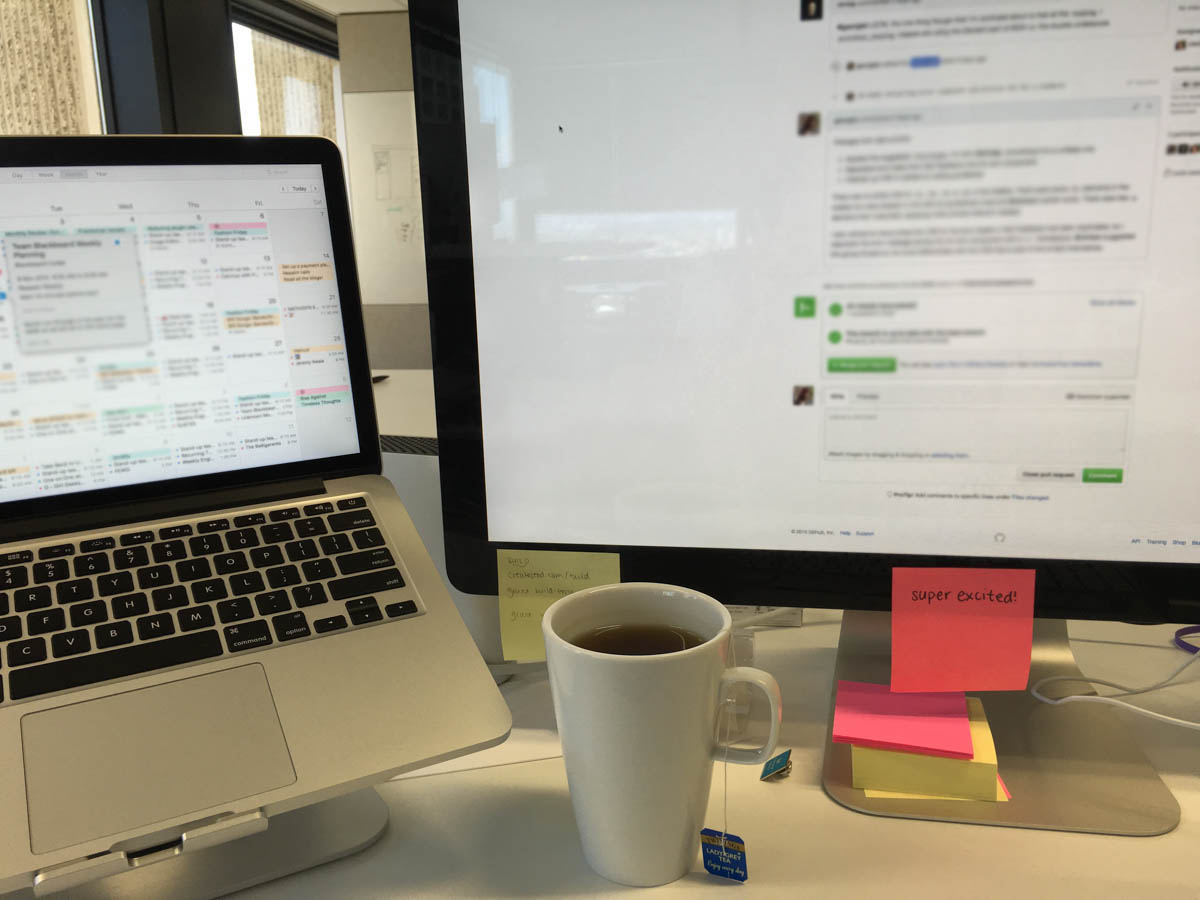 I don't have many meetings today. I spend the morning running through a task I finished on Friday, just checking everything is up to scratch before getting my teammate to review my code. It's all good. :) I spend the rest of the morning trying to be a ninja at hacking an email template specifically for a specific Gmail bug… but to no avail.
It's time for lunch but I decide to skip free lunch at work because the menu doesn't seem that interesting. Pulled pork, but I don't eat pork, and the rest looks like salad and other less exciting stuff. Nick feels like sushi so I decide to just have lunch with him. I haven't had sushi in a while so it tastes super good!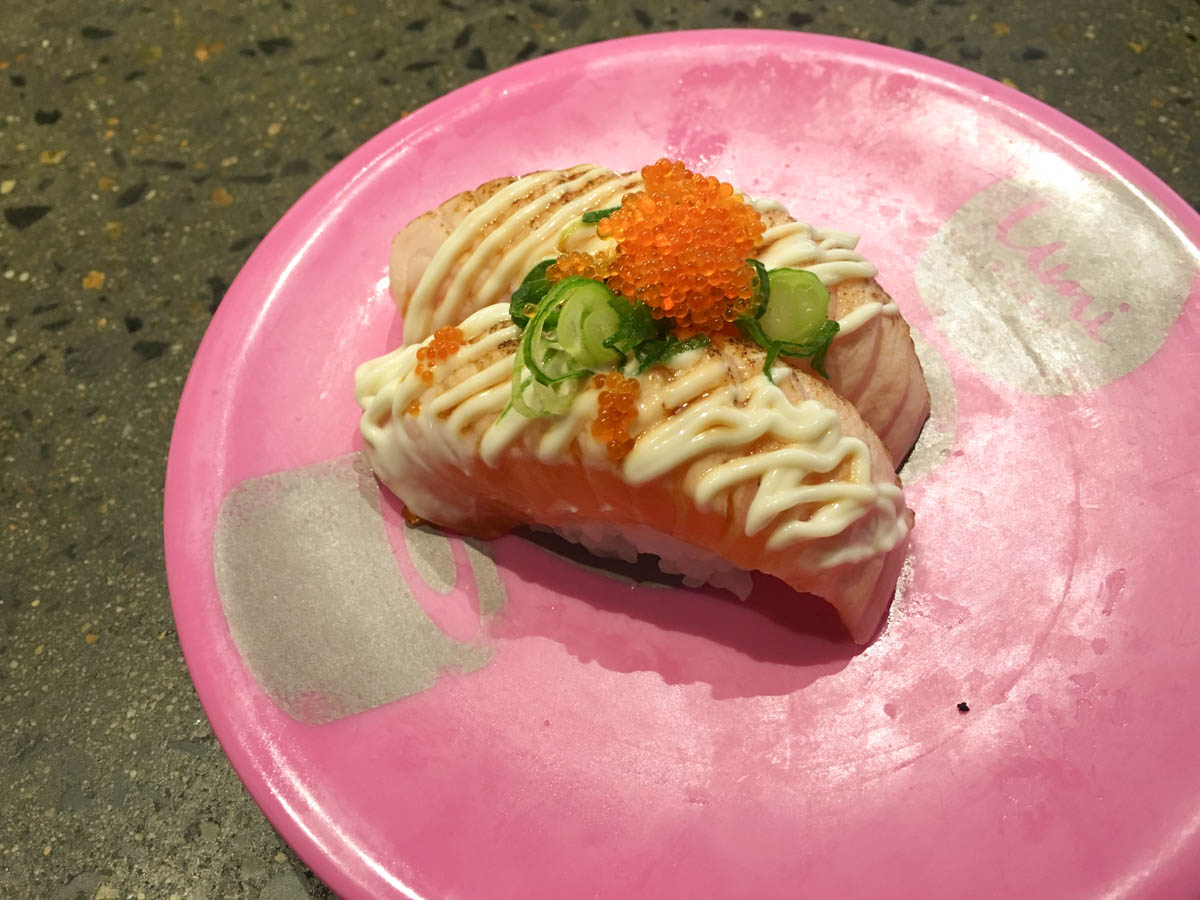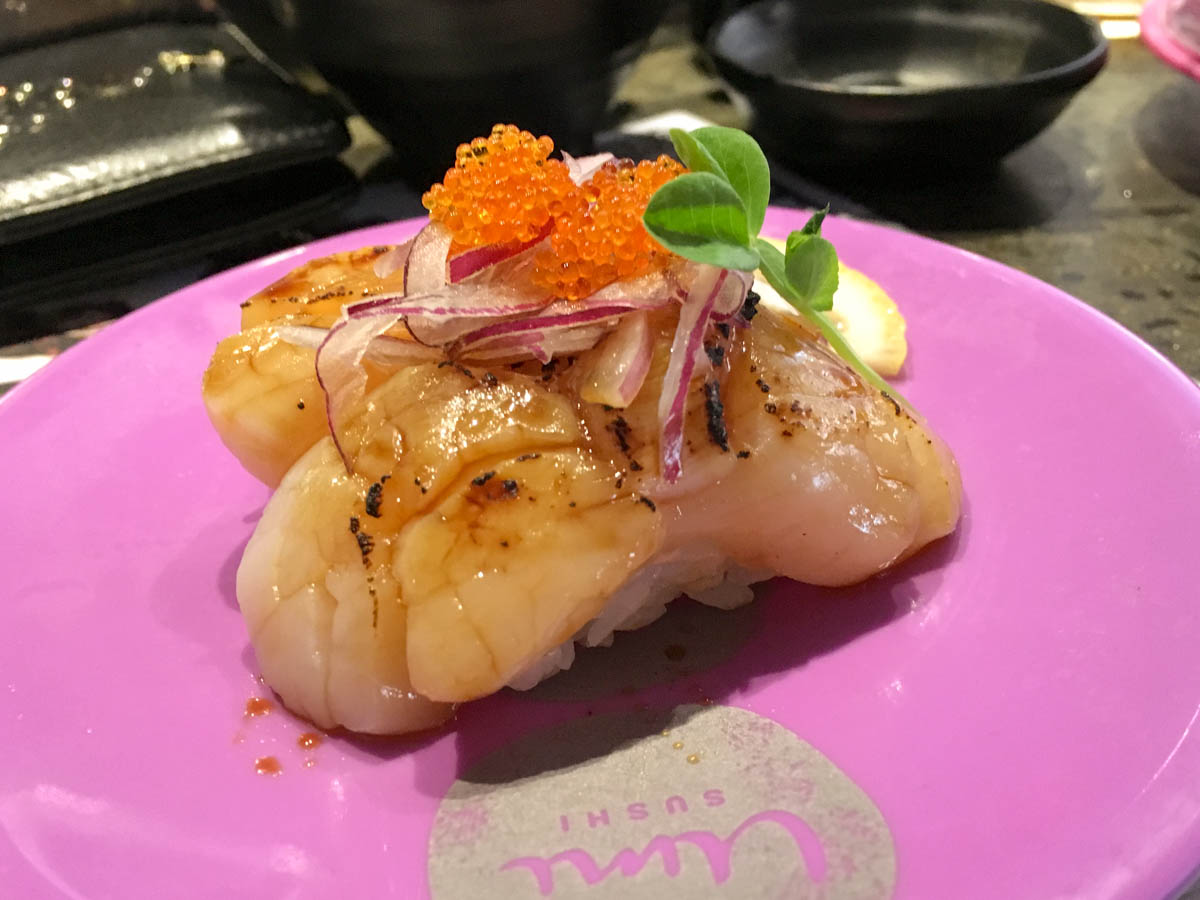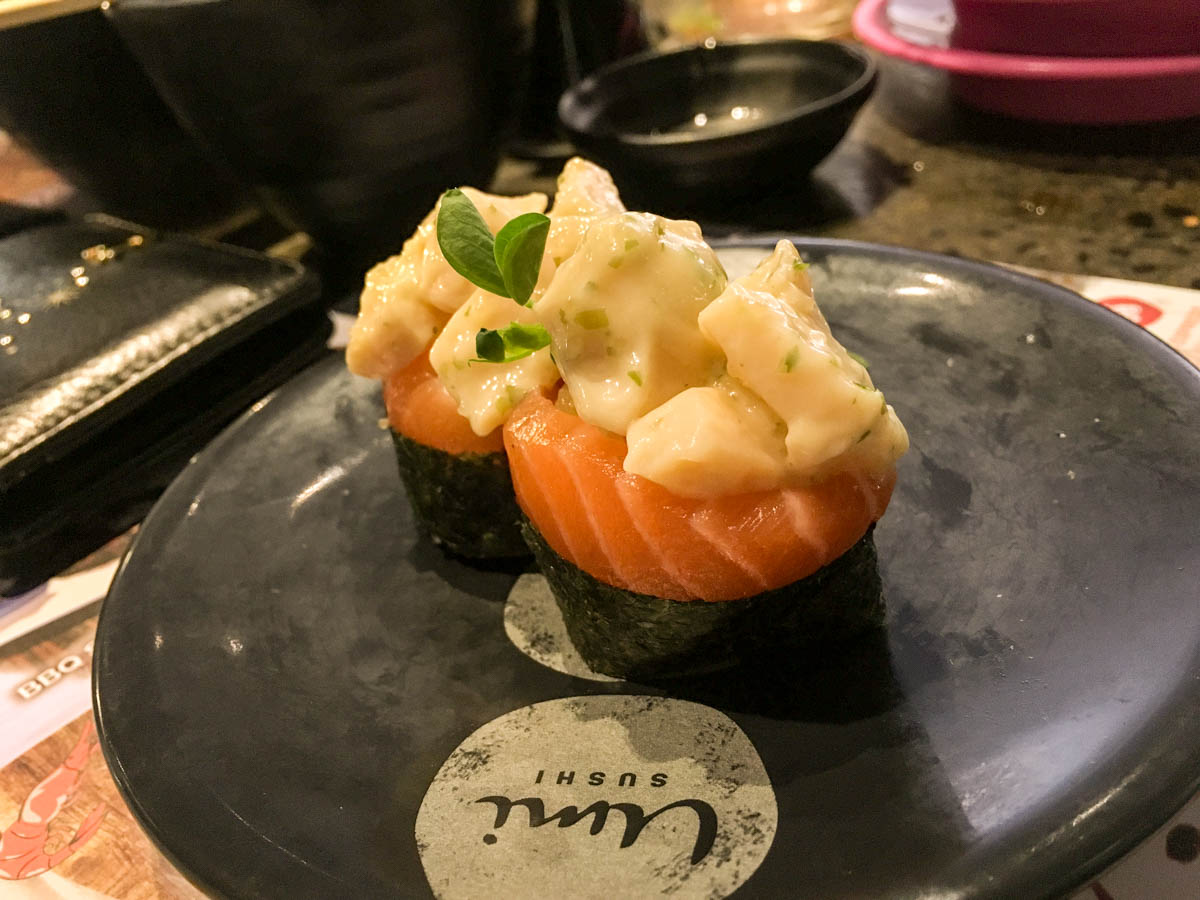 I accompany Nick to the mall to browse some of his favourite stores. I'm not sucked into buying anything. :D He ends up buying three shirts. They look great, one of them is a shiny navy one which looks really slick.
When I go back to work I have a meeting, but before that I notice that coffee orders are open so I get a soy chai latte again (which isn't coffee though), this time with caramel syrup. It's nice! Our lovely coffee-maker tells me that in two-and-a-half years of working here, he hasn't had anyone choose caramel syrup in their chai. I suppose I'm special, but Nick kinda started that trend when we went to Starbucks together and they remember our order. :P So I suppose I stole it off him.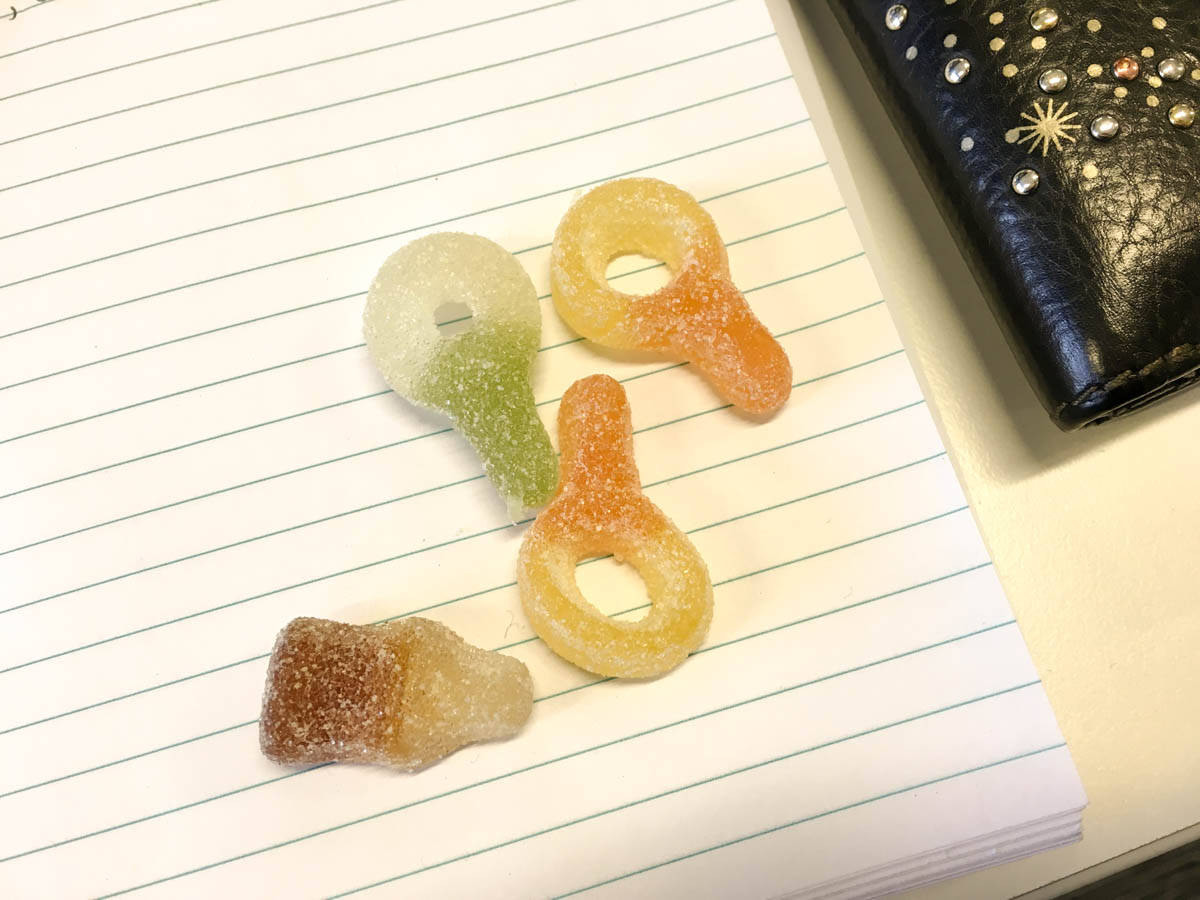 The meeting was pretty interesting. After that, I kick out a whole bunch of quick and easy tasks before ending the day. One of my teammates has bought some candy since our resident candyman (our team lead) is ill and has locked his candy drawer. Apparently, we could not survive.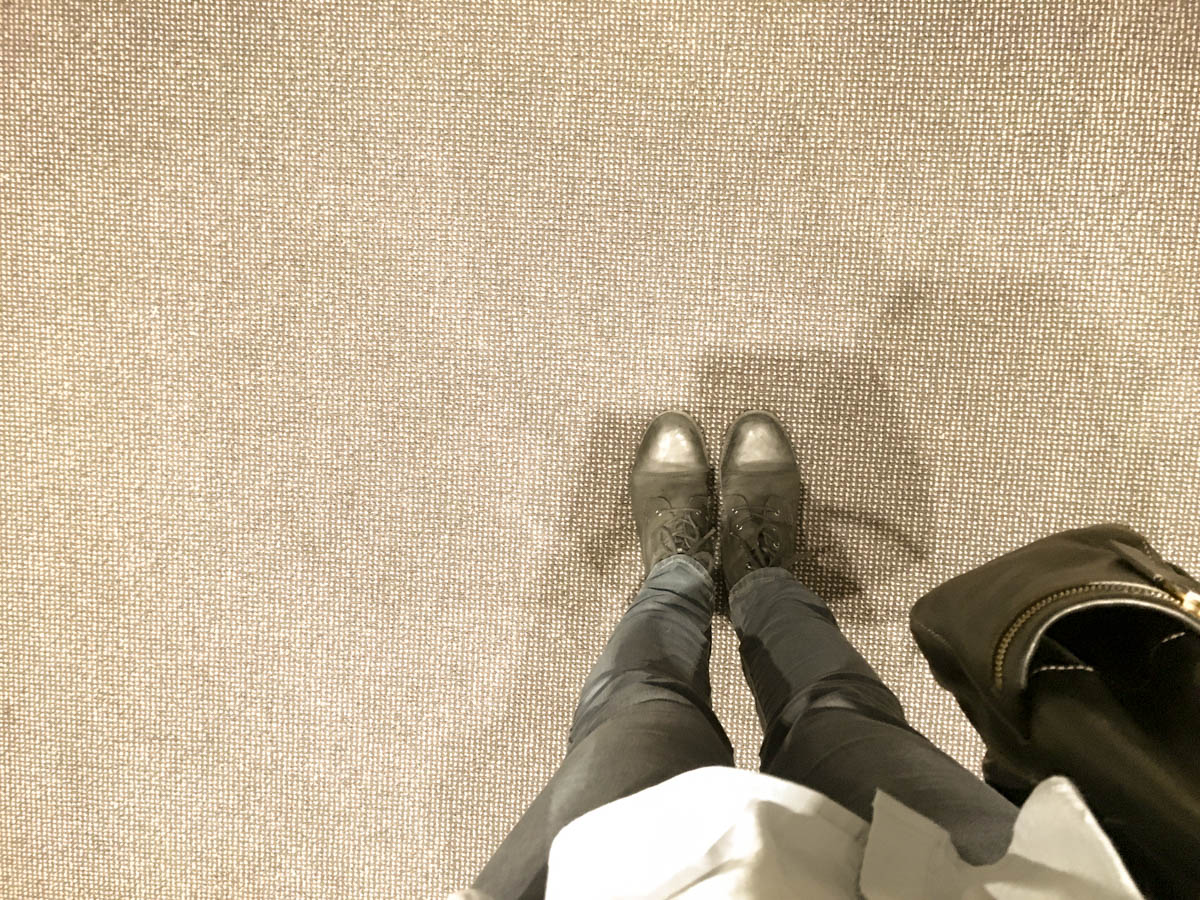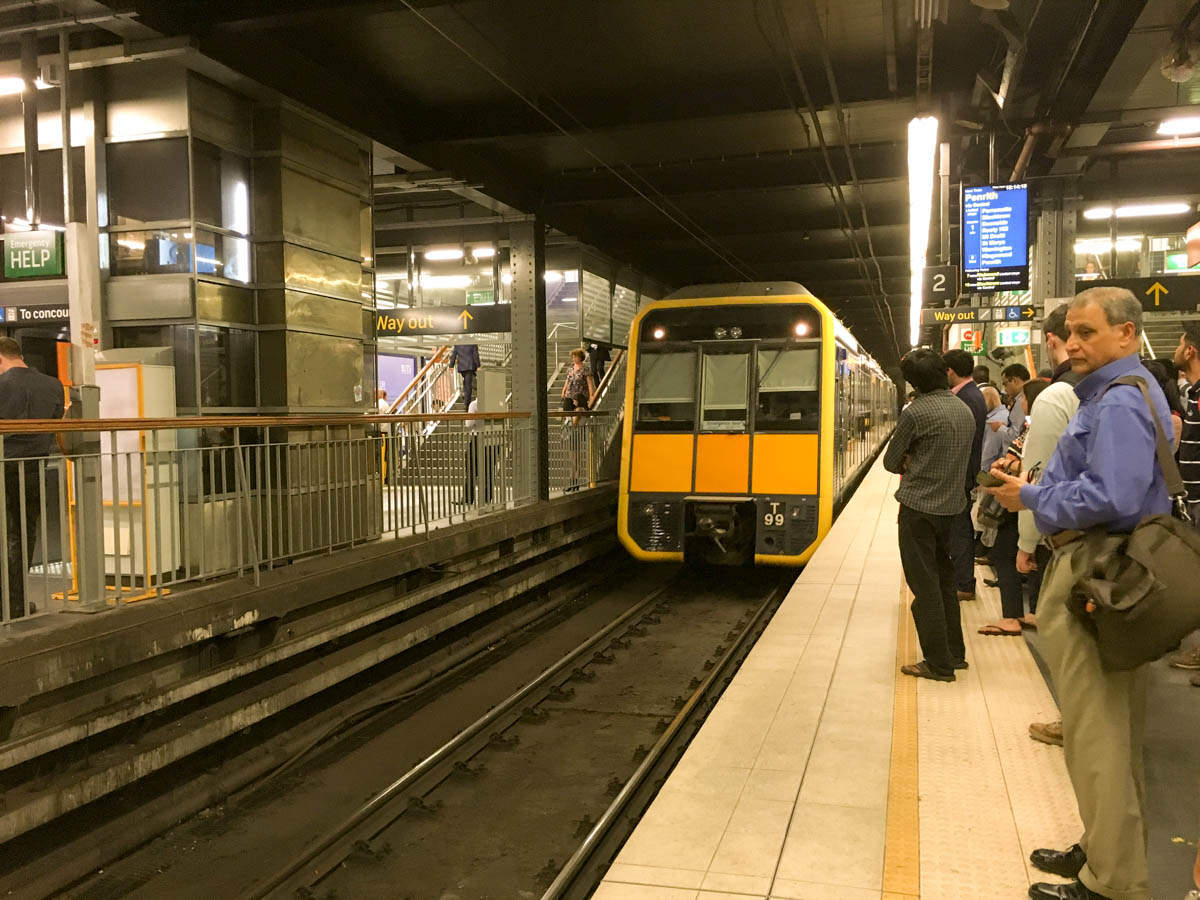 I meet Nick at the train station after work and we catch a train home. My dad picks us up at the station, along with my cousin Tasya, and drives us home.
I bid Nick farewell after we lie down and have a quick rest. He drives home. It's always hard saying goodbye. :'(
I eat a small dinner, and then have a shower and spend the night working on an upcoming presentation I'm doing. I have a few coming up and I'm reluctant to share what the presentations are for, but I'm excited about them. :D I have to get myself organised!
Loading InLinkz ...