🏁 8 by 28: Checkpoint #1
I promised I would keep you up to date on my 8 by 28 goals, and I know this post is a little overdue but let's get to it! 🙂
We'll talk about the bad stuff first, then the good stuff, and build up to the greatest achievements so far. Ready?
👗 Buy no more than 15 items of clothing/shoes.
It's not that I failed it already exactly, however, I said I would not buy more than 15 items of clothing until my next birthday. Instead of trying to restrict my purchases, I feel like I saw it more as a "quota". So, I blew it without even half a year to go, and I have already bought 15. If I buy even just one more item of clothing, I will have failed this goal. 😖
It's probably even fair to say that I cheated because I told my mum I was not buying any new clothes or shoes and she bought me three pairs of boots that I liked and had them delivered to my office. Even though I didn't buy them myself, they are still new items! I have to admit that all three pairs of shoes have been getting a lot of wear though, and one of them replaced my pair of lace-up boots that broke earlier this year, even though I wasn't intending on replacing it for a while.
In hindsight I should have just put myself on a flat-out clothing ban instead of a limit, because that is certainly the situation I am in now. Desperate times call for desperate measures. 😬
Clothes purchased so far
For the record, here are the 15 items of clothing that I bought so far, in order of purchase.
Paige: Hoxton Ultra Skinny Jeans
Kookaï: Indigo marle long sleeve crew top
Only: Blue faux leather skirt
Kookaï: Forest green strapless midi dress
Rag & Bone: Black v-neck t-shirt
Levi's: Black 721 skinny jeans
Paige: Hoxton Skinny Peg Ankle Jeans
Theory: Maroon cropped knit jumper
Kookaï: Deep green melody crop top
Cotton On: Archy cropped pullover
Forcast: Black Kalani pencil skirt
H&M: Burgundy sweater
Lulu + Rose: Fern scallop hem sweater
Beyond Her: Orange turtleneck sweater
Lulu + Rose: Cobalt blue long sleeve top with bell sleeves
Now, don't get me wrong, I spent a lot of time thinking about all of these purchases, in many cases going back to the store several times before spending my money. The big wins here are the orange turtleneck sweater and the fern scallop hem sweater, which I have worn a lot and thoroughly enjoyed wearing. I had waited so long for the scallop hem sweater that it sold out and I got very upset about it, desperately searching to purchase it elsewhere. I was glad I landed it.
I was also not set on the cobalt blue top, but knowing that it's been difficult for me to find basic tops in a bright/cobalt blue hue, I bit the bullet. I've worn that top so many times now too! Other purchases here were staple pieces, and I have to admit that both Paige jeans cost me a mini fortune and they worked out, in the beginning, and then ended up not being worth the money. The first pair is still wearable, and comfortable, but it's unbelievable how baggy it looks when they're not on my legs. The second pair were just an awful fit and I should not have bought them. I've found that though they are high-rise jeans, they are simply not high-rise on my body and its shape.
While I made some cheap purchases in this list, aware that the pieces would not last very long, I am doing my best to steer clear of fast fashion because I would rather invest in quality garments.
💰 Save $15,000.
I'm not doing very well with this – in fact I'm just going to out and admit that I saved $800, but that was all dissolved after travelling to the States twice, and I did spend a lot of money on clothes, and basically my bank balance is negative compared to when I started my 8 by 28 goals in May. I feel like I'm being insanely frugal with my money now, as a result, but I hope to bounce this back up in the coming months. I'm also trying to earn extra money on the side by selling belongings that I don't need anymore.
🗣 Submit a talk proposal to an international conference.
I expressed interest to an international conference and was contacted, but I missed the deadline to submit my talk. 😞 I know there will be many other opportunities though.
💻 Finish my wardrobe app.
I have made really minimal progress on this. I cleaned up the code a little bit the other day, after leaving the project dormant for several months. It's on GitHub. I think a big part of the project is actually needing to make the app up-to-date with the items in my wardrobe. 😂 I feel like only then can I make some solid goals as to how I want the app to work for me.
📚 Read 20 books.
I have read three books, which is a slow, slow rate, but hopefully I will read more soon. I seem to have only been reading on public transport or while travelling, such as on a plane when there is little else to do. I had hoped to make reading more of a habit, but I think even the three books I have read so far were not such great choices, because I wouldn't exactly recommend them and they were a bit of a disappointment. I have a list of books to work through though, most of which are recommendations from others, so hopefully they will be more promising.
Books read so far
The Art of Stopping Time by Pedram Shojai
Dating-ish by Penny Reid
The Talent Code by Daniel Coyle
📸 Take 50 pictures of different locations outside of Sydney.
I haven't put any of this together, but I want my 50 photos to comprise a collection of photos taken throughout my year of being 27 until turning 28. I've probably taken about 10 great photos on my travels recently, but honestly, I might be so tough with myself that only half of those will make the cut. We'll see.
🏋🏻‍♀️ Bench press 45 kilograms and deadlift 100 kilograms.
I'll be honest – I was originally going to say 50 kilograms for bench press, and I had always been very doubtful about a 100 kilogram deadlift. I'm shocked as to how easy it was for me to lose strength – in May I fell down the stairs and injured my leg, meaning I couldn't train my legs for months, so what had originally been a 70kg deadlift PB much earlier this year became impossible in August. In August, after I could train legs strongly again, I couldn't even pull 40kg without feeling weak as hell.
But I pushed hard, and a few weeks ago I could do 60kg, almost two weeks ago I managed 70kg, and less than a week ago, I did 55kg and it was actually a breeze. 70kg is still a big push for me, but I'm glad I'm back there and confident lifting that weight. I lifted 3 sets of 5 today, and that's better than doing only two reps back in like February. 😜
Bench pressing though… I think I've impressed myself more than I thought I would. I thought it'd be damn close to the end of 8 by 28 before I could bench press 45kg, but somehow – what the hell – I'm already doing 40kg? I did 3 sets of 4 yesterday. My form is a bit poor at 40kg but I am going to work on it and try to do more reps before I add more weight. 45kg is so close now, but I don't want an inflated ego to mean that I injure myself or just push for that weight for the sake of achieving my goal.
In all honesty, this is the first time since I started lifting that I took progressive overload seriously. I used to just lift weights and challenge myself just enough, but now I'm less afraid and I'm really pushing myself every training session.
🧗🏻‍♀️ Rock climb a level 23 wall.
As much as I'd love to say I did this, I haven't yet! But I really surprised myself with this. As me and my friends started to rock climb more regularly, we struggled, at first, to commit to once a week. We also felt incredibly weak after every session. When I created this goal I was confident in completing level 17 walls and made solid attempts at level 19 walls, but with a bit of struggle. Because we were out of touch for months (once a month is really not enough practice, everyone), it took a while to bring back that confidence.
Even a few weeks ago, doing a level 17 wall was difficult. But after being extremely determined to finish a challenging 19 wall that declined, and failing, we gave up on that one. Last week I decided to try a level 20, because why not. I did it towards the end of our climbing session, my arms were aching like pure hell, and I feel like I literally dragged myself up the wall with some of my moves. But I made it to the top and then I realised I'd done a wall in the 20s. 🤯
Looking back on that wall I was determined to climb it again because I didn't feel I'd done it "properly" – I did it through exhaustion, and I missed some of the holds because I thought they were the wrong colour. I did that today, feeling quite strong while doing it, and then – lo and behold – I got myself through a level 21 that I only half-completed last week. It was very, very difficult, but I made it. Towards the top, I was not really too sore to go on (which is usually the case – your arms are just gone), but I was just, frankly, tired. But I pushed on, even though I hung there and took a breather a couple of times. I was not giving up. ✊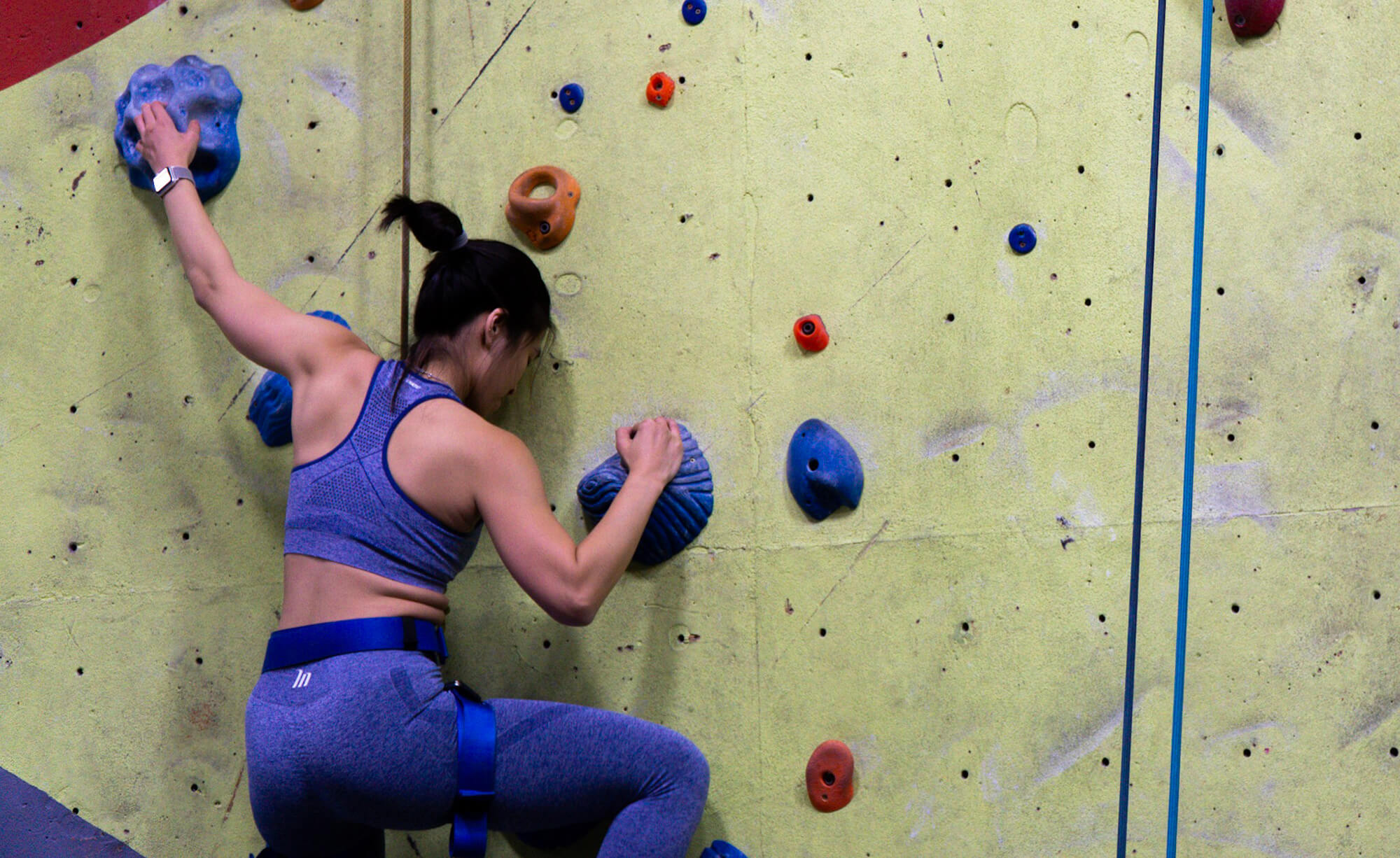 Just a month ago I was furious at myself for making a level 23 my goal; I'd look at level 23s or higher and just internally facepalm at my decision, seeing pure impossibility. But… but… I'm close. I'm darned close. 🙏
---
Thank you for following my goals! I hope to keep posting checkpoints more regularly from now on – follow the tag #8by28 on my blog for more updates on my goals. ✨