Stylesheet 007: 70s kid 🌸 • A dark winter colour palette with a bohemian twist
I ain't no hippie and my style is absolutely far from bohemian, but my flared jeans in this outfit, my floral mask, and my brightly coloured earrings are about as close as I'm going to get. I really love this outfit as a 70s-inspired one, since I already did one titled 90s kid! So let's dive in 🤙🏻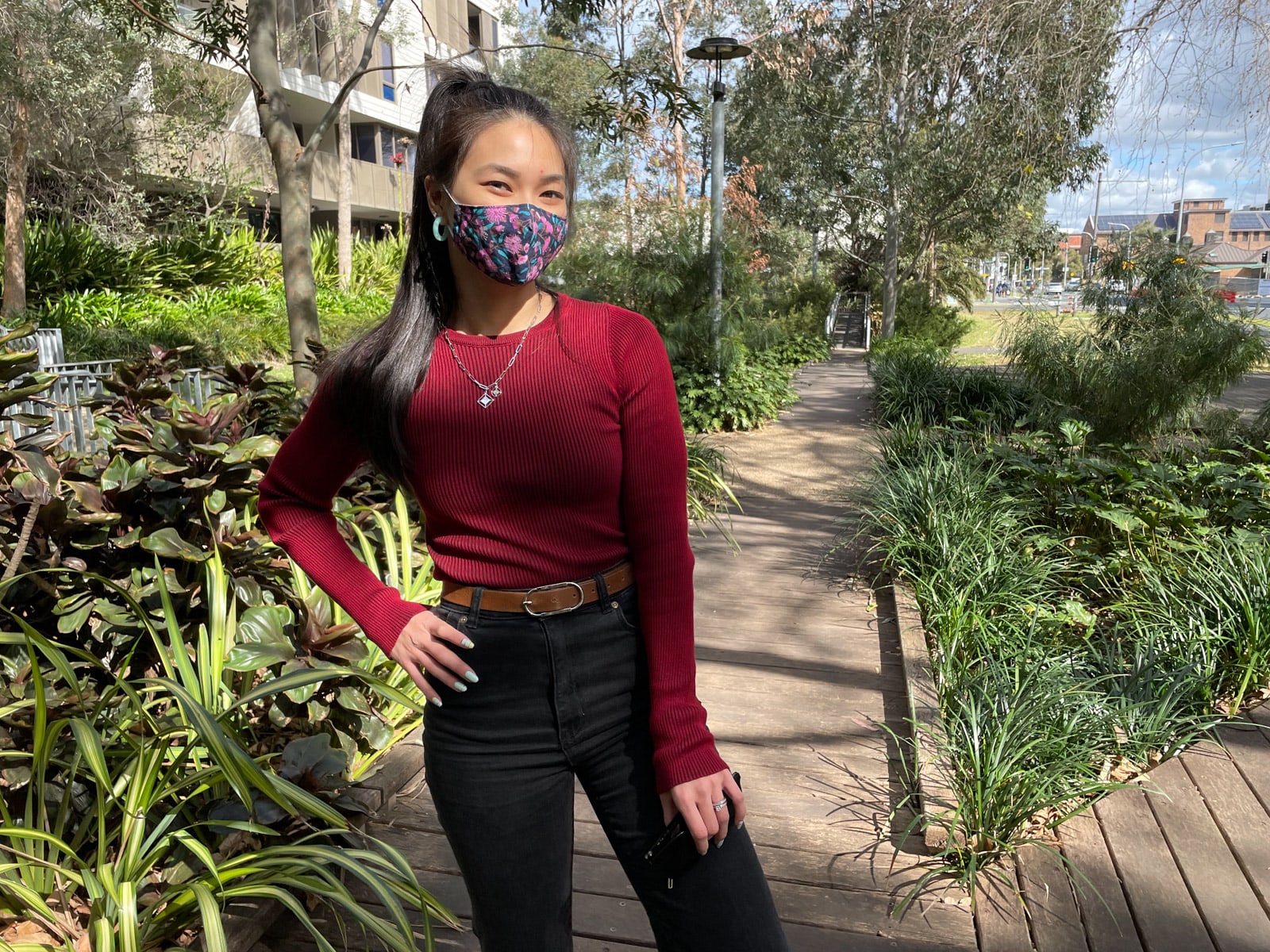 Flares are in, baby!
When I first bought these jeans I was really excited to be trying a different style. I have tried wide-legged jeans in the past and ones with straighter legs, but I really struggled to find something in between that was flattering. I had tried many straight legged jeans but they were still, weirdly, too baggy on me, or just looked very bad or were far too long. Altering was an option, but I never liked anything enough to keep. These flares, on the other hand, are a different story. I get it – flares constitute some kind of weird trend. But I was determined and I didn't give a shit. Frankly, I don't follow trends at all, and I wear a thing because I like to wear it and because it looks cool and I feel good, in my own skin. I feel the same about these jeans because they ended up working amazingly for me.
Perhaps my attitude doesn't necessarily translate to having a "timeless" wardrobe, but for most of my life I have not liked timeless and classic items of clothing anyway. 😅 I've often had people comment on parts of my outfit being timeless, "classic", or a "must-have", but that comment sort of just slides off me like soap. My internal response is a bit of a shrug, because I don't really seek out timeless pieces. In fact, I'm probably more surprised because it is not likely that anything in my wardrobe is timeless. I would say that some of my pieces are more versatile, because they can be worn with a lot of things in different outfits. But you won't find a single button-up white t-shirt, cable-knit sweater, beige trench coat, or stiletto heel in my wardrobe, no. 😛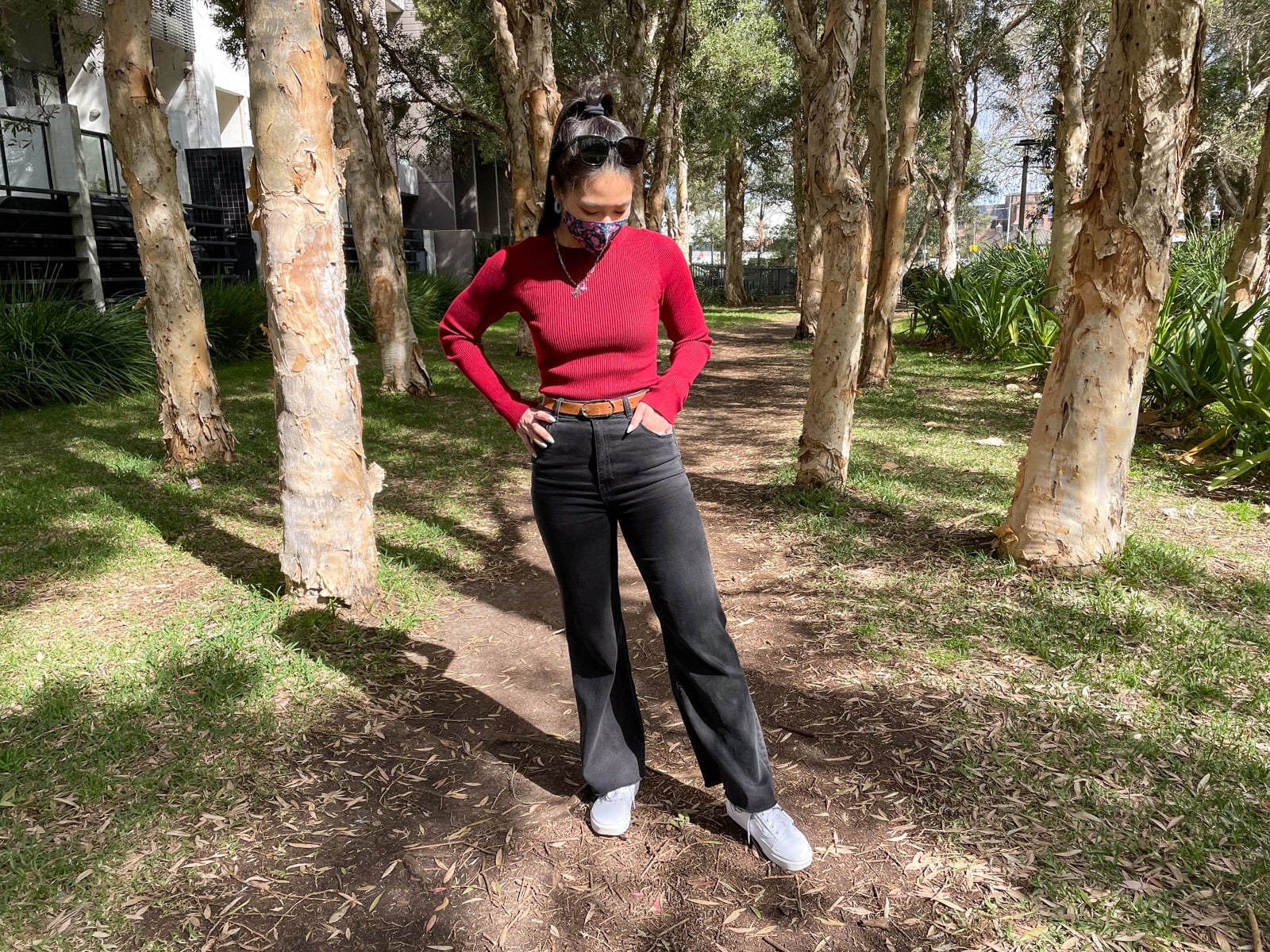 I have actually tried Rolla's skinny jeans in the past but I had no luck with them. I found that they made my legs and butt look really unattractive. At the time I was a bit chunkier and carried extra body fat since I was bulking at the time, and I was trying light washes which probably exacerbated things. I was also addicted to getting jeans that were far too tight and uncomfortable, so could have sized up. But I remember that although the pocket placement was favoured by a lot of women who buy Rolla's jeans, they looked horrid on my rear back in 2016. Hahaha. It probably made a difference that this time I went for an almost-black wash. I think their style really accentuates curves on women who have a straighter body shape, but looks a bit off on women who already have curves (and I have a little!). Something to do with the way the pockets are shaped. But although I have narrow bones, I have more curvy legs. So these flared jeans balance out my lower half a little bit. Another plus is that the cropped fit reaches a perfect length at my feet, since I am only 5'2/158cm tall.
A deep red for the winter
You'll know from Stylesheet editions Let's go and Fire engine that I have been adding red to my wardrobe lately. I really wanted to try a deep, dark red. As I have probably mentioned before, it's sometimes hard to find shades of red for the current season you're in, unless you look at secondhand sites, since red is often seen as a "trendy" colour and isn't always in new stuff. When I saw this piece I really wanted to get it because it was a deep dark red knit, with a contrasting black in the ribbed knit, and I knew it would be hard to find any similar options. This is definitely a favourite winter top of mine because it is really easy to wear and I just love it so much more than adding a basic black knit to an outfit. I really like owning pieces that have versatile, no-fuss silhouettes but interesting details.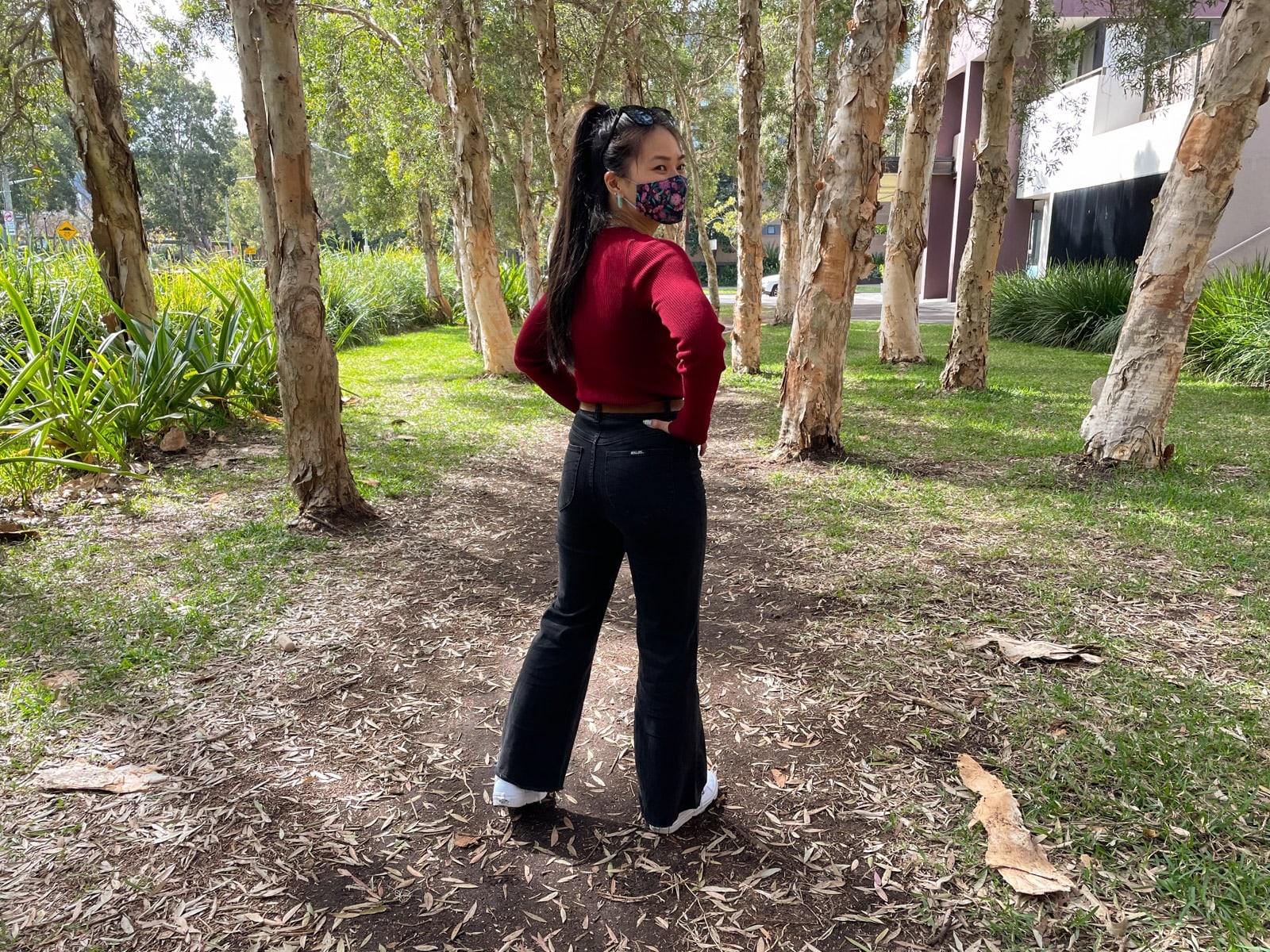 Coloured bits and bobs
I'm really into resin earrings because of their texture and how they can add a nice bold shape, and a pop of colour depending on what colours you choose. I chose these earrings to complement this outfit because I'm not used to wearing all-dark colours, so I wanted a completely different and contrasting colour to my clothes. You might have seen me wear my blue diamond-shaped resin earrings, and my yellow and black jigsaw puzzle piece ones, but these ones are a new purchase. I wanted to try a slightly different and bolder colour and style of resin earrings.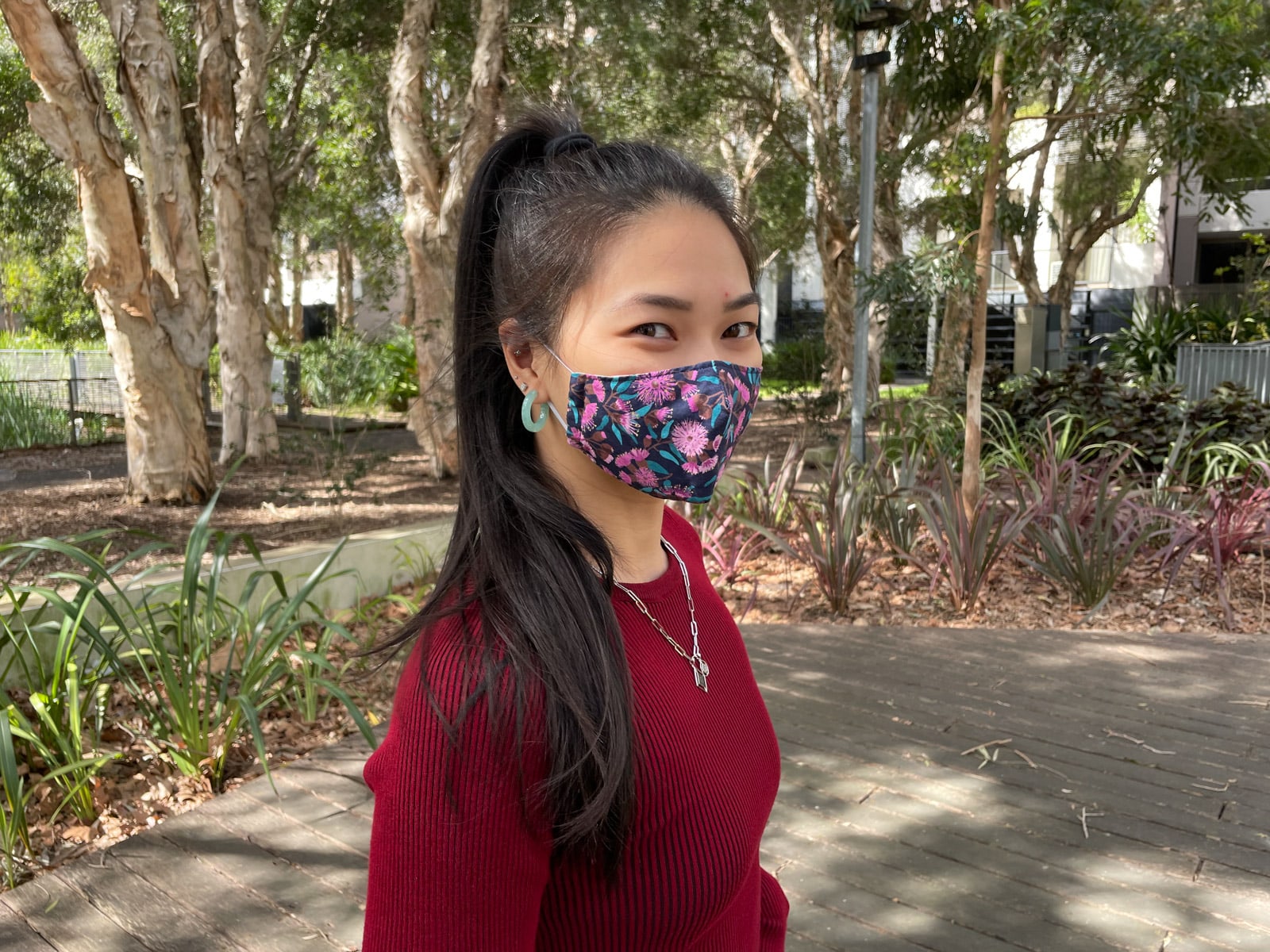 I know resin earrings can give off this cheap, plastic vibe, but I think that it suits my style and complements my features rather than looking off. They are also really light and comfortable! I tend not to go for earrings with stud backs because they are uncomfortable to wear with over-the-ear headphones, with the back of the stud digging into the back of my head. However, I had a much better time with these particular earrings because of the lightweight resin and the earring backs (they were not an uncomfortable "sharp" butterfly style, but came with silicone backs and smooth metal backs), so they were quite flexible in moving out of the way when my headphones are over my ears.
Since I was just a little uncertain about this hoop earring style, I purchased two in different styles and colours from an Etsy seller. I purchased this pair, as well as a red heart-shaped hoop. The latter sounds obnoxious but actually didn't look too bad – I'll be sure to share it in a future post! The thing I don't love about stud hoops is that sometimes the hoop feels like it sticks out in front of the wearer, compared to an actual hoop earring. These earrings are quite small in diameter, so that oddity isn't as exaggerated.
I didn't intend on this happening since my nails were already done, but my earrings sort of match my nails. 👏 I really like the striped Jamie nail wraps from Personail, which I wore in Fire engine, so I had some leftover ones and did something a little creative with the mint colour for an accent.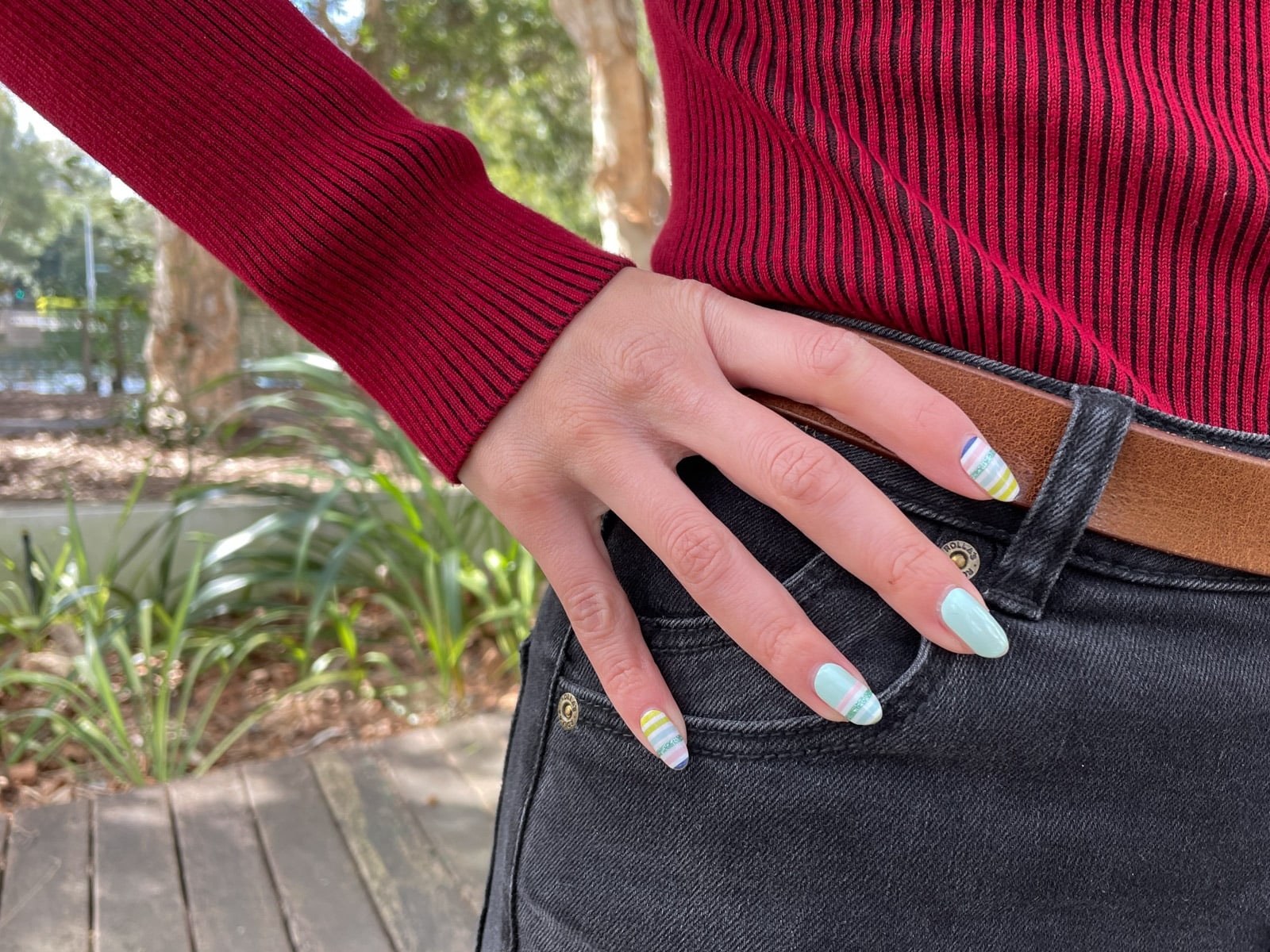 I got the face mask from a seller on Etsy as well. It has been quite a mission finding masks that fit my small face, but this one is my favourite and it fits so well. I loved it so much that I made another order for a few more masks immediately after I got a feel for wearing this mask and having it go through the wash. I actually got this one in a child's size, because the child's mask measurements were appropriate for my face size. The thing that makes this mask fit so well is the stitching on the top and bottom, which makes it really secure on the nose and chin. The elastic is also adjustable and potentially replaceable, because it's not stitched into the mask, and the seller made it so that the knot can be undone and adjusted accordingly. It's sustained a few washes already, and the material provides enough protection as it's not too thin, but also very comfortable because it's not extremely thick. My favourite part is that the width of the mask is not too wide – that was always a troublesome thing for me with homemade masks, because the edge of lot of face masks ended up going way past my ear. That's something that adjustable elastic/ties just will not fix, unfortunately rendering the mask pretty useless for me.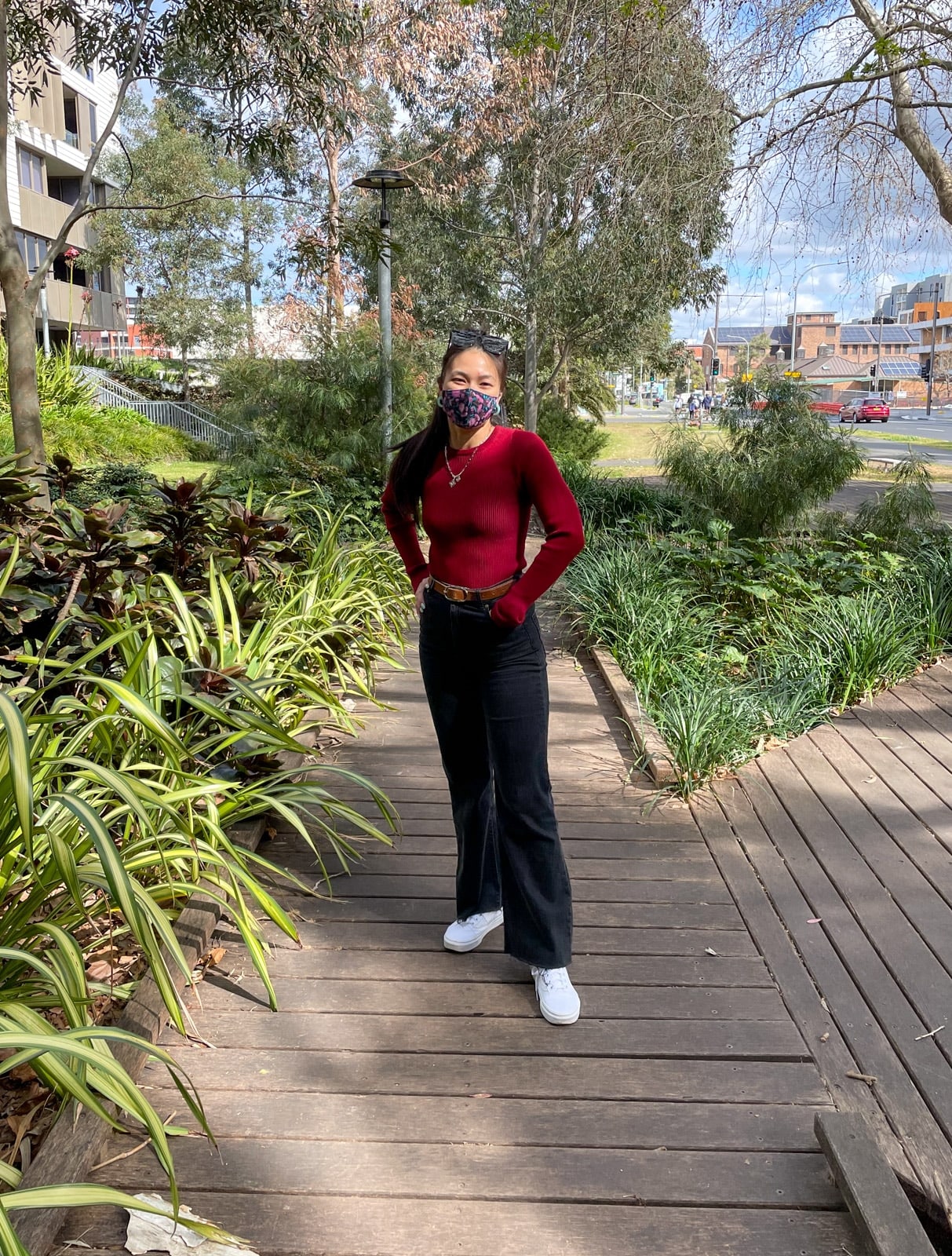 I am not really one for floral prints but I chose this particular pattern because of the colours in it. Bright and dark colour combinations suit my complexion best, and I like this even better because it contrasts with my dark outfit. The seller had a couple of other beautiful masks with Australian flora and fauna. 🤩🐨 I also love that this provides contrast along with my earrings.
A statement geometric necklace that can be worn different ways
I have worn the same silver herkimer diamond necklace for about a year, at least, which is a bit unusual for me, as I usually consider myself someone who likes to wear different necklaces. Necklaces are an accessory that rarely get in the way – unless you like to wear tops with crossover front detailing or detailed necklines – at least when compared to rings and bracelets. For my lifestyle, rings and bracelets sort of get in the way of typing since I'm a software engineer and spend a lot of time on a computer. I don't really wear jewellery while exercising and lifting weights, apart from my hard-wearing silver and white gold small earrings and bracelets that stay on all the time, but you can imagine that jewellery would get in the way of working out. It seems that over the past year I've taken more of a liking to big statement earrings, which I didn't usually do before, since changing earrings was such a bother. But I've realised I like how they add personality around my face, and have actually preferred to keep my necklace options minimal.
Since never really changing my necklace, I still wanted another good quality silver necklace as an option. I have spent a long time looking at other natural raw crystal necklaces as I really love those, but nothing has struck my fancy and I'm being very picky with it. I have one other silver necklace option I like to wear that is an old cubic zirconia-studded oval piece, and I usually just wear it for something a bit different. When choosing the necklace I'm wearing in this outfit, I was looking specifically for something angular, edgy, and deliberately less feminine. I wanted it to behave as a statement necklace but not be too much. I took inspiration from masculine, chunky-looking chains, but I didn't find one I liked. As with a lot of my clothes, I also like my accessories to have a little something that sets them apart, so I think that's why I started gravitating towards necklaces like this one.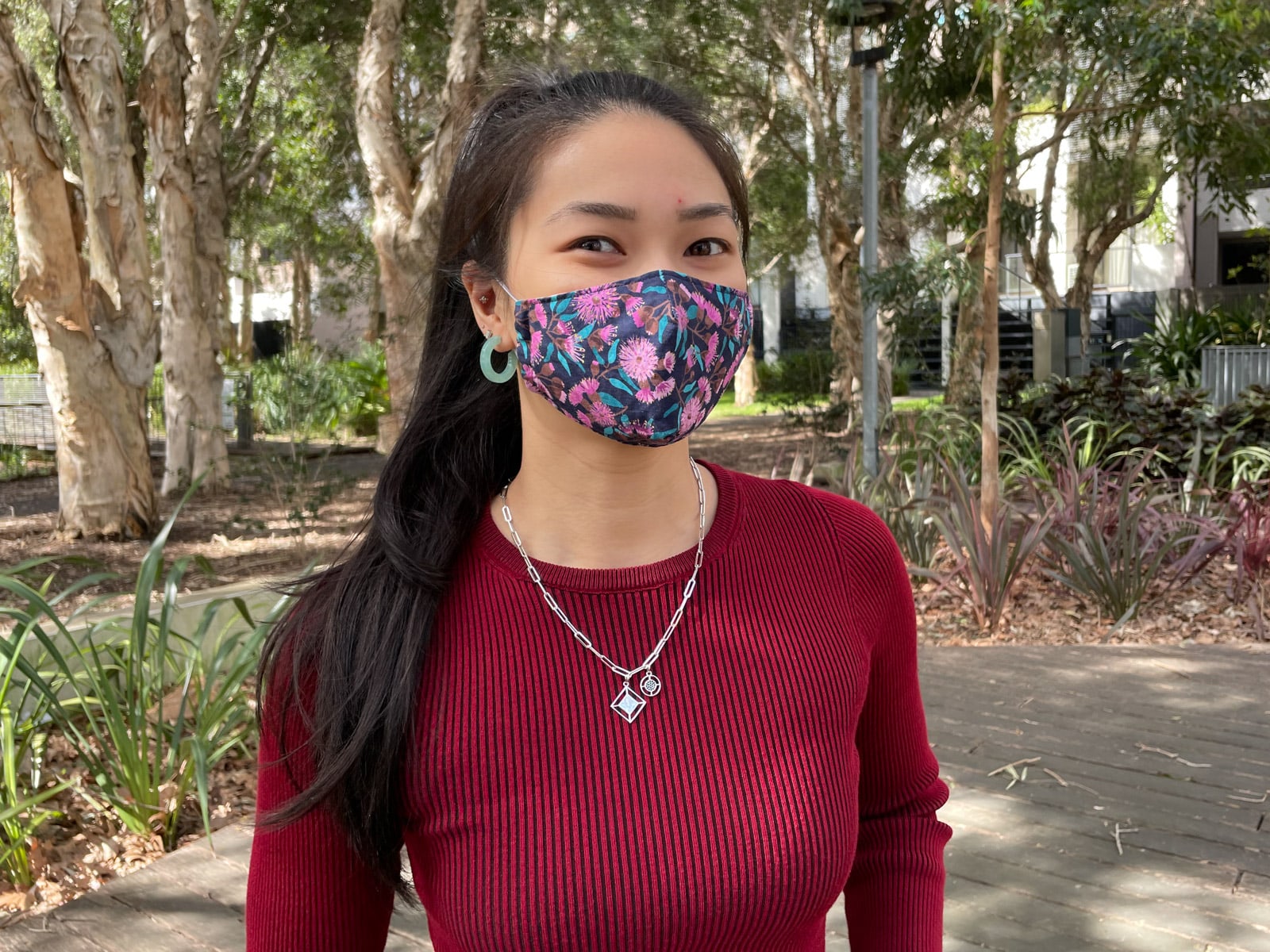 I'm really pleased with this purchase. I had set out to look for something that was good quality and wouldn't tarnish easily, and this necklace is made of sterling silver. The link/paperclip chain is a kind of chain I don't see too often. I like that there are two charms on it. Something about the irregularity and asymmetry of this piece drew me to it as well. Since purchasing it, I've realised how easy it is to style in different ways! The length is not too short like a choker, but can be worn that way by clasping onto another of the links on the chain. The end of the chain is still aesthetically neat, so I can also wear it with the excess chain deliberately hanging towards the front, off to the side. I'll probably show that off in another outfit! 😉 The weight of the chain and charms means that it stays pretty still and doesn't move around awkwardly. One of my pet peeves with necklaces is when the extender chain or the clasp moves to the front over the course of the day, so it's nice when necklace charms are attached so this doesn't happen.
Outfit retrospective
I really like how this outfit turned out! I read somewhere that, to see how outfits really look on you, you should have someone else take photos for you, or even record a video of yourself, because you will have a better idea of how you look in real life versus just in selfie photos. That said, looking at myself in this outfit makes me pay attention to how fitted it is. I'm not saying it's a bad thing in this outfit! However, I used to wear really tight clothes and although they looked alright on me to begin with, I became more conscious of how clothes looked on my body the more I worked out and put on muscle. I don't love how I look these days in very fitted clothing. In fact, I feel uncomfortable and that kind of clothing doesn't flatter me. I actually had to size up in this top because my usual size was too small and restrictive in the arms. Looking at how it looks on me also shows me that sizing up was definitely the right option, but also makes me want to pay more attention to the fit of my clothes in the future.
I am definitely more open to trying looser, less fitted jeans styles now that I've tried these flares. I remember that Nick made a comment about them looking like I was going dancing – he felt that they were a little too much. But I loved them and I'm glad I kept them. I don't care much for things being trendy or in style, and since they fit my new criteria of being comfortable, I believe I will continue to wear them even if people are going to dub me some unstylish loser. Life's too short to keep up with trends, damn it.
The jeans plus the sneakers are a radical combination. Since I've been living in white sneakers, I might have to think a bit more about how these jeans are going to work with other shoes. I'd definitely have to consider the balance of the shoe with the flare.
I like that the necklace dresses up the otherwise simple neckline of the top. I think the top brings attention to my figure since it is quite fitted, and without a more "flashy" necklace it feels like there is a giant amount of surface area that is obvious. How I wear necklaces is something I will keep in mind as well when I purchase tops in the future.
Outfit details
Footnotes
📸 All photography by Nicholas Cooke. (on my iPhone 12 mini)
We took these photos in our local neighbourhood area. You might have spotted the grassy area in the previous Stylesheet edition, and these were just photos in the same area of green.
I named this outfit 70s kid almost to complement my 90s inspired outfit that I shared in 90s kid. In a way, my unexpected affinity for flared jeans have sort of enticed me to try exploring other style elements from the 70s and see how I can implement them into my style. If it works out, you'll see more of it for sure!