You're My Meat
Join the domain competition! /bounce
James and I opened a site together; Fire The Arrow. I guess it's nothing much but if you're looking to see what we're up to, I guess you might like it. :)
Also, join the Graphic Challenges forum!
Sorry to the multiple plugs. I had to. :O
I think you might be wanting to know how my job interview went. Well, it went great. The person offering the job seemed pretty impressed too, saying that my skills were much more than what they needed. By next week I'll have a definite yes or no. Fingers crossed. I'm trying not to get my hopes up.
My mum keeps asking me about it though. It's kind of annoying. She keeps asking me for every detail and why I didn't do this, that, why I didn't ask questions… well, that's the least of my worries…
Because, I am craving meatballs. Big, fat, juicy meatballs. @_@
Meatballs are great though. I'm not into the fully beefy kind they have on top of pizzas or on spaghetti.
I'm more into the soup meatballs, or the Asian meatballs, which are usually grey and rounder in texture. They don't look like puff balls, they look like the balls they have in computer mice, only more appetising.
A few years ago I went to Indonesia because that's where most of my relatives live. I have talked to Gillian about how much I hate Indonesia because I can't imagine myself living there, because of the conditions, the way people stare at me and the customs and traditions they have. I was born in Australia and that's how things are.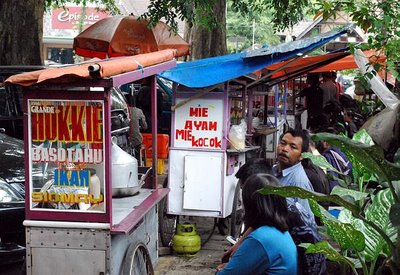 So, meatballs. /drool
But regardless of that, in Indonesia they have a lot of people who ride these little stalls. I don't know what they're called, but there's a stall on wheels, and there's a bike at the front which the owner rides and travels around in.
They sell many things like cakes, kebabs, soup, rice, satay and best of all, meatballs. There are many with meatballs.
In Indonesian, bakso means meatballs. My family stayed there for two months last time we visited, and I swear, bakso became my frigging life.
The stalls that sold meatball soup were so, so common. Every time we were in the middle of traffic (the traffic is crazy there – so many traffic jams), sometimes we'd be near a stall and we'd just go right ahead and buy meatballs.
We had a lot of long rides there, and it was seriously addicting. Every time we took a break after a few hours, meatballs it was. And even when we went to fancy restaurants that served a multitude of other foods. I raised my hand for meatballs.
It was just plain grey computer-mouse-ball-looking meatballs, but they were so tender and juicy with simple peppered-salted soup, and were chewy and scrumptious. We didn't even buy them with noodles; they just came with rather plain soup, but boy, they were delicious.
We arrived home from that trip in the late morning, suffering from jet lag. We left Indonesia at night, but because of the timezones, it was around 11am when we arrived back here in Australia.
"Ugh, it's nearly lunchtime," my mum groaned, looking at all the bulging suitcases on the floor. "What do you want to eat?"
I replied, "Meatballs".