Hey Jude!: Tribute bands
My dad and I share a love for The Beatles. I was brought up with them (and other older, well known classic bands) when I was young, even though I didn't take a great interest in music until I was about nine years old. The Beatles, of course, no longer existed as a band when I was born, meaning that seeing them live would be practically impossible.
Unless, of course, you go for seeing a tribute band or watch someone play a handful of Beatles covers. This is unfortunately the closest you will get to hearing the "real thing". To be honest, I have always thought tribute bands were silly simply because they were not the real thing. There are a couple of tribute bands for bands that currently still exist, which doesn't make sense to me. Why would you want to see a fake band when you could see the real thing?
I think that part of my opinion was shaped after I found out about Beatallica, a mash-up band that plays music made from combinations of songs of The Beatles and Metallica. I was a bit mortified that someone would tarnish The Beatles in such a way – not saying that Metallica is a bad band (I like them too), but the mash-up, though mostly intended for fun, horrified me a little bit.
My dad has been seeing tribute bands at the local leagues club for the past year. He often asked me to come along but I rejected, saying I didn't want to see a fake band and that I would much rather see the real band. One example is The Village People, who I believe are touring Australia this year, but my dad went to see a tribute band for The Village People a month ago.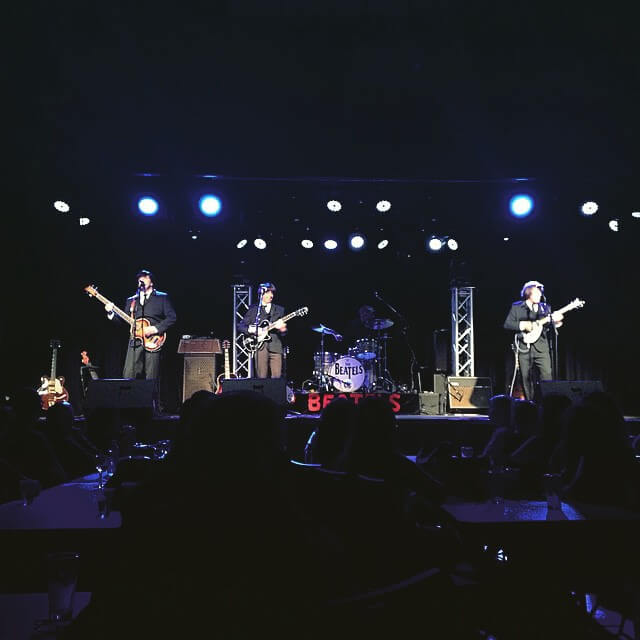 I'll admit I changed my mind when he asked if I was free to see a Beatles tribute band. I decided to give it a go, saying that The Beatles were no longer a band and I did love them, so I might as well. He agreed. We went earlier tonight, and I had a good time. The band, called The Beatels, was really good. The sound was good quality and not deafening, not like the often messy and distorted sound of a gig at a local bar with bad acoustics. The lighting was clear and the seating plan (just chairs at tables) was comfortable.
The room was filled with people twice – and probably three times – my age, but you can be a Beatles fan at any age, so it's not like there was anything to be embarrassed about. Just like the popular Elvis impersonators, these guys did their best to look like The Beatles, but my dad did point out afterwards that John Lennon was a bit on the large side. "Ringo" didn't really look like Ringo at all, but his effortless drumming was much like his nature that I have seen in videos.
Of course, my favourite Beatle being George, I did quite like "George", a humble but quiet personality who totally won me over when he played Something. Asking someone what their favourite Beatles song is is a lot like asking someone to count the number of granules in a handful of sand, but I do think that Something remains one of my favourites. While they didn't play Yellow Submarine or If I Fell or Let It Be, they still played a mostly chronological (in order of song's release) set including I Saw Her Standing There, Ob-La-Di, Ob-La-Da, She Loves You, Eight Days A Week and amusingly enough, threw in Drive My Car. Musically, the band was very good, down to every detail. That is, the chords and guitar riffs were perfect, the vocals were impeccable, and even the backing vocals were extremely precise.
There were a couple of people dancing in a free space at the side of the room. That would have been fun actually – if they had a small area for dancing. Lots of the people were singing along, I'm not saying older people look funny when dancing but not many people seemed keen enough to get up and have a boogie. At least not like when I saw Jedediah last – people well into their thirties (same age as the band's members) were really getting it down on the dance floor.
Anyway, I guess if a tribute band does their best to follow the band's appearance, and have really put their time and effort into their performance, then they are a good tribute band. Then again, I don't have a bad one to weigh up against. I'm just glad I gave it a chance and decided it wasn't as silly as I had expected.