The Sushi Postulate
Title is a reference to the Big Bang Theory episode The Hamburger Postulate… read on. :O
Kya has had to cancel the server change. :( It didn't all go very well and accounts could not be transferred properly, so we're staying where we are. That means, as you can see, my new layout is up. :) I know it's a huge change from what I had before, and the previous layout was up for over two months too, which is a little long for my standards.
I've named the current layout Sweet Desire after the Poets of the Fall song. All the cupcake photos were taken by me. I know this is really different to my other layouts but I hope you like the lighter change. I've tried to make the styling better as well. I'll miss the old layout, but I love this one too. If you notice any bugs or problems just let me know. I know the sidebar looks shit. 😰
Today my dad, my brother Brandon and I were headed out to eat at a Korean restaurant. But being the disorganised silly my dad is, he didn't get the full details from his friend about the place so we were stuck in the middle of a slightly unfamiliar suburb with restaurants practically everywhere!
We walked around for a long time. I was getting tired, considering I had to run in my high heeled boots (don't ask) to catch a train to meet them, and now we were walking around not able to find this restaurant. My brother was so pissed, saying that it was a waste of time and that my dad should have at least known the name of the restaurant. Silly. 🙄
But we ended up going to a sushi bar. I sort of chose the place on a whim, and we simply decided to eat there. Brandon wasn't so keen but once inside it was a good experience. Pretty funny too, since it was the first time either of us had been and eaten at a sushi bar.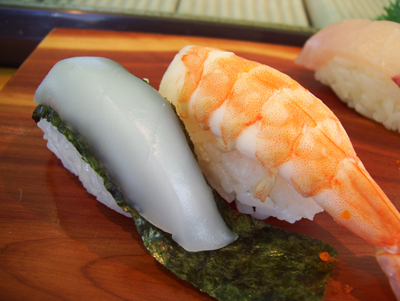 Just one photo. I love how they made the sushi right in front of us so it was fresh! I just love Japanese food.
I've been obsessed with The Big Bang Theory; it's a hilarious show and I'm surprised I didn't get into it much earlier… geeks FTW. I love those geeky movies, shows and books. /love
Tomorrow is my last day of university before I get a semester break. I am really quite happy to be having some sort of break. I'll still have to go to work (damn…) but at least I'll have time at home. I have an assignment due some way in, and work, but I'll get it all done. :)
Also, our microwave broke recently. It started making extremely loud noises that the floor sort of shook, and after a few days of that, it was dead silent. It still warmed up our food but the light inside had broken and we didn't know that the food wasn't being turned on the turntable inside. But now we have a new one; it'll take a while getting used to. :P