The Best Friend Dinner #2
Lilian and I caught up earlier this week for dinner. We actually had a lunch before I went to Perth, she had just started her new job and was (and still is!) very busy.
I think we have one undocumented lunch and one undocumented dinner since I started The Best Friend Lunch/Dinner series. But that's OK! I guess I don't plan to write about every single one – it would be nice, but I think it is starting to become more of a review about the food and place rather than writing about our chats. After all, we do talk about some personal things I may not want to write about. ;)
This time we went to a place called Izakaya Yebisu, a Japanese place we've both visited but not frequented. We shared some lotus chips and edamame. Lilian loves lotus chips and these ones were really, really good. Much better than the ones we had at Wagaya that one time. These ones were really tasty and I could have had more. I didn't take any photos though, I really just wanted to eat.
Lilian ordered fried chicken with slight regrets – because she wants to eat better and slim down. 😆 I have been relatively good with my diet. I ordered some kingfish nigiri, then some sashimi. I can't get enough of sashimi haha. I also ordered a really expensive drink. It was $9.80 or something like that, and was essentially Sprite with homemade jelly. I gotta admit, it was delicious and I wanted another one but the price was too high. I could probably make that drink myself if I bother to make some jelly.
We went to Dovetail Cafe afterwards and had green tea lattes. I had a macaron while Lilian had banana bread that I kept stealing from. :P I really only thought of macarons because we were browsing a cute jewellery/accessories store and saw macaron keychains. The store reminded me of when I was so much younger and bought every piece of jewellery I saw… wait, that reminds me of me now, too… 😜
We talked a lot about high school and the people we knew in school. Then went through some of my old Instagram photos and laughed about how half the clothes I had worn in those photos are now clothes I no longer own. (Good sign I am cleaning my wardrobe, I guess!) I also filled her in on how my trip to Perth was. She has been really busy at work but its no doubt rewarding. Still going through onboarding stages but sounds like she has a lot of support. 👍
We didn't take a selfie this time. :( But that's OK! I got a quick shot of the macaron and latte… 😆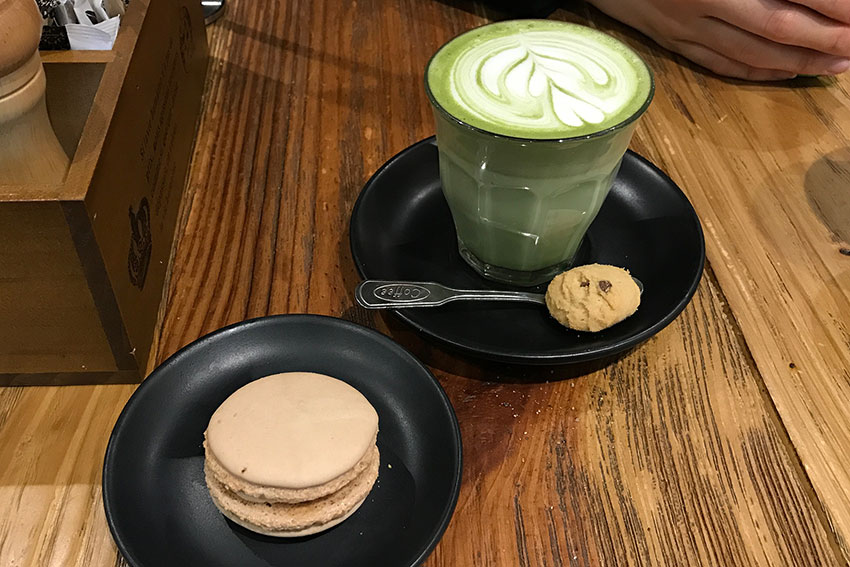 Next time maybe I'll try writing a bit of a review about the food! Unless we go somewhere where we've been before… haha.