Surprises and the finer things
I got to see Lilian today after not seeing her for a looooong time. When I introduce her to people or tell people about her (because she is amazing aaaaand my best friend), they always wonder why we don't see each other more often. I always have to explain that both of us are busy as hell — me with my full-time work, concert photography and finishing up university, and Lil with her double degree, tutoring and piano & guitar. Not to mention we live a fair distance from each other, and the times one of us is free, the other isn't.
So of course I was so happy to receive a text message from her this morning saying she was in the city, which was a nice surprise! We met up and chatted in my office before I walked her back to the train station in time for class. :) We agreed to meet up in two weeks for lunch. :D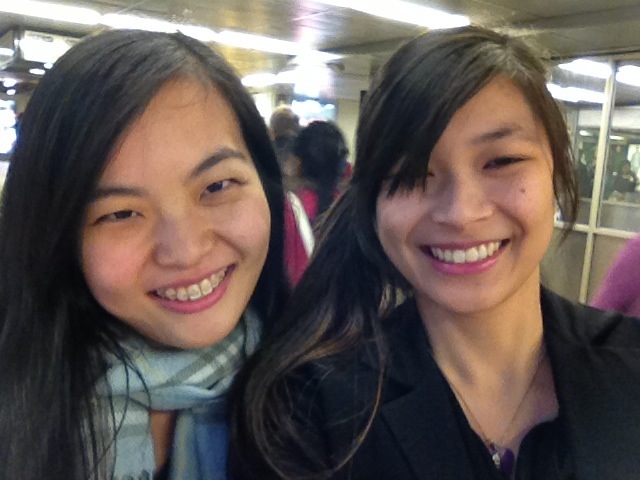 James is ill with pneumonia. :( It was pretty serious when he had blood in his mucous but he has been doing much better lately. I miss him quite a lot, too, since it has been well over a week since I have seen him.
Tristan and I had nachos for dinner the other night, at a place called The Basement in Circular Quay. I had to photograph a jazz band there, so after a bit of pondering and getting a teeny tiny bit lost, we decided to eat there. The jazz band was good. It has been a while since I have seen a band even remotely jazzy, and I do appreciate that kind of music a lot. Nachos verdict? Yeah, really good for vegetarian. /drool
Work has been lovely, and we recently started on a new project using Shopify (e-commerce system) that has sharpened my skills. I have taken a slightly different approach to the coding, and Dominik and I have been working really well together, creating naming conventions and standards that will benefit us in future projects. We are both enjoying the planning involved.
A film version of my favourite book, The Book Thief by Markus Zusak, has been created, and Alice was lovely enough to send me the link to the trailer this morning. I was so worried that the film might not meet expectations because I love the book so, so, so much — but I think the trailer has me pretty convinced that the film is a great adaptation of the book. I did say to Dominik, though, that maybe I have low expectations compared to most people since I rarely watch films. :P
My phone has been having strange issues for the past couple of days. I was not receiving some phone calls so James could not call me, my text messages were not sending and I was receiving some messages very late. Thankfully my provider, Optus, were very nice to me and helped me over Twitter and over the phone. The gentleman who talked to me was very nice and friendly and said he would call tomorrow to see if I was still having the issue. I got a replacement SIM card which I hope does the trick.
I guess it's been a pretty pretty week. ;)