Sorta rotten and insane
I just spent what was probably the worst one-and-a-half hours of this month re-doing my homework, because I lost it. No, not like that. More like: our university needs a system that autosaves or has some kind of way of making sure stuff doesn't get lost like that – and should generally just be crash-free. Of course, technology can be pretty horrible, and there's no way of really knowing when it'll go down on us or not.
A couple of days ago, TheFanlistings.org was hacked. As a staffer at this network, I was completely shocked. There were rumours that it was someone involved in the network, rather than your ordinary hacking… but at this point, I'm unsure of the details. The message board is completely down and the whole website is down, and developers are currently working on it.
The title of this blog post hails from the classic 90s rock song Lump by The Presidents of the United States of America. Long band name indeed. Often the band's name is just shortened to Pot USA, or more commonly, PUSA or The Presidents. They also sang hits such as Peaches and Boll Weevil, among others. I actually had the opportunity to see them play live on Friday night at the UNSW Roundhouse. I went there only a few days ago to see Last Dinosaurs, and there I found myself again. In all honesty, I'd truly describe my experience seeing The Presidents as "sorta rotten and insane", reason being that the crowd was seriously rotten and insane.
Lump lingered last in line for brains
And the ones she got were sorta rotten and insane
Small thing's so sad that birds could land
Is Lump fast asleep or rockin' out with the band
Someone likened The Presidents to The Wiggles, or rather, "The Wiggles for adults". It's probably the most insanely inaccurate description of The Presidents that I've heard to date. In fact, "sorta rotten and insane" is probably something that describes them a thousand times better. Them and their fans (me included).
To sum it up: The show was like two metal concerts smashed into one. It was probably worse. No circle pits or anything like that, but I was at the front, in the middle, and that got me squished, punched in the ribs, kicked in the face, and more.
I was, honestly, dead centre and front row, right behind the barrier. I had waited outside for about forty minutes to get in, and I was at the front of the line as well. I was thinking, yup, this better be worth it. I saw Hey Geronimo walk in as I was lining up. Tempted to shout out one of their names as they filed on through with their instruments, I kept my mouth shut to save any awkwardness or embarrassment. Later, I would shout Pete's name in my high-pitched voice just to say hello. Poor Pete had a cough which made his voice rather coarse, but his voice was still terrific considering. And, Hey Geronimo, that is, minus keyboardist Andrew, who was being replaced by Paul Furness from Ball Park Music (likely just for the duration of the tour). My guess is that he has other duties to fulfill as a band manager.
Sydney band Ashes played first, after a short wait. They are described as straight-up rock, which is fair to say. Perhaps they aren't quite a unique outfit but all the members had such personality whilst on stage, particularly the lead guitarist. I enjoyed watching them, and listening to them, and bought their EP at the end of the show. I said thanks to Raj, the lead singer, for playing, and that they were great. He thanked me for buying their EP. Hopefully I'll get to watch these guys play another time.
All shitty photos taken on my iPhone, just in case you thought my photography skills went down the drain. ;)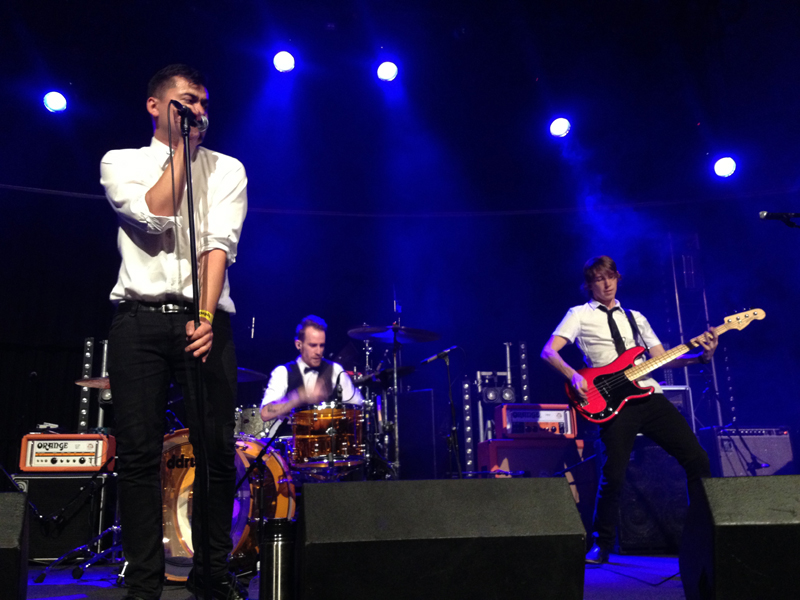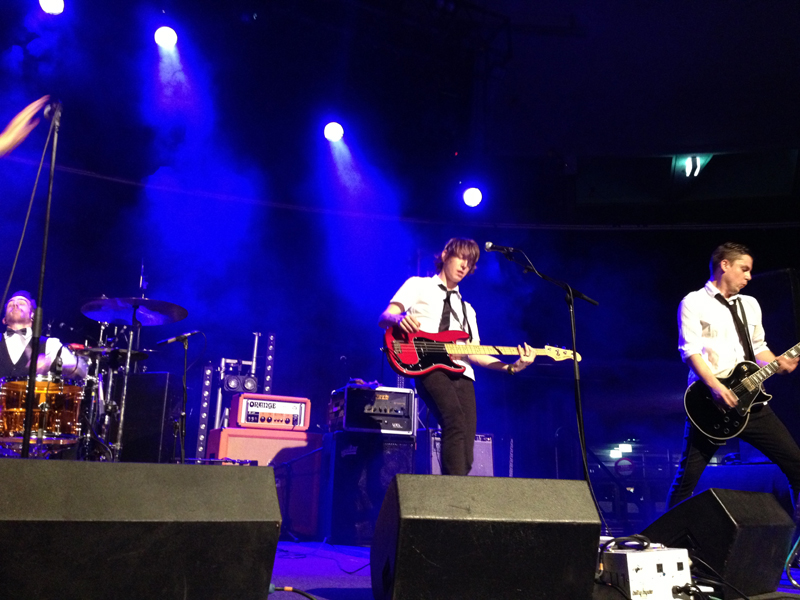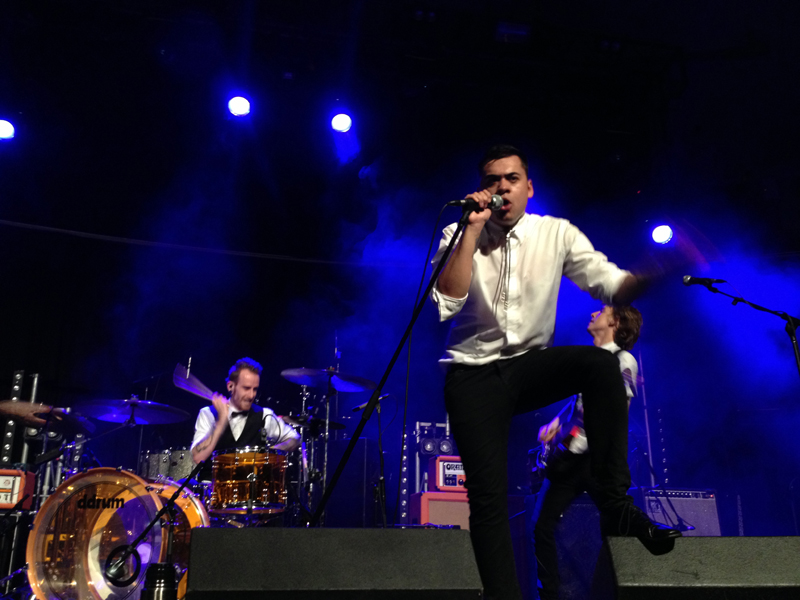 Hey Geronimo, my favourite band. Well, well, well. I fall in love with them more and more each time I see them. It's like I forget I love them that much, I just go day by day listening, then when I see them I just want to cry from all their perfection. As they did the last three times I saw them, they played Laser Gun Show, followed by The Girl Who Likes Me and Co-op Bookshop… going right through all the songs on their EP, playing their always-amazing rendition of Burning Down The House and finally, finishing, as they always do, with Why Don't We Do Something. I probably got his name wrong again and I've got a shoddy memory, but trumpeter Eamon recognised me and waved madly at me from his spot at the back of the stage. :')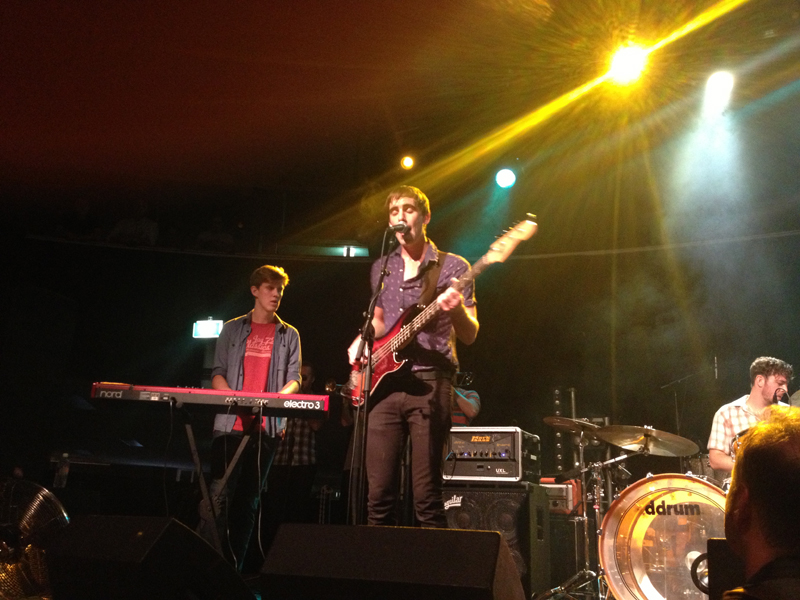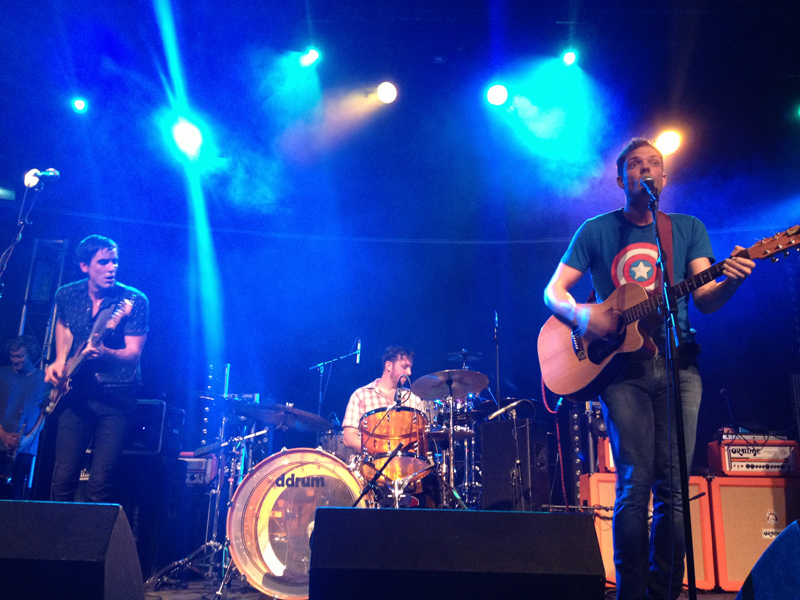 I feel that Hey Geronimo are such a perfect match with The Presidents; they both sing their fair share of wild rock and roll, with unique, exquisite lyrics and catchy vocals. When I heard that they were supporting the band on the tour, I was ecstatic.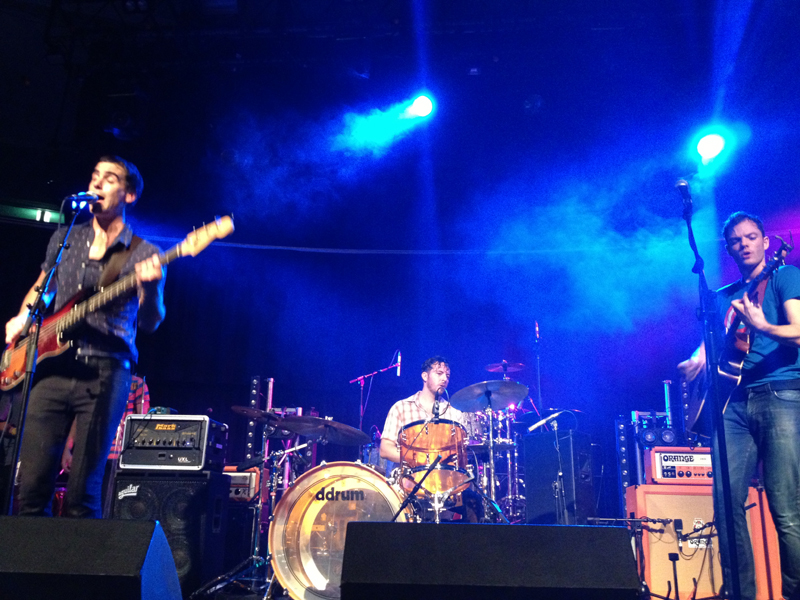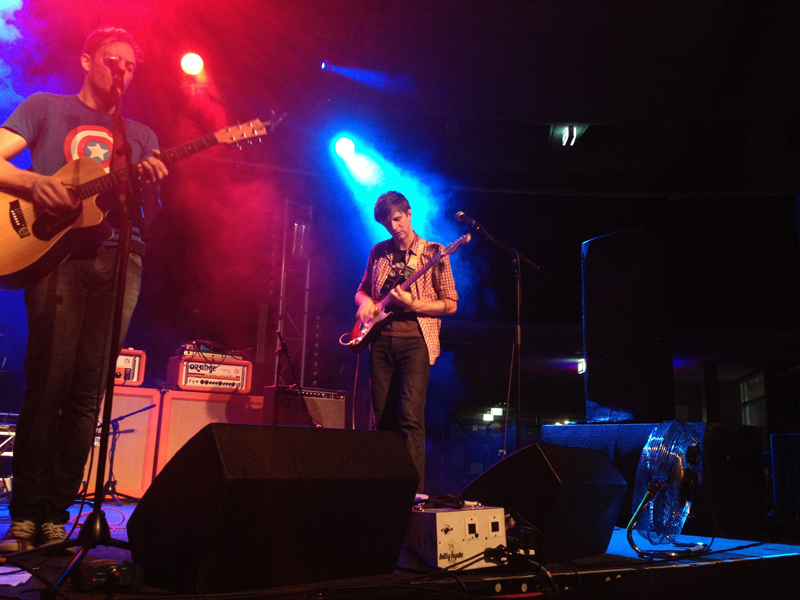 The Presidents' set could not have been any wilder. They opened with Tiki God, which had everyone singing along, and they played a bunch of their greatest hits. Lead singer Chris Ballew was heaps of fun, singing with the microphone stand balanced on his back, holding it out to the audience, playing his basitar (yes, it's a regular guitar with mods) flawlessly. Guitbassist Andrew McKeag had such a shy demeanour, despite his rocking bright red suit and black hat, but played perfectly and with such skill.
They played Tiny Explosions, and one of my absolute catchy favourites Some Postman, about a letter-stealing postie. They played a handful of other songs, to which the crowd sang along. At this point I was probably regretting wearing a skirt and heels, but they were comfortable heels, and with everyone jumping up and down singing and having fun, I was having fun too. I was really enjoying the music and the show The Presidents were putting on.
Finally they began to play their debut self-titled album in its entirety. I know it only goes for thirty-eight minutes, but they were probably the most insane thirty-eight minutes (give or take a few minutes for transition between songs and extra-awesome song conclusions and/or vocal introductions to songs) of my life. Normally I worry about getting knocked over or getting really hurt in the pit, but this time I was enjoying myself. Everyone sang along to Kitty, and it had never occurred to me that shouting/singing "fuck you Kitty, you're gonna spend the night outside" would feel so good.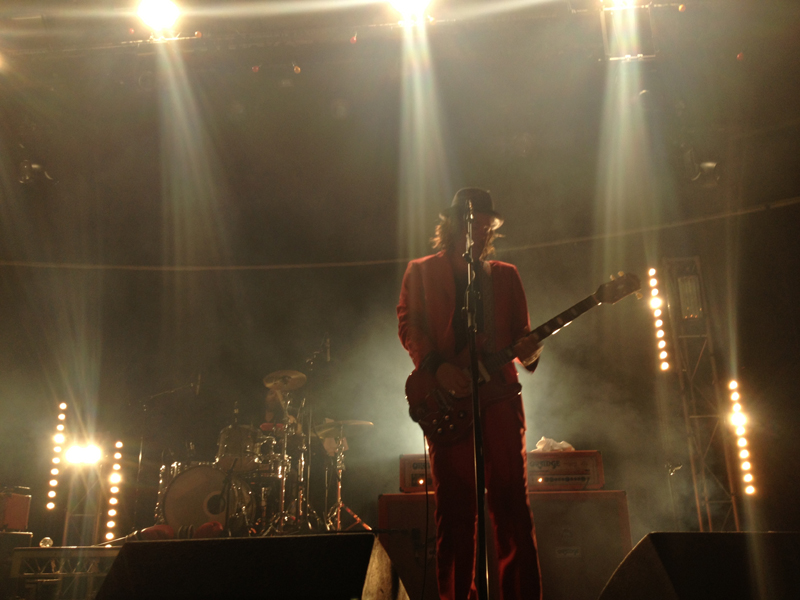 A few guys managed to squish their way in next to me. It sucks being small because there's only so much you can do. I did remain in the front row, but by the end of the show, I been shifted to the right about two metres. At some point I was severely disgusted by the guy standing next to me because he was drenched in sweat and his wet sleeve kept touching my arm. He kept looking at me, probably wanted some acknowledgement of his existence by a fellow fan, but whatever, dude. I didn't really enjoy being in such close proximity to his dripping wet hair, so I made every effort to squish the poor girl to my right (she was probably about the same age as me, and was accompanied by her parents who were also fans of the band) because she obviously wasn't as offputting.
Regardless! I was able to successfully ignore the guy next to me. I did get kicked in the head by someone crowd surfing. There was, as usual, a sign suggesting no crowd surfing, and if you did, to do so at your own risk. I think several people had their clothes torn or purposely lost them; there were a few items of scrappy clothing that were thrown on the stage and repeatedly kicked by Andrew, back into the audience. One nearly hit my face, but I dodged it and let the sweaty guy next to me catch it. Sucked in.
In a way, although it's like it's every man for himself in such a crowd, there were some supportive people, and I did keep asking the girl next to me if she was alright. She was a little smaller than me, but she seemed well and good. There were some girls further to my right who were also of my stature and build, so I wasn't alone. I might have been squished and pushed around and poked in the ribs but hearing that entire album live was just amazing. I sang along to every song, hooted and cheered between the songs, and practically screamed when they played Feather Pluckn. I just adore the line "that's totally feather pluckn insane!"
I guess you could say The Presidents often write about creatures, animals, and their weirdness, not to mention personifying them.
Towards the second half of them playing the album, I was standing in front of Andrew McKeag – or at least, in his view. He made eye contact with me more than once, and I just screamed the words to the songs back at him and punched the air numerous times, bopping my head more crazily than the girls next to me… yeah, it was fun. He threw guitar picks towards the end, and I truly wished I could have landed one, or even a setlist – but no luck. Bollocks.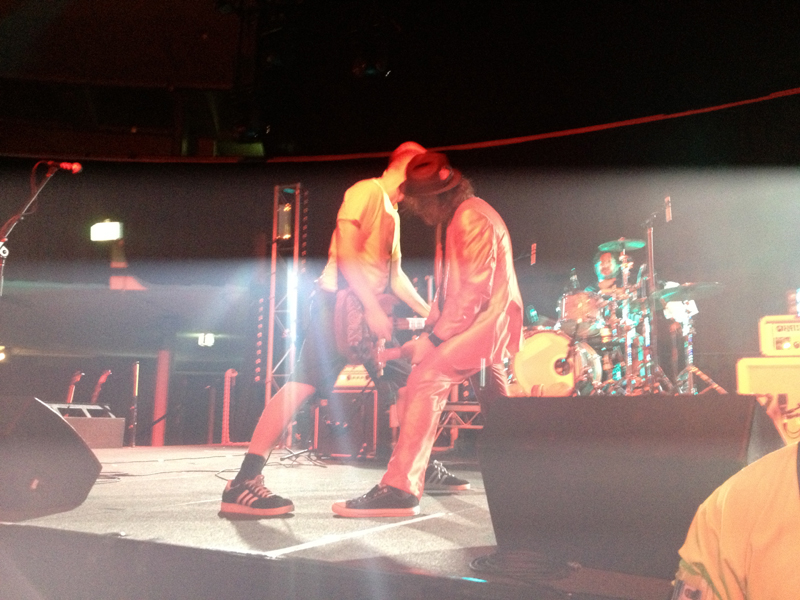 I wasn't predicting an encore, but with a crowd like that… how could you not expect them to come on stage again for a couple more songs? Shit, the end of it was amazing. Andrew played this guitar riff that seemed to match your regular pop song… and Chris kept hinting at what song they'd play next, but in the most vague manner.
"Ah yes, that one!" he would repeat, or "I know what we can play next, yep!"
They played a medley of songs that began with that same, or excruciatingly similar, guitar riff, courtesy of Andrew. Every single time, I thought they'd play Video Killed The Radio Star, but five times over, I was totally wrong. Probably six. Maybe seven. I don't remember. But as soon as Chris sang, "I heard you on the wireless back in fifty two", I just screeched like a freakin' cat.
Probably worse. It was the last song they played, but I danced, I sang, I clapped, I probably even vomited (no, just joking) throughout their rendition of Video Killed The Radio Star.
I'll tell you what though, I nearly vomited at the end when the crowd flooded out and there was that disgusting smell of sweat lingering in the air. Despite that, I walked outside and bumbled around for a bit before I went to look for a taxi. Being two hours away from home at 12:30am isn't exactly pleasant, but hey. I met two English guys (holy shit, I love English accents) named Steve and Grant who wanted to find a place to have a few drinks. Yeah, I like my vodka, but I'm not all that knowledgeable when it comes to bars…
Anyway, Grant was lovely enough to carry me for a bit (not home though, I wish), and we chatted about the show, introduced ourselves properly, and they accompanied me in a taxi to the station. It took some convincing for them to let me go home because they wanted me to join them for drinks. I think I was probably knackered. But I was grateful for their company, and who knows, we might be in touch? I gave them my business card. XD
I got home at 2:00am. Shrug. I know what you're thinking. That's totally feather pluckn insane.