Review: Familiar Stranger by Bob Evans
We've heard his music before – his first three albums, forming his suburban trilogy – were so intricate, lyrically wonderful, and overall a joy to listen to. Under the name Bob Evans, musician Kevin Mitchell wowed audiences with his songwriting skills and intimate acoustic performances. His latest release, Familiar Stranger, is an album that follows on from The Double Life EP, released just a couple of months ago.
I preordered the album late last week and it arrived yesterday complete with my signed poster (mine was numbered with the lucky number 13!). I was so excited to listen to the album in full after hearing quite a few of the songs live, and listening to Don't Wanna Grow Up Anymore and Go, the two singles that were released from the album, was simply not enough. I decided to write a review on the album, because I tend to do that when I come across something new, and I want to share my thoughts. I'll admit that the album didn't stick with me in the beginning but it has really grown on me, just like The Double Life EP did.
I have written quite a few album and gig reviews on A Music Blog, Yea? based in Canada (and you're welcome to check those out too! – just search Georgie Celestine), but this is a special album I really wanted to write about on my own blog.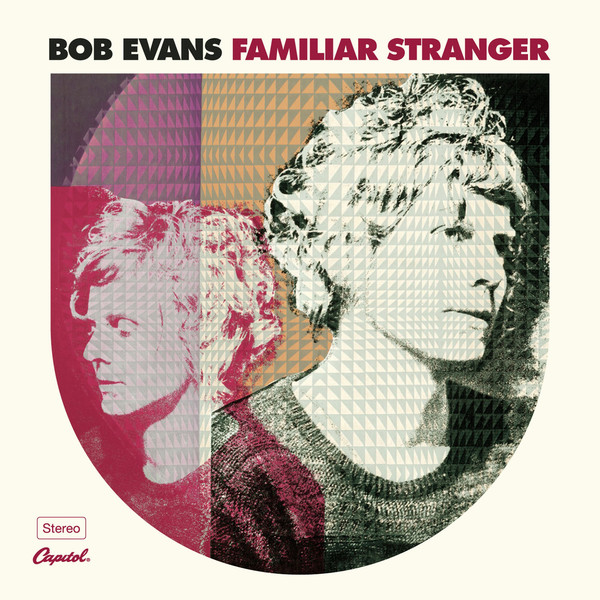 Footscray Park is the first track, and sets the mood for the album despite being very gradual and a little bit repetitive. Maps picks up the pace a little with sharper percussion and what seems to be an early bridge, throwing the song into an extended climax adorned with an array of crafty 'noise'. The mix jumps right into the more melodic Bruises, a slow ballad with almost tangible lyrics: 'bleeding blue and purple memories, all the hurts and aches and soft heart breaks'.
Don't Wanna Grow Up Anymore, like so many of the songs on the album, have a nostalgic quality to them. This single has surfed the airwaves for the past three months and was voted #175 in Triple J's Hottest 200, likely voted for by a wide audience of people both young and old, who no doubt would find this song relatable. Listening to this album, it seems that Bob Evans has developed an even greater connection to his music, executing his lyrics with such music depth.
He shows off his amazing storytelling skills in songs like Sitting in the Waiting Room, and we can empathise with him in songs such as Maps and Bruises, where his voice emanates through what I would see as rather growing, developing tracks in their own right. In contrast, Get It Together is an upbeat, country-styled song. Incredibly catchy and ending sharply, it goes a little down memory lane with its guitar riffs and very dance-like feel. It reminds us of older tunes by Bob, but with an early 90s pop twist.
The walking bass line in To Let You Down is reminiscent of an old 60s Beatles track, while the graceful vocals and addition of string instruments sprinkles symphonic rock elements through the bridge. Bob Evans has really impressed us here with the style of this song – a very mature song with lyrics brought out so gently. It's a magical song, as is In Another Time.
The latter half of the album brings out some beautiful melodies. Hopefully you've managed to make it this far, because the middle of the album is definitely where it peaks, like the glorious working of a bell curve. Listening to In Another Time brings back memories of perfect summer afternoons just before the sun sets, in particular just as the song goes into its bridge and reaches a delicate and free-falling climax. The chorus seems like it will fade out, but it reaches a sure and beautiful ending with the instruments quietly dropping off and leaving vocals and the faint strums of an acoustic guitar to finish.
Go is a summery but nostalgic tune, which is accompanied by the vocals of San Cisco drummer Scarlett Stevens. The song builds up with a joyous accompanying melody, and it's personally one of my favourites on the album. Nothing's Gonna Save Us From Ourselves bids an almost early goodbye, or a foreshadowing of the end that is to come. It willows slowly, and seamlessly, into What Else Is There?, a softer but more repetitive tune that oozes with a distorted reverberating instrumental before the percussion rolls in. This is yet another carefully crafted track that develops over its standard duration of three-and-a-half minutes.
To end the album is Wonderful You, a song written for Bob Evans' daughter, a precious song that most fans will link to the style of his earlier albums. With delicate vocals and flawless guitar-picking, it's a short but iconic conclusion, with the strings fading out much the way they faded in at the start of Footscray Park.
The album is a good mix of what we know him well for – his acoustic pieces, storytelling and melodic vocals, but is also proof that Bob Evans isn't afraid to dabble in what may be less familiar to us – some electro-pop elements and songs that delve more towards a rock genre. Familiar Stranger has a lot of musical depth to it. It might not be something that will catch you right away, but it's one of those albums that quietly ask for a second, third, fourth listen, through faint eardrum echoes.
If you've never listened to Bob Evans before, start somewhere, even if it is here. You're bound to fall in love with his music at some point.