Six years
James and I have been together six years today, and we had dinner at a small Japanese restaurant called Acacia. We chose one of the three-course dinner meals, which I had previously seen on their website:
Appetizer (Mixed Plate)
soft shell crab taco; prawn cocktail gratin; salmon canape w miso cream; miso pumpkin soup
Main
• King Prawn tempura
• Braised pork belly (from SA)
• Light pan fried Salmon (from TAS)
Dessert
• Kyoto style green tea mousse & lemon cheese cake w plum sauce
• Tokyo style trio mousse & dark chocolate brownie w mango sauce
The place wasn't that hard to find. There was a lot of traffic on the way and it was pretty far up north, so it took us a while to get there. It was, however, really quiet when we arrived at 6:30pm. The place wasn't hard to find, but it was in a building with other restaurants and not straight on the street.
There was a nice view outside through the glass panel, even though it was just the train station. There was a little candle on the table, and the service was great. We had our napkins put out for us and our glasses refilled with water.
Admittedly I am not used to course meals and I prefer just buying a main dish, but it's pretty neat treating yourself to a dinner like this. Or a lunch, if you feel so inclined. James had the pork belly for the main and I had the salmon. We also chose one of each dessert.
It was really delicious! I really liked the entree. The waitress told us about each of the appetisers and that the chef recommended we eat them in a certain order, which is actually in reverse order to which they appear above. The miso pumpkin soup was delicious, it was in a little glass cup that tasted like a really nice vegetable broth. We also got a bowl of miso soup (which I just realised isn't listed above).
I didn't take a photo of the entree but here is a photo I got from UrbanSpoon.com.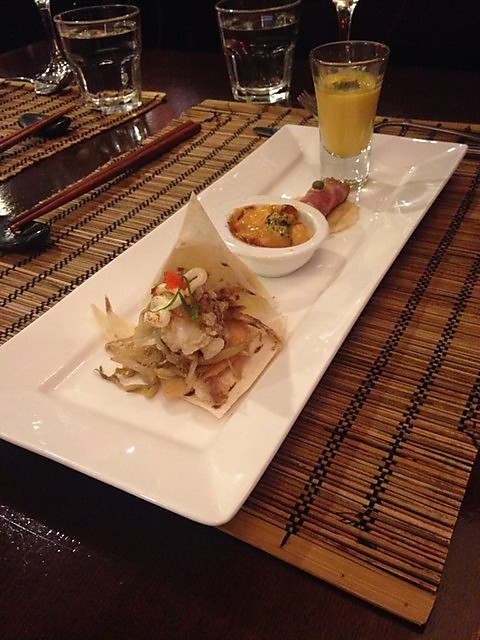 I took some photos on my phone. Since they were taken on my phone they probably don't look as good as they could be!