Achievement Unlocked: September 2018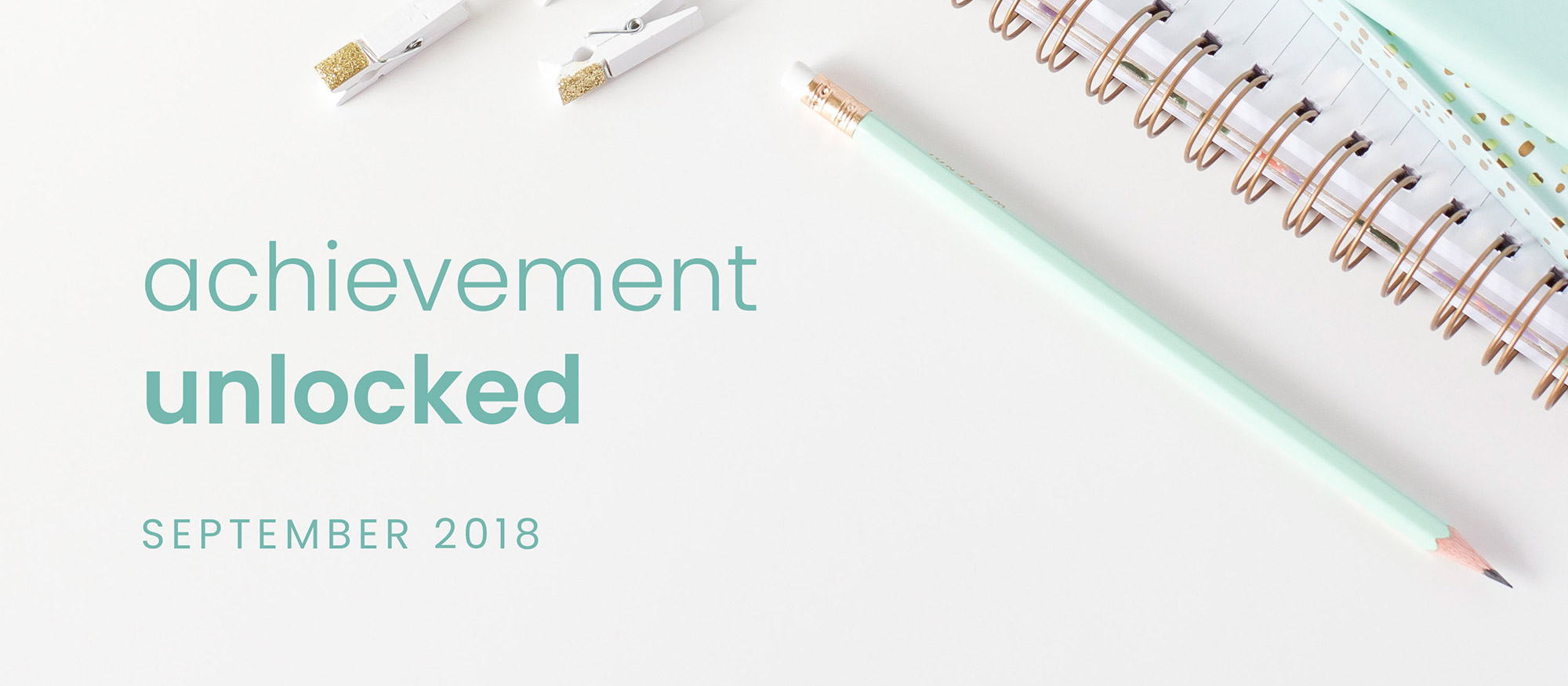 September was a freakin' whirlwind, what can I say. codebar had its first birthday! I wrote a blog post about it just a few days ago. It was a really good event, and I was very touched by the stories some of our students told about the experience they had at codebar.
My coworker Ryan and I were on the tail end of a pretty big project that took us a month, and we completed it, it's been released, and since then has had no major issues. We had a few things to fix which happened while I was in Portland, but we got it done.
Oh yeah, and Portland – damn it. I'm crying. 😭 I went to Portland (Oregon) for XOXO, and I wrote a blog post about my experience, titled Dear XOXO. The experience was one I will never forget, and I made friends whom I will never forget. ♥️ I'd never been to an event so welcoming, friendly, and that had such an emotional impact on me. I also enjoyed my short stay in Portland so much – the city will always have a very special place in my heart, and I cannot wait to return.
Let's get into the usual… 🙌
Just before writing this, I was:
Trying to calculate how much money I will have saved by my birthday next year. Really rough calculations, but calculations nonetheless. Unfortunately, I am already foreseeing myself failing my 8 by 28 goal of saving $15,000, because I spent a lot of money staying in Portland earlier this month, I've bought a lot of clothes (my own fault, really!) and Nick and I are headed to Europe next year before my birthday, so that and our trip to America earlier this year will have poked into that. However, I'm trying to make money on the side by selling clothes and other items I no longer want, and I'm going to be more wary of what I spend money on, as well as try to save where I can.
This past month, I learned:
I love Portland. A lot.
Nature cures me of episodes of depression.
Economy X plane seats are worth the extra cost.
That there is a reason why we cry on planes.
That you can have the most beautiful relationships with people over the course of two days, and these people would have been complete strangers to you before.
I mean, we all knew this – but platonic love is real. 💙 If you fight me on this I have fuckin' proof OK. 😙
We all knew this too, but reminding yourself is important – being alone is different from being lonely.
We all knew this as well, but be yourself – everyone else is already taken. 💕 My experience at XOXO made me love being myself more than I ever have. I felt appreciated, I felt like people liked me for me, and that I was valued.
Starting a pin collection can be expensive, so only buy what you truly love and what represents you.
"Art dismantles power, otherwise it is propaganda" –Cameron Esposito
I need skinny jeans with thin, almost jegging-like "denim". The thicker the material, the less flexible it is and this just doesn't work for my needs.
This past month, I got bored of:
Wearing black. 😕
But that's OK, because I enjoyed:
Wearing colours! I love having colour in my wardrobe – if you knew me a few years ago you'd know that I wore nothing but black. Now I don't wear or own very much black at all. I was wearing a bright orange sweater that I bought recently, and honestly, that sweater has gotten me sooooo many compliments both from friends, colleagues, people who follow me on social media, and passerbys. ☺️
Today, something that made me happy was:
I thought I'd share my list of tiny wins that I posted on Twitter earlier!
? Today?s tiny wins:

? bench pressed 37.5kg for 4?5!
? decluttered lipstick collection
? organised shoes
? scrubbed and cleaned shower tiles
? tidied desk
? applied nail wraps ??
? folded laundry
? did the ironing that came from the laundry line
? vacuumed kitchen

— Georgie C. Cooke ? (@georgiecel) September 30, 2018
Today, something I could have done better was:
I sprayed too much of this Exit Mould stuff in the shower prior to cleaning it. When I went in there after waiting ten minutes, the whole bathroom smelled like chemicals and it was hard to breathe in there! 😱 I did a good job scrubbing the tiles down though, haha.
Tomorrow, I'm going to:
It's a public holiday, but I'm going to do a big leg session at the gym. 😂 I also plan to do what I've been doing this week, and that's write more for my blog and flesh out ideas a bit ahead of time. I didn't clean my wardrobe today (apart from organising my shoes) but I will do that tomorrow. I'm thinking of building a capsule wardrobe, or experimenting with it, but I know it doesn't work for me because I have a lot of clothes that are trans-seasonal and would rather be seeing most – if not all of – my clothes. Nick and I did a lot of cleaning up today so that means far less of that tomorrow! 👏
In October, I'm looking forward to:
Nick and I haven't decided, but we will celebrate our wedding anniversary somehow. ♥️ I am also looking forward to meeting up with my best friend Lilian again!
In October, I'm going to make the positive change of:
I've been sleeping at a reasonable time every day since I got back from Portland – before midnight! I'm really happy about that and want to continue it, though definitely want to sleep by 11:00pm. 🙂 I think I'm already doing really well with that, so the other thing I want to be better about is not pressing snooze a dozen times before getting up. Some days are better than others, but with the new iOS update for iPhones, it tells me how many notifications I get for my Clock app. And the higher that is, a greater indication it is that I've pressed snooze many times!
One thing on my to-do list is:
I've been invited to do a talk at a meetup soon – I need to respond to an email with further details and information about that!
One happy photo from this past month is:
I took this photo as I walked across The Bridge of Gods, a bridge between Oregon and Washington state. I had to take a lot of photos while I was moving because apparently I wasn't allowed to stop walking on the bridge. This was one of them, and I know the composition isn't pretty. But this view is fucking amazing and I don't think you can all deny that.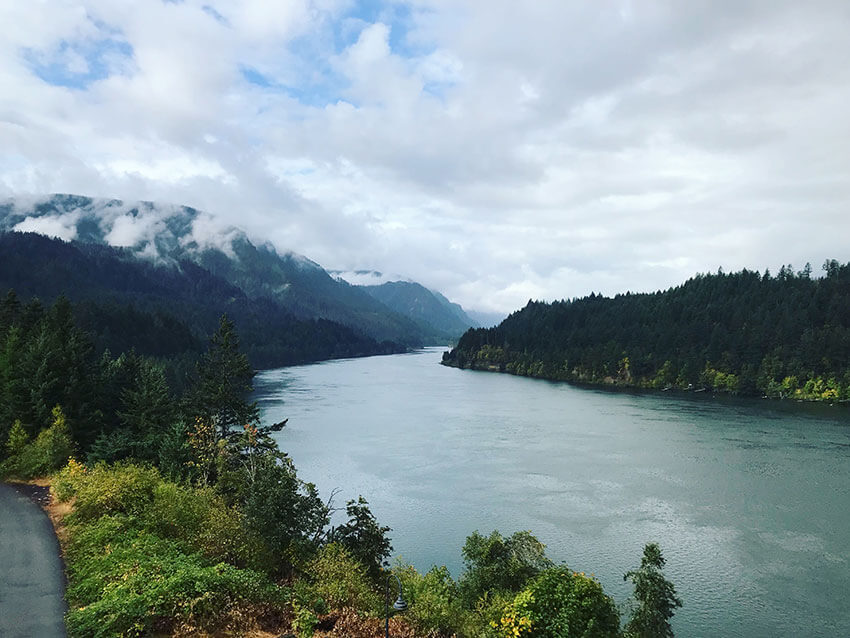 If I had to write a book or record a film about this past month, I would call it:
Undoubtedly, I'd call it xoxo
After I publish this, I'm going to:
It's no surprise that I'm going to go to sleep right? 😜 I'm going to take melatonin before doing so. I've been taking it frequently since I returned from Portland and I think it actually really helps me stay asleep and sleep well. It also, err, makes me have weird dreams. I think I've heard that other people experience the same thing, too.
---
How was your September? Didn't that go by so fast?!
Do you have any saving or spending tips? What are some things you're going to attempt in October?