Review: Sparkle Box Subscription
This review has been a while coming. Things have become a bit crazy so I haven't had as much time to work on my blog. I sort of have to keep a few things under wraps (for now), which is why I am sounding a bit vague at the moment – but that should hopefully explain the lack of posts on my blog.
Today I am reviewing a jewellery subscription box called Sparkle Box. I discovered this subscription box while I was browsing some fashion/beauty blogs. I had actually temporarily stopped my Helene Jewelry Arm Candy Subscription because of a lot of spendings in the past couple of months. I found that Sparkle Box was $19 a month, and you received 2-3 pieces of jewellery. I found this rather affordable, and international customers pay an extra $7 for shipping.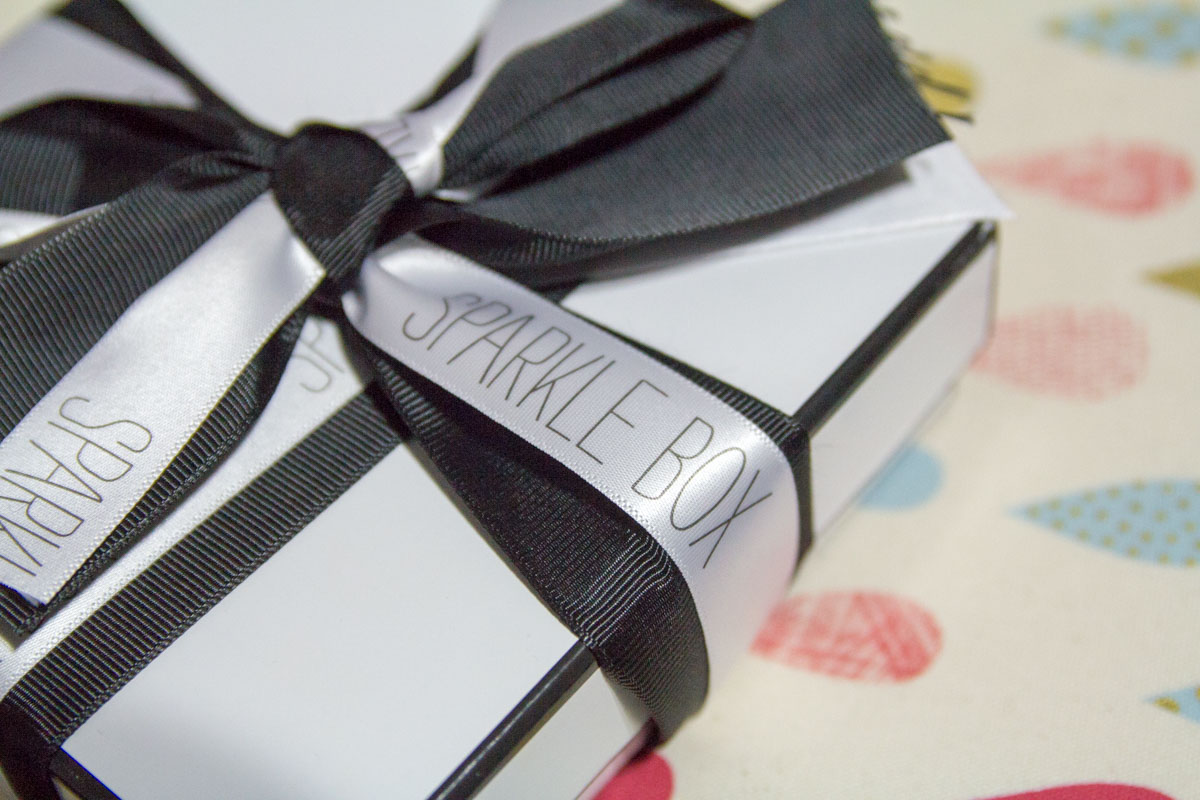 I got my April box very quickly. I think it arrived less than nine days after I signed up, which was rather impressive. When I signed up, I made sure I filled in the comments box with a detailed description of my personal style and what jewellery I like to wear. I can't remember exactly what I wrote, but I wrote about my six ear piercings right through to how small my fingers are and the fact that I prefer small rings. This subscription doesn't have the same jewellery for everyone every month, which is nice. It's tailored for you, based on your preferences, and you can be as descriptive as you like.
The owner, Shannon, really took my comments into account when picking jewellery for my box. I chose the style Avant Garde for this box. I have been buying a lot of girly jewellery lately and I'm missing the punk edge I used to have when I was younger (we all get nostalgic sometimes, hey?).
There are other options for box styles including Boho Beauty, On Trend and Quirky/Handmade, so there is something for everyone. If you can't decide, there is also a Surprise Me box, not to mention, if you're buying for your daughter or niece, there is a special box just for younger girls!
The box had its own branding, which I found quite nice, and had spotted wrapping paper inside. Each piece of jewellery was in its own organza bag. I got a necklace and two earrings.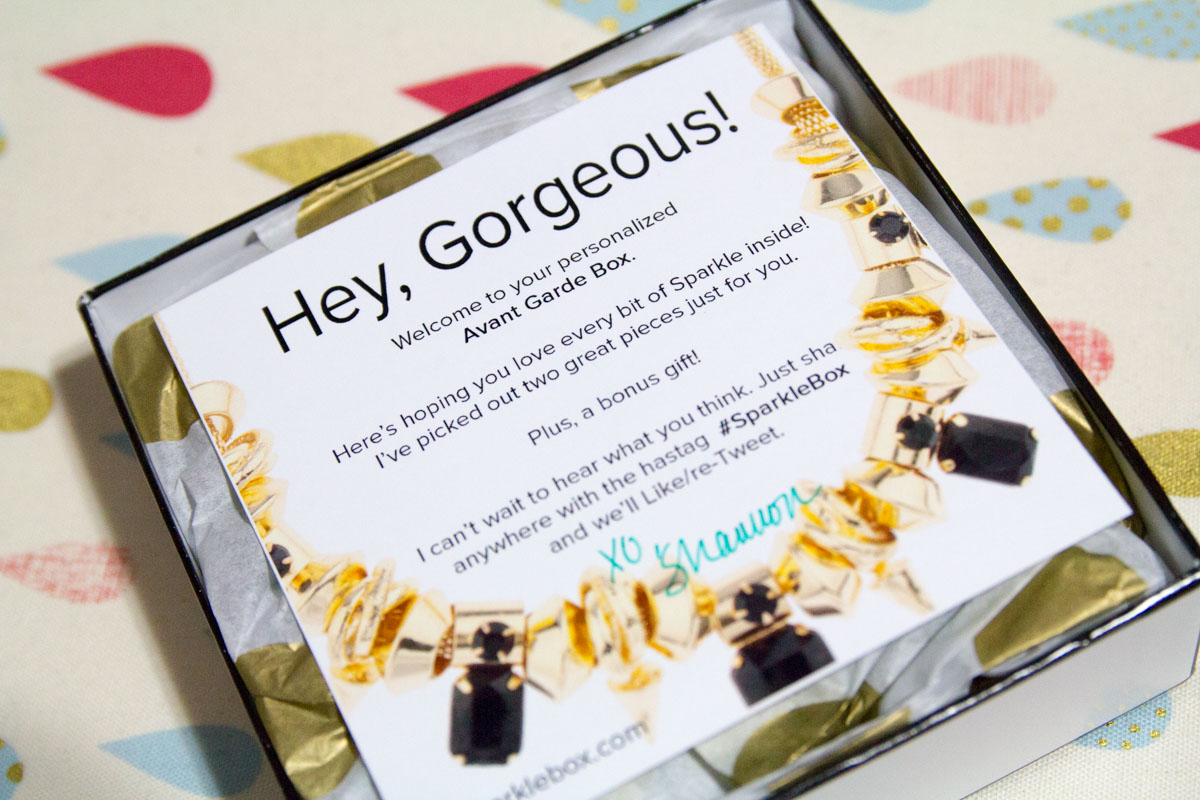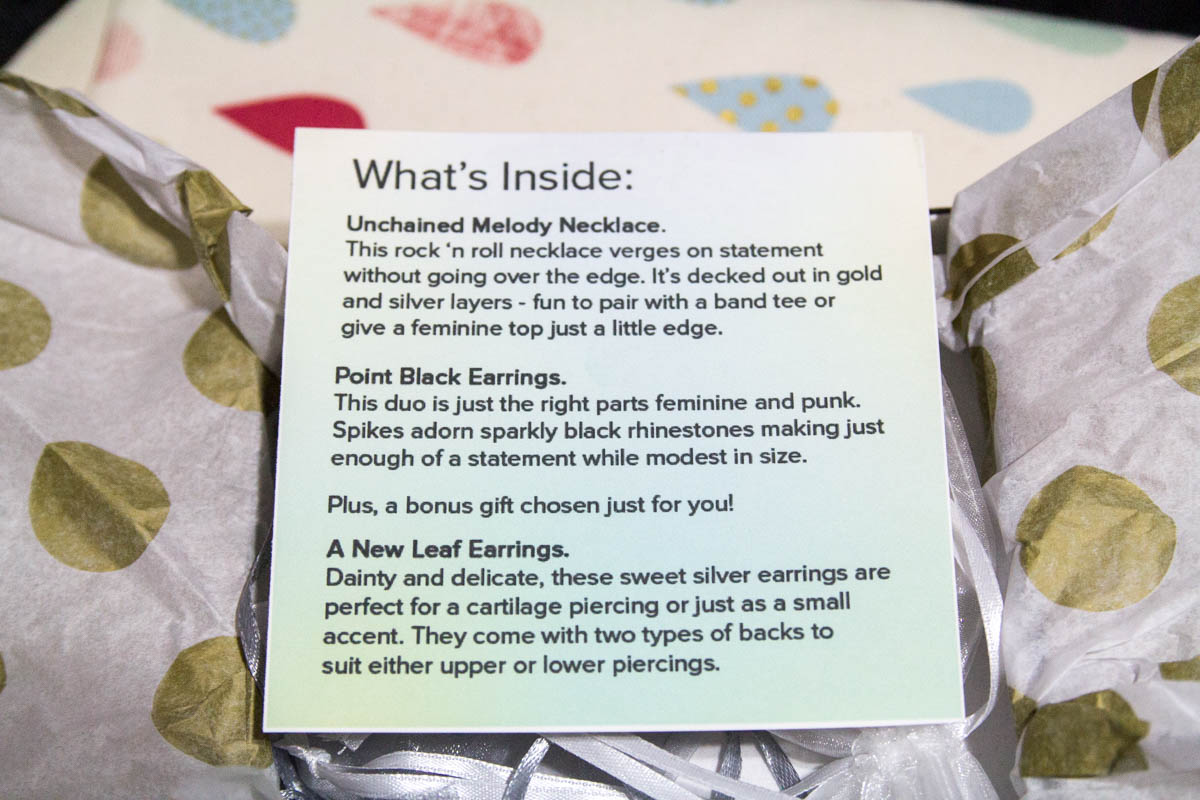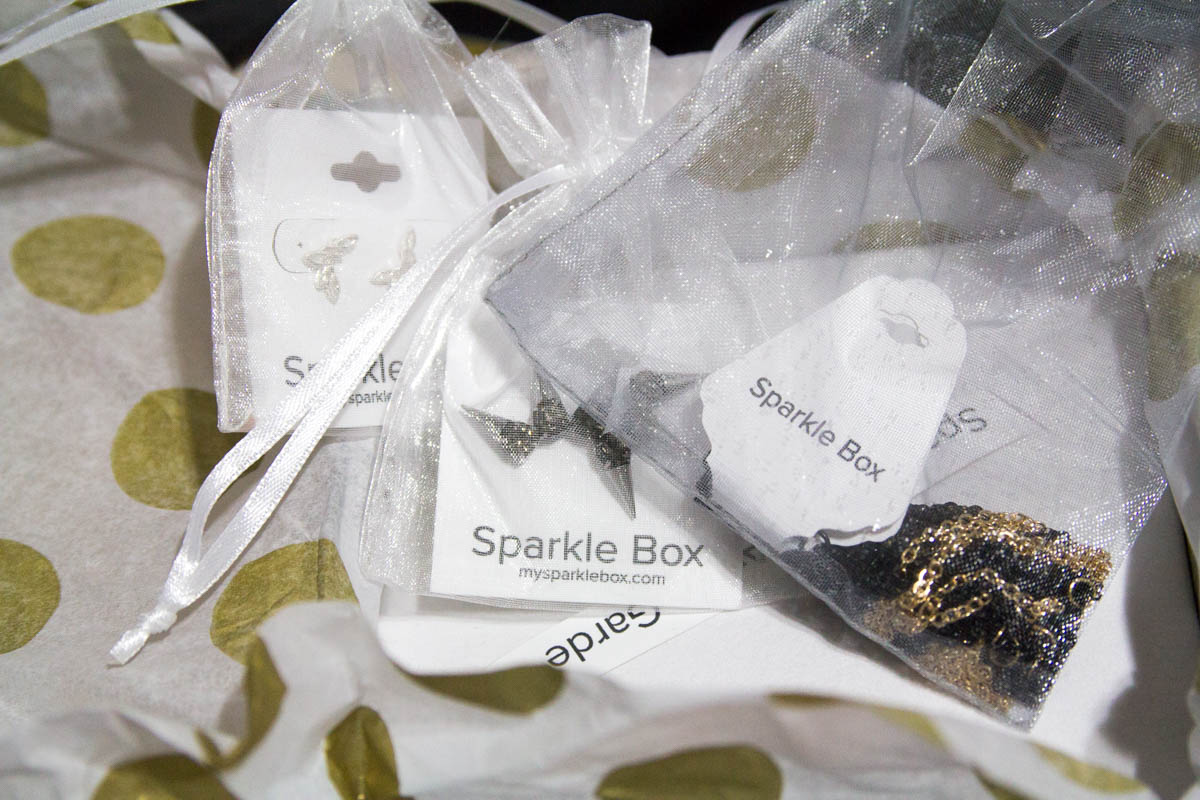 Unchained Melody Necklace: I really like this necklace. When I first saw it I was quite excited to have a necklace that was quite simple but still made a statement. I knew then that Shannon had really paid attention to my notes. I have been on the lookout for a lovely necklace to wear under the collar of shirts, and this works perfectly.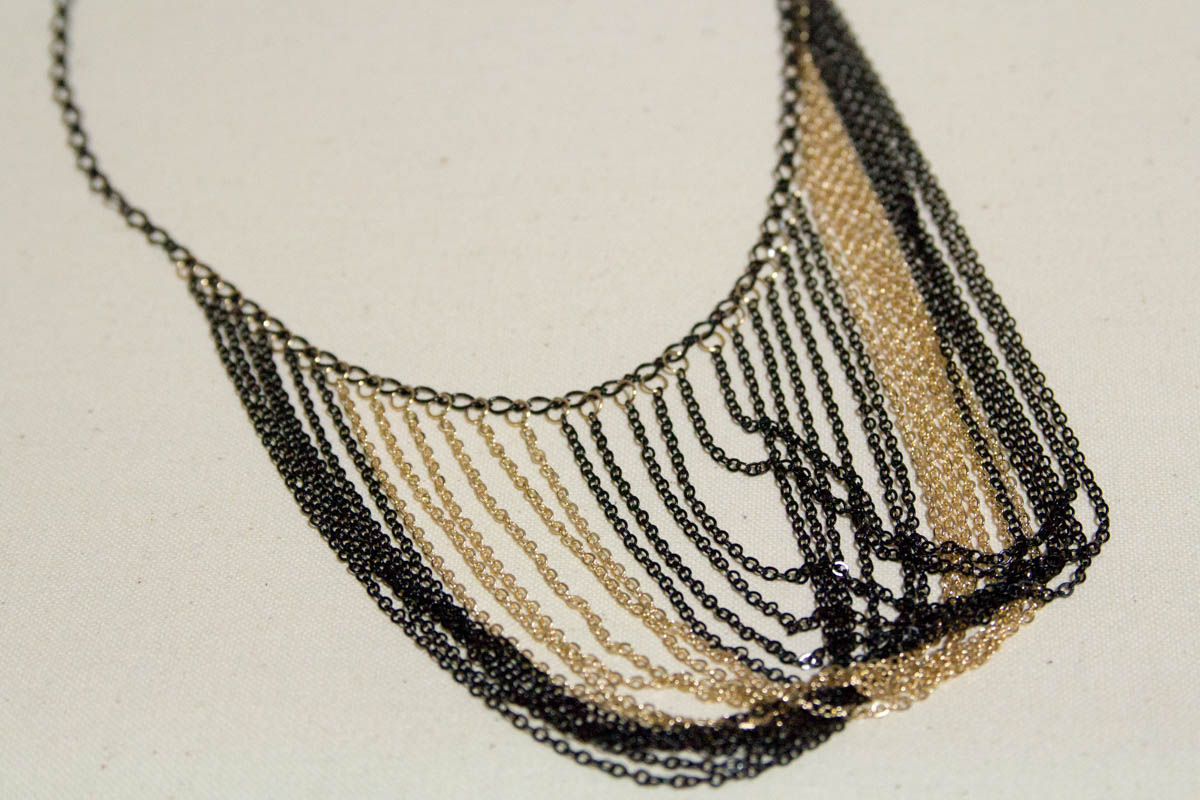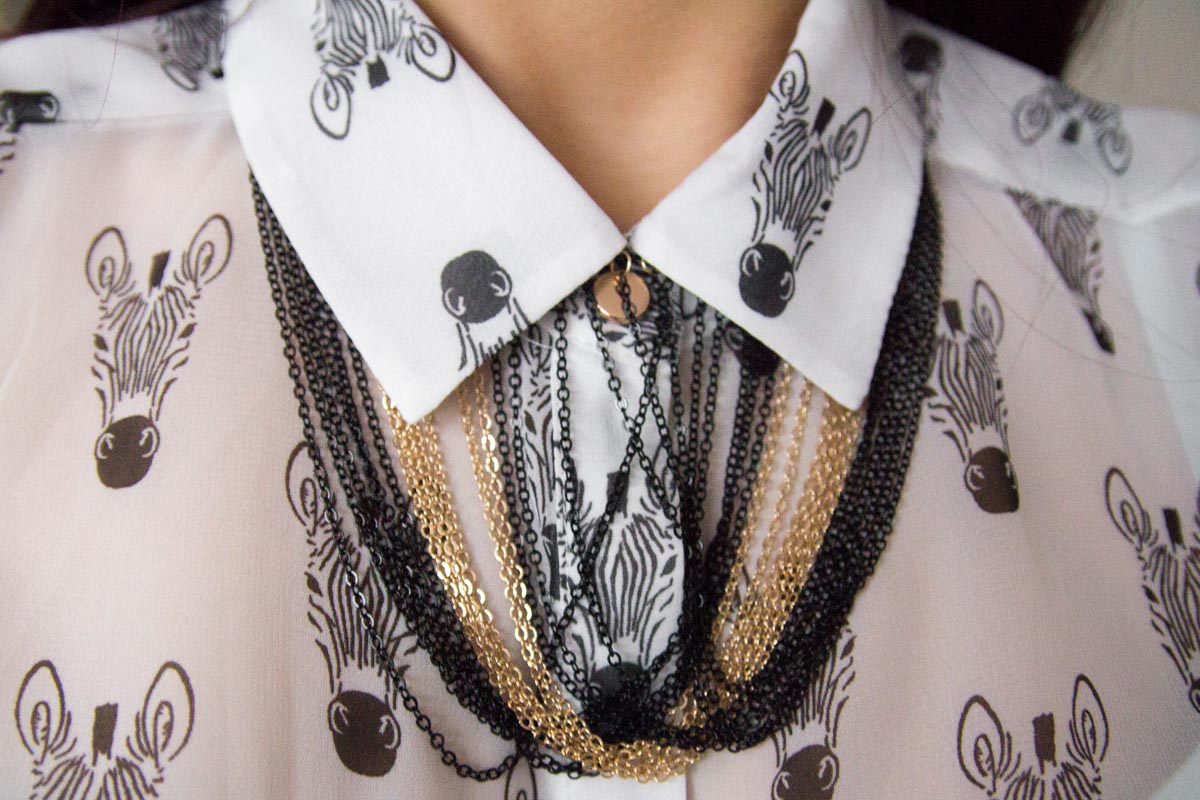 Point Black Earrings: I didn't think these were anything too special, but they are subtler than your average punk-rock wannabe pair of earrings, which is nice. They overlap my second ear piercing so I can only wear two pairs of earrings in the one ear, but that's not a problem.
A New Leaf Earrings: I really like the design of these earrings but I found the quality a bit lacking. The earring posts were a bit crooked. Regardless, I did like the colour.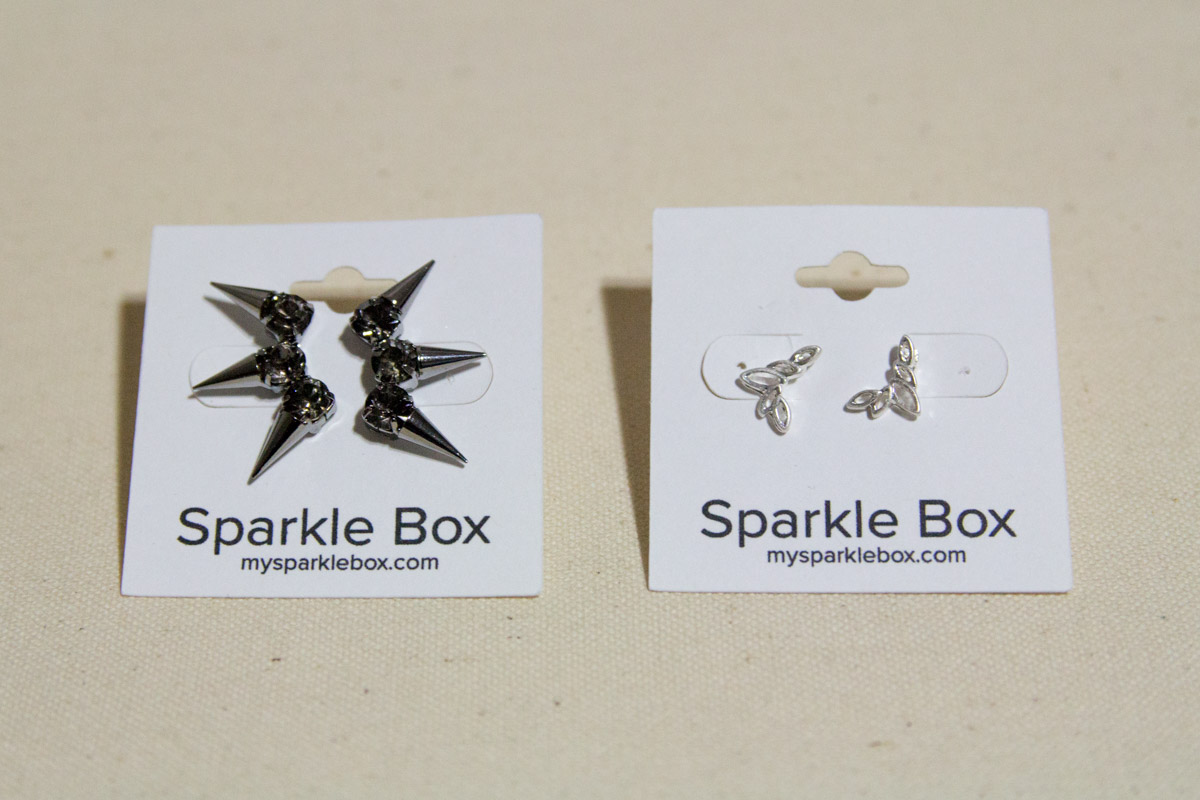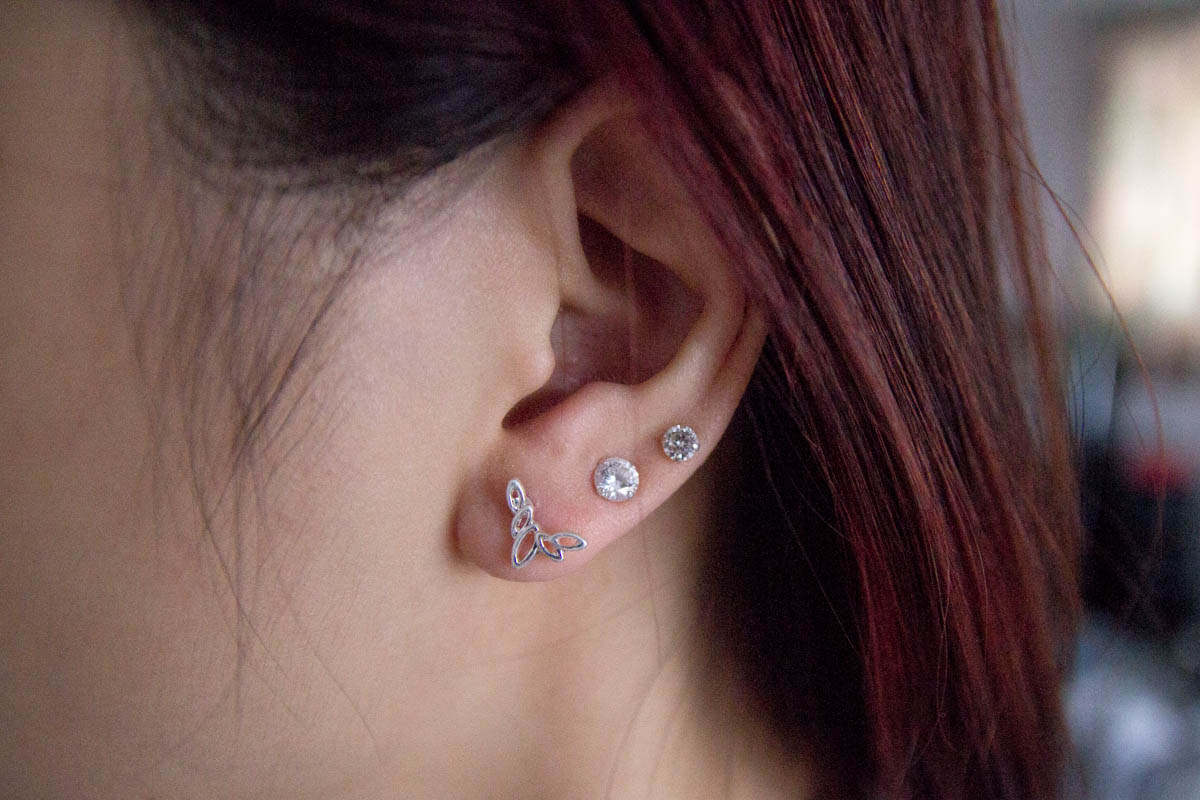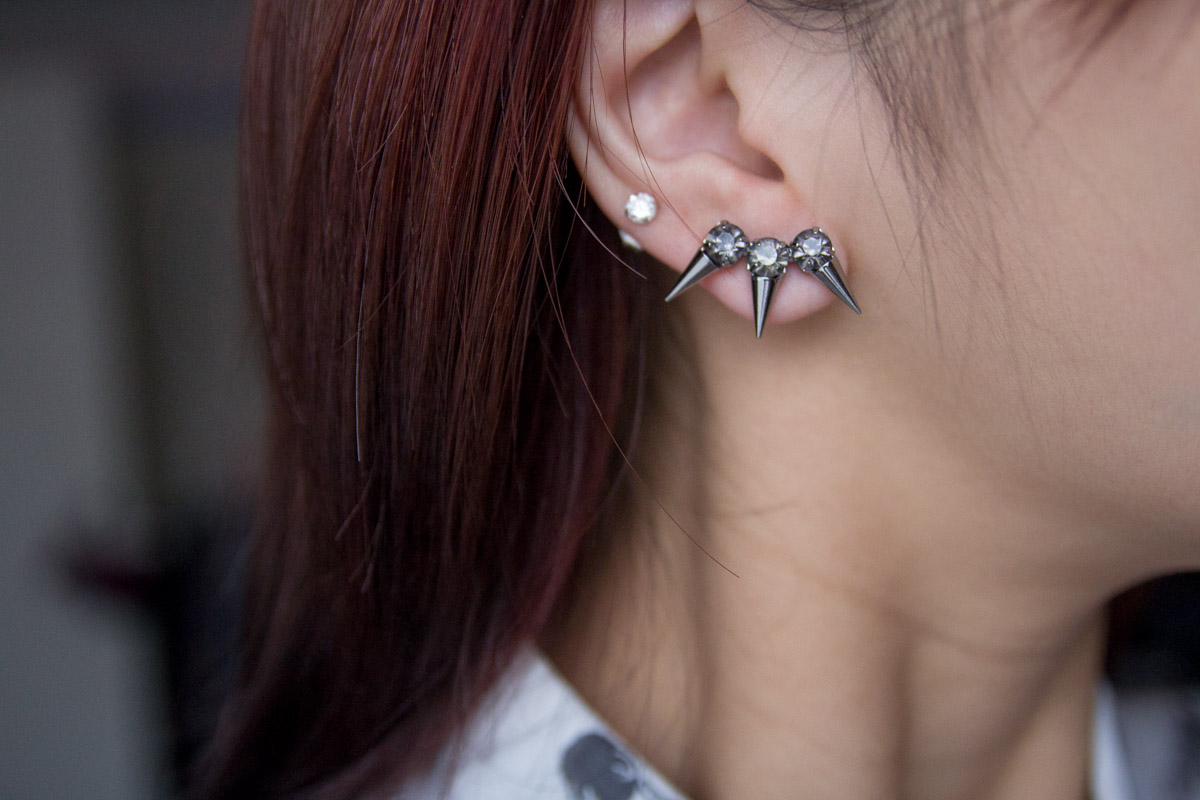 Overall I am really happy with my Sparkle Box. I look forward to what I get next and I hope I am just as happy as I am with this box, if not more. The box is affordable and pretty good value for money. It also ships overseas pretty fast! The jewellery isn't top quality, but it's better than a lot of cheap imported pieces, and it comes at a good price as well.
I was later informed that the shipping would go up to $15 for international customers. This was rather disappointing, as of course, it almost doubles the price of the box on its own. I was charged the same amount to my credit card for this month, though – so I will have to wait and see what happens. I know that I won't be subscribed to this box for much longer, given the shipping costs.
The website also has a few pieces of jewellery that you can buy individually. The prices are very affordable. I would recommend Sparkle Box to any residents of the United States, if you're into jewellery but are looking for an affordable option and maybe want a little surprise instead of buying for yourself. If you're an international customer, the shipping isn't too friendly, but it's to be expected.
I have a coupon code for Sparkle Box, so if you want to subscribe and get 10% off your first box, use the code GEORGIESPARKLE10. :D If you end up subscribing be sure to let me know what you think.