Review: Helene Jewelry Subscription Box (June 2015)
I subscribed to the Helene Jewelry Arm Party Subscription Box again, three months after my last subscription ended. I really like the jewellery that Helene Jewelry has. It isn't exactly my style but there are some nice everyday pieces available, and by subscribing, you save money compared to buying full price.
During the two months I was not subscribed, I had time to re-think my style and what I am looking for in jewellery. I have focused on buying only good quality earrings, stopped buying rings, and stopped buying necklaces unless I know I will wear them. (They are a bit of a hit and miss for me.) I do have a lot of bangles and bracelets, and recently I've taught myself to buy good quality pieces that I know I will wear, not things that just look pretty. Helene Jewelry taps a little into that side of things for me!
Before I re-subscribed, I contacted Elena (the owner of Helene Jewelry) to let her know that I would be joining again. We had a discussion over email about including necklaces and earrings in the subscription box as well, and the good news is, you can now subscribe and add those to your box for a little extra! :)
Elena has been very cooperative over the past year since I first subscribed, delivering exactly what I like. She remembers that I love blue and teal, so I have a wonderful mix of teal and blue pieces. I got my June box yesterday, but that was to be expected because it ships from America.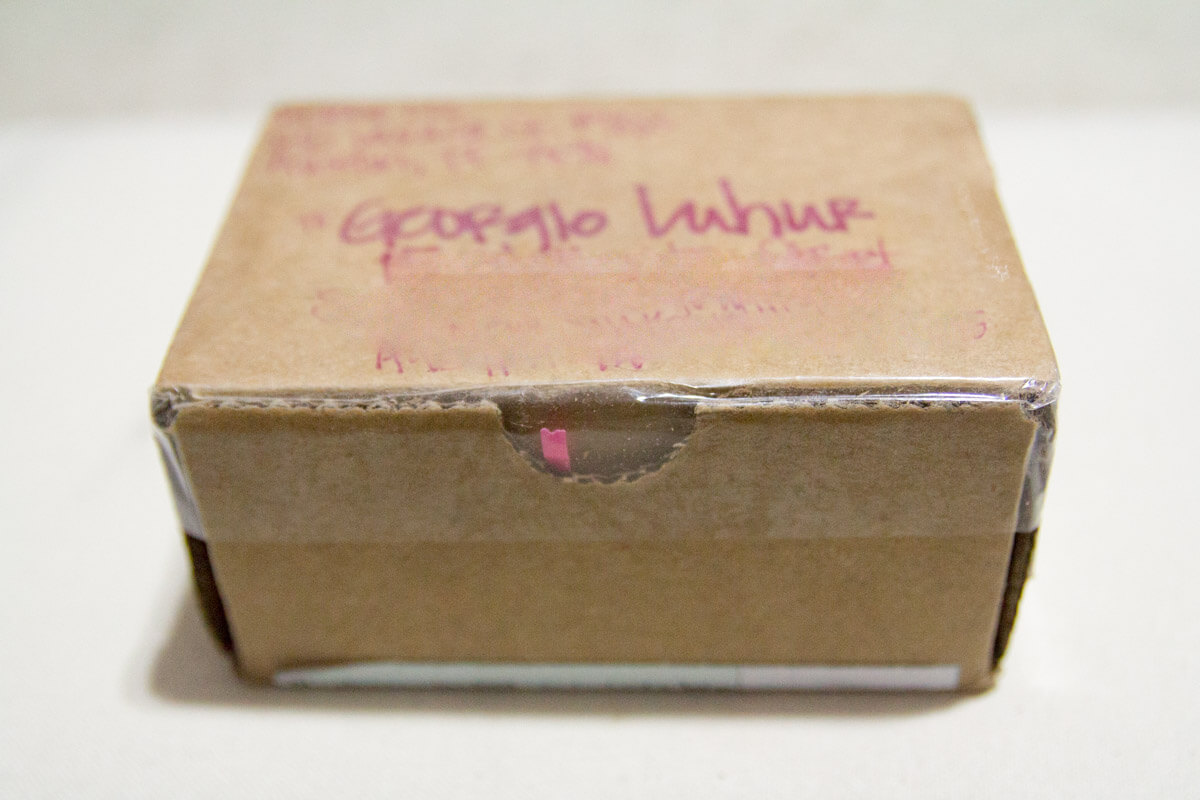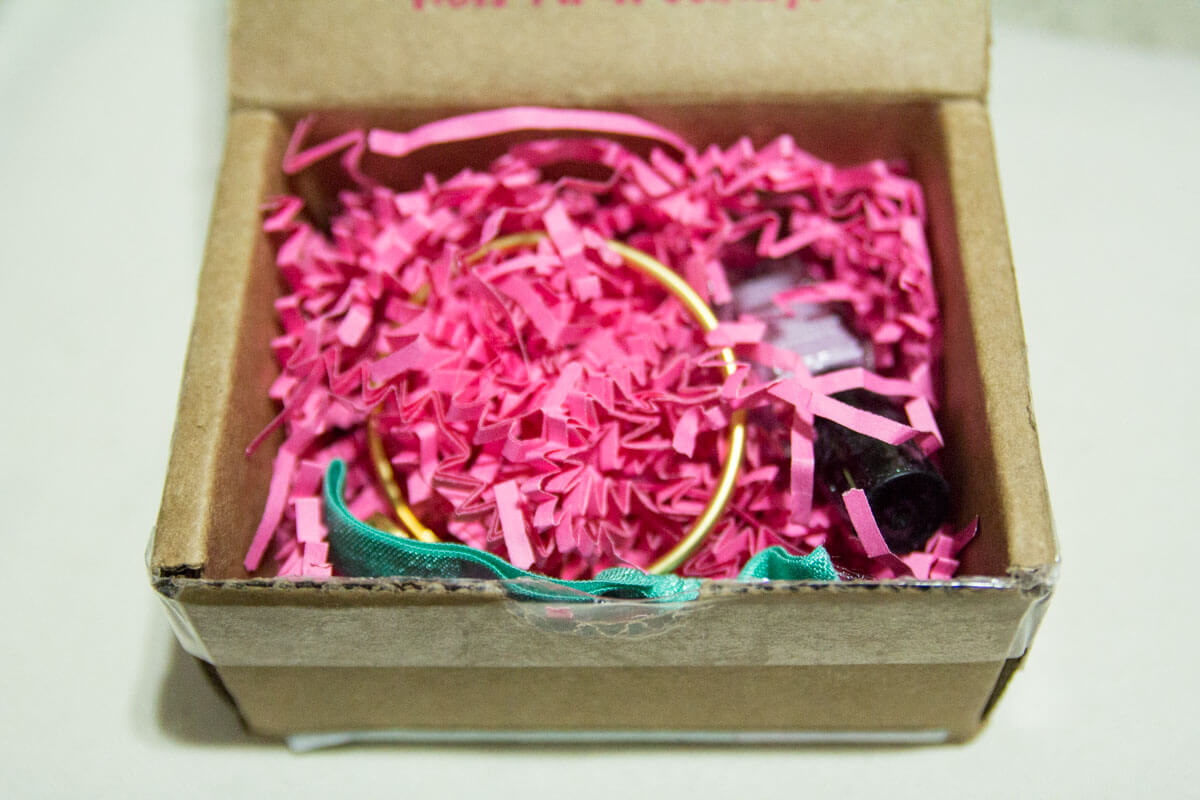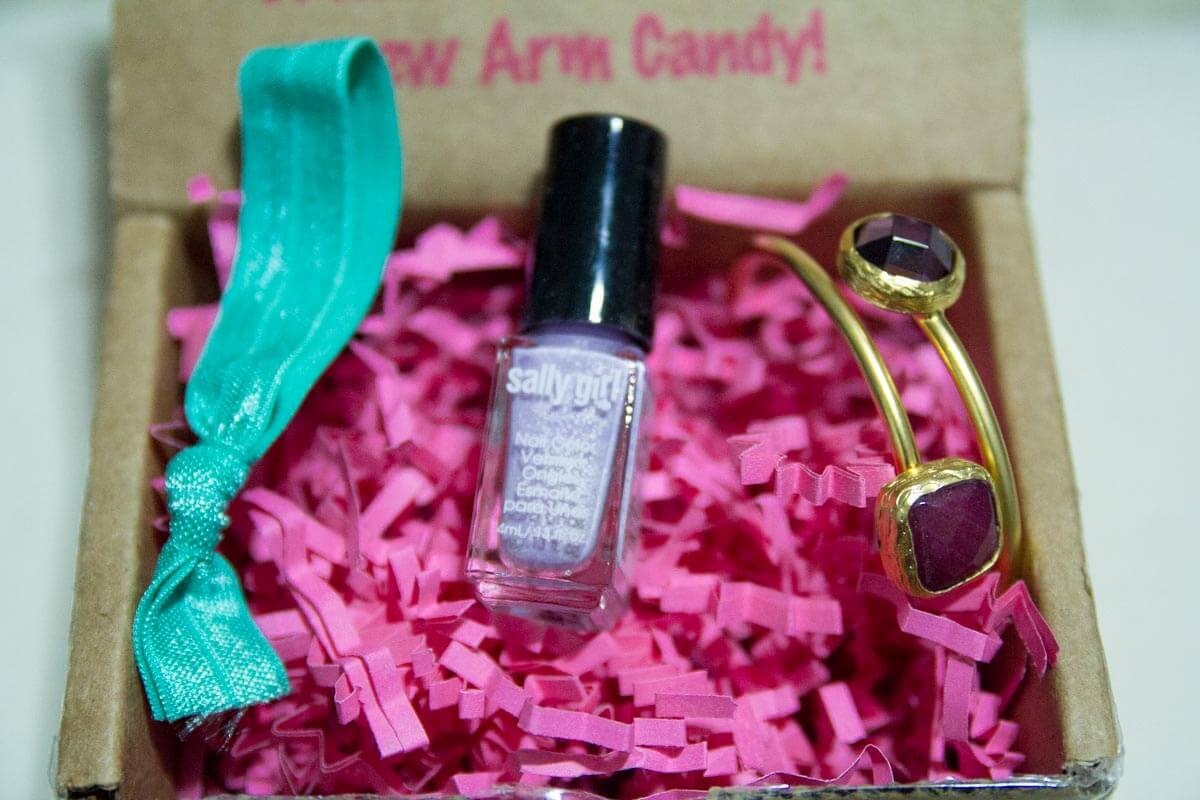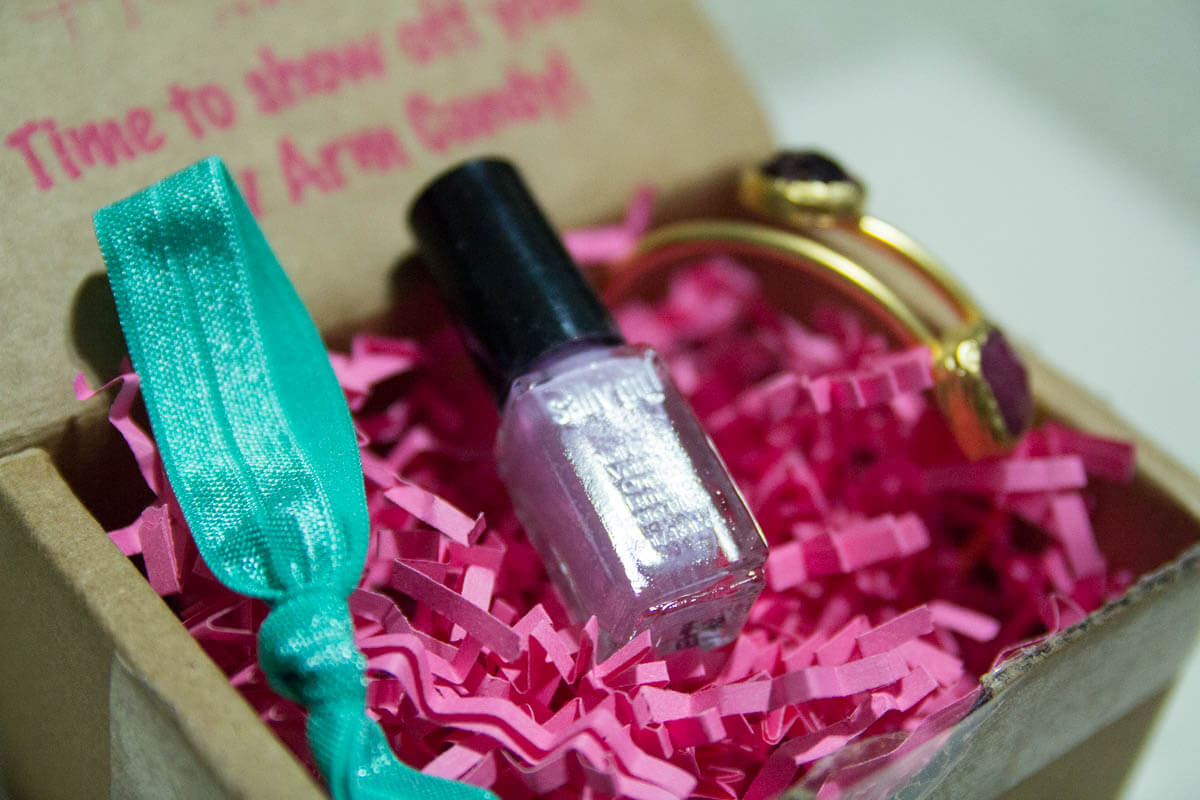 I got the Asli Adjustable Gold Bracelet in Magenta. I wasn't too surprised because I had told Elena that I had my eyes on it for a while. It's a simple, classy piece and though it wasn't as much as a surprise as my previous boxes, I'm happy with it! Elena even asked if I was sure about it since she remembered I preferred silver jewellery. Another thing I forgot to mention is that while I used to dislike jewellery that was not silver, I have warmed up to gold and rose gold now.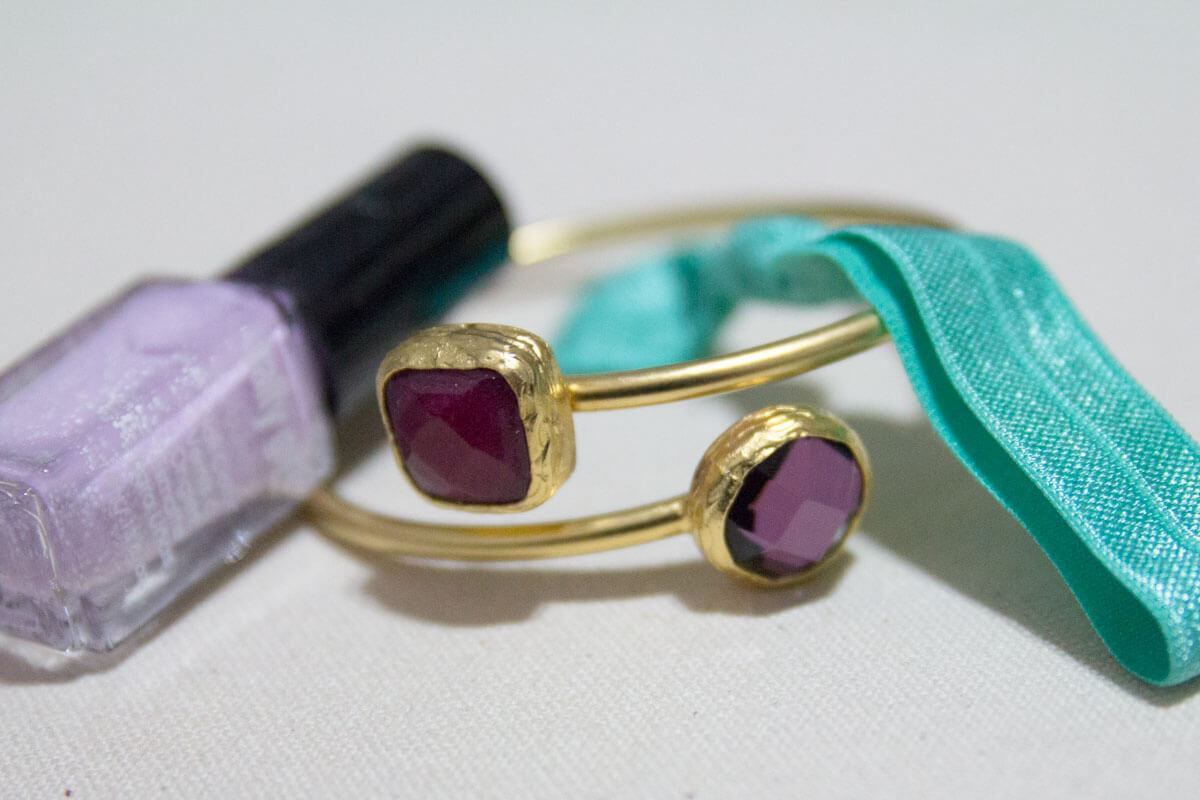 The description from the Helene Jewelry website is as follows:
Genuine jade dyed magenta, Amethyst purple mercury style glass*, gold plated copper

*Mercury style glass will show antique-like spots under the stone. Some pieces have more spot detail than others, and is intentional.
I didn't really see the spots under the stone. The magenta jade is the same stone as the one in the bracelet I got in my February box. It's a nice combination. I normally dislike pink, but this berry-like combo is very classy with the gold bangle. The stones' setting has a slight antique pattern.
The bangle itself is tough and requires a bit of pressure to bend, which is good because it isn't flimsy. It looks like it's medium-sized as well, so it fits my (skinny) arm nicely whether I want to wear it higher up on my forearm or lower and loose on my wrist.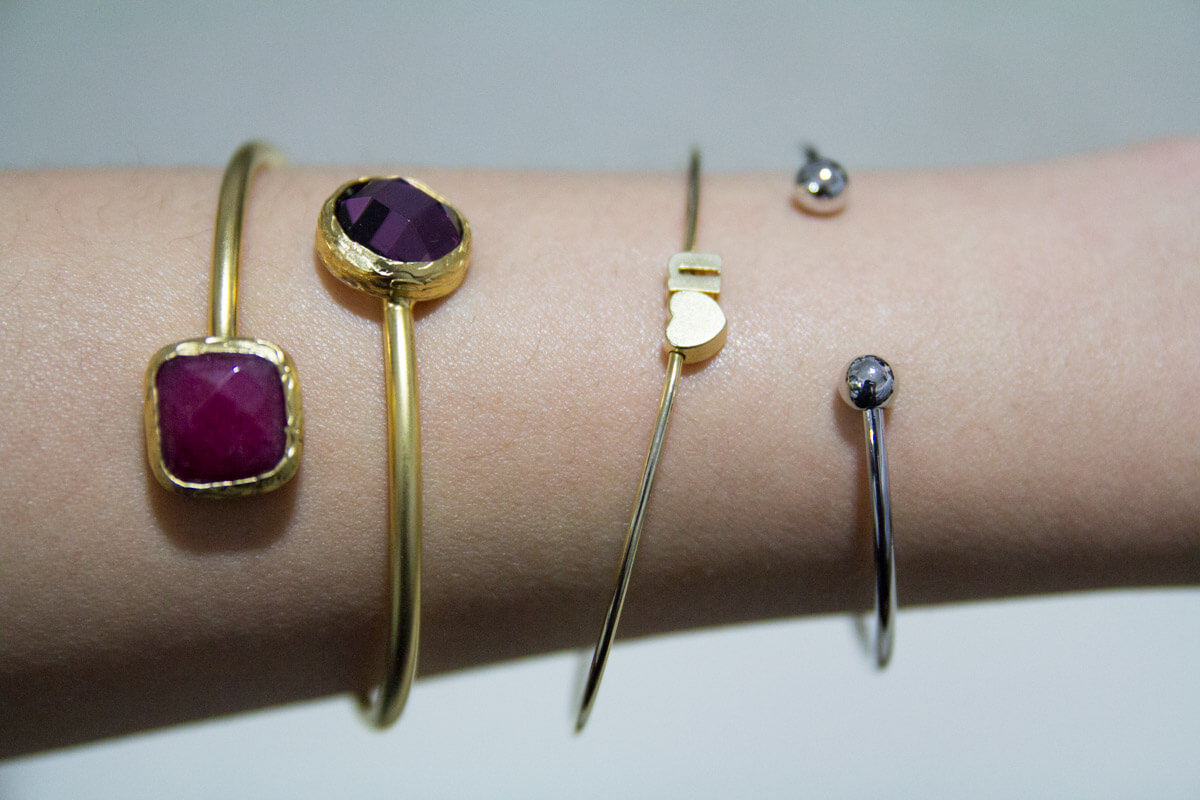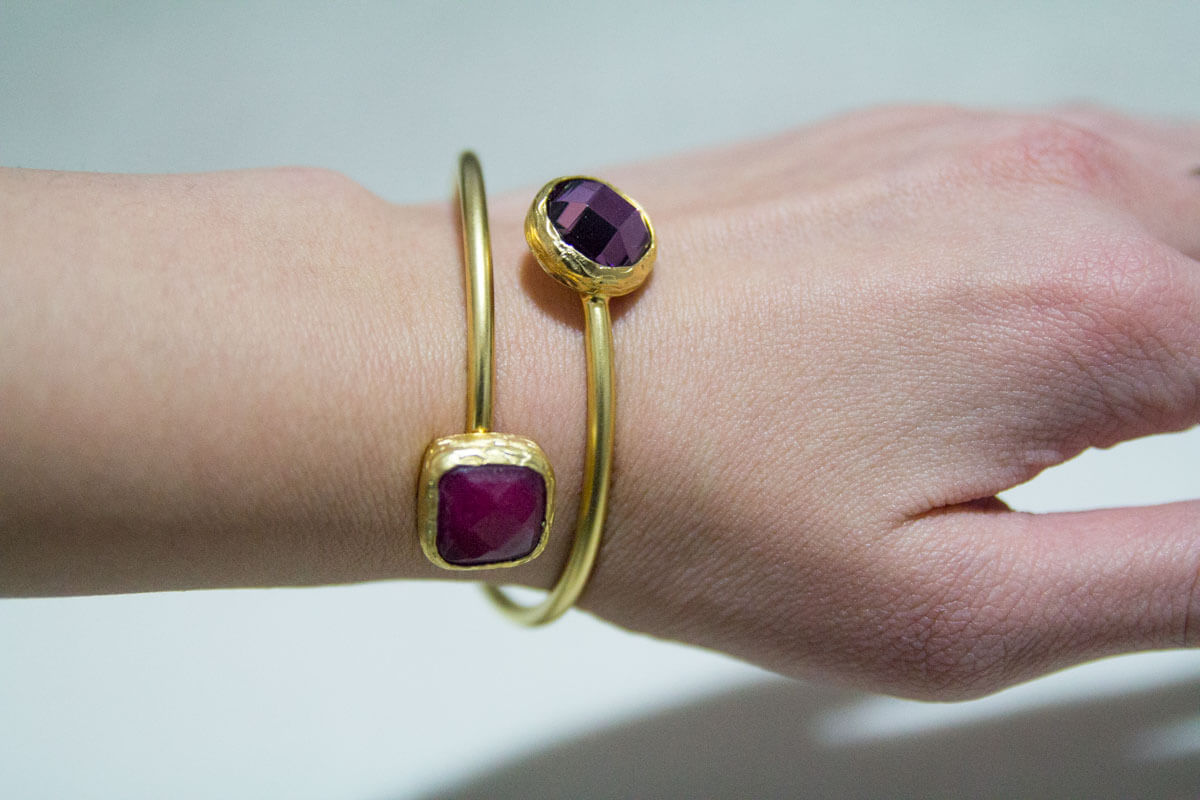 As usual, the box came with a couple of extra goodies. No Jolly Rancher candy this time, but I did get a teal hair tie and a light purple nail polish that seems to have dots of white in it. Cool!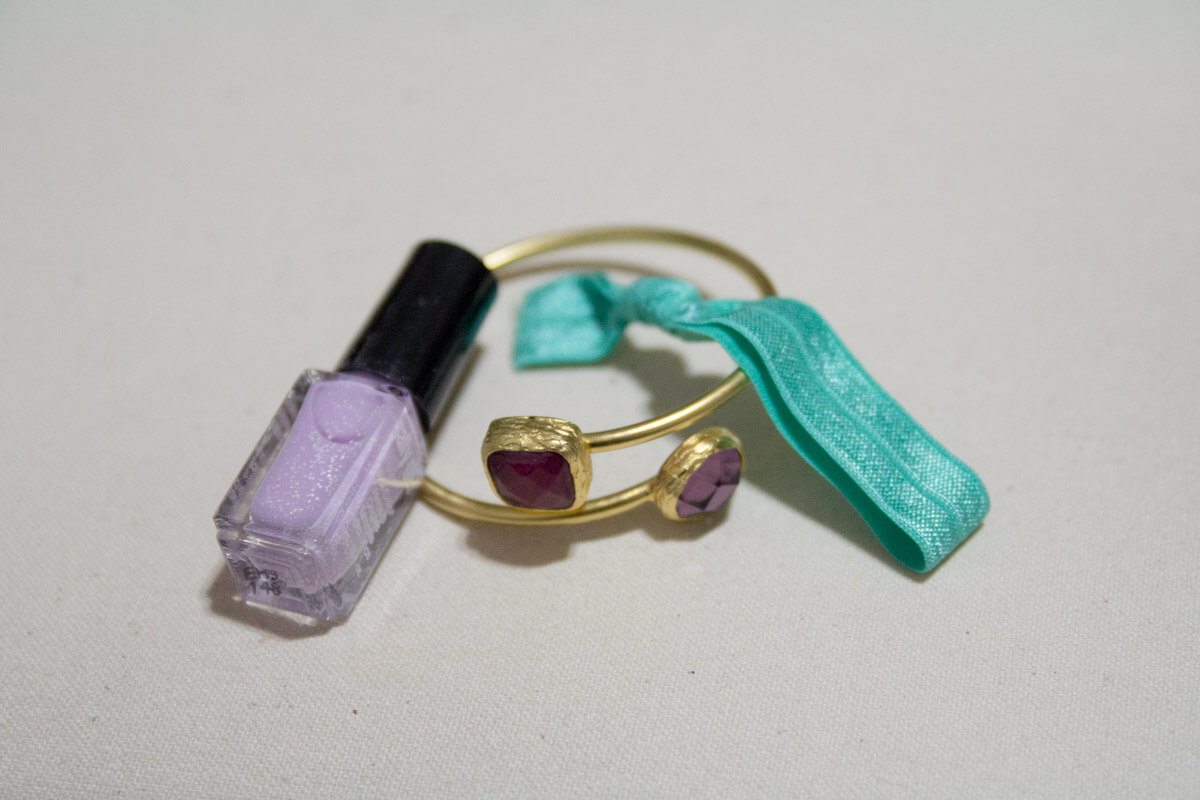 I'm really happy with this bangle! I encourage you to subscribe to Helene Jewelry if you want to try out some new jewellery. It is only $25 a month (to the United States) and $30 elsewhere in the world. You get a discount if you choose a three-month or six-month plan, and you can use the code SHINE2015 to get a discount off your first box.
I'm happy to say that as a person who is picky with their jewellery, I have been most satisfied with the quality, uniqueness, price and customer service of this box compared to other jewellery boxes.