Review: Helene Jewelry Subscription Box (August 2015)
I received my August Helene Jewelry box on the first of September.
This time I got the same bigger, and more shallow box – I actually prefer this to the smaller box I used to receive. When I opened the box there was the welcome card, but like last time, there was no description of the bracelet. I think I might take a leaf out of Tara's book and name the bracelet myself. :)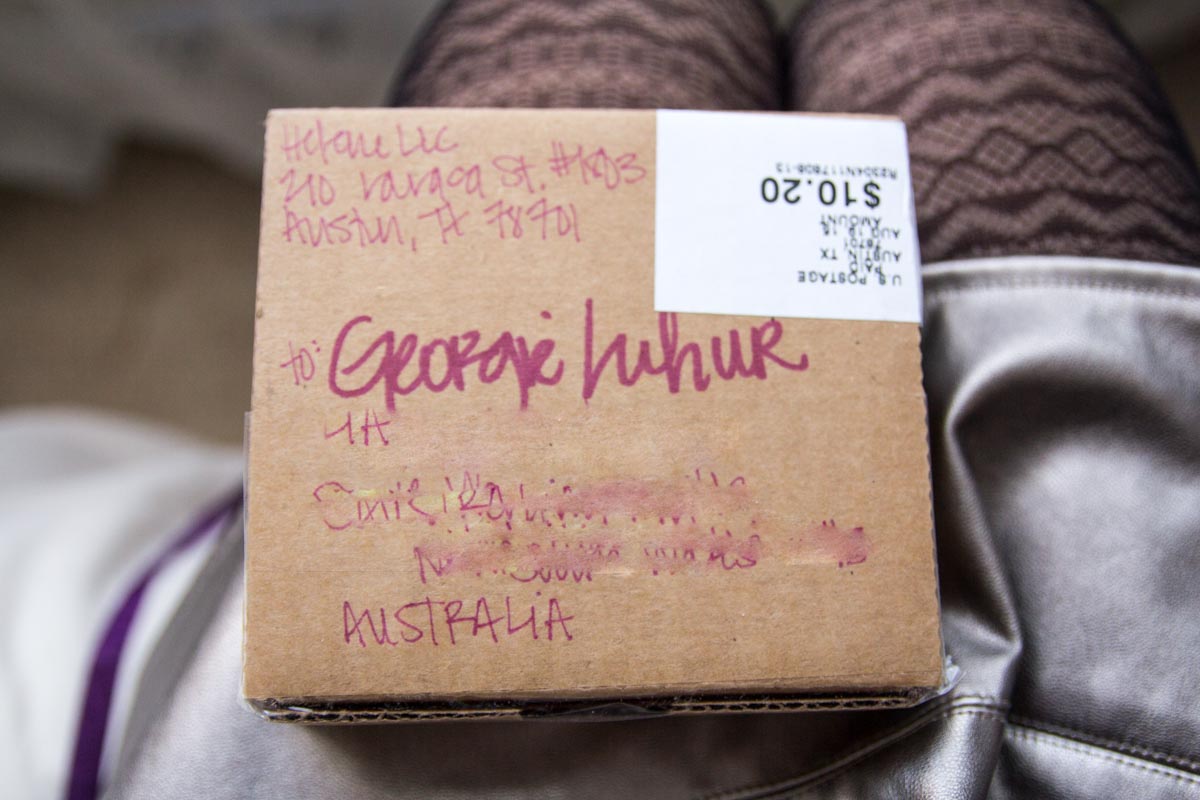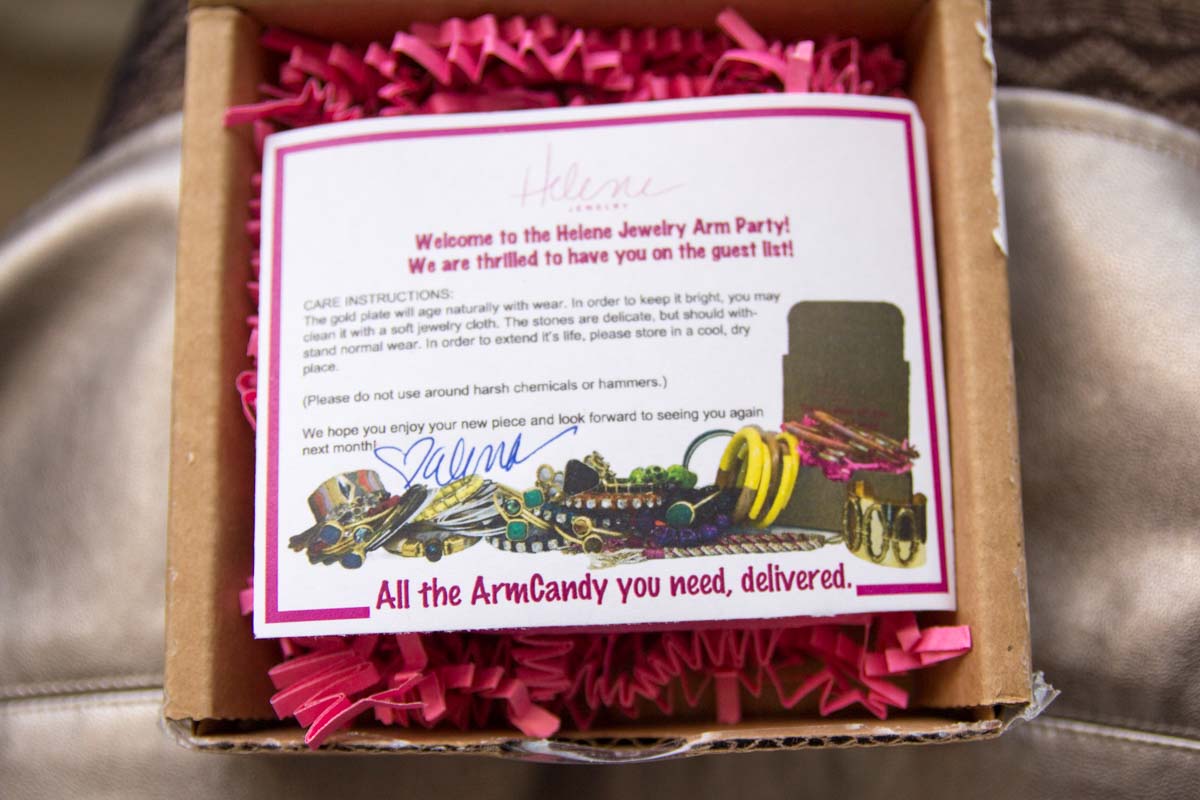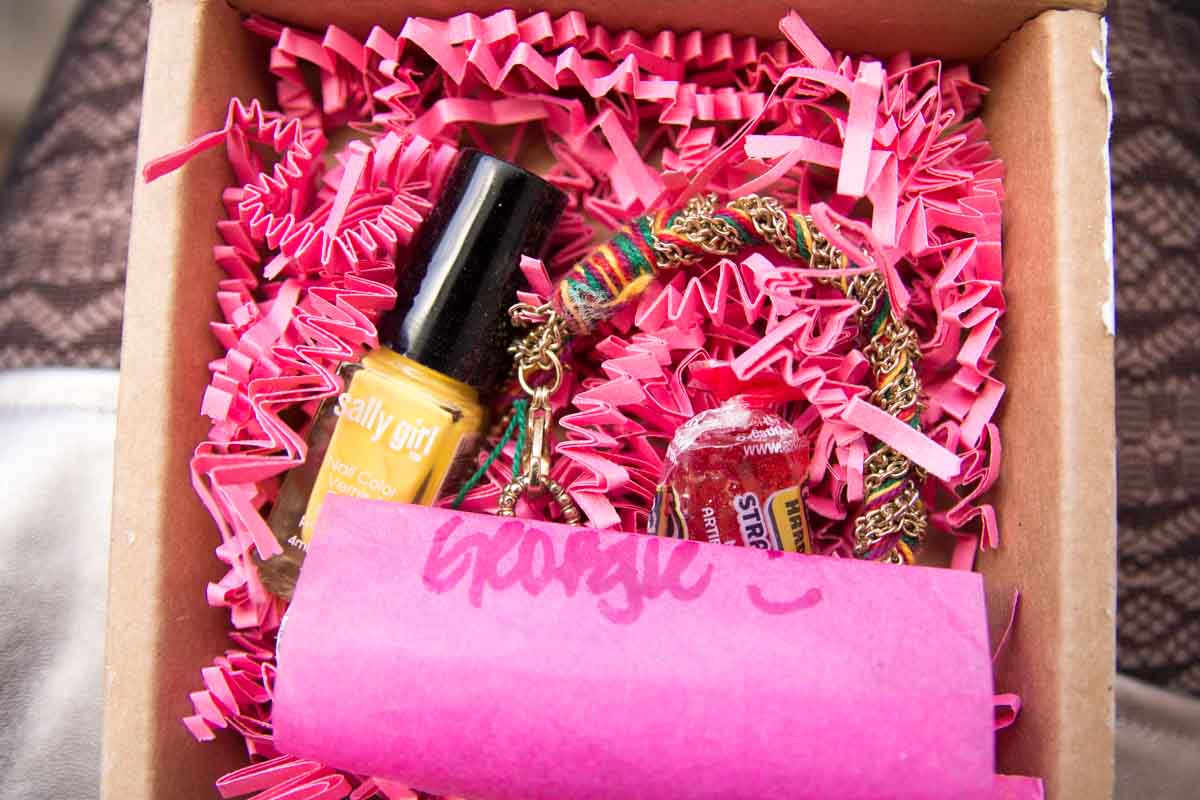 I got a cute little emery board/nail file in the box, which was wrapped in hot pink tissue paper possibly to protect it from getting damaged or from damaging anything else in the box. The other goodies included a Jolly Rancher candy and a small bottle of yellow nail polish.
The bracelet itself was a bit of a surprise. Not something I would usually wear and I didn't like the colour combinations that much but I was keen to try the style. It's a friendship bracelet which is also available on the Helene Jewelry website in different colours. The colour I got is not available on the website. The threads on mine are red, yellow, green and purple.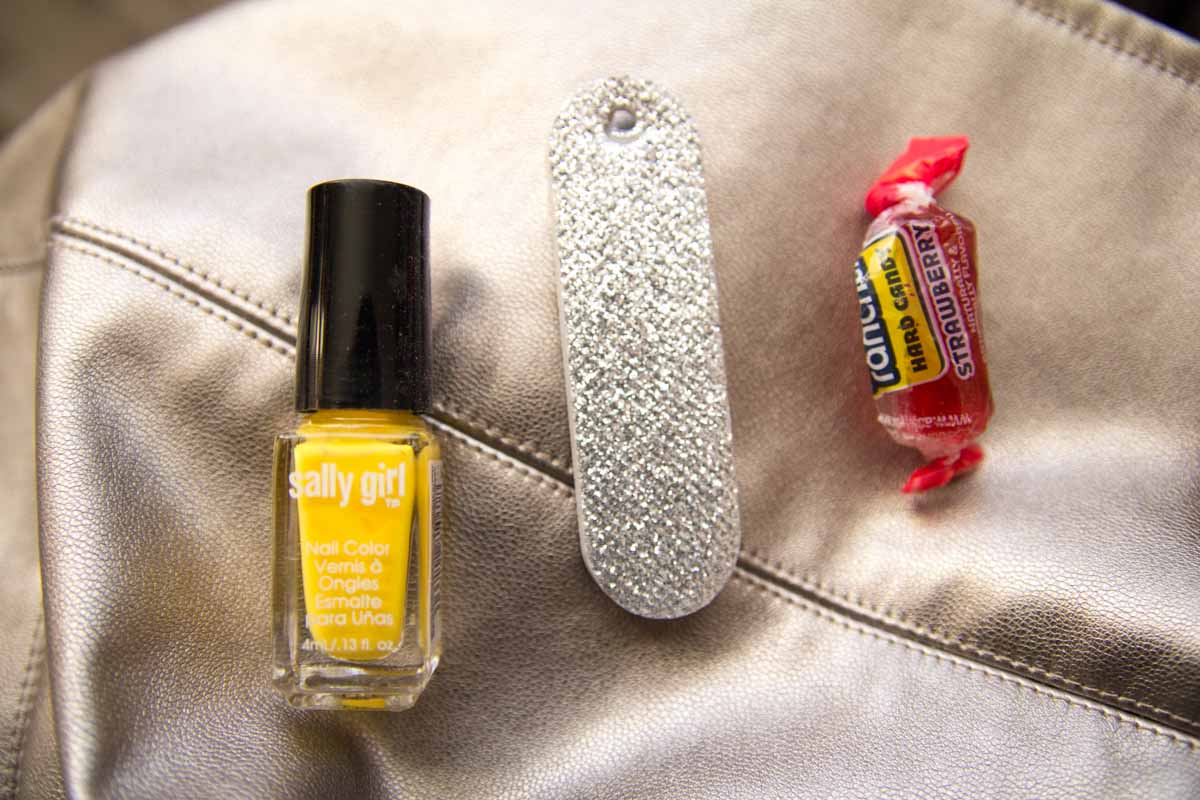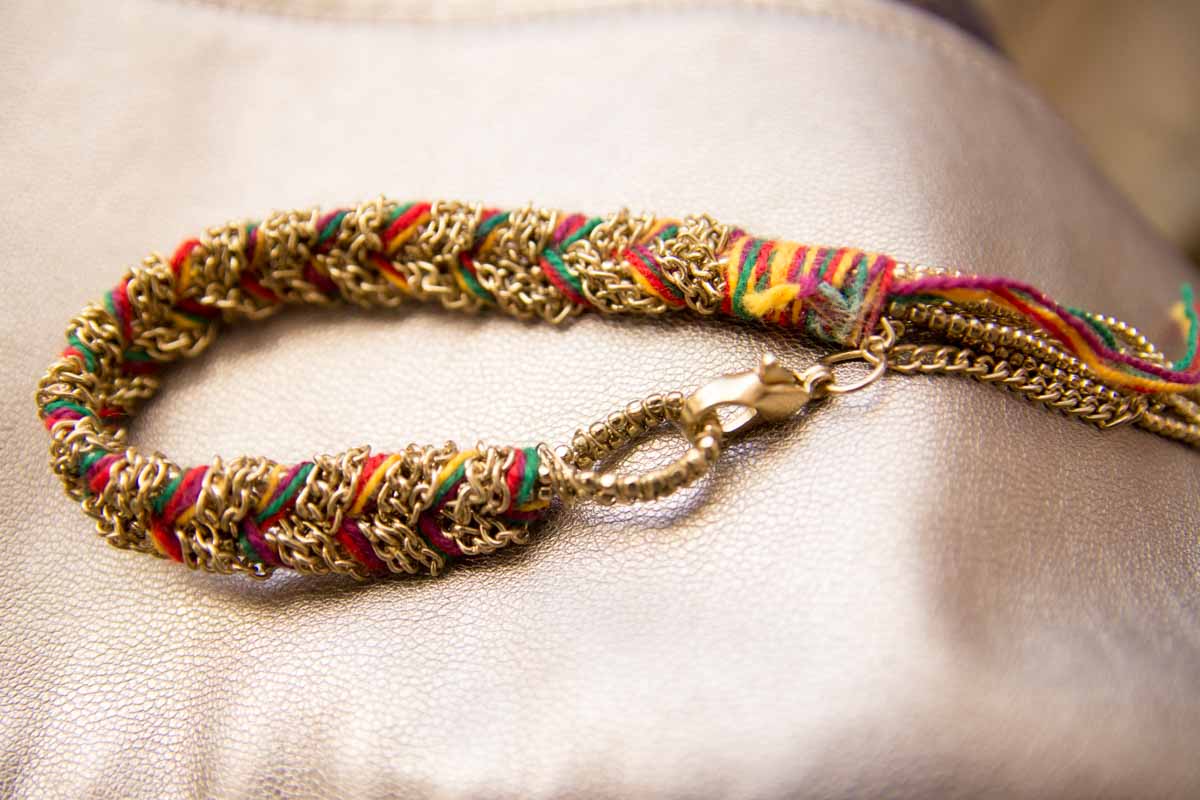 Here are the details of the product from the website:
Gold plated over brass, cotton/poly threads
Bracelets are 7″ long, 1/4″ thick, and 3/8″ wide
Finished with a 2″ tassel and a lobster clasp
My bracelet must have been customised because it fit my tiny wrist perfectly, and it's only about 5.5 inches. I appreciated the friendship bracelet because I did once own a bracelet in a similar style (threads only, without the chain) and I loved it but lost it somewhere at school. The bracelet reminds me a little of Bob Marley so I am inclined to name it the One Love bracelet.
I wore the bracelet with my outfit on Wednesday, which was a black long-sleeved top with the metallic skirt I wore in Fashion Friday: Winter Rose. I thought the gold colour fit quite nicely with the metallic. I took some of the photographs on my lap, so you can see the skirt colour.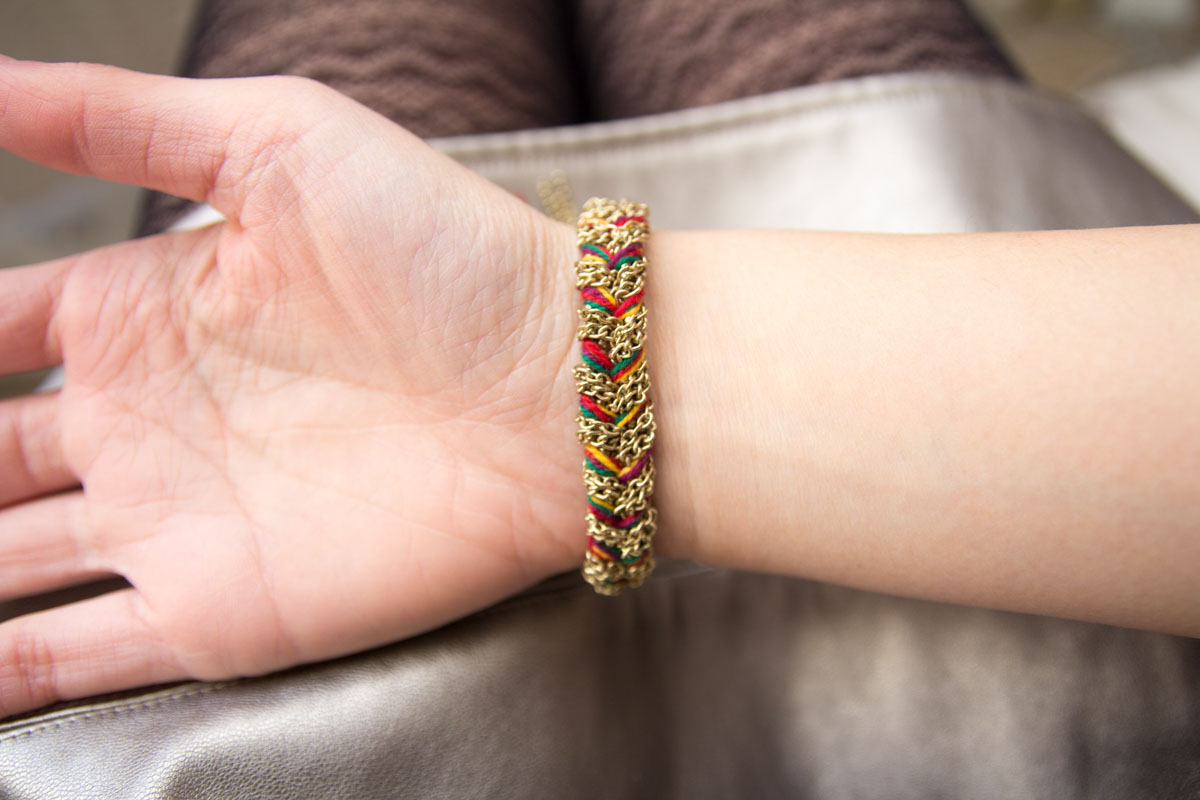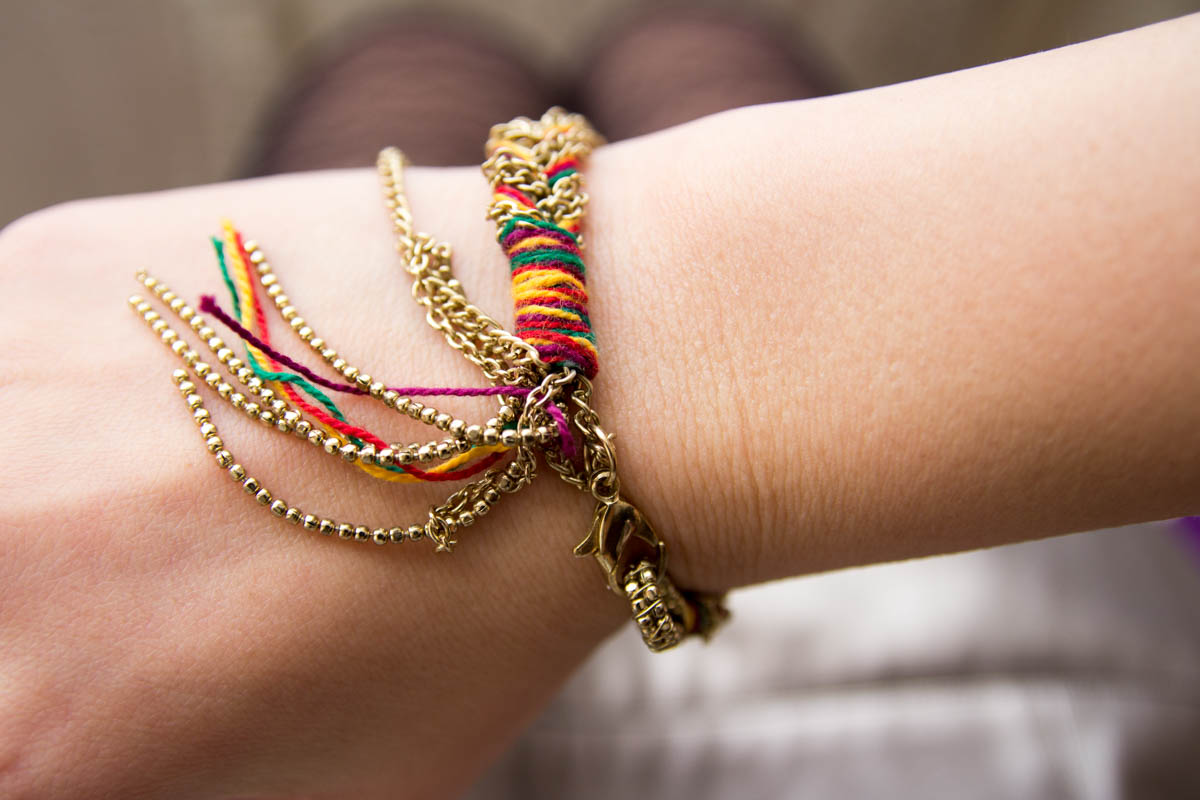 I like the style of the bracelet and it's nice how the chains are braided with the threads. What I don't like is that the chains and their ends can get caught on delicate clothing and tug them. As someone who wears pantyhose a lot, that's something I have to watch out for. It's not in my favourite colour either, but when I look at the other friendship bracelets available on the website, I think I like mine more than any of those.
Helene Jewelry ships for $25 a month with $5 shipping outside of the US. Though the subscription focuses on wristwear, you can customise your box to include earrings and necklaces too! Use the code SHINE2015 to save 15% on your first box, and save when you subscribe for 3-month or 6-month terms. :D