Fashion Friday: Winter Rose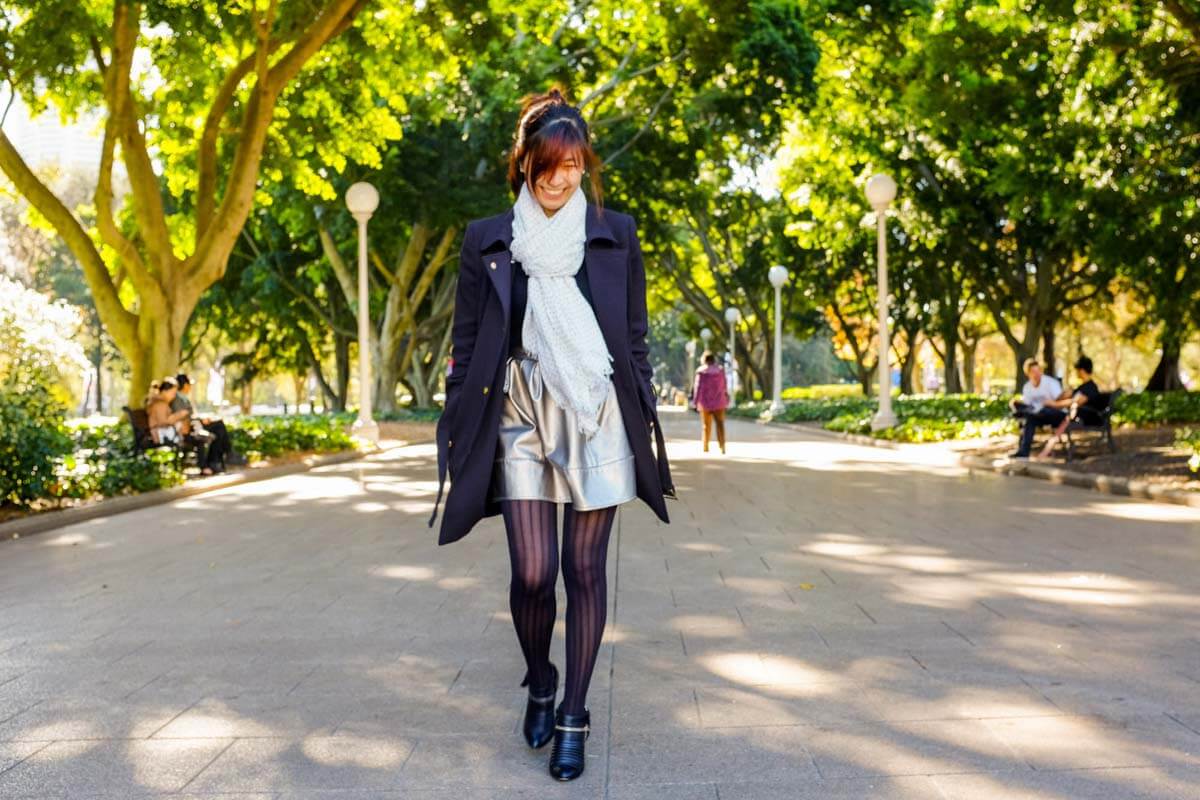 Happy Winter! Winter in Australia brings big coats, scarves and a bit of fun here and there. I don't think I have featured any of my long coats in any Fashion Friday posts, but I have featured my new one here.
I was pretty settled on not getting a coat this winter, or at least for a few winters to come. My aunt gave me a really nice light grey coat about half a decade ago when I visited her in Indonesia. It was too small for her so she gave it to me, and I wore it a lot. The only downside is that it's quite heavy, so when I bought this coat, I was quite happy with how light it was.
I bought it from Myer, and at first I spotted it in a regular version, before I found the petite version. Because of my small frame I really embrace ankle jeans and petite sizes. I didn't like the coat at first because of the gold buttons, but when I saw the petite version, something just begged me to try it on. I tried on a size up, thinking I wouldn't find my regular size 6, but when I went back to check, it turns out there was one. I'm pretty happy with the price too – it was marked down to $150 and my mum got a bit of a staff discount on top of that.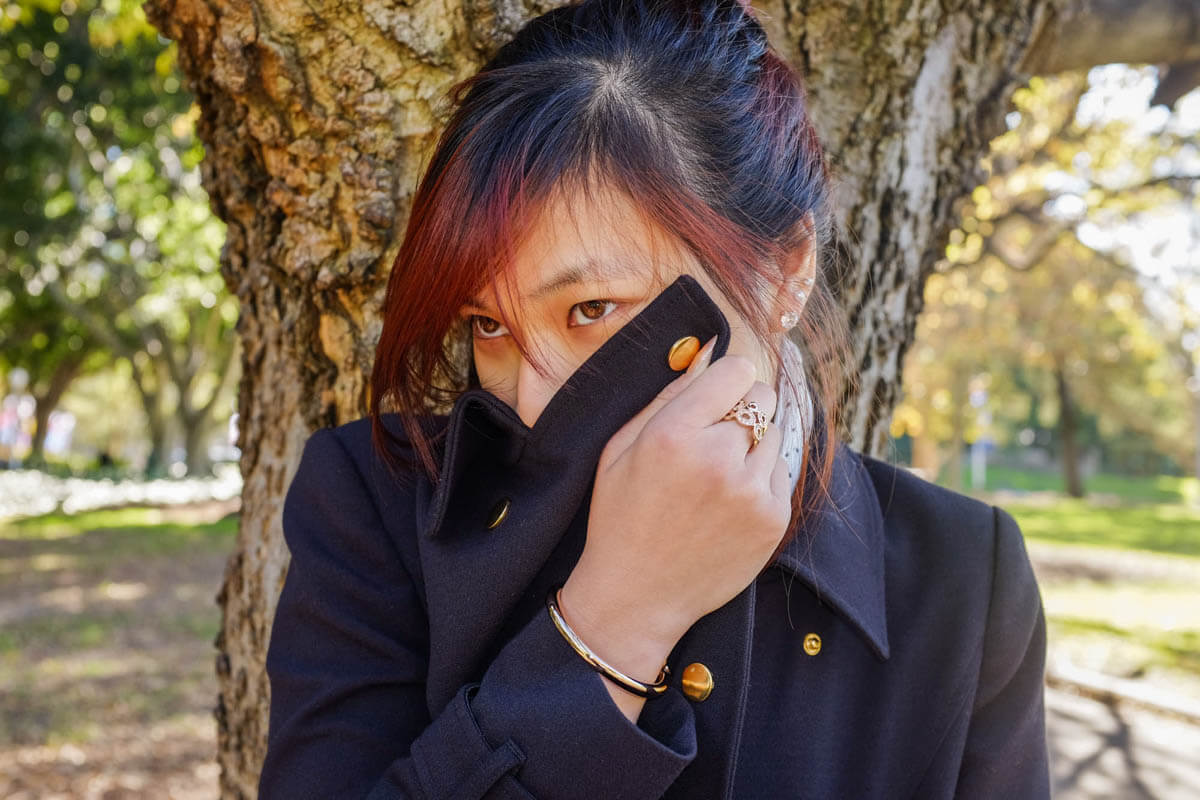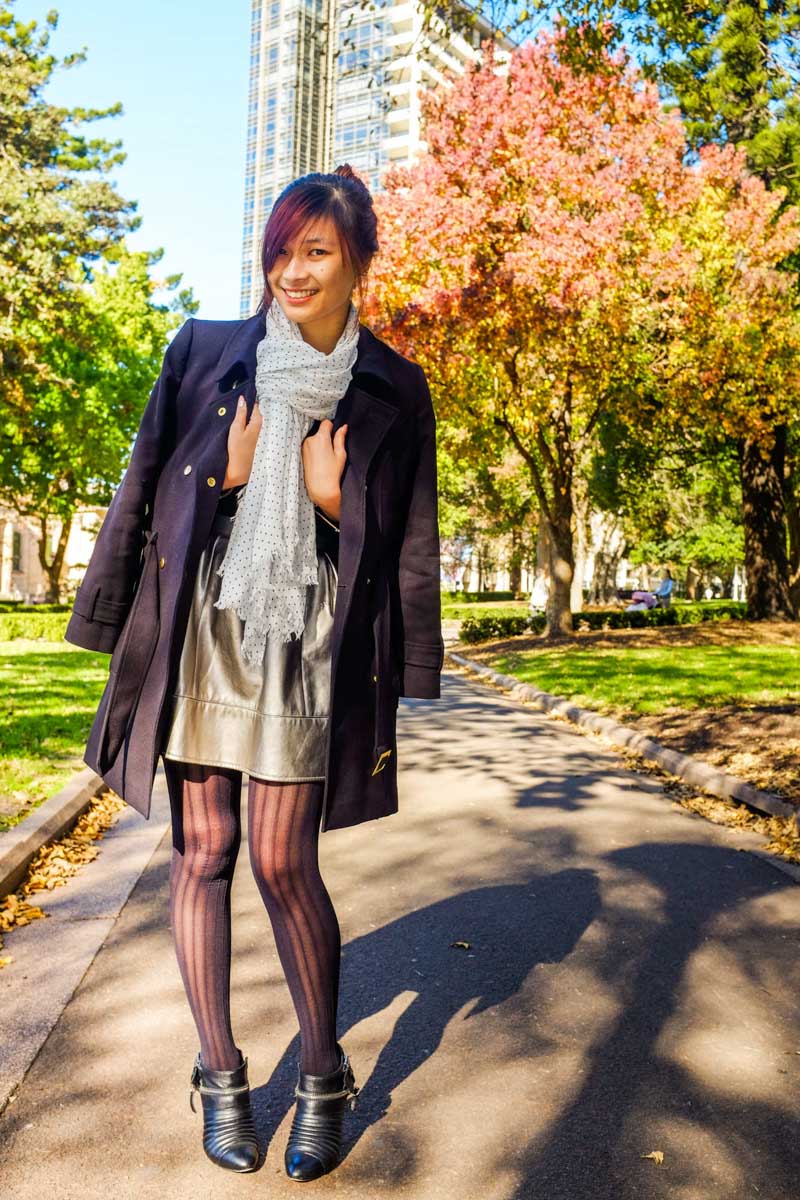 While I didn't like the gold at first, I have been warming up to gold jewellery lately, so I didn't mind. I used to dislike gold, but that was probably a phase I had as a teenager, because I had to wear real gold earrings all the time as my ear piercings were very prone to infection. I treat them better now and steer clear of cheap costume jewellery. :)
I guess I changed my mind about rose gold jewellery too. I used to think it was ugly, but I now think it's quite classy. Maybe I'm just growing up, haha. There are some rose gold pieces in this outfit that I'm quite happy to show off.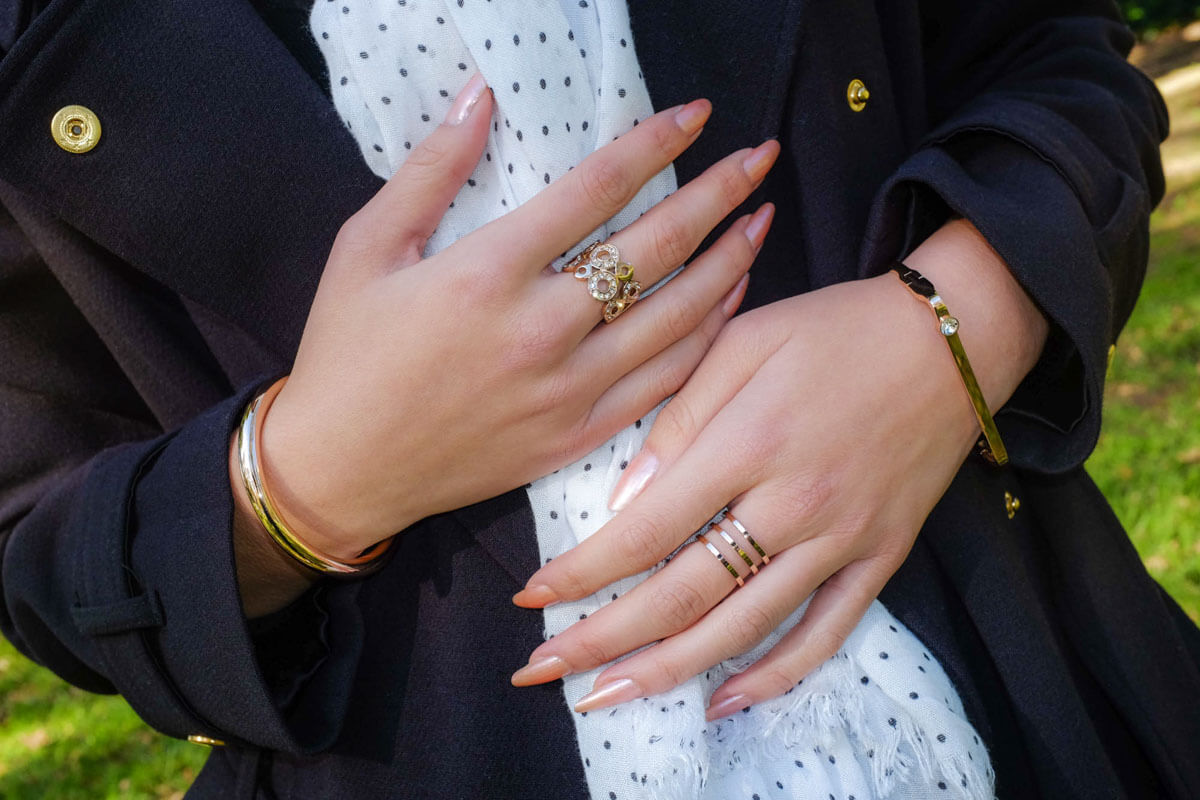 I got the two bangles from The Peach Box. I like the big one (the Modern Latch Bangle) but not as much as the slim one (Slim Bar Bangle). I wore the two in contrast: one being an industrial, bold piece, the other a delicate, girly piece. Same goes for the rings: one being a thin architecture-inspired piece, the other one having round circles that make a subtle statement. The one with circles was given to me for my birthday – thanks Mum! I think she must have picked up on my recent liking for rose gold. Hmmmm. ;)
The large crystal earrings are rose gold, too, also from The Peach Box. I really love the pieces on that site and make sure I leave reviews when I buy a product, not just because I'm sure the company appreciates it, but to help other potential customers. I buy from them very often, which gets me a few discounts here and there. As for the other pearl earrings, they were just a cheap, lead-free lot from So Good Jewelry.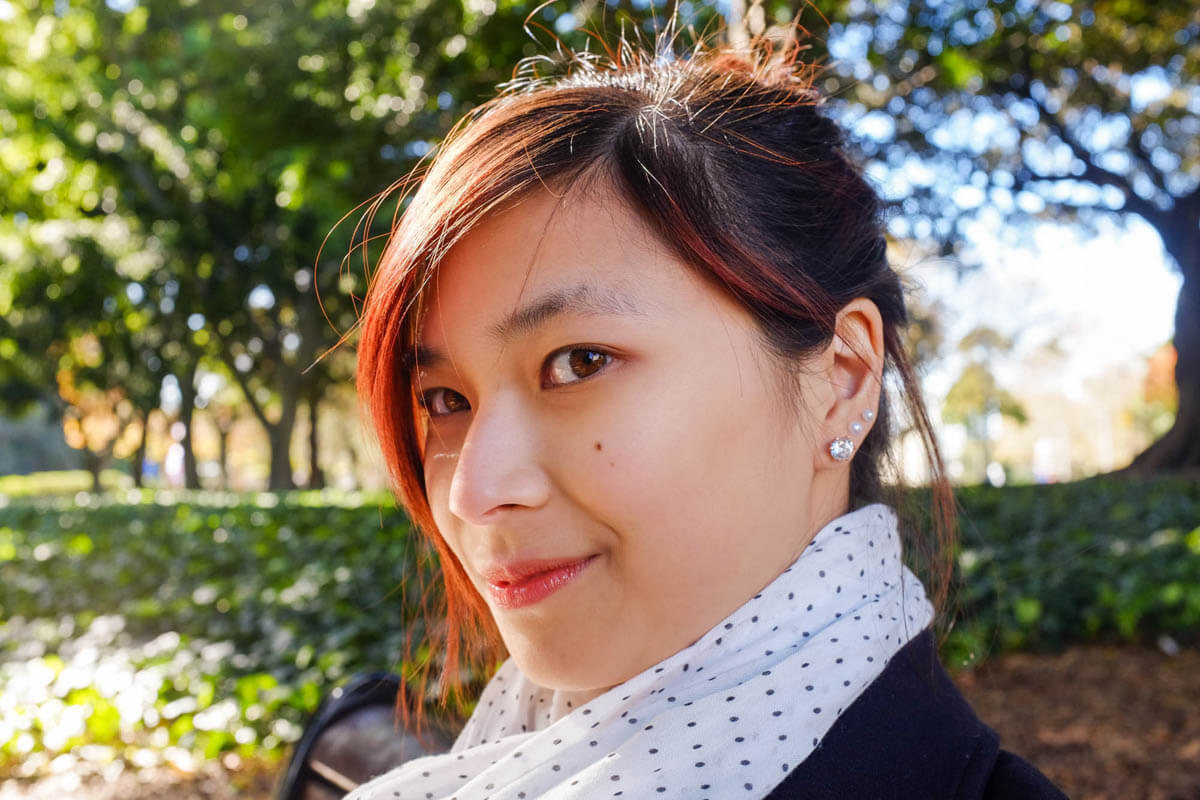 The top and skirt are wardrobe pieces I've had for a while. I thought the metallic bronze of the skirt went well with a simple black top. Because the skirt sits on the waist and really flares out like a tulip, it only goes well with something tight and tucked in. I refuse to team the skirt with flat shoes because it makes me look short – so heels are where it's at. And I didn't think knee-high boots would suit the look, either, because I want my legs to look elongated here.
The stripe-pattern tights might have been too much – again, you really want to keep things simple when you have individual pieces that stand out – but I didn't have any good plain ones at the ready. They were the next best! And I suppose the vertical pattern adds height, too.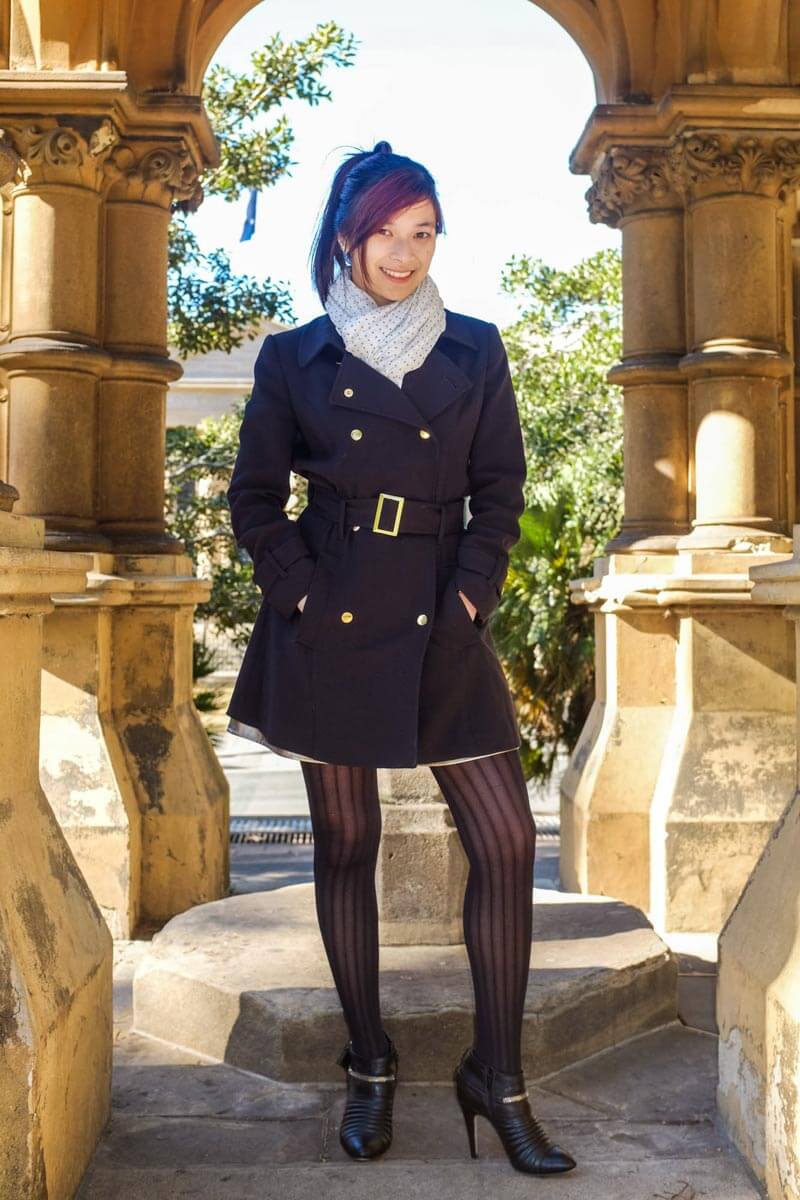 I featured the boots in Peach & Pearl, and although I wanted to wear plain boots, I don't have any plain ankle boots… and I didn't feel like wearing my busted Jane Debster ones that have appeared in so many Fashion Friday posts. I knew the silver details wouldn't agree with the gold of the coat details, but after mixing it up with rose gold jewellery and a different metallic shade for the skirt, I thought surely it wouldn't be a problem at all.
The scarf is from one of Popbasic's collections. At the time, I asked for a necklace to be replaced with the scarf because I wanted a long, simple scarf. Boy is this scarf long! And wide, too. It's almost big enough to be a blanket, but it's nice because it means there is more material to wear around your neck and keep you warm.
Although I recently had my hair trimmed, there are days I just really, really, really don't want to leave my hair out. I decided to do it up in a half-bun here, using a couple of pins. It was a windy day, so I think I chose the good option. There is also something about having loose hair teamed with a scarf that really bugs me. It might be the fact that the scarf bunches up your hair if you choose not to have your hair under the scarf.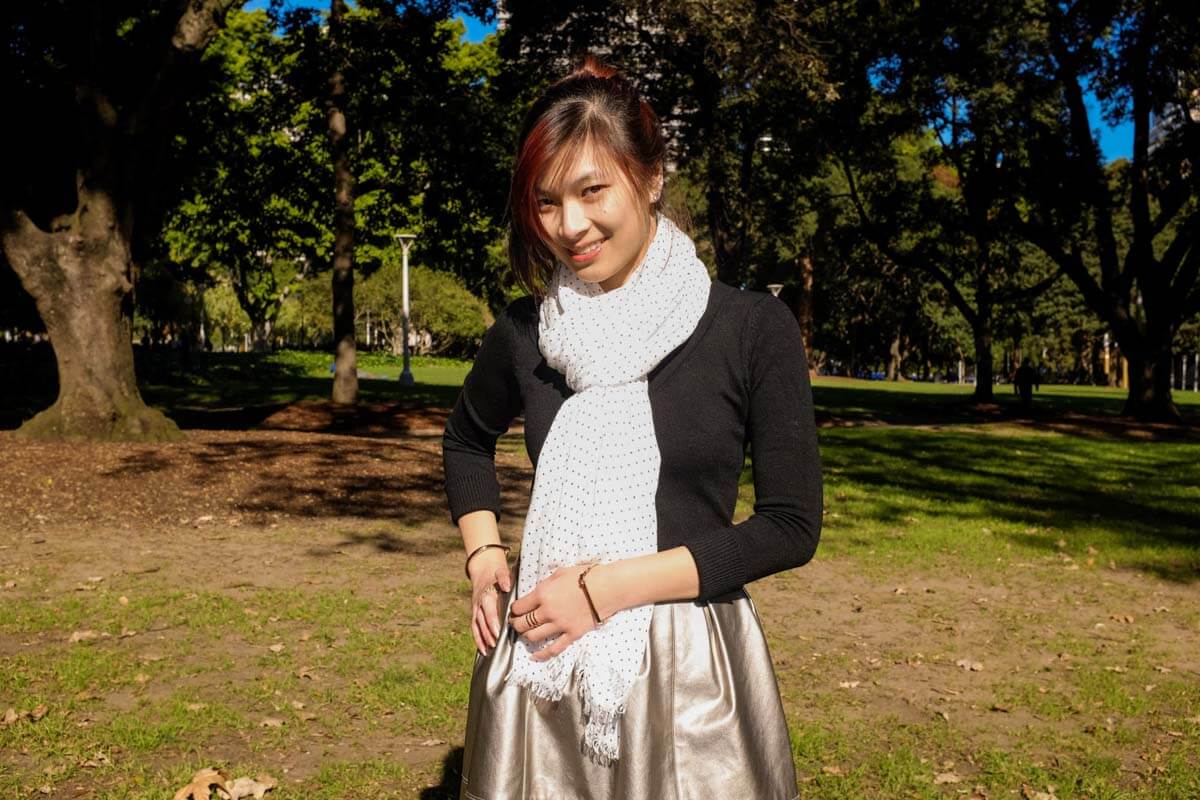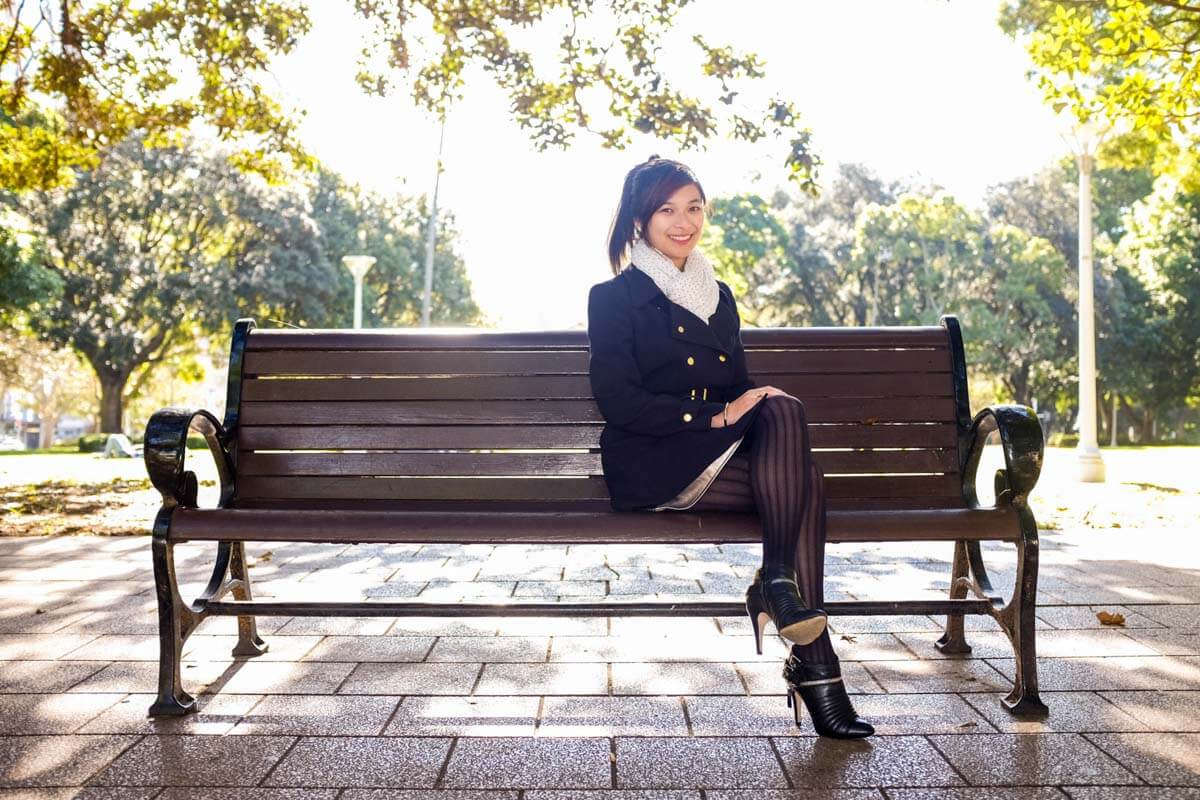 I have decided to add outfit details in each of my posts, sometimes I don't remember where I got certain pieces from but I will include the ones I do remember.
Outfit details
Coat: Basque Petite (available at Myer)
Shoes: Wayne by Wayne Cooper (available at Myer)
Scarf: Popbasic (Petit Dot Scarf)
Wristwear: The Peach Box (Slim Bar Bangle and Modern Latch Bangle)
Rings: The Peach Box (Tribal Triple Stack Ring (Thin)); Bevilles (circle bubbles ring – gifted)
Earrings: The Peach Box (Classic Crystal Stud in Rose Gold); So Good Jewelry (pearl studs)
Nails: Maybelline in Peachy Keen
Photography by Seb.