Reflections
Today I was doing my assignment on reflective practice. It's a bit of a dull subject in terms of communication theory, but when you relate it to media and recent news, it becomes very interesting. For my research project I formulated the question How do people with personal blogs reflect on their writing?
Since the topic has something to do with blogging, which I really like, I thought it would help to look at my own blogs and see how I have personally progressed. I searched around, and realised that my old blog is still around as it was on MSN Spaces. Comparing my blogging habits is really strange.
On this particular blog, my writing was just as contemplative. I also seemed to ramble on, and my blog posts were very long. I didn't really care, because I wasn't really writing for an audience. I feel like right now, I'm blogging more so for my audience, and they are a primary factor in my blogging style. I don't like writing long posts because I know that can turn people away – people don't want to read ridiculously long blogs (I knew someone whose blog posts were 6000 words…) or endless waffle. :O That said, looking back on my very long blogs, I realised they were very long and detailed not because I was waffling on, but more so that I didn't blog as often. Heck, I blogged about once a month. I had lots to say.
I think that over time a lot of us realise that our writing style changes. I'm looking for people to help me out with my research for university, so if you're up for answering a few questions about blogging, just let me know! :)
Looking over my posts made me a little sad; I was really going through a rough time back in 2007. But looking back on it also makes me realise how much I've changed and how much I've learned. Yesterday, I was feeling a bit sad – just crying for no reason. Perhaps I was very stressed. For some reason I wouldn't stop crying and I wasn't sure at all what was bothering me, but my friends cheered me up, and James really cheered me up with a chat on the phone. ♥️ I love phone calls.
Yesterday James and I went to eat at a Japanese restaurant called Poporo. We were up for trying something new and didn't really have any idea what to expect. The chairs were big and red and comfy, and the service and food was good, so that experience turned out to be a good one. /drool
James ate half my rice, and I ate his miso soup. Despite being a fair trade, I ate the lesser portion… because I'm known to have a small stomach and to barely finish meals I buy at restaurants. As James put it once, "Makes dates cheaper". /bounce I have to admit, it's true. :P
James bought me a jar of cute fake pills. I don't know why it was so intriguing, since I am usually only amused by little things for a short period of time… but you can open these pills and there are rolled up pieces of paper in them, on which you can write notes. I really liked the idea. /eee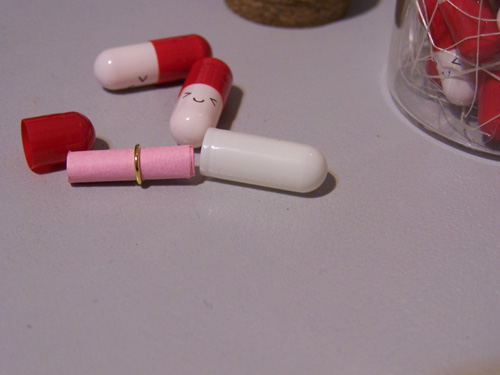 Today I watched The Piano. It is a haunting movie, but it is really, really, good. It's so well done, and really hits you. I was watching it in Sebby's lecture for Screen Studies, just because I thought I should take the chance. :P I managed to write half my media report in that lecture too. The movie is really good though; I would highly recommend it. I found it very moving and surreal.
Lots of people just jump into their friends' lectures, especially when they're in huge lecture halls. It seems to be the norm; attendance isn't marked and because there are usually many people, you wouldn't look out of place. :B