My favourite ballet: Swan Lake
Swan Lake is undeniably, impeccably, absolutely, ultimately, without a doubt, completely and totally my favourite ballet. Everything about it, the music, the dancing, the story, the costumes (yes, the costumes!) are just… ugh, breathtaking. So it was truly a wonderful experience when I was able to experience watching Swan Lake last night with James and my friend Dom. I don't think it took much convincing for James to come along, which is really great because it usually takes a brick and two shovels to get him to accompany me to see a live band. But I know that he appreciates the hard work that goes into a ballet performance, likely because I am so passionate about the dance myself. There was no need to convince Dom — he was exposed to the dance through his years of photography and he dearly loves it as well.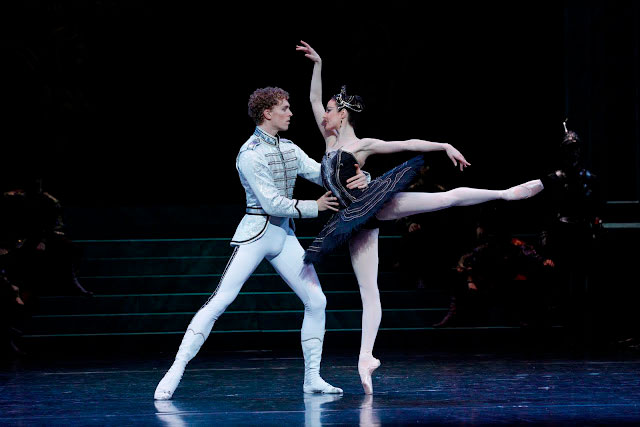 Naturally, watching Swan Lake got me ridiculously nostalgic and it made me want to dance again, I wanted to badly to pull out my pointe shoes and dance on my toes, and grace stages worldwide with my dainty frame and perfect technique… yeah, alright, bit dreamy. It also happens to be the first ballet I have seen. You'd think that as a ballerina, I would have seen at least a few… but I always found it too expensive.
I did dance Swan Lake as part of our annual concert at my dance school, and it brought back so many memories. All the hard work that went into that, changing costumes and changing stages and what have you. I miss ballet oh-so-much.
Tchaikovsky also happens to be my favourite composer. His piece Sweet Day-Dreaming is one that I learned how to play on piano, and is one of my favourite of his shorter works.
Aside from admiring the dancers for all their strength and toned bodies, I thought they danced beautifully, and I appreciated all the hard work that must have gone behind everything. It was a shame that the Enmore theatre was small, and even four dancers in a row seemed squishy. I would have loved to see the performance on a larger stage, perhaps in the Sydney Opera House. The seats were not all that comfortable because they were movable, and the Enmore is a multi-purpose venue that has seen pop concerts and metal concerts, not to mention has an odd slanted carpeted floor (the slant makes it easier for people up the back to see, though).
Regardless, I was completely enthralled by the performance. I didn't quite like the dancer who portrayed the prince because I feel like someone else might have been a better fit, would have evoked his naivety in a less obvious way, and would probably have done a better job with various expressions. I guess I felt to some extent that a lot was communicated through the dancing rather than facial expressions, but I don't blame the dancers for the hell that was rising in their toes and might have taken from their concentration on facial expressions anyway.
Looking at some of the dancers who smiled during the scenes in the palace, I could tell they must have been used to plastering smiles on their faces until their cheeks hurt. I know that, I know. From my days of performing I remember having to smile, I remember in exams I received comments saying I needed to smile more. In my last exam, though, I felt so proud, because my performance was top-notch, and even got a comment about my smile I think? :) :)
It was during the Danse des petits cygnes that I was just amazed to the moon and back. It was one thing performing that myself, practicing it days on end that left me out of breath, because for a dance that clocks in at one minute thirty, most non-ballerinas would not even understand the pure torture that that dance is. It looks pretty, and it isn't that long, but it requires so much strength. I guess the dancers had it a tiny bit easy because the stage was small, but you can see in this video that it is so precise, and they have a much bigger stage.
But… yes. Honestly amazed. I am glad I finally got to see a ballet, and my favourite, too.