I'll Be There
On Friday night I went to see Hey Geronimo again, for the twelfth time. They are my favourite band, and I happily try to bring a friend with me each and every time, though I have seen them a handful of times alone. On Friday though, Tristan and my cousin Ricky came along. Ricky has been living with us for the past few months, I guess he's settling in alright. I don't talk to him much because he's studying and attending classes, so he hasn't really been the topic of many posts.
Anyway! Ricky was keen to come along this time after I asked him this time last year (during his short visit here) if he wanted to come see my favourite band. I thought, you know, try and get another friend (or in this case, family member) into gigging or at least get a taste of live music. He said he really enjoyed it this time as well, which is great to hear.
It was raining really heavily on Friday. In the morning it seemed alright, but by evening there was lightning and a bit of thunder. My mum phoned me before Tristan picked us up, and told us to please cancel and not go (she thought the rain would get to us). I freaked out and told her there was no way I was missing this. Which, in my words, is basically just, "Nooooooo!" Because no, I am not missing my favourite band for a rainy day.
It's funny, because countless other times I have missed bands just because of crummy weather, distance, trackwork, or being flat-out lazy. Dedication to my favourite band means that, yes, I will go see them even if it snows in Sydney, even if I have to travel two hours, or even if there is trackwork. And let me tell you, I did once see Hey Geronimo in pouring rain, which was coincidentally the same day I travelled two hours to Bondi to see them. A few months ago when I saw them, Tristan and I probably spent more time on the train than at the gig. Thanks, trackwork.
We went to the station by car, bought our tickets and got on the train. At the next station we were stuck for a while, and there was an announcement that a lightning strike had disrupted train signals, so we had to wait. Eventually, there was an announcement that the train wouldn't be going to the city anymore, and it would be going in the opposite direction, so we had to get off. At this stage there were no trains around and it looked like we weren't going to get anywhere by train any time soon. A poor girl was on her way to a party or something, and she was in tears over the phone to someone, saying she had no idea how she was going to get there because the trains were down.
Eventually we deduced that there would not be a train for a while, so we got back on the train to go back to the car. We decided to go to Strathfield, or at least somewhere there was a carpark, and then catch the train the rest of the way. I kept tabs on Twitter, to try and figure out where the lightning strike hit. By the time we got back to the car it was pouring. Turns out Strathfield had no station either, so we decided upon the next station, Ashfield. (Ashfield is one stop after Strathfield, but it has a carpark. Tristan said Ashfield was pretty much in the city anyway.)
After staring at my phone as Tristan drove, and we listened to random music on my phone through the car speakers, I realised that the lightning had hit Ashfield. A tirade of complaints about Sydney Trains flooded Twitter. People were stuck at Summer Hill, or stuck without a train, some people caught buses. (See, we considered this, but there was no close bus for us to take. One that would be easily accessible, anyway. Usually in the event of trackwork, train tickets are allowed to be used on buses.) At this point, the rain had stopped, but it didn't seem like the trains were going to beginning running again any time soon. We decided to drive all the way to the city.
It was quite amusing because reading through my Twitter timeline, I noticed that Hey Geronimo were stuck at Sydney airport, while we were sort of getting stuck in traffic along the motorway. Later we found out from keyboardist Chris that they were actually circling the airport for ages before they could actually land, before the pilot said that they would be landing in 50km/h winds. Dude, crazy. Drummer Tony also said that they had to spend over a hundred dollars on a taxi to make it to the venue.
That said, I actually was worried they might cancel the gig because of the weather. I am glad they didn't. We got to the venue before them, and I waved at them furiously when they walked in (we were eating at The Dip again), obviously happy to see them. But yeah, we made it there too, even though parking was $25 for the night. (Later I commented on how clean the carpark toilets were, considering the state of most public toilets, and Tristan said that maybe that was why the parking was $25. Because the toilets were clean.) So, yeah, I only caught the last two songs of the first band, Jenny Broke The Window, because we were very hungry and wanted to eat first. Fair enough, though, I still got some photographs. Here are my photos at Casual Band Blogger. I hate photographing in GoodGod, though, I really do sometimes, because it's so bloody dark in there. The atmosphere is nice, but it is just hell to photograph in there [insert complaint about how all the stage lighting was red when Hey Geronimo played].
Tom Lark, from New Zealand, who had supported the band throughout their tour, played next. His music was really quite good! Will make an effort to look into his music later. His bassist was quite funny, and pointed to a plastic container at the front of the stage.
"Our mate told us about these Emperor puffs," he said. They had just bought the famous Emperor puffs (just custard puffs really!) from around the corner in Chinatown, and were grabbing a few and eating them during their set.
"We only just got custard in New Zealand," said Tom. Or something along those lines, I don't quite recall. It was hilarious though.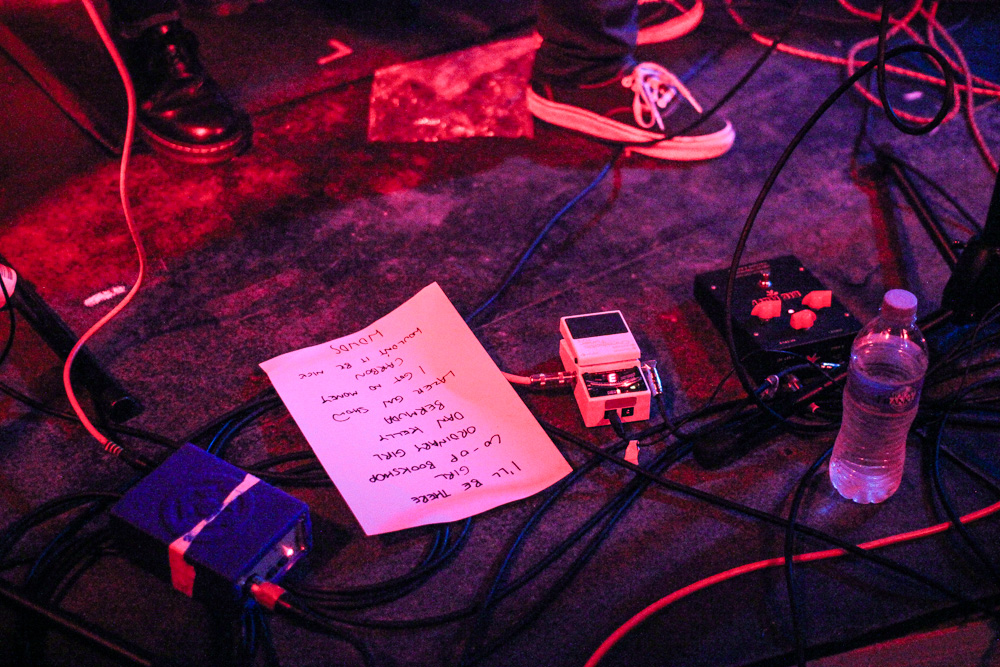 As usual, I loved seeing Hey Geronimo play. They played a few new tracks, and played Bermuda, during which the string of Ross' guitar broke. Pete said it was probably the "Bermuda string", which got a few laughs out of the audience. When Pete mentioned that the band would be going to India for a gig or two, someone yelled out, "Hope you don't Bombay!", which got a little scoff from Pete, followed by laughter, because it was such a terrible joke.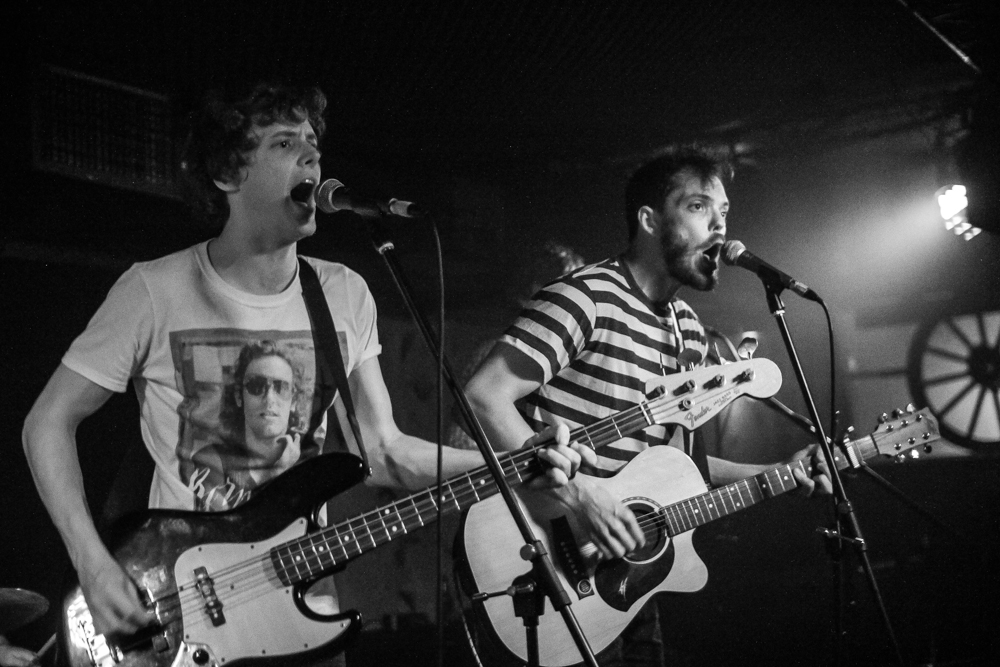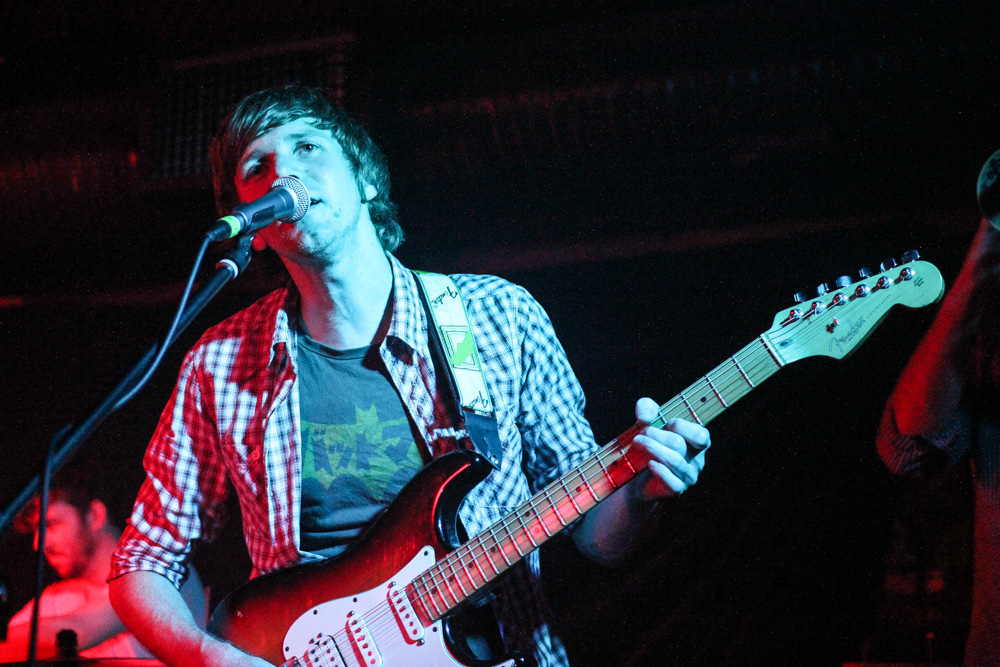 Ordinary Girl was a beautiful new track the band played, which was written by new bassist Bingers (Bill). I loved it. I thoroughly enjoyed it, it was such a great song. Someone called out for Dreamboat Jack by exclaiming, "What about the drummer in the band?"
Pete said, "Ah… every time someone asks for that one!" Of course, every time someone asks, it's the time they don't play it, haha.
Looking at the setlist before the band played, I was thrilled to see that The Beach Boys' Wouldn't It Be Nice was on it. I was more than thrilled, actually. I was about to pee my pants.
Disappointingly, though, they had to cut things off early and didn't have time to play that one. Pete expressed disappointment as well when I talked to him afterwards, and said that it was like one of the best songs they'd done. Oh well, next time I guess. Hey Geronimo have an incredible knack for covering songs.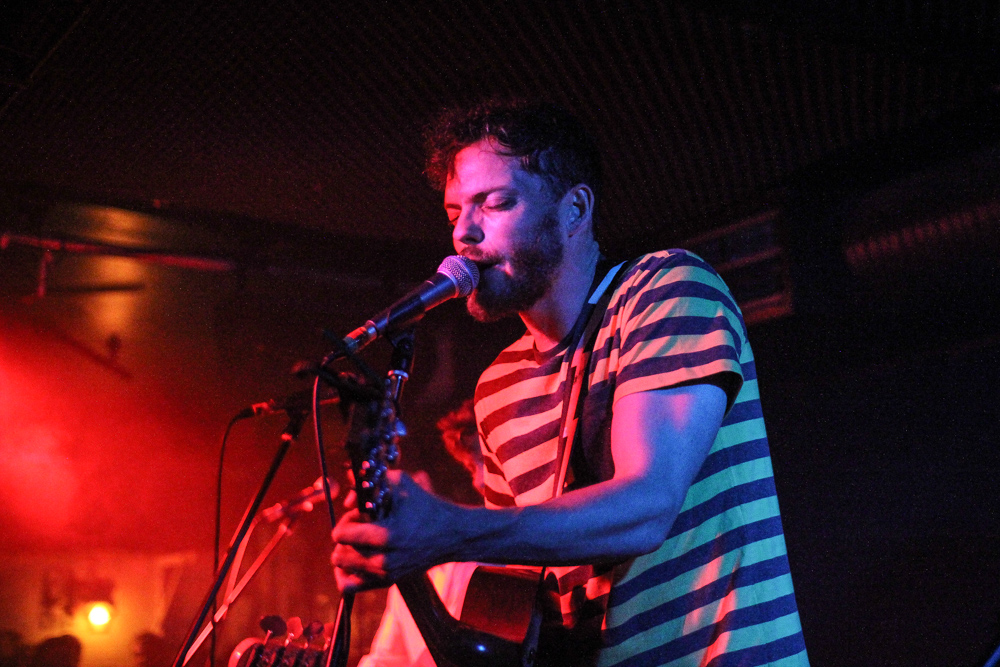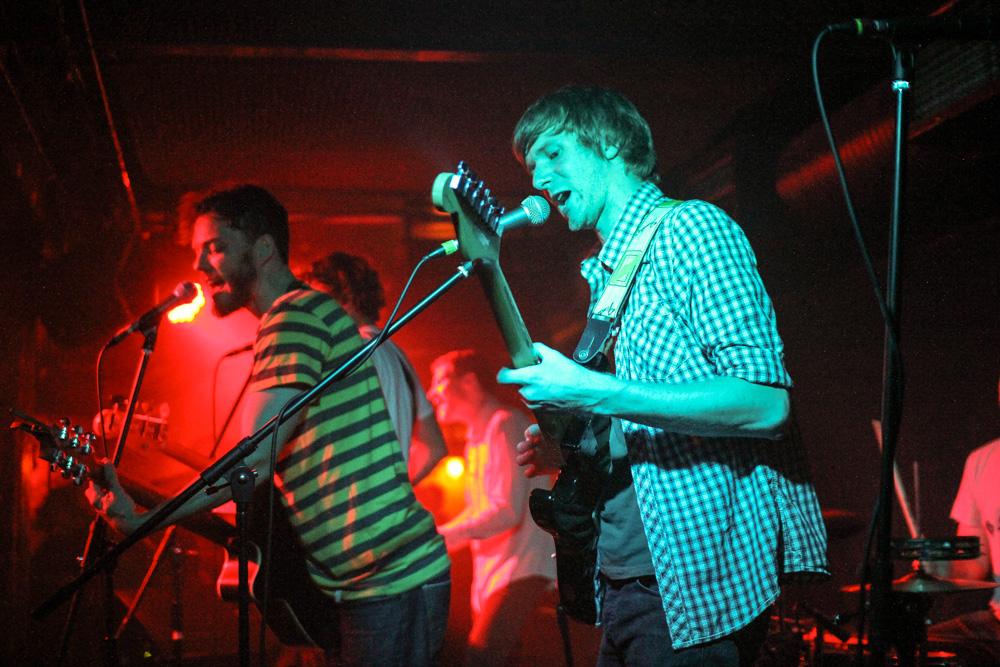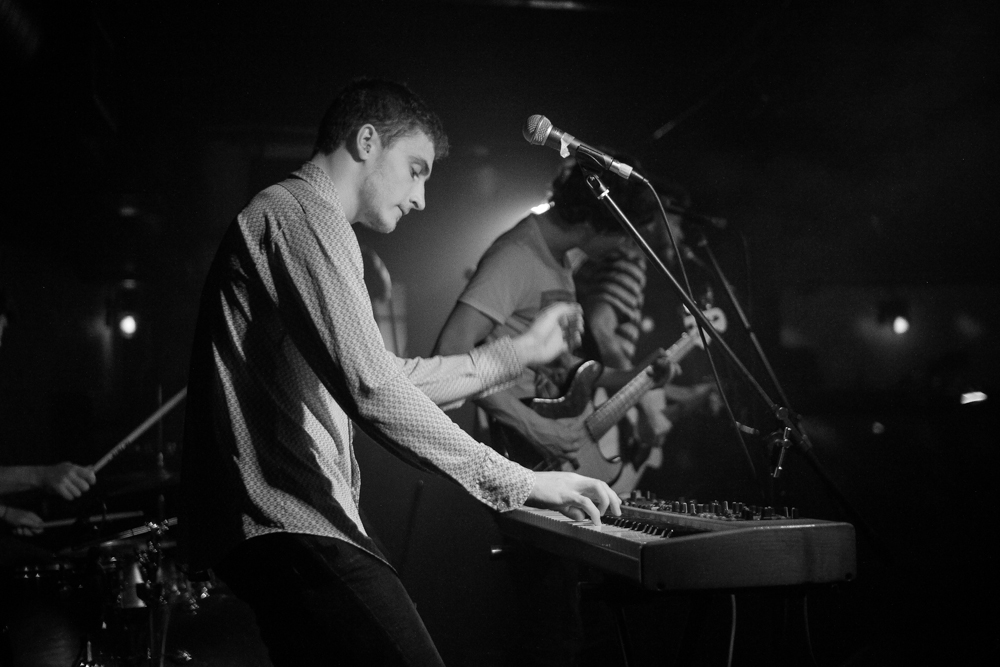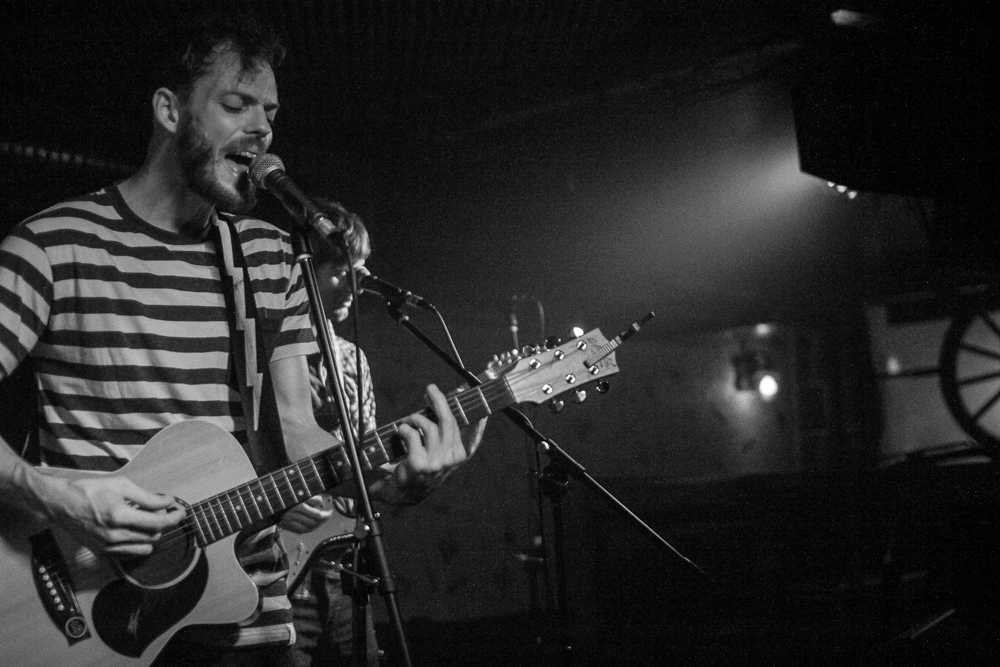 But yeah, of course I danced. No Hey Geronimo gig is complete without dancing. Tristan joined me, and I remember screaming out the words to… something. Something, whatever song it was, I knew all the words, obviously, but I was standing in front of Ross at the time, while he was playing his guitar, and I think he was overjoyed that I was singing and dancing like a maniac. Pete was talking to a crazed fan named Adrian, of course I introduced myself and we realised we were both crazy about Hey Geronimo and exclaimed "YES!!!!" when we realised we were both at the gig where Hey Geronimo supported The Presidents. Pete (unfortunately?) spilled the beans that I was their biggest fan and made it into one of the songs on the EP. Apparently, I'll have to find out in the new year which song it is…
Before I left, they made sure to give me a copy of their new EP Erring On The Side Of Awesome, at which point I exclaimed that I had a curious question for Bingers.
"How old are you?"
"Twenty-two."
"Yes! So am I! High five!" (He was pleased to hear this, and said something to Pete. Chris is also twenty-two.)
I bid the guys farewell, and Tony said he was going outside as well. "I'll walk this way with you guys. Fuck it, I'm not going to India," he joked.
And so in terms of distance, I said I wouldn't let it stop me from seeing my favourite band, but I'm not going to India just to see them… but there's still the mystery of a song, somewhere, that will keep me wondering a little bit.