Like Christmas
After watching Love Actually many, many times, it occurs to me how strange my Christmases are. They are usually spent with the family. Two years ago we went to Singapore and Indonesia, though, our Christmas was mostly in Singapore. Singapore is amazing at Christmas time.
I read Dayna's post about Christmas – "How do you know Christmas is coming?" Dayna lives in Singapore, and Australia's streets don't look so amazing. Here's a picture of my brother and I in Singapore two years ago. :)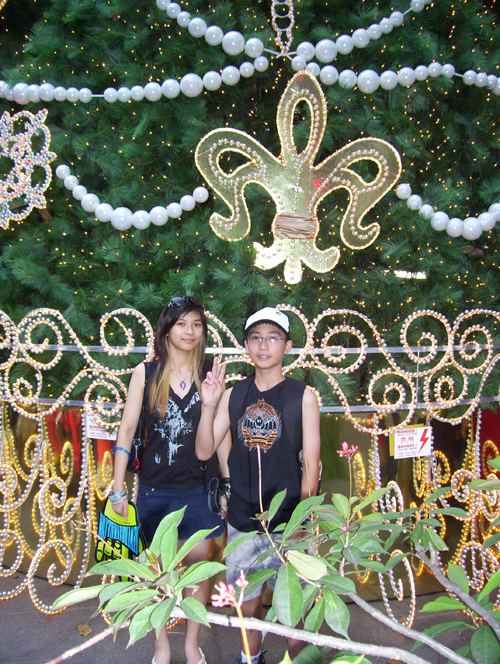 Today I saw a house adorned with Christmas lights. It had lights in the shape of Santa Claus, lights in the shape of a sleigh, and just lights in general. In the suburbs and towns here, there are some that are well known for having lots of houses decorated with Christmas lights. It used to be the norm for my family to jump in the car and just go for a drive to see houses decorated with Christmas lights. We never did that at all. But close to Christmas, you can see houses with wonderfully decorated gardens.
The streets are boring though. Inside the shops you can spot little Christmas trees and streamers hanging from the ceiling. And they usually play a lot of Christmas music too.
My favourite Christmas song is probably All I Want For Christmas Is You. /love
I want this Christmas to be a good one. It's going to be hard, because for years I haven't really done anything with the family or really had a good time. Christmas is a good time to be with people, but I think I've been rather detached these past few Christmases.
I've been rather stressed lately. It's just that since university finished for the year, I've just been swamped with my two jobs. I love my new job (a lot better than my older one), though. My older one (in the education centre) – it's just starting to be so hectic.
I know I'm not always expected to do the whole workload, because it's like a continuous cycle of work – marking homework, correcting it, recording it, getting it again the next time I go. And the girl who I work with is so slow. I swear, if she wasn't there, it would not make much of a difference. I pretty much have to work at double speed and until I get a headache, just to catch up with all the work. She hasn't been working there all that long.
But I dislike it. She goes off and does the work with less priority and the work that is easier, to avoid marking work she doesn't want to mark, and work that is harder and takes longer to mark, is all just left for me.
On a brighter note, Ryan (who's started a blog for this summer!) got our assignment in the mail today. /bounce We got a distinction. We actually failed one part, but who cares. We still did very well. :)
And he gave me an invite to Google Wave. :D Thanks Ryan! I'm still getting used to it. I'm not sending invites out yet; they're limited. Now I regret telling people. /um
Anyway. That's about it. It will take me a while to get to comments and such. Don't haunt on me. ♥️