Light-headed
My head feels so light. Yes, I know it's a peculiar thing to say. But today I got a haircut and had more than half my hair hacked off. :D James was sweet enough to pay for my haircut too. /faw My hair used to be pretty long, and I planned on growing it out, but being the indecisive person I am, I changed my mind a little bit on a whim. /um
I have dealt with long hair for many years of my life. From birth until the age of thirteen I didn't cut my hair, save a few trims of the ends to prevent them from being split. So for quite a while I had hair that was down to my knees. Yesterday, I decided that I was sick of having the side-fringe-and-layered-hair that I've been having since I was thirteen, and wanted something a little more edgy and choppier… shamefully, the likes of the character Ramona Flowers from Scott Pilgrim vs. The World (I'm referring to the movie; her hair is different in the comic books). My last haircut was in December 2009. I got my hair cut by the same hairdresser who cut my hair last year. He's really nice. A lot of hairdressers don't give a crap about what you want, and they don't ask you questions or opinions. I once had a hairdresser who gave me really weird suggestions!
Anyway, here's how my hair turned out. I tied the tails up at the front, though. :) (I was too scared to thin out the front tails, for fear they would be a lot thinner. My hairdresser said, "You look so punky!")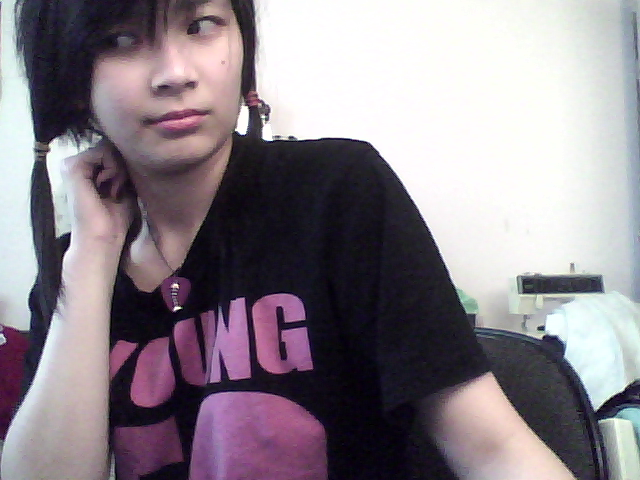 I felt like giggling. /hehe
I miss my very long hair, but it was about time those blonde ends were chopped off and time for a change. :D The hair isn't so heavy on my head as it felt before. I remember that a long time ago, one of my friends said that she should cut all her hair off so that when she weighed herself, she would seem to have lost weight. I thought that was a very good point.
Another friend of mine, in high school, mentioned that when we write in books, we are making the books heavier. Due to the ink being transferred from the pen to the book, the more we wrote, the more ink we were putting into the books, transferring minute amounts of weight onto the paper. She said that if we compared the weight of a new book to one that had been written in, the one with writing in it would be heavier.
I don't know why I found that so amusing. Sometimes I marvel at how much stuff I can put into one of my bags. I looked at the Bag of Holding from ThinkGeek.com, which is "bigger on the inside", and was amazed at how much I could possibly fit in it, until I realised that it wouldn't be that nice for my shoulder. Ahaaa…
I've got a bunch more to talk about, in terms of the website… but that shall be for another blog. :)