On learning how to cook
There are two types of people: those who love to cook, and those who do not. I will admit that I am in the latter bucket. Sometimes I'm lazy, sure, but sometimes the convenience of living near eateries makes it too easy to pay to have someone else to cook for you. There is no washing up to do. And after a big long day, sometimes the last thing you want to do is cook. I'm also of the "sometimes getting takeaway actually costs less" camp – in both time and money – but ultimately, cooking means you know and can control what goes into your food, which I think might be the most appealing part for me. 😊
I have to admit I'm a fan of pretty simple, not-overly-flavoured foods. Most of the time we do really simple cooking, and I honestly wouldn't call it "cooking". We buy prepackaged frozen vegetables and boil them up, grab meat from the butcher or fish from the fish shop, and cook it up in the oven or pan-fry. We wash and boil rice. I know how to fry eggs! We don't do a lot of cooking from scratch. But recently we've made a bit more of an effort, and our most recent endeavour has been making authentic Italian spaghetti bolognese. It's been fun and a lot simpler than I thought, to be honest. 😌 We followed a YouTube video by an Italian man featured on Jamie Oliver's YouTube channel. He just walked through the cooking; there was not really a recipe. So we used his video as a guide and adjusted the ingredients as we saw fit – that's why we tried it a few times!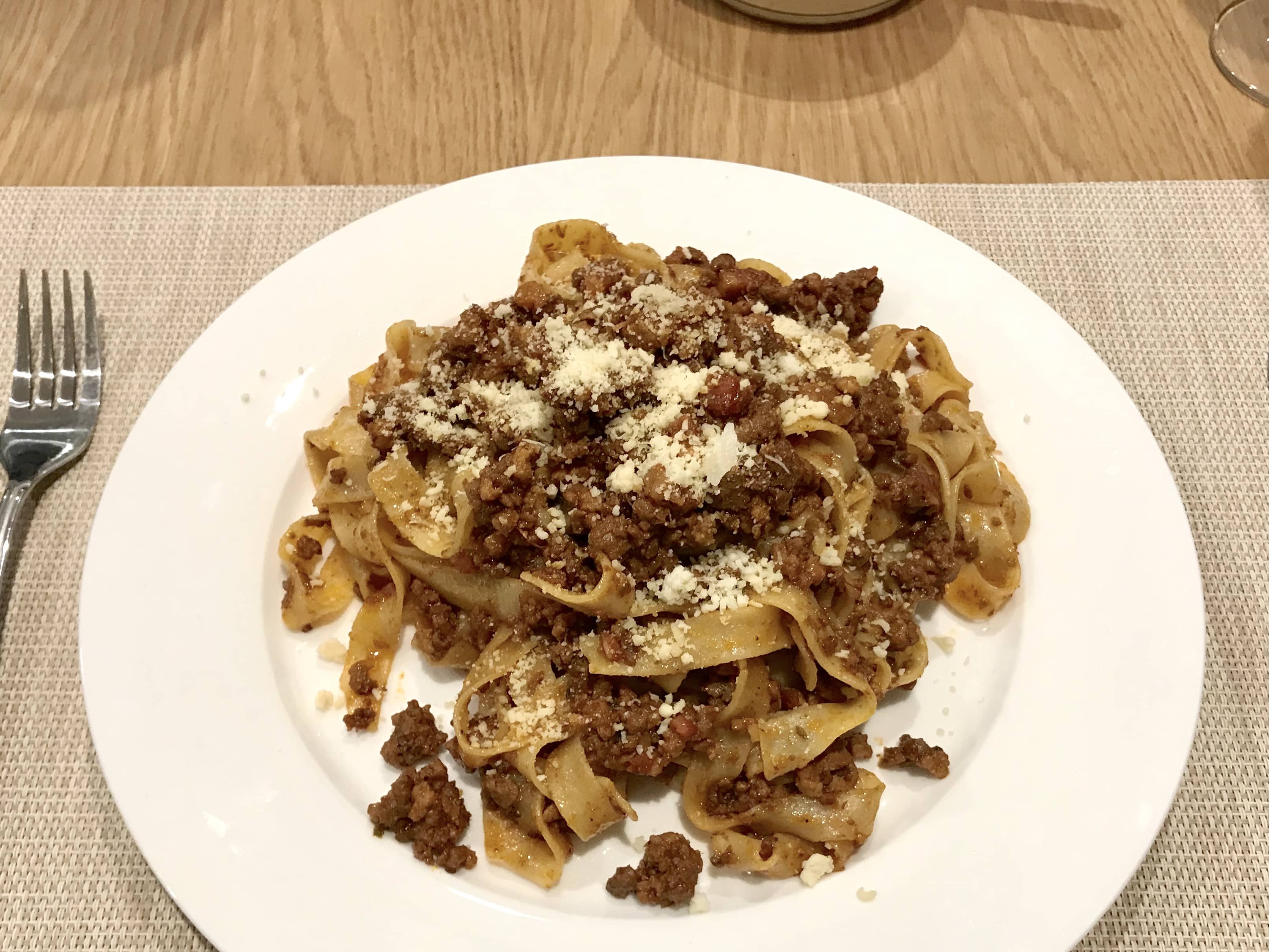 The first time we did it, it smelled so good, but we put way too much oregano and it tasted really strong. It also smelled very strongly of vegetable stock, so we opted for chicken stock and found it to be a little less pungent. Stuff like this made the process more fun, and when we realised we enjoyed it more than the Italian place downstairs… well… 🤐😆
Talking to people about cooking is a really strange thing for me. Many people believe it's an essential skill; although I think it is possible to live in this day and age and in most places without knowing how to cook, I think it is a very useful skill to have (even at a basic level). I've definitely been embarrassed by my lack of skill, but since giving it a try, I'm less intimidated by it, I guess. My biggest fear is probably cutting vegetables and meat; I struggle to chop and slice with correct technique. I've watched some videos about it, but it's definitely something that requires practice. I don't know why, but using my knuckles against the side of the blade feels very unnatural for me, and even though I know it stops you from cutting yourself, I keep thinking I'm going to. I watch with awe when professional chefs slice and dice extremely quickly.
Also, having a sharp knife to begin with is really important. One suggestion I've seen is to invest in sharp utensils like Japanese chef knives; avoid cheap knife blocks with a set of knives. We have a knife set since we bought it when we moved and didn't really do any research, but if we were to get more serious about cooking, then investing in a couple of very good quality knives would be the way to go. I've noticed that after single uses, the knife already gets blunt and needs to be sharpened before the next use.
I've been growing my nails in isolation… and now that they are probably the longest they've ever been, I've learned that they are completely useless in the kitchen. And probably more dangerous, too, since I have no clearance for my long thumbnail when I use a knife, so it's more likely that I will injure myself. 😆 So I'd advise against having long nails if you are going to be doing a lot of cooking.
When I lived with my parents, sometimes I would try and cook something, but I was also too afraid and I was not familiar with everything in the kitchen. I think that can be a real burden – if you are not comfortable with your own kitchen and don't know your way around, then it makes it difficult to feel motivated to even try. Growing up, I did help my mum in the kitchen a bit, but I didn't play an active role. I think that maybe I would have been more open to trying if I made an effort and showed an interest in where things were in the kitchen. I think the most exciting thing I'd made was a grilled salmon, cheese and watermelon (yes, watermelon 🍉) sandwich; I remember reading somewhere that the play on sweet and savoury was an interesting one, and since I liked all three components I thought I'd give it a go. It took me a damn many times to get the watermelon oiled up enough to be properly "grilled", I tell you – but many years later, I just didn't dedicate any more time to making that. Again, another case of practice being essential to cooking. I'm no professional, but I know that we'll all make many mistakes on the way, but it contributes to the learning process.
Cooking is a lot more than just presentation, I've learned. I think that people have this tendency to think that something that looks good is going to taste good, but that's not always the case. We know from the world's delicious cuisines that food from a family-owned restaurant comes out looking simple, but will be one of the most memorable dishes you've ever had. We know that sometimes a plate of food looks like a mess but is so full of incredible flavours that don't compete with each other. Being a part of the process of creating something that I'm going to eat makes it fun. Trying and experimenting to make something better has been the case with our spaghetti, which we've now made three times.
Even though we've worked on perfecting that dish, and it's really the only dish I've properly had a hand in cooking, now it feels like I've opened a door to a lot more. Let's face it, I know relatively nothing about cooking, compared to many other people. There is a lot to cooking; cooking is an art. I respect and admire those who cook often, because I think it is (and can be) a bit more than a useful skill.