Home is where the heart is
I was going to put up a new layout today – that was what I planned, but due to unforeseen circumstances I couldn't. I didn't get around to finishing it because things got in the way of my plans. It's rather annoying when things get in the way of my plans, not to mention disappointing. I know that humans make mistakes and can be hypocrites at times – I might certainly have gotten in the way of someone else's plans at some point, I don't deny that.
Yesterday James and I went to a cafe called City Extra for breakfast. I picked him up from the airport in the morning as he had gone to Hong Kong for a whole month and his plane landed back home at about 7:12am. It was an interesting journey to the airport as I've only been to the airport by car or taxi. I caught the train and didn't get very lost. It was crazy how the gates were so close to the station, so I only had to walk a couple hundred metres.
Normally when I return home from a trip, the time I actually get out of the airport is about three hours after my plane actually lands. Thankfully for James he was out in a jiffy. XD
We had a nice breakfast at the cafe. The menus were like newspapers, and we spent some time peering at the 'fake' parts of the menu, which were just reproduced mini news stories. It was probably taken from an original newspaper, for there was a date that mentioned the year 1928. I have to admit, it was really quite interesting. :)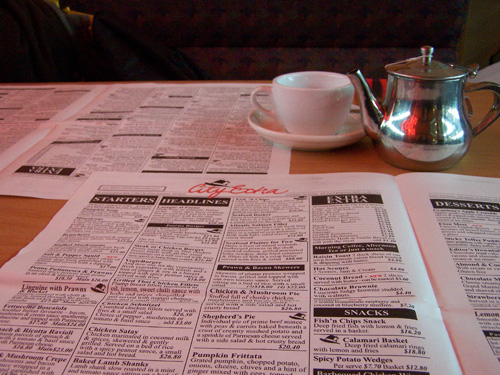 I had a seafood mornay crepe, which is a bit odd for breakfast, but I hadn't had anything since I had woken up and left for the airport so I just chose something that sounded appetising. James ordered a steak hamburger and the waitress was lovely enough to trade the chips for mashed potatoes. :B
Since the menu had no photos it was a pleasant surprise when our food arrived, and the food looked delicious.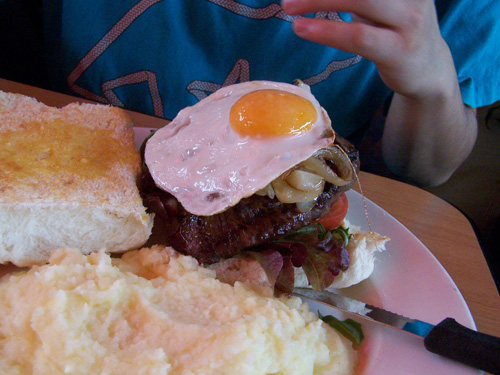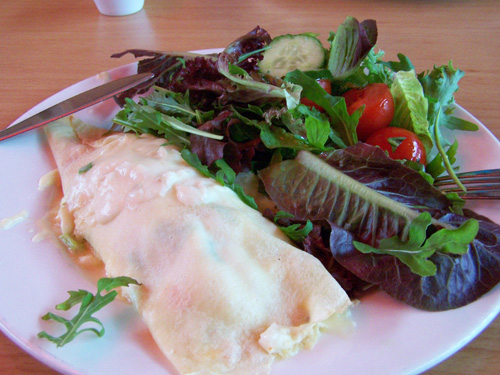 This was called an Eton Mess. Plenty of berries and meringue and whipped cream – it was so delicious, but also light, and beautifully tasty. :3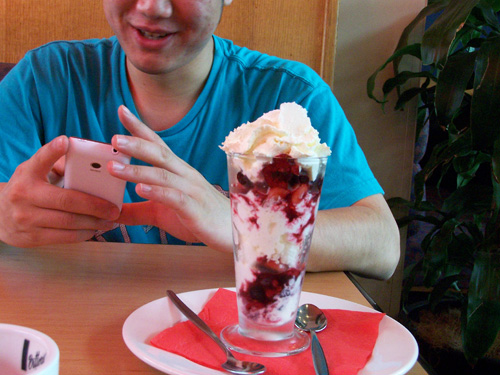 The bill came to some $55… but I didn't mind, I was paying and it was my idea to take James out for a treat. He pays so many other times, and I don't think the guy always has to pay. ;)
James gave me the cutest beanie ever! :D I love it. I've been wanting one to replace my bright purple and not-so-inconspicuous one. It's winter soon and I can't wait to wear it more often. I had my purple one for years and it was getting too small for my head… or maybe it just didn't cover my ears the way this one does. :P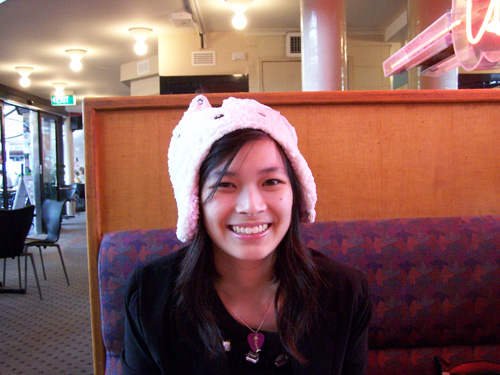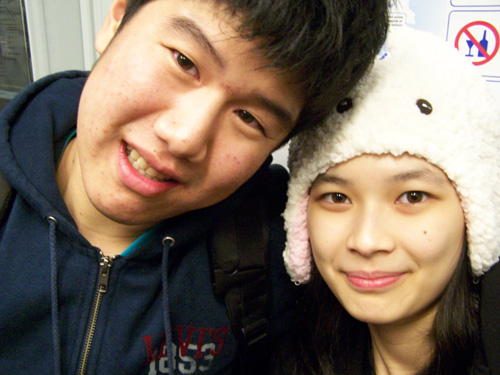 It was good to see James again! ♥️ He was severely jetlagged and went for over 40 hours without any sleep. He wasn't allowed earplugs on the plane and he had trouble sleeping. I had an overnight flight years ago, coming home, and I fell asleep right away. I guess it's different for everyone though. I fell asleep but woke up not long later. When we arrived back home in Australia it was early morning and I couldn't sleep.
The car is still broken down, it doesn't start up very well and can't turn around corners well – it keeps halting. D: It is being taken for service tomorrow so I have to catch a bus to work. The other day I found out that I didn't miss the bus but I waited at the wrong stop. I hate how bus timetables change so often. Ugh. At least I know where to go tomorrow.
I will also have to walk home again, no buses come around in the evening to take me home. At least I'll get exercise. :P