Given Up Giving Up
One word: Stress.
Today I was so close to just closing my site and going into an endless slumber like Sleeping Beauty until the stupid prince comes to kiss her. /pirate Or was that Snow White? Shite, I can't even keep track. 😰 Too bad modern-day romantic comedies have quashed classics the likes of Cinderella and Romeo and Juliet. Oh dear.
But I am going to keep on smiling and looking ahead. It's been so hectic that I just need to put it all behind me and face what is in front of me now. :)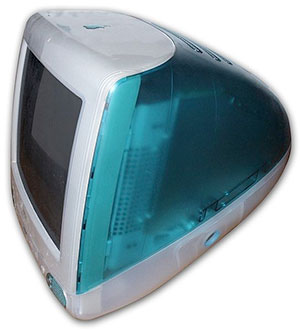 The other day at work, instead of packing away the tables like I've done for about two years of working at the same place… I decided to pack the shelves and the computers. This is what the computers there look like – old iMacs.
As stunningly gorgeous as these may look and how epic they were in the 90s, its tough exterior gets worn out after some time. These super old computer monitors are as heavy as anything.
Once my friend dropped one, and it landed to the ground and literally bounced. It was quite surprising and funny. It didn't break, but when my other friend dropped it again another time, it stopped working altogether. My friend broke two in total. XD
The other day it was my turn. /hmph It was sitting on a wheelie table and I started pushing the table without caring to hold the monitor in place, and it fell on the ground with a large crash. All these broken pieces of plastic and glass escaped the machine and we all gaped in shock at the mess on the floor.
Oh man, that was a little embarrassing. The computer stopped working but my boss took it home, taped it up and it was working fine today. :)
As for my home computer… well, it's a laptop really. I put my laptop to sleep mode last night before I went to bed. I didn't want to lose anything I had open.
My laptop restarted after installing an update. This meant that I had lost all of my unsaved work. I was NOT saving my work for a reason… I didn't know whether or not to save it, and I wasn't completely done with my work. I was really angry when everything opened up empty and I realised what had happened.
Most of what I had lost were a few Photoshop documents. I had saved the final products but not the actual Photoshop files. I was planning to write some icon tutorials too. /angry Oh well.
And… my internet is capped thanks to my brother playing games and downloading stuff. /hmph It's so slow. However I managed to add some textures and smilies to the site.
It's James's birthday tomorrow! I'll send along any birthday wishes! ♥️ He's turning 19, by the way.
My mum's gone to the doctor. Her blood pressure is fine. They took some blood to run some tests though. :)
Vote for the best icon at Tiffany's site. Mine's in there somewhere – but vote for the one you think is the best. ;)