The Georgie Gazette #4
Nick is feeling better. The doctor gave him a call today. She said he has an infection but it should go away naturally. The human body is an amazing thing, isn't it. :D
Getting a manicure with Nailed at Work
Amy from small business Nailed at Work visited our office to paint our nails. It only took about thirty minutes and the service was very good. The manicure should last two weeks. Amy was so friendly and definitely up for a chat. I wasn't sure what colour to choose and she asked if I was going anywhere special on the weekend. I said I was going with the future in-laws to a wedding venue, and she was very excited for me. I think we talked about weddings the whole time.
Amy was impressed by the state of my nails. Not having painted them for six weeks, they were in lovely condition, and I had trimmed them last week after they started digging into my skin (they were too long so they started to curve down at the sides). I settled on this light blue colour called Gelato on my Mind. It actually looks so good I could eat it. My nails are so shiny and they look so lickable. There is a lot of contrast because my hands are very tan. As you can guess, I was aiming for an aqua/turquoise close to the colour of my blog.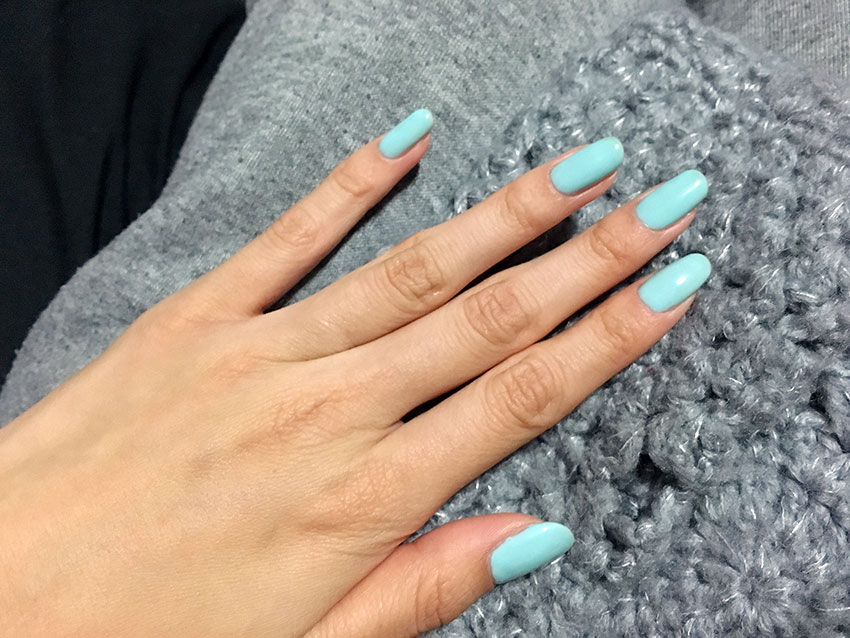 This was my second time getting a professional manicure and I enjoyed it. It was affordable and so far it looks amazing. I usually love to do my own nails and spend time on it myself, but this makes for a good treatment and a nice way to spoil myself. Because of the price it is not something I would do even every month. I would rather spend my money on other things and have manicures less often.
Florence? Rome? Singapore?
I haven't yet written up posts for the rest of our trip to Europe and Singapore. But look out for them in the next couple of weeks. As with my previous posts, I will try not to make them too long or picture-heavy. :)
Less time picking out clothes
After a lot of thought about the state of my wardrobe, I realised that one thing really holding me back every day was deciding what to wear. Not only have I realised that I tend to buy pieces for their niceness rather than how well they coordinate – but in the mornings I spend way too long putting on clothes and deciding to change into something else.
Nick always wears one pair of pants for two days, then changes it up for the next two days. He just picks out different shirts. As a girl, to me, that sounded so easy. I wanted to try and employ a similar technique but I know that I often dislike wearing the same pants or skirt two days in a row. I like to alternate.
What I have settled on for the past week-and-a-half is to alternate between jeans and skirts, and tossing a dress somewhere in between if I feel like it. But generally not wearing the same thing two days in a row. (I am, however, OK with wearing the same item of clothing twice a week.) Having some kind of pattern really helps me think ahead. That is something I always used to struggle with when it came to putting together an outfit. I never thought about it the night before.
With this new sort of system, I am enjoying and giving love to a lot of my favourite pieces. This can help me better pinpoint what doesn't match with my other clothes and what I can get rid of. I'm happy about that.
Sell my clothes?
I noticed a sign in the lobby downstairs from my office about clothing donations. There are some clothes I have that are still in good condition and would sell (tops, coloured jeans, dresses, cute pyjamas), but not for very much. I would love to be able to sell them but I feel like it is too much effort. The last time I tried to sell some nice camisoles and geeky t-shirts on eBay, I got a bit of coin, but the seller fees and the shipping fees meant there was not much profit.
I'd love to know if anyone is interested in buying my pre-loved clothes. Perhaps you might like to buy a handful of them if you love my style, that would be easier to ship… It seems like too much effort trying to use certain websites to sell individual items of clothing. I might just donate them so be sure to let me know if you're at all interested.
I want to join a gym again
I might join the gym that Brandon goes to because it is relatively cheap, has good locations, and has no lock-in contracts. Lilian was thinking of joining the same one, and my colleague just joined too. Considering the past couple of years I have just been leeching free gym access from friends or from free membership from companies I have worked at, I think it is time to pay. I am just so reluctant, but I have to admit that I enjoy a good workout. And I'm much fitter than I was a couple of years ago, so I feel like I am benefiting.
Until next time. 👋