The Georgie Gazette #3
It has been a really long week, and I think I spent a good portion of it working on my talk for my A11y Bytes presentation that was on Thursday night. There were a couple of late nights and I started it quite late, but in the end, all that hard work really pulled off!
Dinner catch-up
I caught up with Nick and some of my old coworkers for dinner. Nick will be leaving his job soon as he has a new one lined up, so this was a bit of a farewell. I'm very happy for him! :)
We had pizza at a very cool authentic Italian restaurant. There isn't much else to say except that the food was good and I was so full afterwards. 🍕
A11y Bytes event
I got some laughs during my presentation, which was titled It's not our parents' fault that they can't use the internet. It focussed on accessibility of websites on touch screen devices, and it could only be eight minutes long – so it was a little hard to squeeze everything in. Accessibility is such a broad topic that you can write so much about.
I was the first speaker and I think I left a good impression. There wasn't a recording, but if you're interested, I have my slides available. I'm thinking of trying to grab a recording by doing the talk elsewhere where it will be recorded. :P It was cool because my presentation was live-captioned, and I had to consider anyone with a disability when I gave my talk. I had to read everything on my slides or explain any visuals, I had to speak clearly, and make sure my slides had all necessary information needed for someone to understand what I was talking about.
I really enjoyed most of the other talks on the night, they showed just how broad accessibility can be. I found Andrew Downie's talk really educative and eye-opening – as someone with a visual impairment, he had built some quizzes that were accessible using a screen reader and a keyboard.
I sort of gauge how successful my talks are by how many people approach me afterwards. I know not everyone feels comfortable with approaching people to say, 'Great talk!' but I've had people approach me simply to say that, or sometimes to say more. It's very nice, and I know they might have plucked as much courage to approach me as I did to talk. It reminds me of the days when I was nervous to approach my favourite musicians to tell them they played a great set, or even to ask for an autograph or a photo.
New, flat, lace-up shoes!
It occurred to me that I own so many heels and heeled boots, but very few flat shoes. I have some cheap, loose black flats that I use for driving to the train station sometimes, before I change into my heels to go to work. I have found that because of my slightly uneven bones in my foot, and my very high arches, I cannot wear ballet flats or completely flat shoes. I need something with a bit of a heel and a bit of arch support.
I should try some insoles if I ever find arch support to be an issue. But that aside, you guys know I have been on the lookout for brogues. I will have a look in Europe but I had a look at the Wittner shoe store here, looking for some flat and practical walking shoes. I settled on these Quinn tan lace-ups. This is the first pair of light-coloured or tan-coloured shoes that I have owned and I am already really liking them. I am going to wear them a lot in the next couple of weeks so they have broken in.
I am so excited for Europe! Just 14 sleeps to go. ✈️
The Grounds of Alexandria
Although it was a pain to drive to and find parking for, we visited The Grounds, a very hip coffee roastery and garden. I found out about it a while ago on Instagram and it looks like it's very popular. We had some burgers and chips – I had a great vegan burger that had vegan mayo and cheese, and a chickpea and onion fritter (it was so thick and crispy!).
We had some nice drinks, Nick got a pina colada smoothie and I got an organic orchard drink which had some watermelon, apple and orange juice. I didn't take any photos except this one.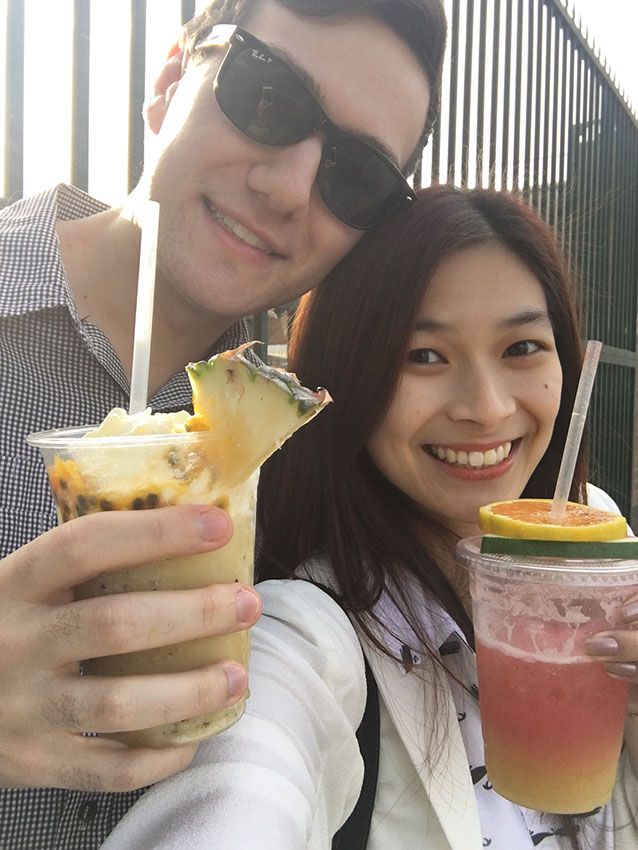 Until next time. :D