The Georgie Gazette #1
It's quite common for bloggers to write about what is happening in their daily lives: separate, categorised posts that sit apart from their focused rants or ongoing monthly segments.
I thought of doing something similar as a miscellaneous mind dump. Quite a few bloggers use the common 'Life Lately' but that doesn't really sit with me. I know that I won't want this to stick to a timeframe, and most of you know that I like to think of something creative. I initially thought of 'The Bermuda Triangle' as a bit of an in-joke to suggest that I haven't disappeared, but I decided that 'The Georgie Gazette' made a little more sense.
The way I used to blog, I would write every two or three days and would write about what I got up to each day. I stopped writing as much and my posts became more focussed on individual topics, and I think that's because my life became more routine. Before, school and university allowed for a lot more antics. :P These days I find that nothing sits as a topic I could write a lot about, but I miss writing more about my day and recently I've been busy so there has been a lot going on.
A haircut with a different hairstyle
I got a haircut a couple of weeks ago. I was complaining about my long hair for a while, Nick even said, 'The sooner you cut it, the sooner you will stop complaining!' I was just very bored of my long, layered hair. :( I had it since high school, basically the same style, sometimes with a fringe and sometimes without. It was driving me nuts! I had thinned out the ends, and I decided it was time to just go for a chop.
I spent ages looking at photos of bobs and long bobs but I decided that I didn't want it that short. My feelings were that I had this typical edgy sort of haircut with my many layers, always having it sleek and long, and I wanted to do something plain-jane. I settled on a photo of Amanda Seyfried because I liked the soft layers she had, and the length was what I wanted. I wanted that soft and pretty look rather than the edgy look I had kept trying to do since I was eighteen.
It is the shortest my hair has been in a very long time, and I really like it. I'm happy with it! The hairdresser did a great job! Of course, I'll have to curl it myself if I want it like that, but I usually don't style my hair on a daily basis. I was grinning a bit too widely in the photo…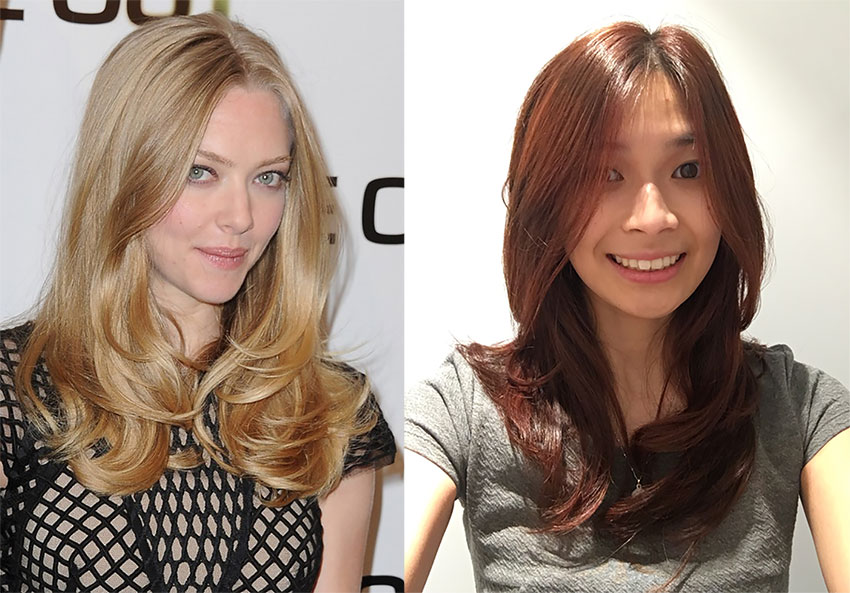 Ross Noble show
Nick and I went to see Ross Noble the other day. He was hilarious. He went on tangents but returned to his original stories, and a large percentage of the show was based off his observations from, and interactions with, the audience. If I remember correctly, he only told one story about his encounter with policemen wanting a selfie with him, ranted about the shiny floor at the venue, mocked Nigella Lawson and told us a story about his daughter and wife towards the end of the show. The rest of his show was completely inspired by the audience. We witnessed a marriage proposal at the end as well – a man had emailed Ross Noble to ask if he could propose to his girlfriend, as they were both big fans of him and watched one of his shows on their first date. She said yes! :)
Work: busy, busy work
There have been many changes at work, it was all very hard to take in! The team I'm in had a shift in members: some members were moved to another team, and we have some new members joining us this week. My calendar looks incredibly full of meetings and early starts as we face the challenge of trying to work with what essentially feels like a new team.
Henry (one of my colleagues) and myself are how hosting our weekly lunch presentations, which we took over from Dave before he moved back to the UK. It's been a bit of extra work, but again something to organise into my weekly tasks.
#getfitforEurope: 41 days to go
I have been tweeting with the hashtag #getfitforEurope as Nick and I go to the gym and prepare ourselves for some long days in Europe. Holidaying shouldn't be hard work at all, but we have lots of activities and things we want to see and do, so we are going to need a lot of energy. It was perhaps eight months or so since we went to the gym? It's good to be back. I am hoping to come out of it more toned and with some more muscle definition, but basically trying to kick ass with every gym visit. 💪
Are we excited for Europe though? Yes, super excited!
The Best Friend Lunch 🔀 The Best Friend Dinner
Lilian and I have had two dinners together since our last lunch, which I think means I should start naming them accordingly or calling them catch-ups instead. I didn't write blog posts for the two dinners, but we are having another catch-up soon, so I'll decide what I'll do then. :)
This week's overview
Nick is graduating from university this week! It has been a long journey, but I'm so proud of him. He has worked really hard. My cousin Tasya also has a presentation at university for doing so well in her first year, and there is a Twitter event in Twitter's Sydney office on Wednesday. I'm sure work will keep me super busy as usual.
Until next time. :)