Float Downstream
Yesterday Lilian, James and Dylan came by to visit me. I wasn't allowed to see them so they came by whilst my mum was out at work. I did do my chores when I got home, don't you worry… I ironed a whole pile of pants.
We went to a small park near my house for a bit, and were amused by the jungle gym. At 19 or 20 years of age…? Yes. :D We had bought a lovely caramel cake and Lilian got me salmon sushi (ooh, yum). We had a nice time catching up and just having a chat – particularly about our old classmates from high school. Dylan seems to know a lot about those old peeps. To be honest, I couldn't care less about those people. I don't have Facebook and it seems that a lot of them keep contact that way. But I was never really close to those people. I did try getting to know everyone but I guess after spending six years in the same school as them, it gets boring, and you feel like you know everyone too well, even if you might not have talked a lot.
We went to a much larger park near my house and walked around, I hadn't been there in a while so it was nice to see. They have an animal enclosure and we saw some nosy emus and quiet birds. :) The weather was rather hot but we survived. :D
Happy Birthday Dylan for the 25th! ♥️ My brother also kindly took a photo back home (Lilian, me, Dylan and James):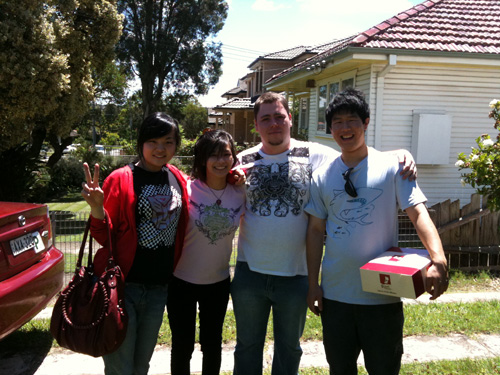 I only spent about two hours out of the house but it felt like a much longer time. James, Lilian, Dylan, I appreciate it so much that you guys came out to visit me. ♥️ A day out closer to home in quieter and less busy streets (opposed to our plan for a day in the city) was probably better than any of us thought. /mwah
I did have to get back home quickly anyway, to make my brother lunch and go and do all my chores again. At least I got them done!
It's nearly Christmas. I know everyone is talking about it but it seems so surreal. I'm not expecting anything for Christmas, I guess I see it as hopefully a nice ending to the year. Thank you everyone for all your lovely comments – things are definitely much better at home. In a way, I guess I have to be more tolerant and sort of turn over a new leaf myself. I'm really hoping the new year brings that for me – and I hope that it brings some wonderful things for all of you too. :) Let me know what your plans are for Christmas or if any of you are just going to be online and buzzing around. I'm not too sure what I'm doing,
I have free Twitter on my phone until the end of February, thanks to my provider. That means I'll have until the end of my break. It's a shame though, I wish I could have it while at university to make the train rides less boring!
On the website front, nothing much is going on. I'm slowly cleaning out my websites for the new year. 2011 is going to be less stressful for me, I hope! Love to all. :)