Fashion Friday: Seeing Squares
I'm excited about this Fashion Friday because it brings another photographer to the fold – my coworker and friend Pat. He recently launched his blog which is heavily focussed on photography, so check it out. 👌 His photography consists of amazing street shots, architecture and candid moments, and you'll find a lot of it on Instagram under pat_kay.
He helped me out with this Fashion Friday and was keen to practise portraits. Of course, I always have to play a part in modelling – which is always tough. Now that I have three different photographers whom I work with, they all have their own style and way of shooting, and that's something I have to adapt to each and every time.
I left all the photo editing up to Pat, and he warned me that he's grumpy and his photos are dark and moody. Not a problem. :P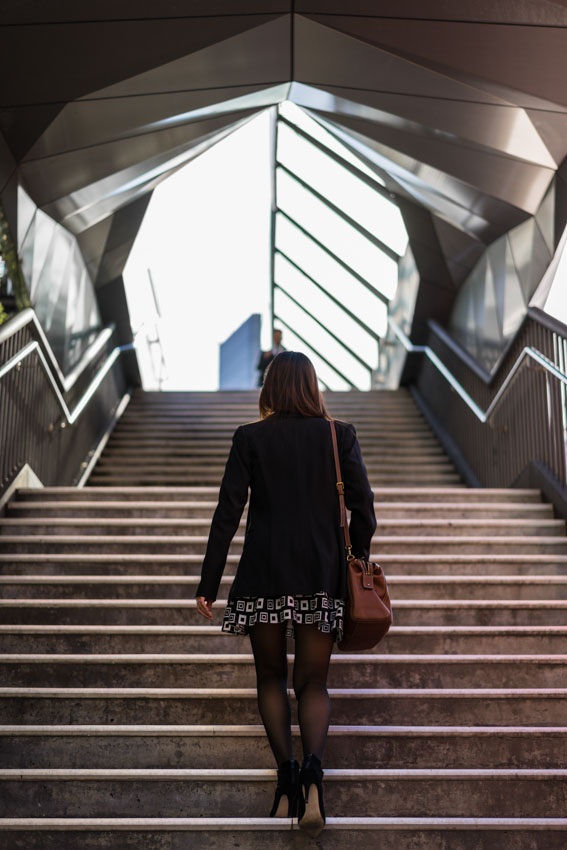 We took these photos near Darling Harbour, where there is a pedestrian footbridge that goes over the busy road. We picked a time when there were quite a few people (most going home from work because it was in the afternoon) but there were still moments where there was no one around.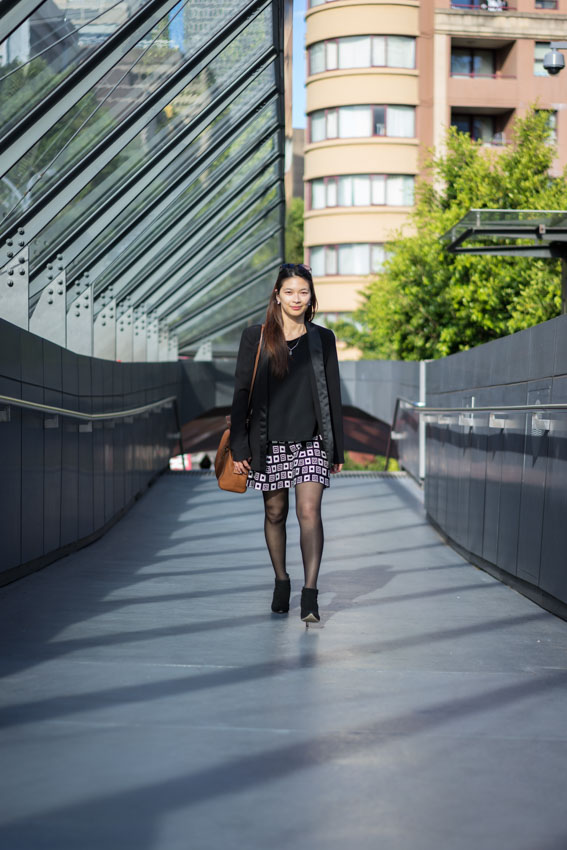 My mum bought me both the blazer and the skirt. Not at the same time, though! She bought the blazer some time ago and it caught my eye when I realised it was hanging in my clothes rack and I hadn't yet worn it. I had completely forgotten about it. It's a cool blazer, and I like that it's slightly long. It also has pockets, which are big enough to fit my phone. Too much weight and the pockets would probably tear under the weight, though.
My mum got the skirt for me in Indonesia since she stayed there for longer after Nick and I returned to Sydney. I am not sure where she got it from but the square print makes the skirt so cute and funky. The cuteness comes from the flouncy style of the skirt ans the square print gives it that funky look. I have actually wanted a skirt in this style for a long time. I like the way it hugs the hips and then pleats out in a really girly way.
Something interesting I noticed about the skirt is that when you turn it inside-out, it looks the same but with the colours are inverted. It looks cool, and the print doesn't look like it's the inside of the skirt, but you can tell from the seam on the side that it's inside out. Bummer!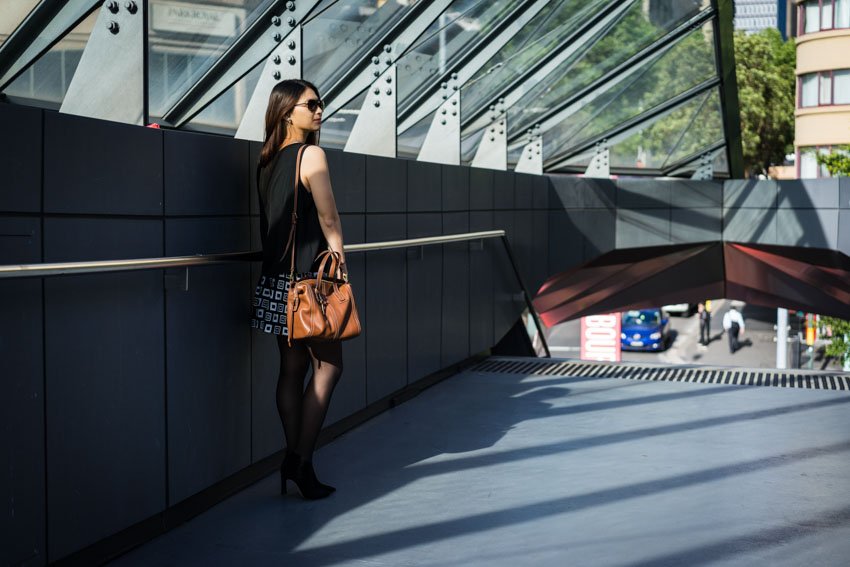 The top is a black version of the loose white singlet I wore in my last Fashion Friday. When I saw both the white and black tops in the little store in Lucca, Italy, I felt like I had to get them because they were so versatile, comfortable and flattering. They were pretty affordable, too. I have been able to mix both tops with pretty much anything I wear and it's great.
Now onto my new handbag! After writing about only needing one handbag, I did mention it was a hypocritical move of me to get another one. I had been thinking about a handbag in this style for some time, though. I wanted one that was very different to my black one, and a fair bit smaller. My black bag is a perfect everyday bag, but I wanted something more structured. This Emma satchel from Fossil was released recently and it's just what I was after. I definitely wanted a brown bag – this bag did not look appealing in black and I wanted something different!
I actually had a look at the bag in store, held it and wore it on my arm, and spoke to the store owner about my preferences. He gave me a 20% off voucher… which of course made me purchase the bag next time I visited the store! :D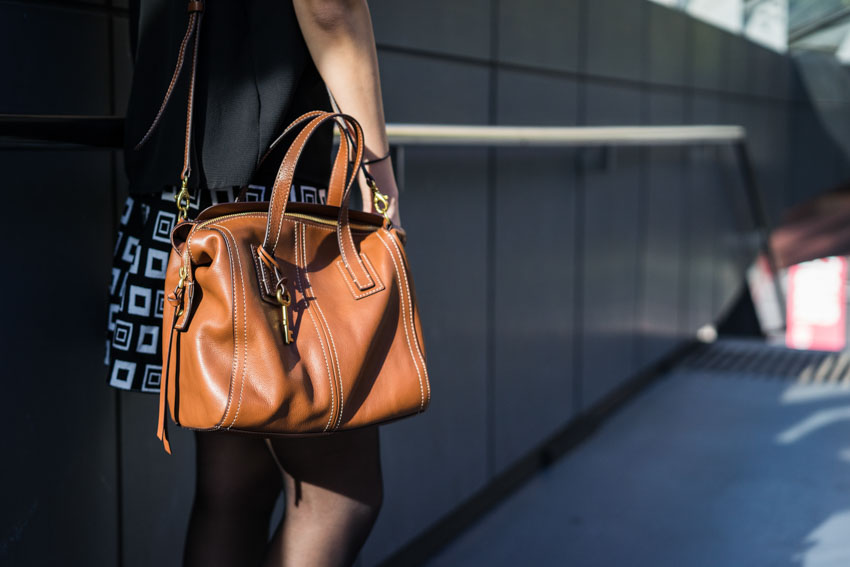 I adore the bag's structure and size. It's just perfect! And I really love that Fossil brought back the metal key. The metal key was what I saw in a video review for a Fossil bag many years ago, and made me fall in love with the brand.
I got my nails painted by Amy at Nailed At Work. It's a colour called Tiramisu For Two and is a nude, muted pink. I don't really like pink but I wanted a nude colour that was not too yellow or not too white. I got a thin layer of glitter over the top of it as well.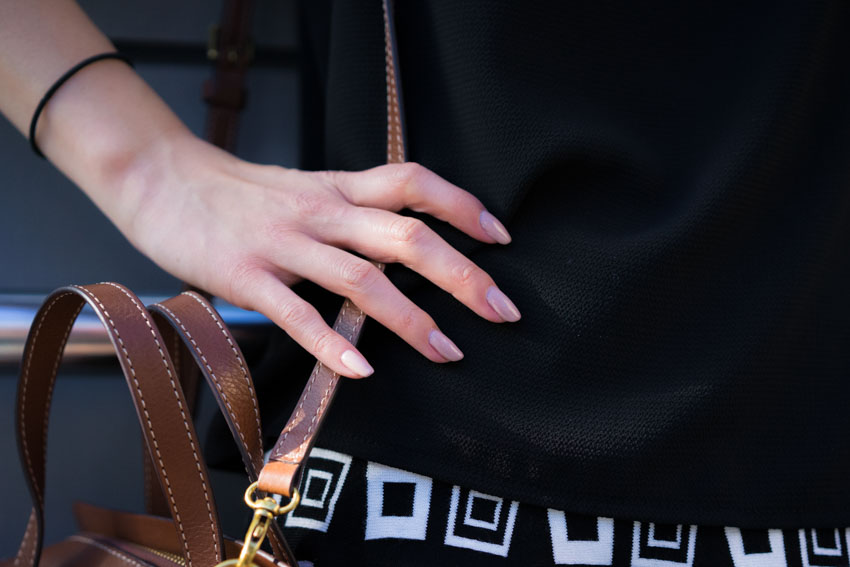 I'm wearing my hair with the part on the opposite side to what I usually do. Recently I have been training my hair to part in different places, because it looks flat due to years of being parted on the same side. Parting it elsewhere does require a bit of blow-drying for it to not look weird.
Unfortunately my hair is in need of a wash, so it has a bit of a messy look. The wind got to it as well. The colour looks less red than what I coloured it last time, but it's true that it looks a little more golden-brown in the sun.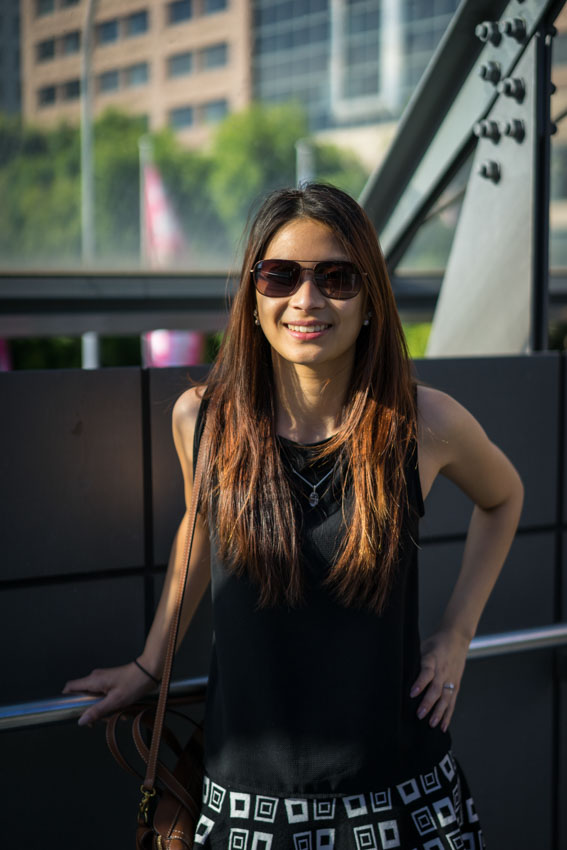 The boots are the boots I wore in my last Fashion Friday as well. They are very comfortable, though high-heeled. I am a big fan of pointy ankle boots with high heels! 😊
I am actually not sure what other tops I might wear with a skirt like this. Given its pattern and the fact that it stands out a bit, the top would definitely have to be simple. Have you got any ideas?
I'd say the bag does a good job of breaking up the generally all-black outfit. I never used to think of the bag as a standout piece, but there you go. :)
Outfit details
Top: purchased in Italy
Skirt: purchased in Indonesia (thanks Mum!)
Shoes: Wayne Cooper 'Khloe' boot
Jacket: Basque
Necklace: By Invite Only
Sunglasses and Bag: Fossil
Many thanks Pat Kay for your time and help with this Fashion Friday shoot! Hopefully you'll see more from him in the future. 😄
What do you think of my new bag? Is there a style of skirt you particularly like?