Fashion Friday: Parallels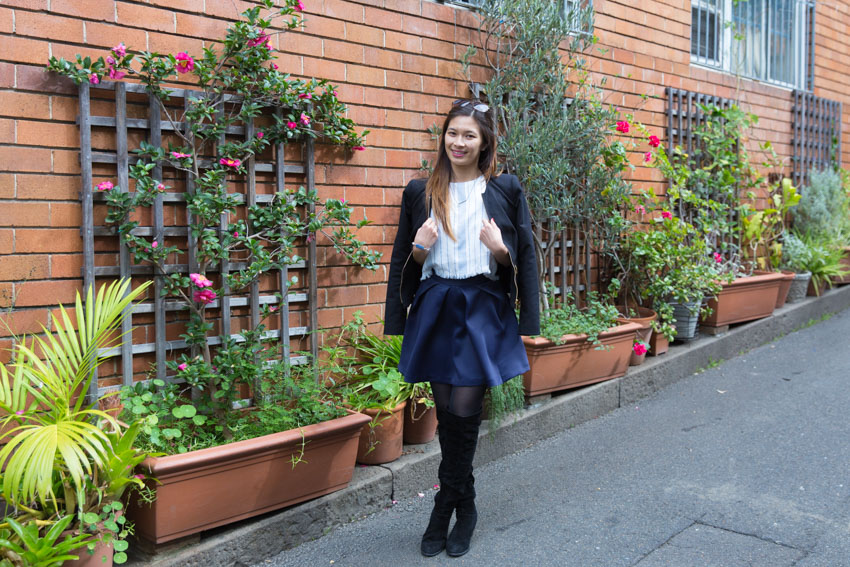 I know I haven't yet written a post about my Wardrobe Redux yet but I'm pleased to let you know that it's going well… My goal on my 27 by 27 list states that I'd like to have only 90 items of clothing by the time I turn 27. After donating a lot of clothes (and buying some more!), I am happy to report that I have donated over 99 items in the past year. I started my Wardrobe Redux list of all my clothes almost a year ago, on the 10th May, and kept it updated. 99 items have been crossed off, but I have to say that there were many clothes I donated straight away that never made it onto the list in the first place.
I now have 121 items, with a halfway-point goal of getting to 115 by the end of June 2017.
So when I picked out this navy skirt from Tobi I had to have a good think about it. I buy so many skirts in black that I decided this would be a staple in my wardrobe. I'll be cutting down on the black skirts I own, too. I thought about all the tops that would go with this skirt, and to be honest I don't have a lot, but I don't need a lot of clothes to make different outfits! The high waist means that it goes well with quite a few of the crop tops I have.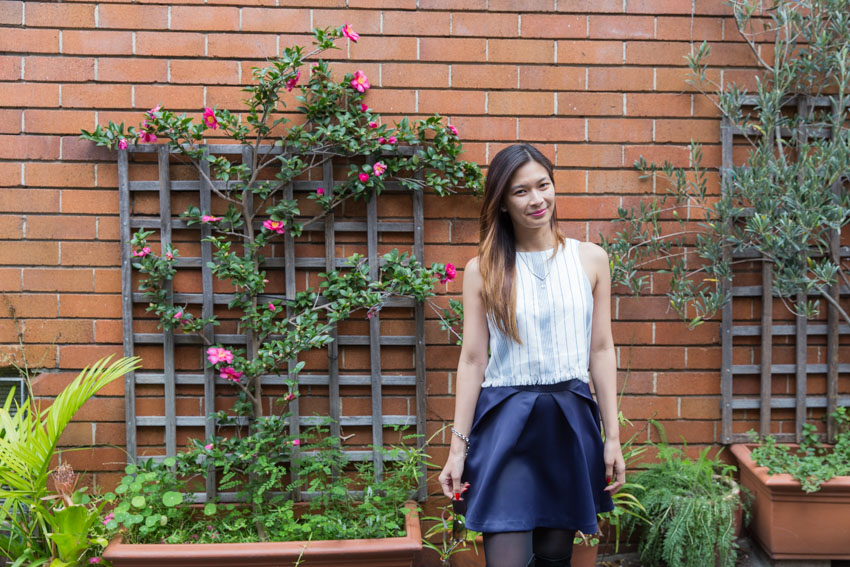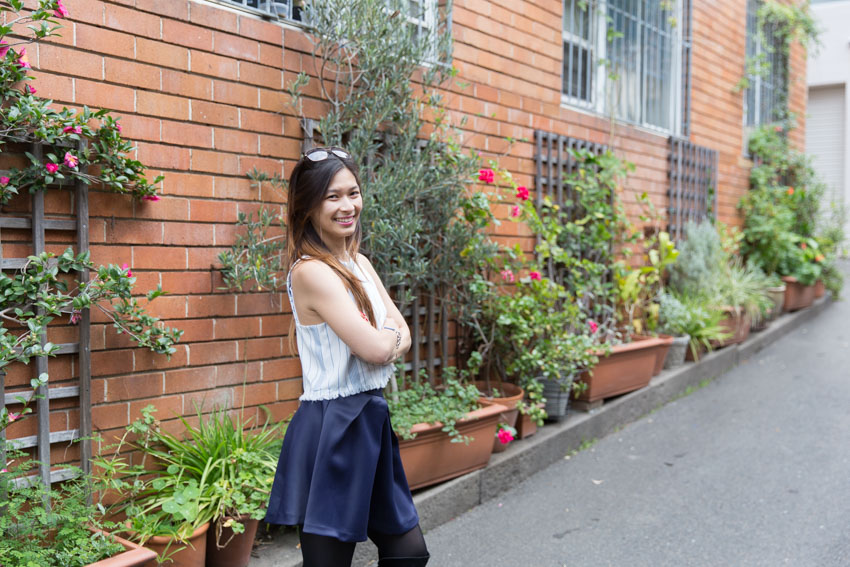 I didn't expect the material to be so soft and satiny. It feels almost like a shiny suede. I really like it! It also tapers out a lot more than other skater skirts, and accentuates my small waist. I'm excited to wear this with sweaters when it gets a little colder – I think it would work really well.
The top is also from Tobi and at first I didn't think of wearing the top and skirt together, but they match. If I didn't wear the top with the skirt, I would wear it with the very dark blue jeans I wore in my last outfit. It would go with any high waisted jeans or pants, though. And the light colour makes it work with a range of other colours. I also lack light coloured tops so it was nice to add this to my wardrobe.
The top has a slightly loose fit, and a high neck, but exposes a bit at the back. I like this contrast between the back and the front. It makes it really nice for summer. The vertical lines are probably my favourite part. Everyone knows that vertical lines elongate the figure, and that's a plus for a petite person like me. The fringe edge also adds a bit to what would otherwise be a pretty formal structure. It makes the top a little flirty.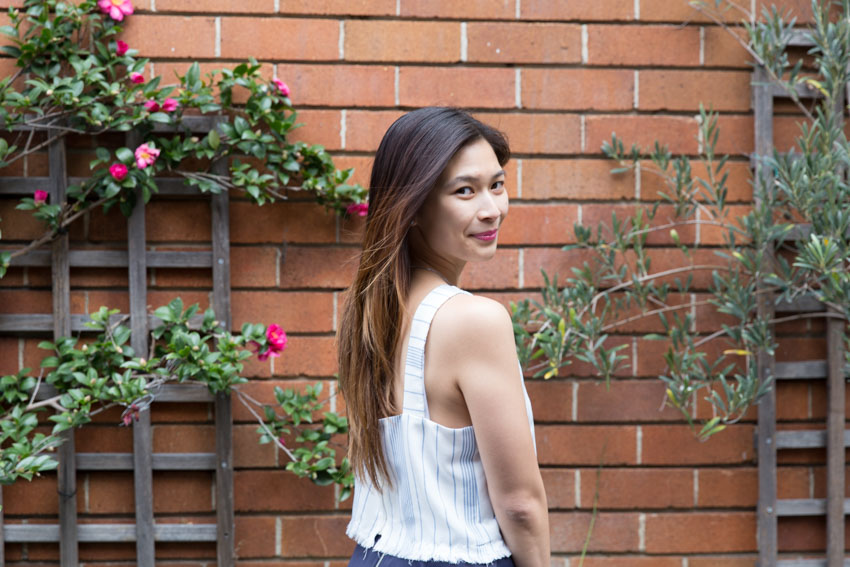 Nick helped take these photos in a laneway in Sydney. It was against a tall brick building with some plants and flowers down the side.
I pulled out the over-the-knee boots for this outfit since it was so cold! I own a similar pair of boots that's of slightly better quality, but I think the size is too big for me and I always have to wear thick socks with them. I had bought this pair in Japan a few years ago on a whim, when I really wanted to buy some new shoes. I didn't realise they were so similar to the boots I already had. They also had a cute detachable buckle around the ankle but I lost one. :( So there was no point in leaving one on.
I definitely love the high-boots-and-skater-skirt combination, though. Ever since I ditched tube skirts a year ago, I think that the knee-high boots work just as well with a skater skirt as they do with a tube skirt. :) I should also add that the height of this particular pair is perfect. I experience no pain from walking in them. I'd say the heel is about 5cm/2in?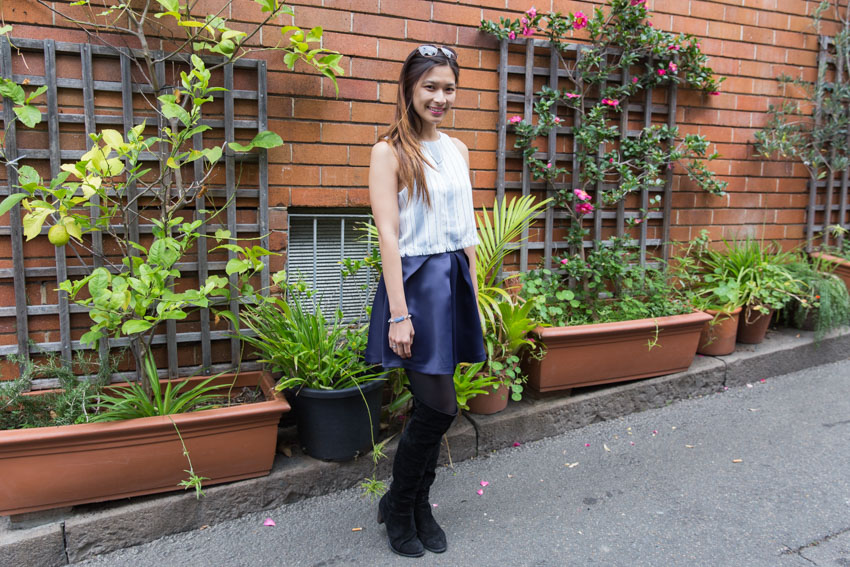 I got the bracelet a couple of months ago from what is now probably my favourite online jewellery store, By Invite Only. I thought the colour went perfectly well with the blue tones.
The herkimer diamond necklace is also from the same store and I have worn it quite a lot since I bought it.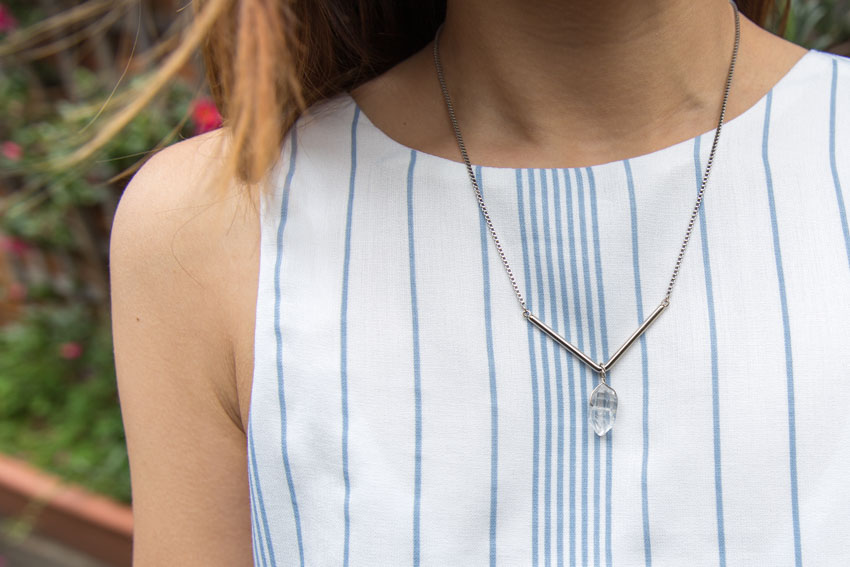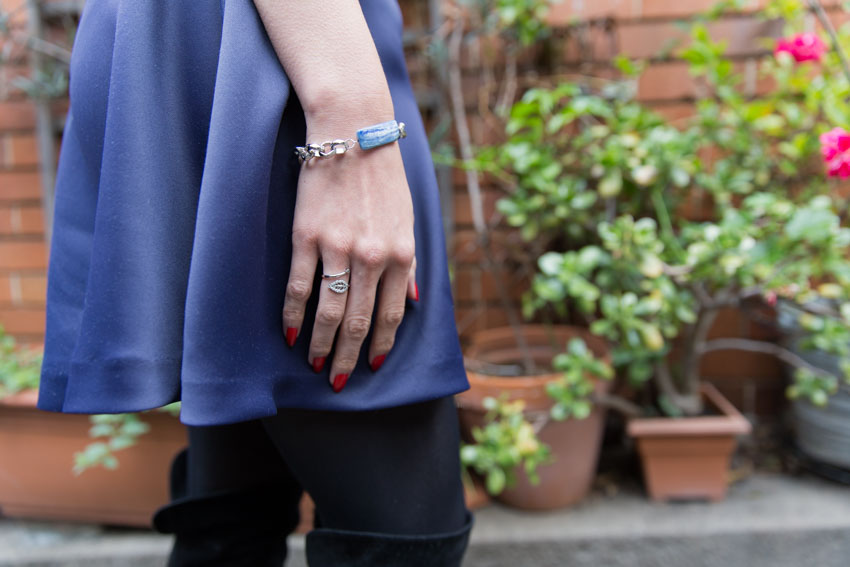 The ring is just a minor addition. I haven't been wearing rings a lot lately, and I had to give my engagement ring to the jeweller so that they could make a matching wedding band, and since the workshop hasn't finished with it yet, my finger/s have felt absolutely naked. But I have to admit, after many months of my engagement ring being the only ring I wear, it feels weird to wear other rings. 😆 This leaf one is cute; it's one I've had for a couple of years and is still in good condition. I've definitely worn it in a previous Fashion Friday or two.
I painted my nails red earlier in the week because they haven't seen red in a long time (pun not intended)! I do like the look of red on my nails and it was good to be able to paint them red again. I thought that whatever I wore during the week, it would certainly add a pop of colour. 😁
I actually got the druzy earrings free of charge when the store didn't have their inventory up to date and a necklace I wanted had sold out. They said it was their way of saying sorry – which was really nice! I've really appreciated their customer service the whole time I have been a customer with them.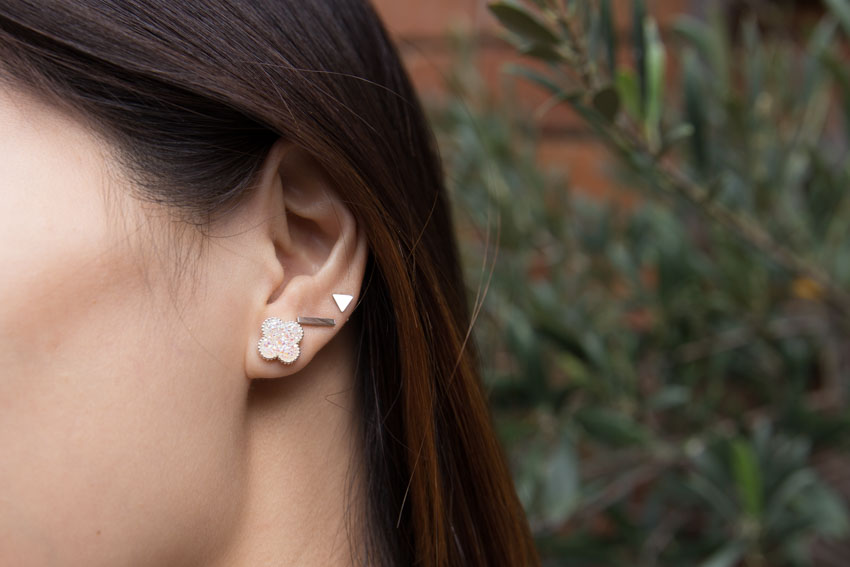 Although the top is really summery, I like to pair a summery top with a jacket sometimes. If I wear a more formal jacket, it definitely gives the outfit some edge. I wore this outfit with a jacket that had a subtle peplum at the waist. It fit nicely with the flare of the skirt.
I have had this jacket for some time but it has not gotten a lot of wear until recently. I like the small gold zip details, but it is because of the peplum that I don't find a lot of clothes the jacket goes well with.
I actually didn't think about wearing the jacket on my shoulders, either, until Nick and I had had lunch at an Italian restaurant and I saw two girls having lunch and both had leather moto jackets but wearing them on their shoulders with their arms outside of the sleeves. I realised I had never tried that before so I did, and we took some photos with me wearing the jacket like that. 😆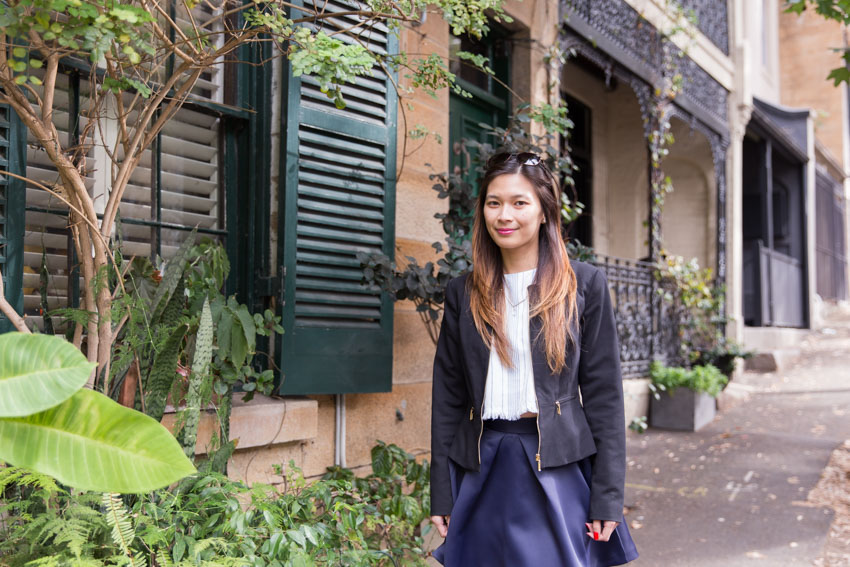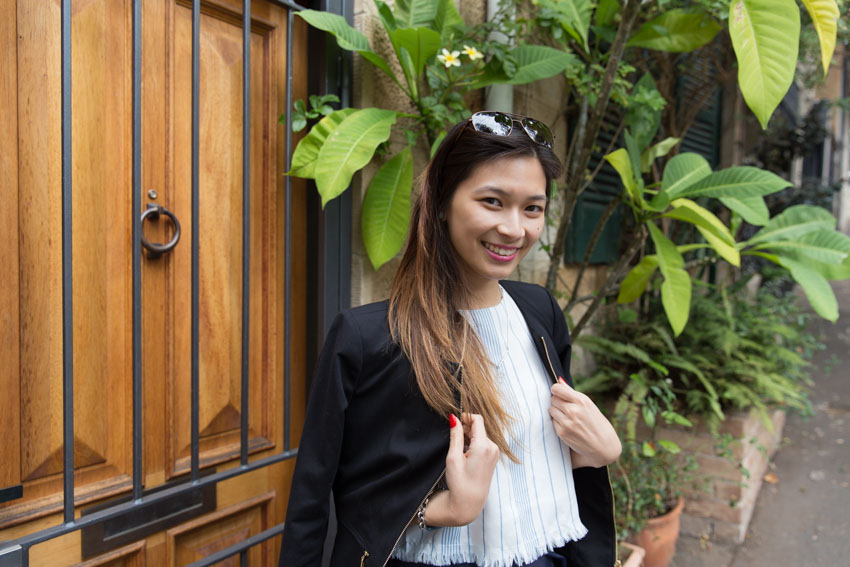 This outfit was named for the vertical lines in the top. 🙂
📷 All photography by Nicholas Cooke. ❤️
Outfit details
One of my colleagues at my old workplace really liked Tobi but I didn't think of getting anything from their website until now. They do free shipping to Australia, which is always a plus in my book – especially with the amount of online stores that are not based in Australia.
What do you think of this outfit? What is your favourite part of it?