Fashion Friday: Pacific Daydream | A pop of colour with cobalt blue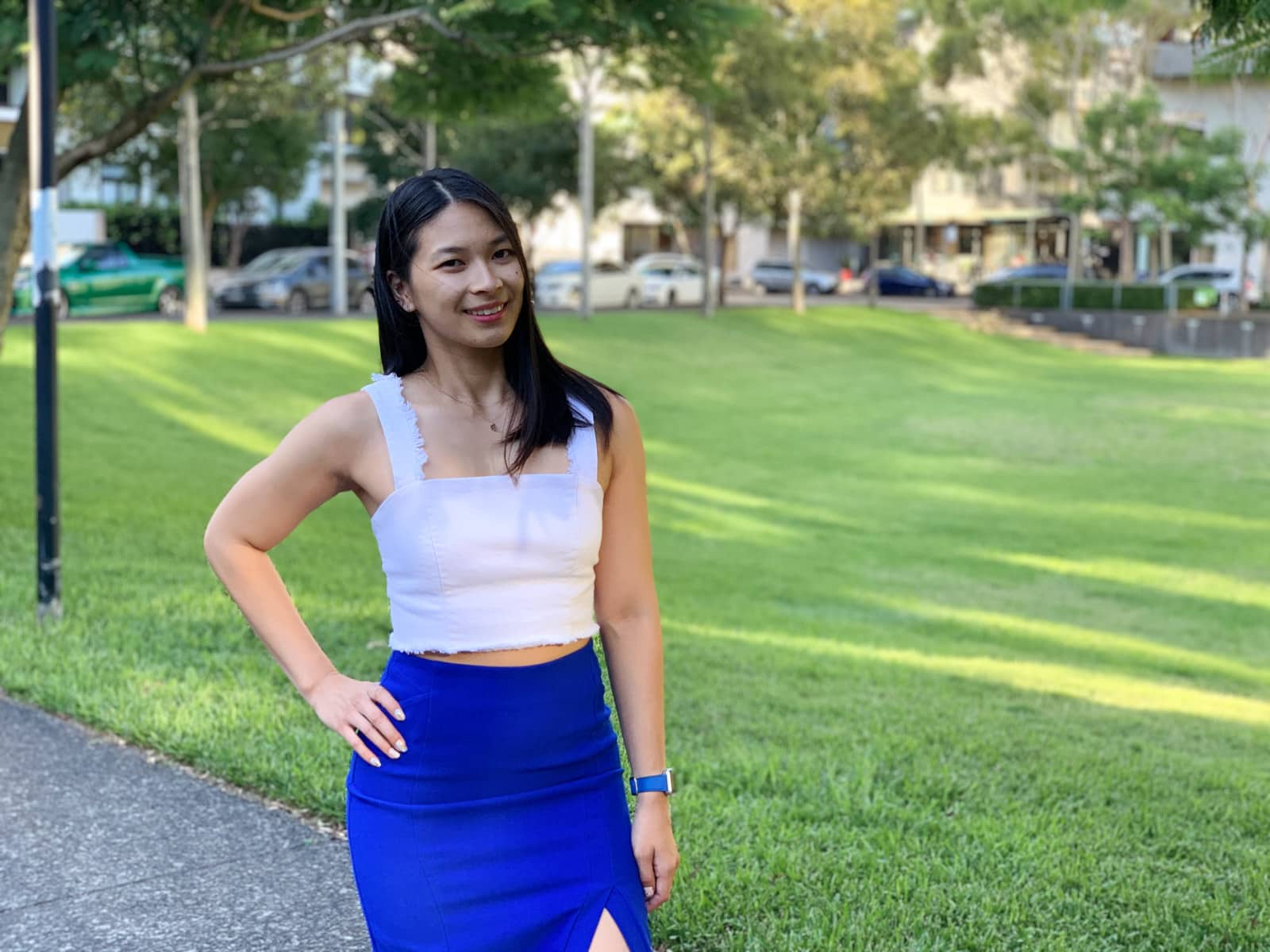 You might recognise the white top I'm wearing in this outfit being the same one I wore in the outfit Summer Daze earlier this year. I mentioned that this top, for some reason, is one of my go-tos; it's easy to wear, and because it's white it tends to go with everything. I think one of my favourite things about it is that it is structured, which means it retains its shape relatively well and is easy to wear.
Last time we also forgot to get a photo of the back, so we got a little one here. ☺️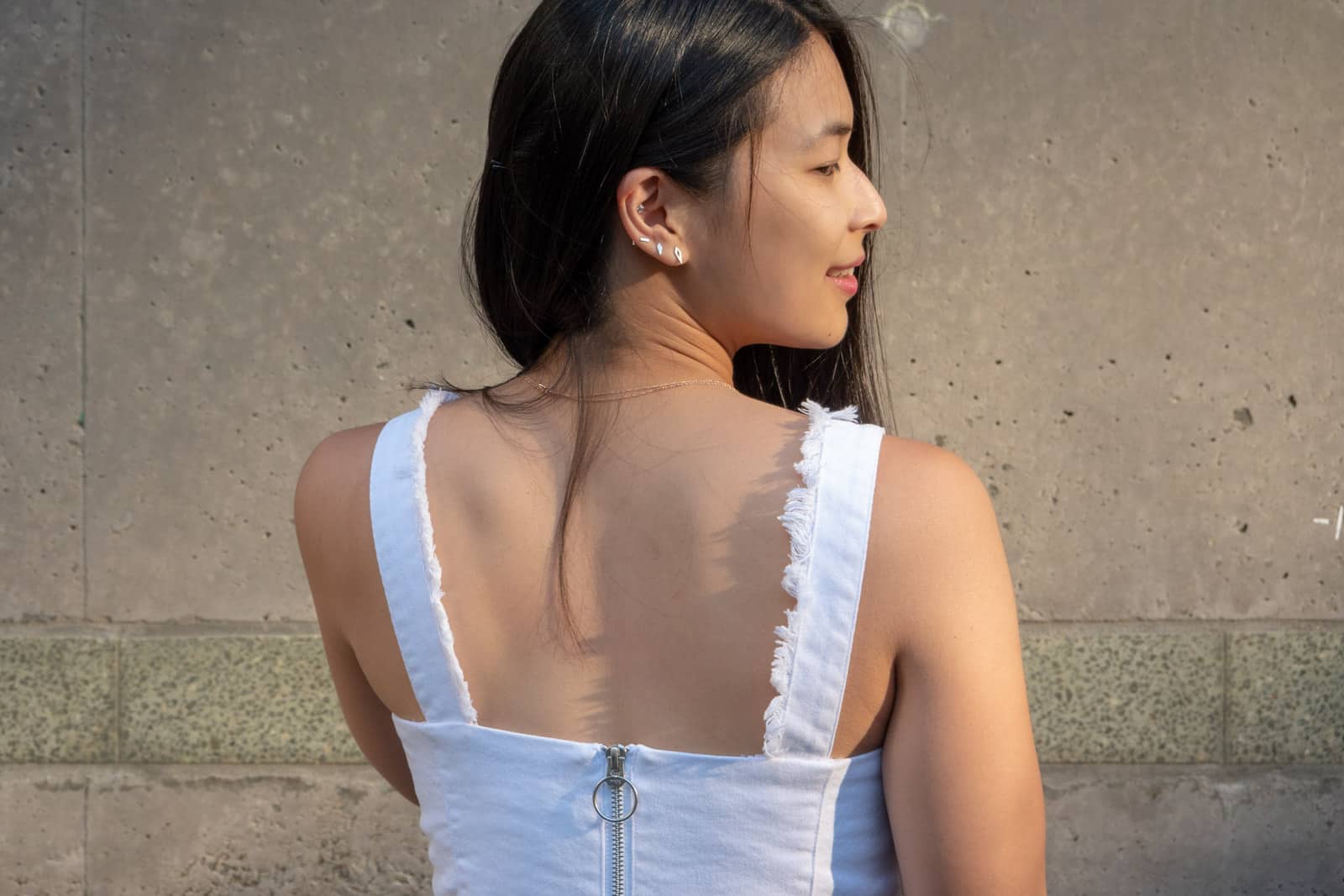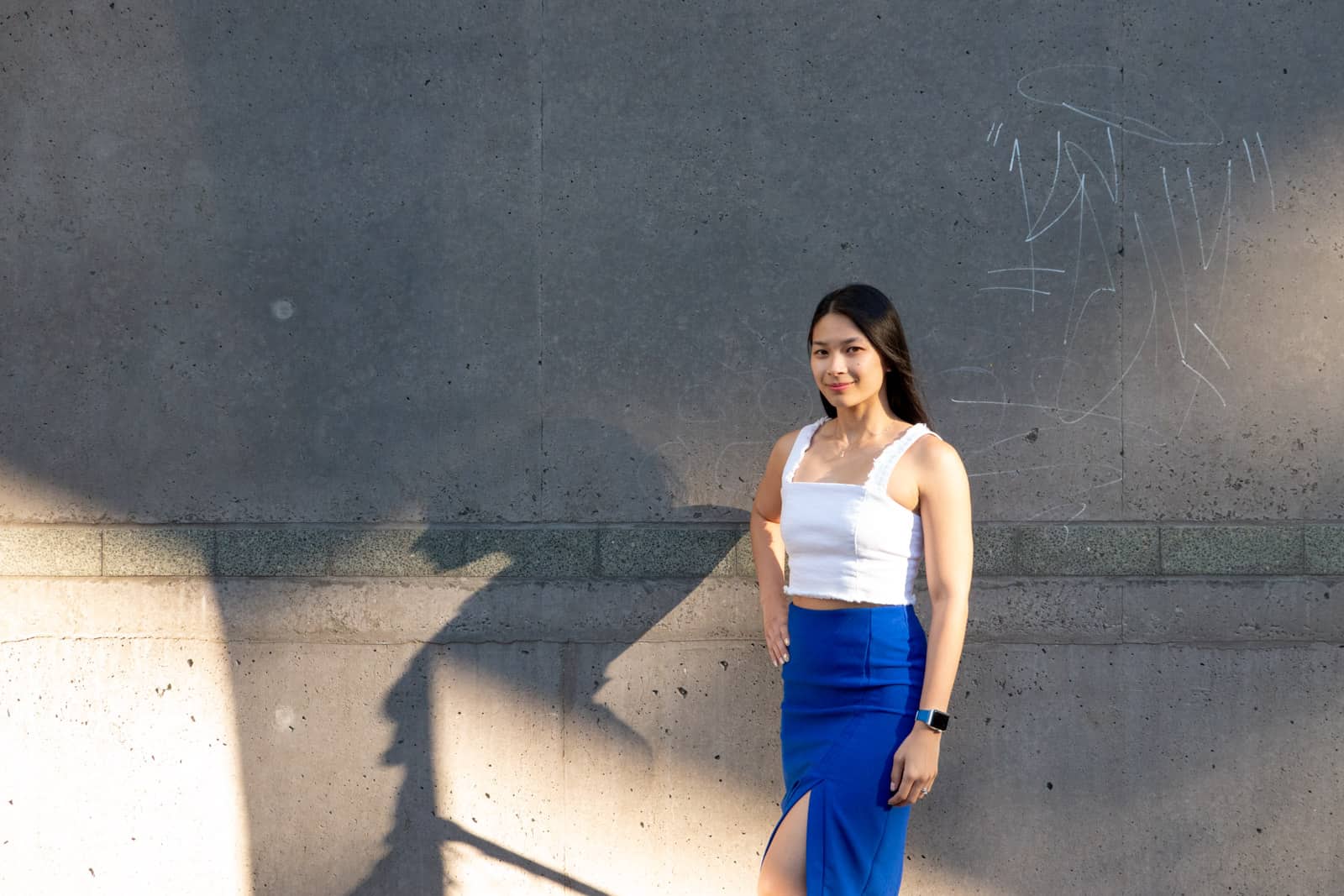 The skirt is in one of my favourite colours, obviously – an electric blue hue! I actually bought it second hand after searching for a cobalt or electric blue skirt. I had a couple of flukes, unfortunately, where skirts I purchased looked more like a dark blue than a bright blue. So you can imagine I was pretty excited when this skirt arrived. It fits really well – perfectly, I suppose you could say.
My only minor gripe is that while the split in the skirt helps me to walk more easily, I do have the world's thickest thighs so the upper thigh area is a bit tight, and the fabric doesn't stretch all that much. Being a short person, the length isn't 100% flattering on my figure either, haha. All these little things aside, I do love the skirt and I can't believe it is so difficult to find a skirt in a bright blue hue. 🥺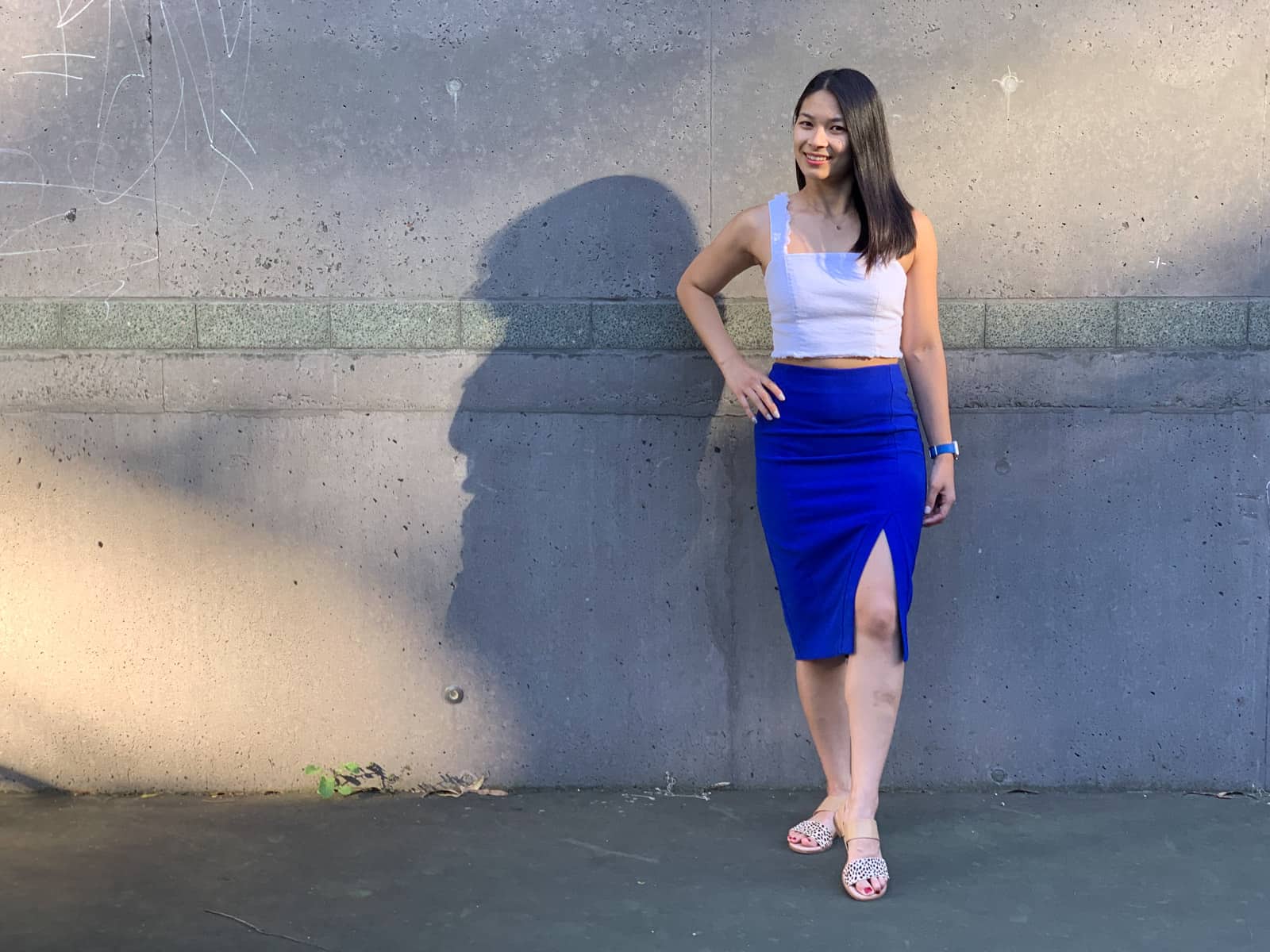 I painted my toenails a dark magenta. I don't really like painting my toenails because I think my toenails look unsightly with polish on them. I prefer nothing on them. But I gave this a shot, painting it with some YSL nail polish I've had for quite some time. I chose this colour because it seemed the most versatile out of the options in my collection.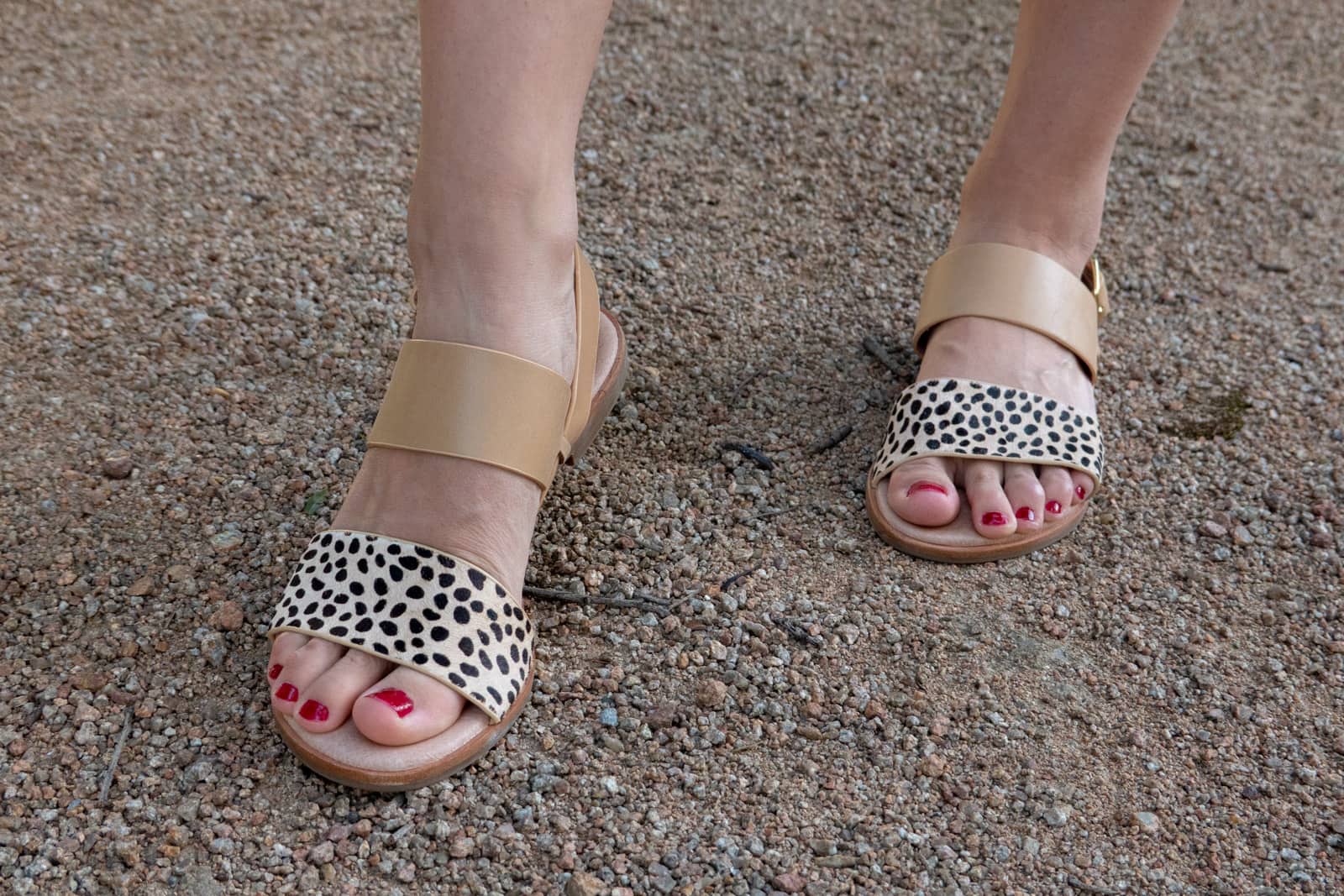 I think it looks alright! In fact, I guess it makes my toes look more presentable in sandals. These sandals have been my go-to when I don't want to wear closed shoes – my other sandals are old and I only wear them travelling, and I have a black pair I don't wear much because I prefer light colours.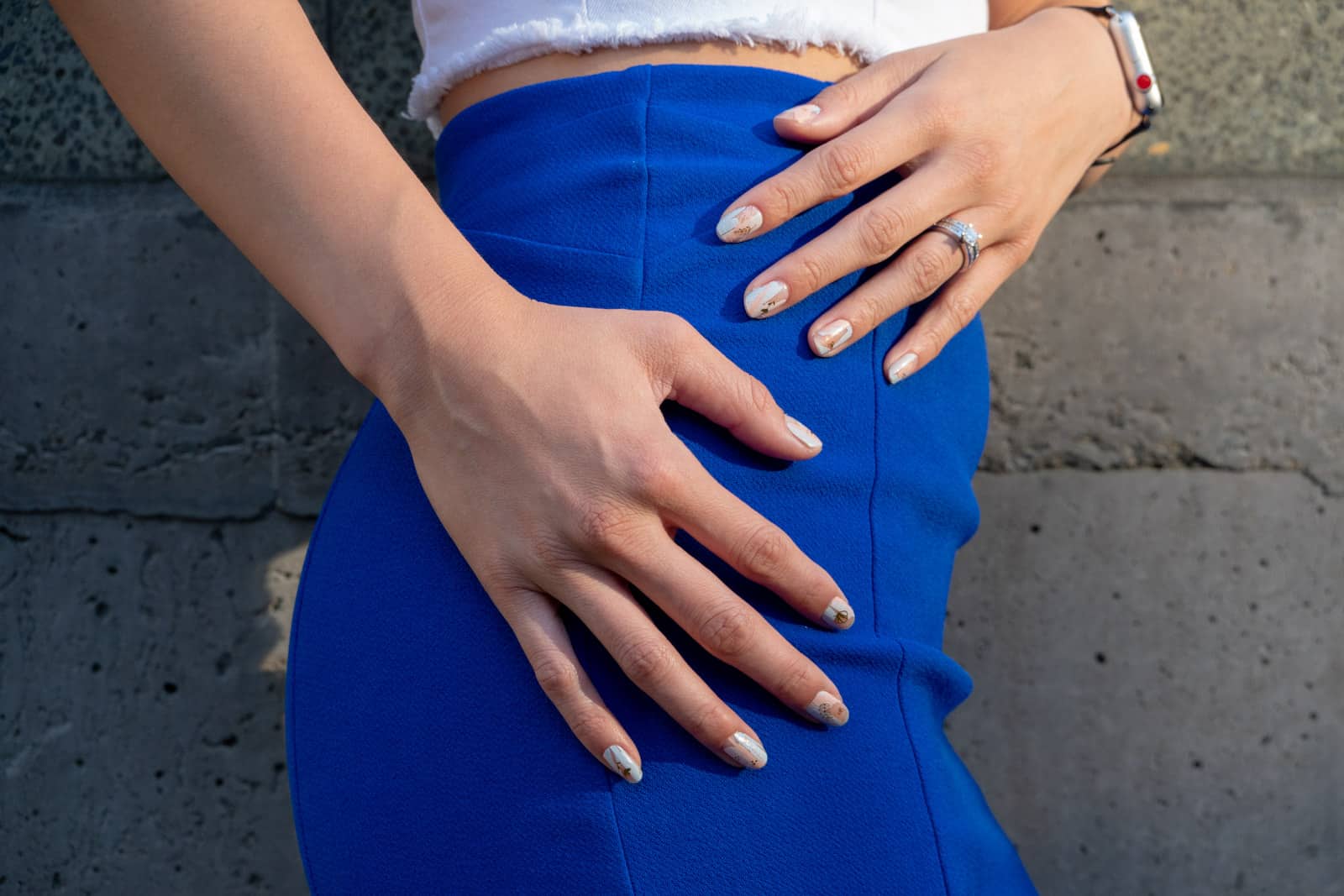 My fingernails are decorated with light pink and blue nail wraps with gold accents. They have an interesting pattern that resembles paint strokes. The gold accents are stickers separate from the wraps, and I thought they were kind of random, but I liked that they matched quite nicely with the wraps. And they stuck on quite securely too.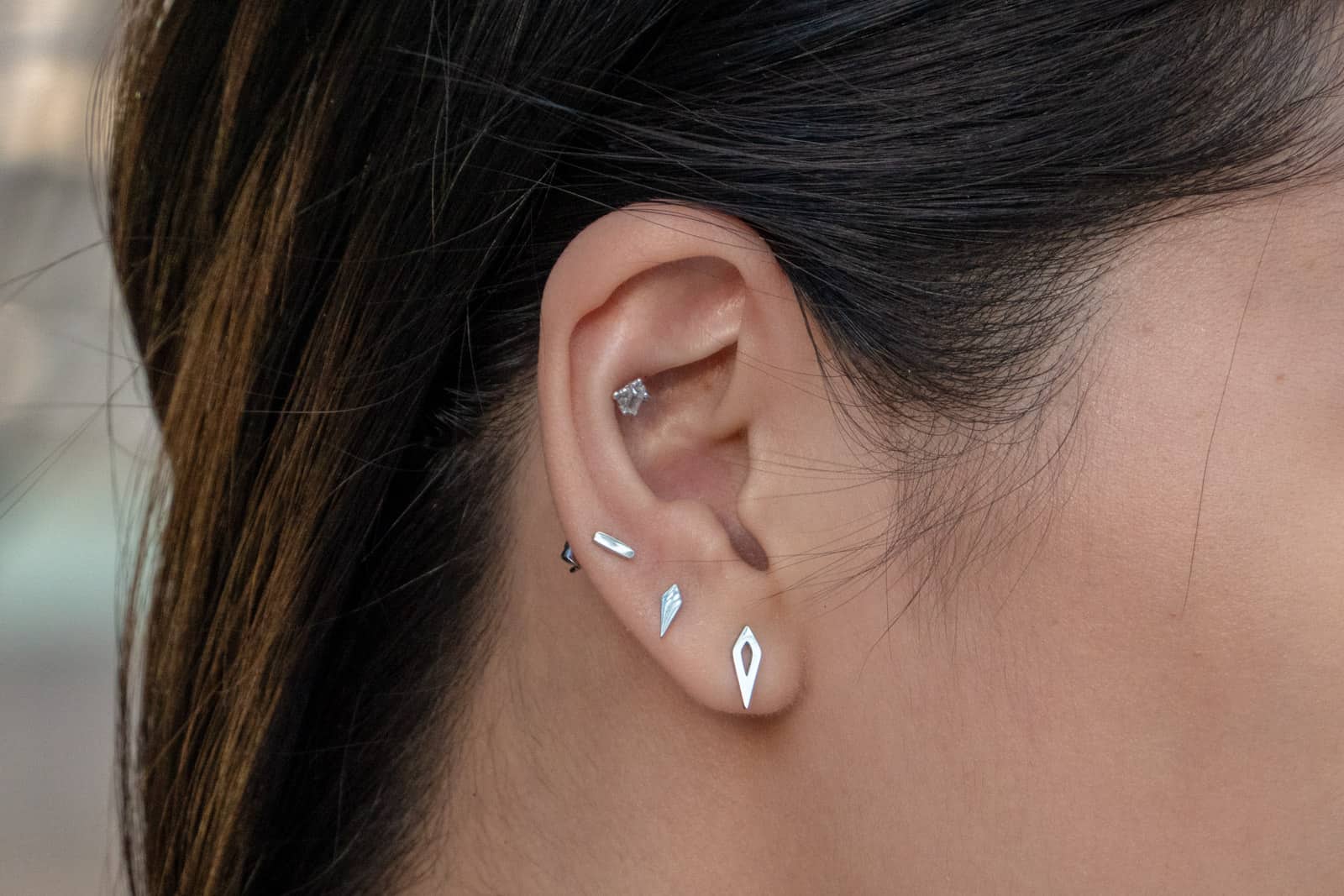 I've sneaked in a photo of my "snonch" piercing that I wrote about in my tiny wins post. It's been healing really well so far with no pain.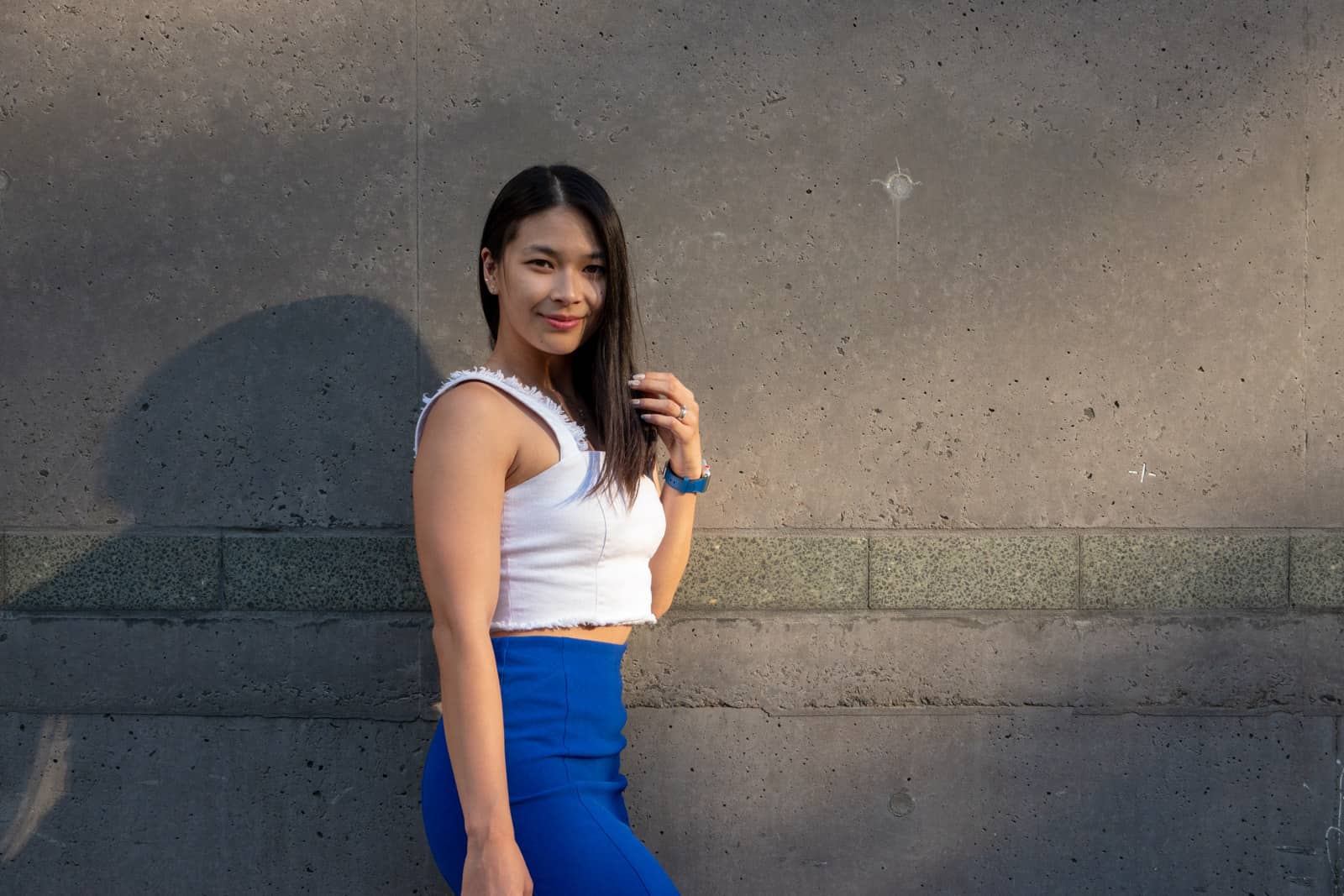 ---
I feel like this was a pretty short post (thus the lack of headings 😄), but hope you have a good weekend! What are you wearing and experimenting with at the moment?
Outfit details
Top: Lulu & Rose (Piper Denim Bustier – available at Surfstitch)
Skirt: Sheike (style unknown, purchased second hand)
Shoes: Jo Mercer (Godiva Flat Sandal in light tan/multi)
Necklace: By Invite Only [referral link for 15% off] (Rose Gold Astoria Necklace – no longer available)
Nails: fingernails – Scratch subscription Reverie wraps (October 2018) + gold nail decals; toenails – YSL
Colophon
📸 All photography by Nicholas Cooke. (Sony RX100 VI + iPhone Xs)
These photos were taken in the same park that Nick took photos of me a couple of times before, but we used the open concrete space instead. Some people use the concrete space and the wall to play ball. I particularly like this backdrop because it makes the blue of my skirt stand out.
The name of this outfit, Pacific Daydream, is a nod to one of Weezer's albums of the same name. Initially I thought to name this outfit Pacific Ocean, but since I've been listening to Weezer a lot recently (their recent Teal Album, of covers of songs by exceptional artists, including Michael Jackson and Tears For Fears, is wow!), I though it would be apt.
I'd also exhausted a lot of names related to blue, in previous outfit names, so this one might seem a bit out of left field. That's what you get when you own a lot of blue clothes!