tiny wins ✨ january 2019
Moving past the monthly review format I created in Achievement Unlocked for the past couple of years, I decided to call it tiny wins instead. Part of the inspiration behind the name and idea is one of the XOXO Slack channels called tiny-victories, and I made a similar channel in another Slack group I'm in. I started tweeting my tiny wins as I went about my daily life.
Tiny wins are important.
I've never been a big fan of big lifelong goals. I tried to create some sort of long term (but not necessarily "before I die") bucket list when I was seventeen years old, the first item being "ride in a hot air balloon". To this day it baffles me that I still haven't done it – and it's been ten years – but it remains the one and only thing on this mental bucket list, and has been for at least seven years. Three years after I created that list I basically decided that bucket-style lists weren't for me.
I'm a short-term, progress-focused kinda gal, with the impatient tendency to pivot every time the sun rises. That said, I want to celebrate the tiny things that get me through each day and that remind me that I'm improving all the time.
tiny wins ✨
remembered my credit card PIN
sold a sweater for $35
sold my polaroid camera for $25
cut my watchlist and likes list on eBay and Carousell by about 80% (considering there were 100–200 items in each list, this is great 😂)
didn't bring a handbag one day, and put all my things in the pockets of my skirt
was often looking at second-hand clothes online but not tempted to buy any (except coat – see further below)
rock climbed another level 22 (it was HARD)
got my dumbbell chest press to 14kg dumbbells
bench pressed 45kg! 😱🔥🔥
wrote some positive things about myself in my work self assessment
finished reading a book (Say Hello by Carly Findlay)
deposited $825 into savings
bought my dream orange coat from eBay, second-hand but unworn, for a bargain price
got my drivers licence without having to do a test
got macOS Mojave installed (finally) on my work computer
gave a colleague (from another city) some recommendations for Sydney
added all my credit cards and debit card to my phone and downsized the contents of my wallet
did some body scans and gained some muscle 💪
I got a new ear piercing, it's called a snonch! 💎
my favourite tiny wins 💖
snonch piercing
This literally happened on the last day of January. 🤭 I got a cartilage piercing – a snonch to be exact (it's between a snug and a conch piercing). I had wanted to get at least one cartilage piercing for a very long time and just never bothered. I sorta chickened out, knowing it would feel different from my six lobe piercings.
I went to a piercing and tattoo salon called Stone Heart, that my coworker recommended. They were excellent. ☺️ The guy who pierced my ear was very down to earth, and the people there really take their job seriously and answer all your questions. The piece of jewellery I chose did cost a pretty penny, but I absolutely love it. As for the pain – the piercing didn't hurt half as much as I thought it would. I don't even think it hurt at all, just a dull sort of ache. 😆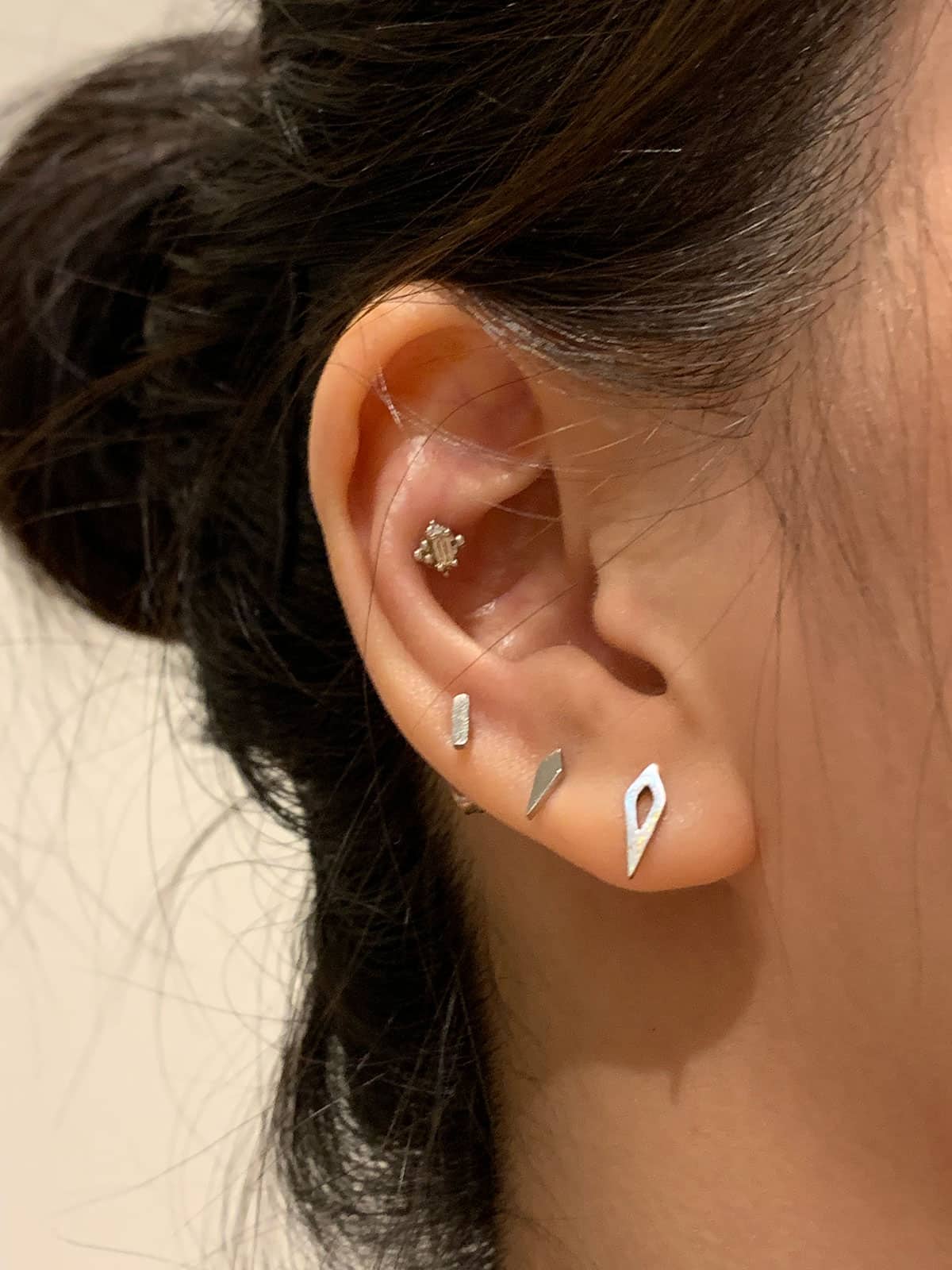 drivers licence
My next favourite tiny win was getting my driver's licence without doing a test. I was holding a provisional 2 licence, and in previous years you had to do a test to get a full, unrestricted licence. The rules changed recently and you don't have to do a test if you were issued a provisional licence after November 2017. They seem to not give a shit anymore, and I got my licence in January 2017 but they still let me have my full licence without doing a test. 🤷🏻‍♀️ Win? I still had to book a test via the website, then cancel the test and get my new licence… bit of a bother. I got a new photo taken and my face is actually straight this time… don't know why, but my previous headshots had my head slightly tilted or not facing straight at the camera and I am not sure why they did not correct it. Happy with my current photo!
bench press @ 45kg
I am extremely proud of bench pressing 45kg – as most of you may know, it was part of one of my goals on my 8 by 28. I went for 3 reps. Since then, I haven't quite managed to get further, but I am working on my strength on slightly lighter weights. I am not a fan of maxing out all the time.
saving $825
I am happy that I'm getting back on track with my saving. $825 is not as much as I saved in November and December last year (a bit over $1000 each month!) but we did spend quite a bit on accommodation for our Europe trip. I have spent significantly less in 2019 than I have in the past few months.
downsizing wallet contents
I like that I have managed to downsize the contents of my wallet. Literally all I have in there are:
my drivers licence (serves as ID),
pass for getting into work, and
my transport card.
There is a rock climbing card but it's more of a crappy piece-of-paper kind of card. I also have a bit of cash in there from selling my polaroid camera.
---
tiny wins ✨ is a monthly occurring "monthly review"-type post. It is focused on small achievements throughout the month, although some may be considered "great" achievements. The premise behind tiny wins is that everything should be shared no matter how big or small. The lowercase stylisation is deliberate, and is a nod to the name (lowercase letters being smaller than uppercase or capitalised text).