Fashion Friday: Mirage | Bright blue bodysuit + eye makeup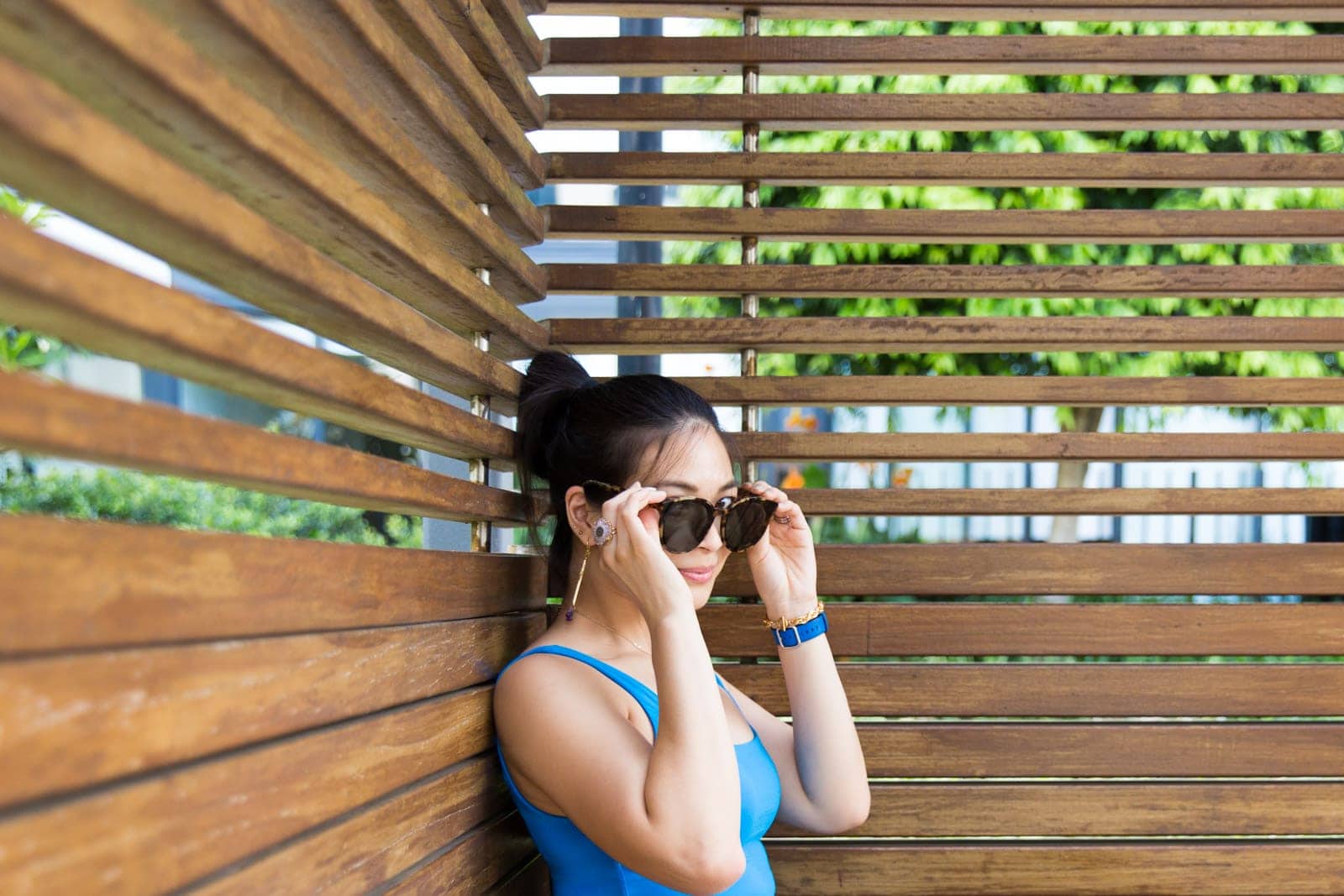 Hello! This is the first Fashion Friday in which I'm wearing eye makeup, which is kind of a big deal. 😲👁️ I don't wear makeup, usually just lipstick, but recently I've really liked seeing subtle makeup on women, makeup that brings out their eyes and doesn't look overdone. My mum works in skincare but she used to work in cosmetics and makeup, so she was really good at it.
I have been practicing eye makeup lately and one of the things that bothers me about it is getting it right, and how much time it takes to do so. It really does require some skill. I have hooded eyelids and a really shitty twitch in my eyes whenever I close just one of them. As you can imagine, this makes it Fucking Difficult to draw eyeliner on my eyes. I seem to also have a lot of creases in the skin at the edge of my eyelids.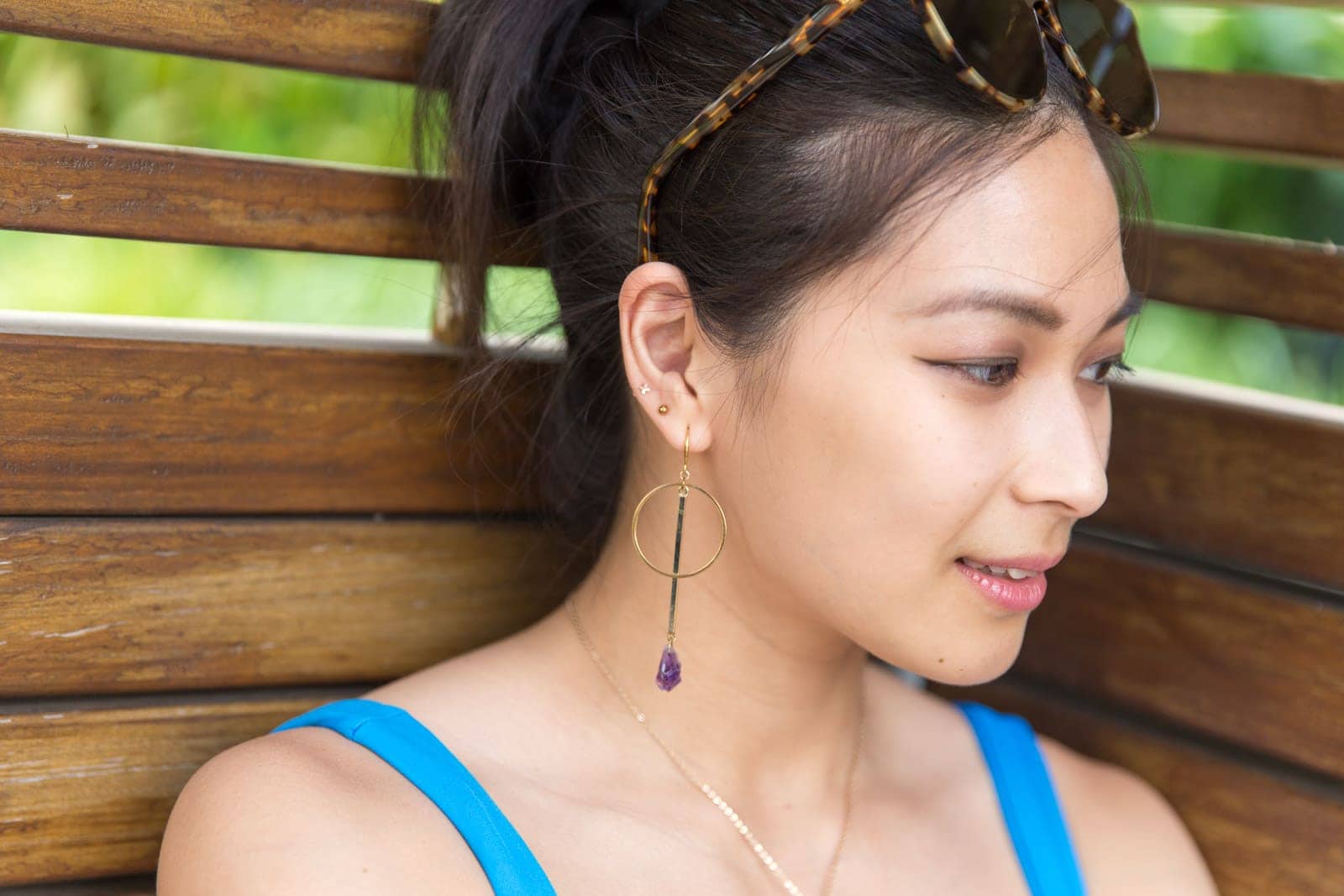 But let me know what you think! ☺️ I also had the problem with the eyeliner transferring onto my eyelids when I closed my eyes. ☹️ I actually swiped some makeup remover under the outside edges of my eyeliner to stop it from transferring, that seemed to have magically worked. I know there are products you can buy to make your life easier (like primer) but I'm just not that invested in doing my face up every day to buy any of them. 😬
Blue bodysuit
The bodysuit was maybe a bit of an impulse buy. I had bought two crop tops at Kookai, in a burnt orange and a yellow, after really thinking about how the colours and the cut of the tops looked with my body shape, and ended up exchanging them for this bodysuit. I had thought hard about it before purchasing the tops at a discounted price. When I took them home and tried them on at home I felt somewhat underwhelmed. Not sure why – I guess I am really drawn to bright, saturated colours, and these colours were more muted, so I didn't really love them as much. I tried on the bodysuit and really was in love with the colour, but also the fact that the cut of the bodysuit was the same as one of the tops I had exchanged for it (and I did like it).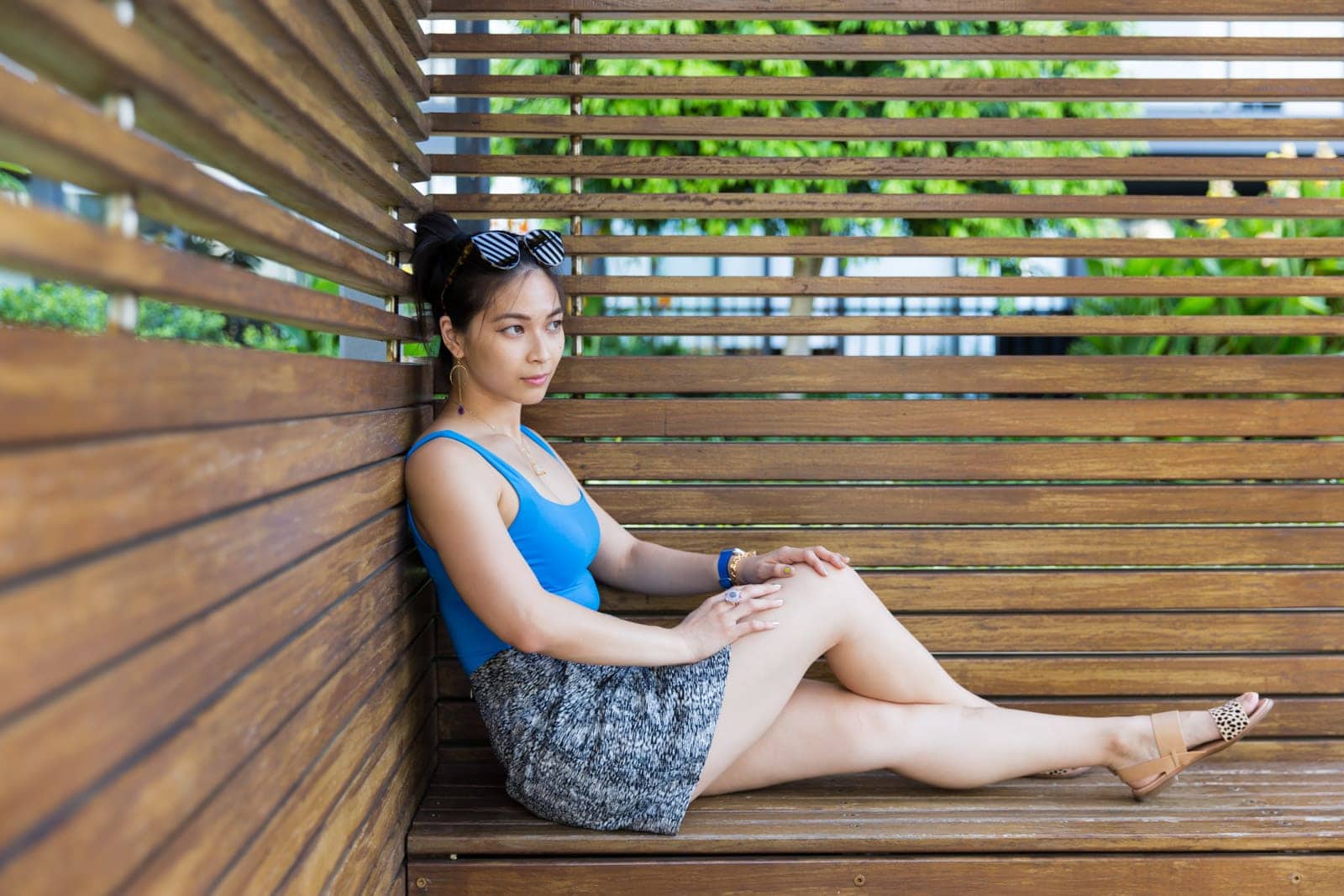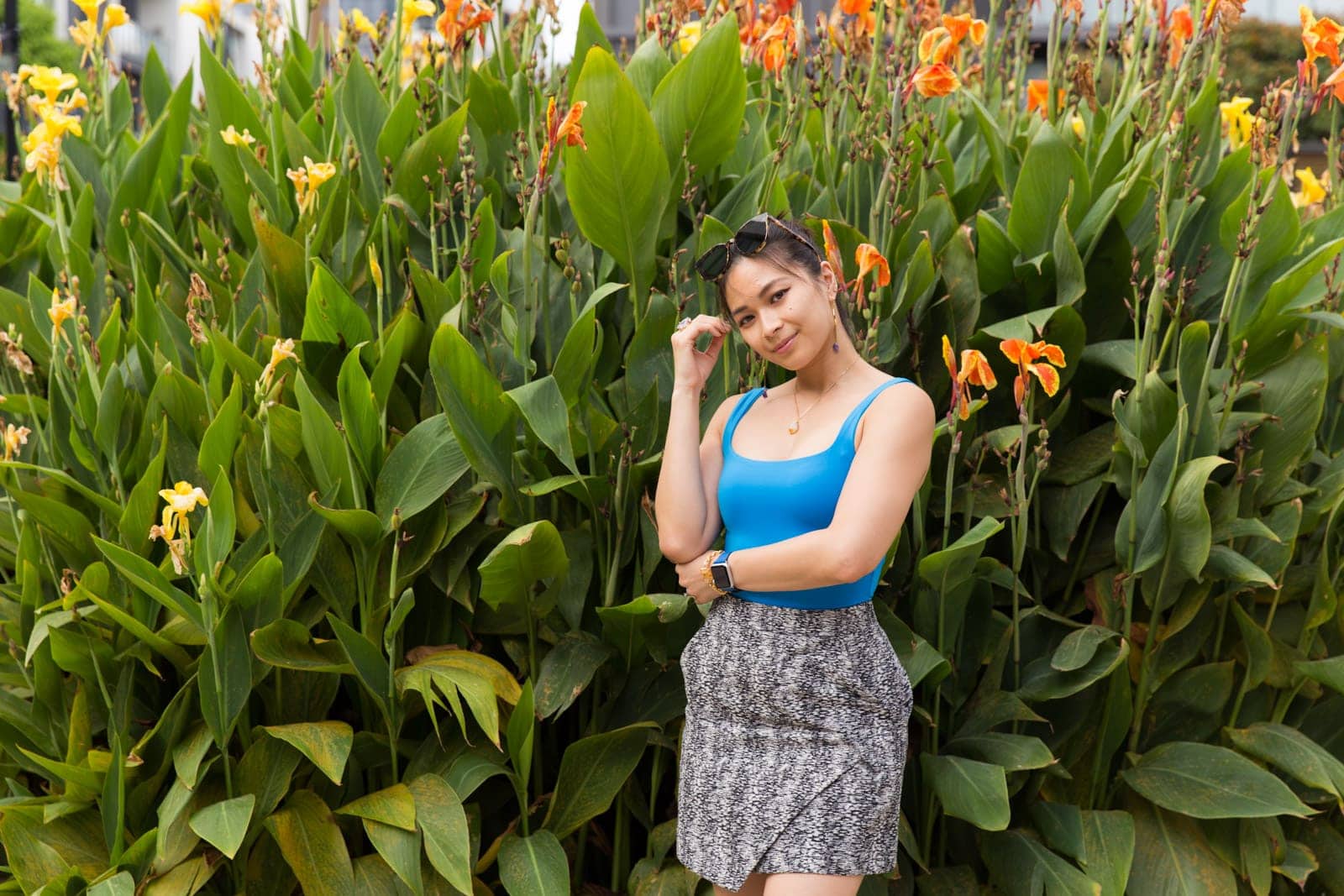 I used to think bodysuits were strange, because I had worn leotards throughout my life as a dancer, and it just seemed like wearing a leotard under your clothes. When bodysuits became really popular, I think they literally looked like leotards or one-piece swimsuits – they were not exceptionally fashionable. Now I understand the appeal. They are actually relatively easy to wear, and you don't have to bother with tucking your top in and getting all this bunching happening around your waist. This particular bodysuit has press stud buttons at the crotch, but it seems that some bodysuits are still made without this – so how do you go to the toilet then? 🤷🏻‍♀️
I had to get this bodysuit altered and the straps made shorter, because ya girl is short with a short torso? I guess? I dunno. I have considered myself to have longer legs than the average person, but I didn't think this necessarily meant my torso was short. 🤔 Anyway, this bodysuit is a gorgeous colour and I love it.
Asymmetrical skirt with pockets
I bought the skirt from eBay, secondhand. It's also by Kookai. I was really ecstatic when I bought it. I loved the cut, the a-line shape, the split in the skirt that would let me walk in it comfortably, and the fact that it has pockets. I loved it so much but I was concerned that it would be too small at some point because I keep working out my legs and glutes at the gym. So I hunted down another one, secondhand, in a bigger size for more hip room, and I got the waist altered. Unfortunately that one in a bigger size was not in perfect condition so I had to get it fixed up. 🙄 But now, several months on, and I'm finding that the one I originally bought is indeed getting too tight, hah.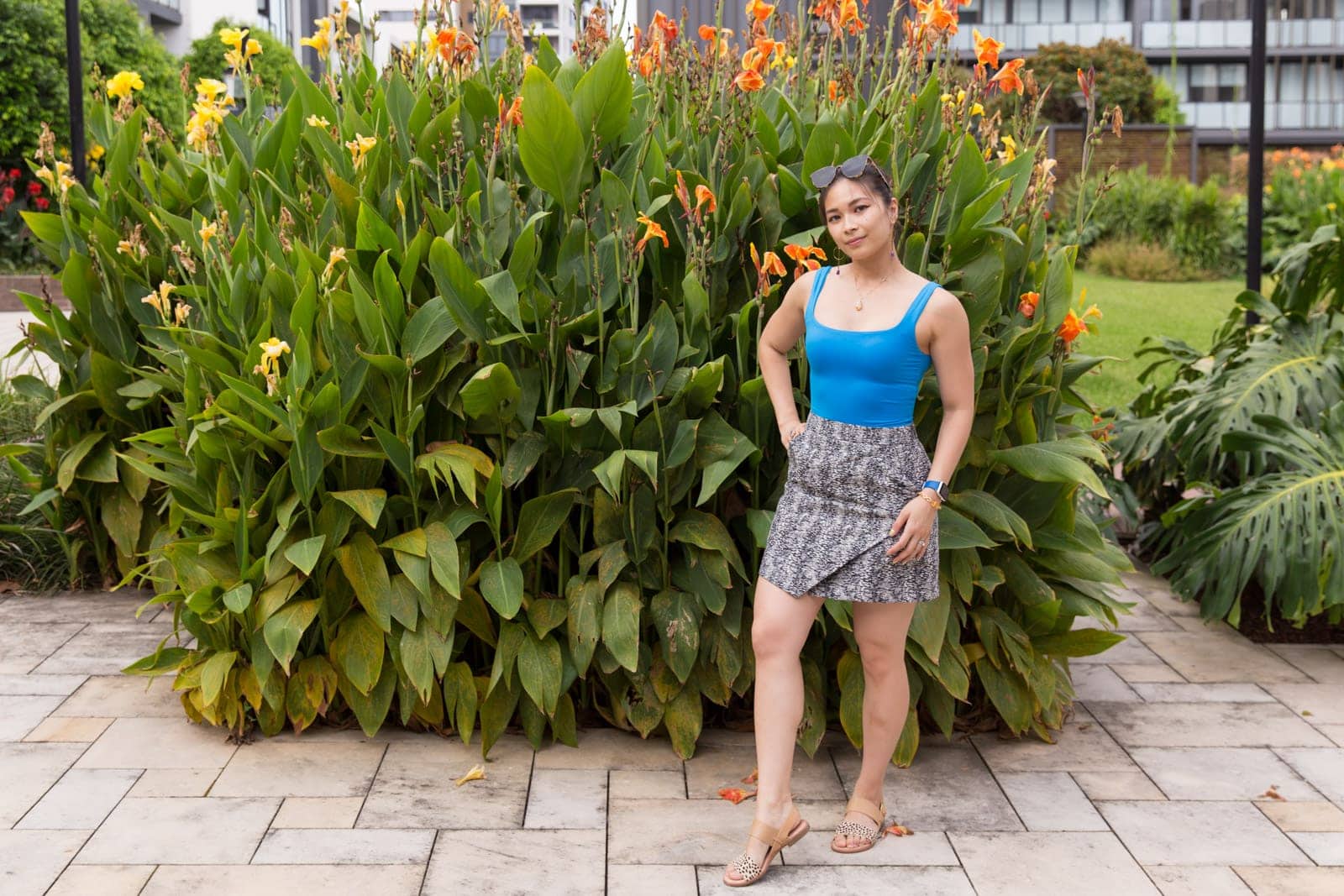 I'm wearing the same shoes I wore in previous outfits this year. They're relatively new shoes, but they're getting a lot of wear and are my go-to sandal for summer! I've likely already said this, but I like that they're a neutral colour and the pattern on the strap over the toes is pretty subtle – as far as animal prints go.
Gold accessories and emoji nails!
I've dressed up this outfit with a lot of mostly gold accessories. I don't often wear gold jewellery because I prefer how silver looks on my skin tone, but after decluttering my jewellery box I felt compelled to. These gold pieces are pieces I've owned for quite some time but just didn't wear as much as others I owned. I actually featured the bracelet in my Moonlight outfit a while ago. It's not in the best condition anymore but I like the style – the three citrine pieces together are a nice arrangement.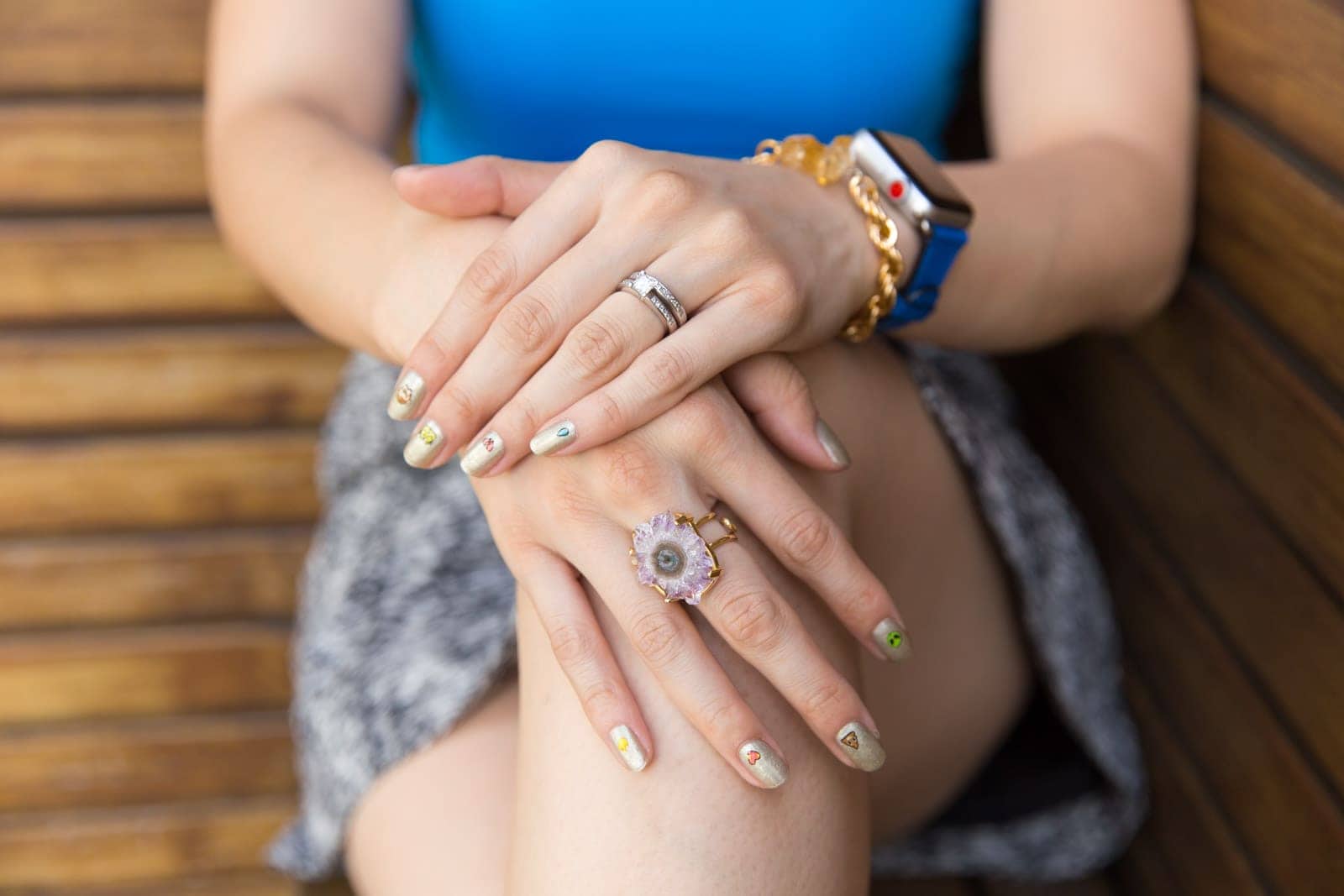 Both the ring and the earrings have purple amethyst in them. The ring is a subtle statement piece – I wish I had something similar in silver! I like that while the ring feature is large, it's quite flat so it doesn't get in the way.
My nails have emoji on them! They are the Emotiwraps nail wraps from Scratch. I've had them for a really long time, actually, probably almost two years, but I just couldn't bring myself to open the pack and use them yet. They're so adorable I didn't want to waste them! 😆 Because they have a transparent background, I layered them on this glitter polish. The polish looks like silver glitter in the bottle but it applies on the nail like gold. A bit disappointing but it's still nice (and matches the rest of the gold in this outfit).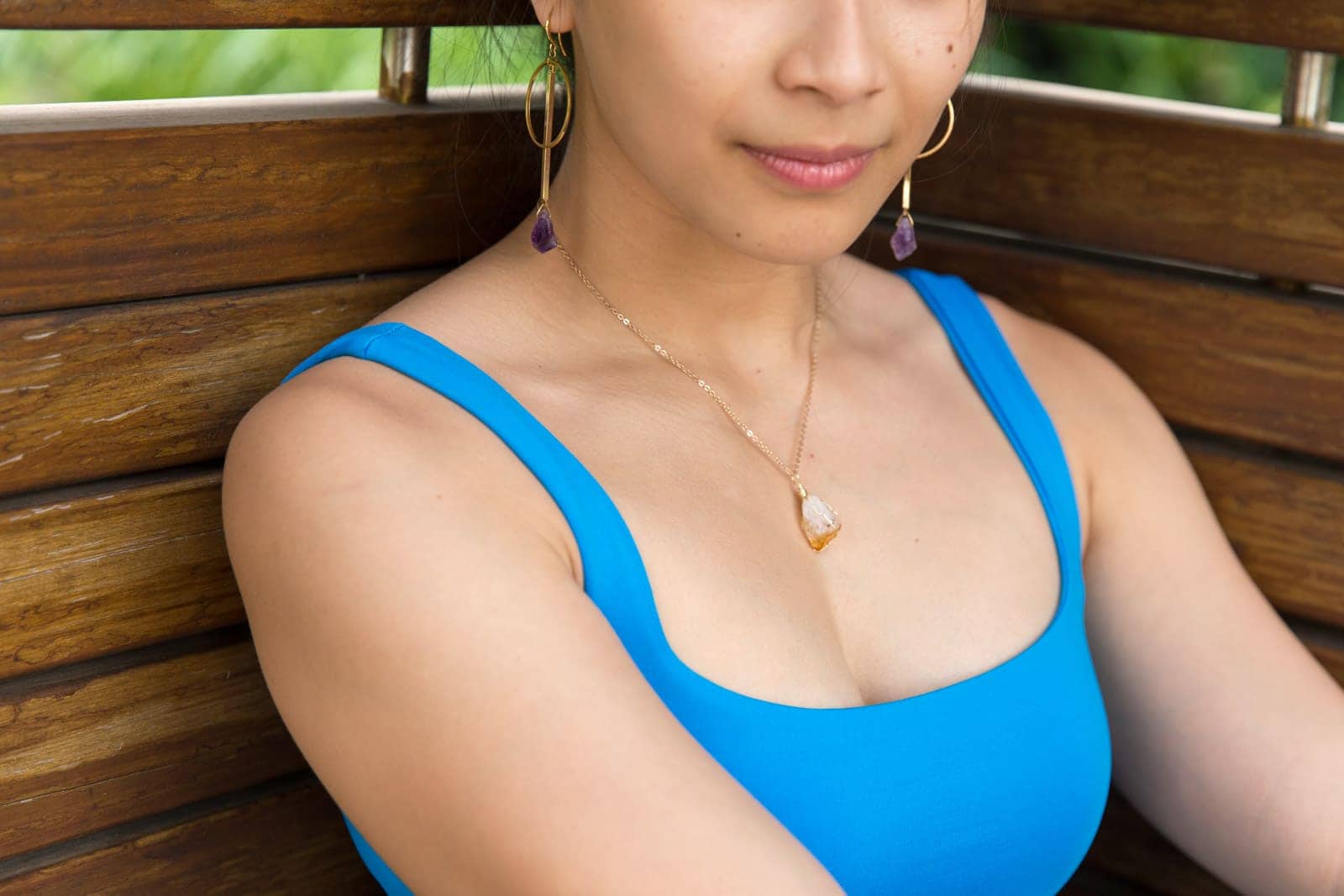 Hair in a bun 💁🏻‍♀️
I wore my hair in a bun because I haven't done that in a Fashion Friday post in quite some time. And it's been hot lately in Sydney so I often wear my hair up in a messy style bun. This one is a very neat bun. Finally my hair is long enough to tie up properly. It does still result in loose hairs at the nape of my neck, but it's getting longer.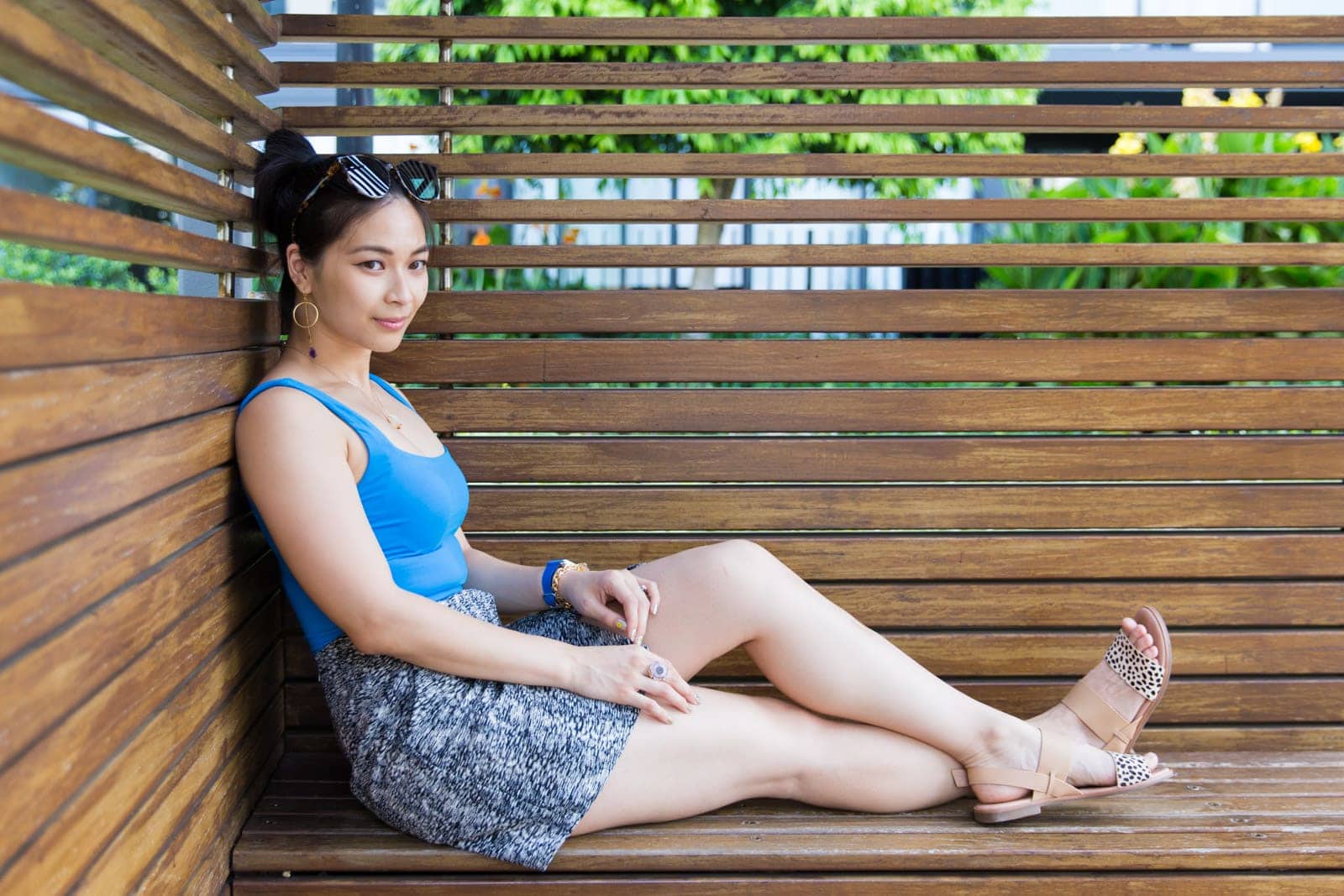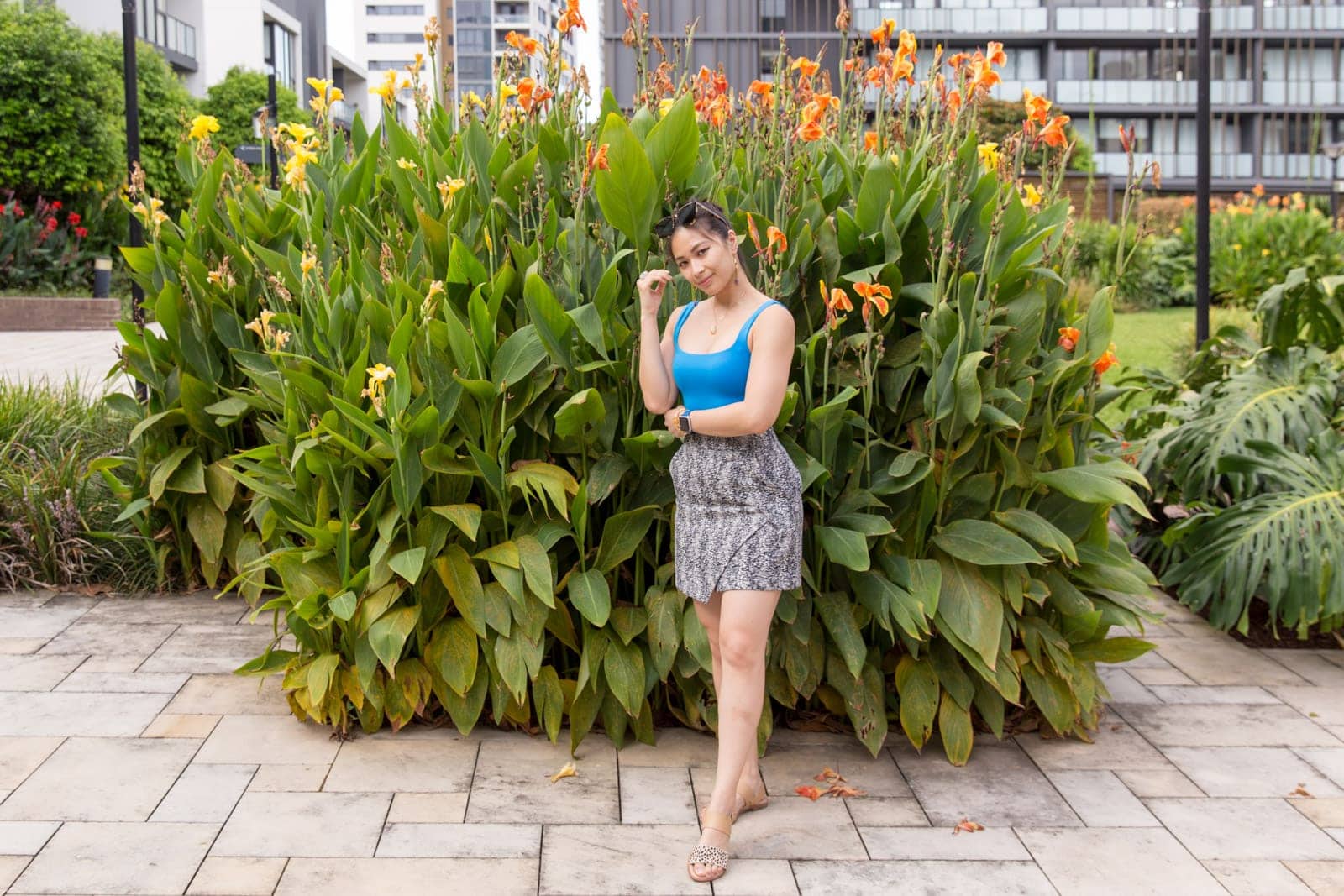 Am I growing my hair out? I would like to grow it some more as it's only just past shoulder length at the moment!
---
What are your thoughts on bodysuits? I must admit I used to think they were odd, but perhaps they have become more of a wardrobe staple these days.
Outfit details
Bodysuit: Kookai (Pheobe bodysuit in mirage – available in other colours)
Skirt: Kookai (Brixton Skirt, purchased second hand)
Shoes: Jo Mercer (Godiva Flat Sandal in light tan/multi)
Necklace: created myself with chain and pendant purchased from a crystal store
Ring: By Invite Only [referral link for 15% off] (Gold Amethyst Stalactite Claw Ring – no longer available)
Bracelet: By Invite Only [referral link for 15% off] (Gold Citrine Trio Bracelet – no longer available)
Earrings: By Invite Only [referral link for 15% off] (Gold Raw Amethyst Hoop Earrings – no longer available
Nails: OPI "Comet Closer" + Scratch Emotiwraps
Sunglasses: Gentle Monster (Black Peter – shop similar)
Colophon
📸 All photography by Nicholas Cooke.
We took these photos in the sky park of our apartment building. You might recognise the cabanas from some previous Fashion Friday outfits. 🙂
The name of this outfit, Mirage, refers to the colour of the bodysuit I am wearing. I couldn't really think of anytime creative to name this!